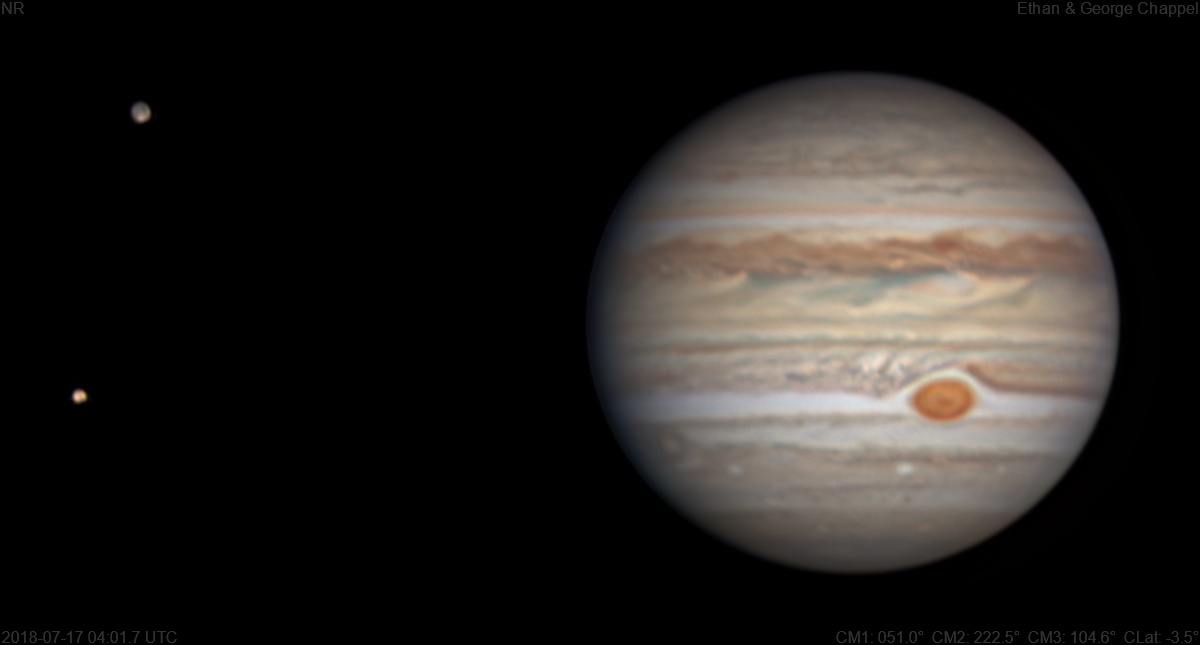 Jupiter UTC
CM1: 51.00°
CM2: 222.50°
CM3: 104.60°
CLat: -3.50°
Description
Seeing was typical of what we've been seeing while imaging Jupiter the last few nights. However, Saharan dust limited transparency.

Notes:

There's a brown spot rising on the North Temperate Zone that wasn't there on the 12th of July.
The northern North Equatorial Belt is wavy.
The Equatorial Zone is tinged orange.
The Great Red Spot has a strong coloration.
Oval BA is rising.
The South Polar Red Spot is at a similar longitude as the GRS.
Io is displaying its orange color.
On Ganymede, Osiris and Uruk Sulcus are at the central meridian while Galileo Regio is setting.
Equipment
ZWO ASI290MM
Astro-Physics Advanced Convertible Barlow
Celestron EdgeHD 14
Logs
FireCapture v2.6  Settings
------------------------------------
Observer=Ethan Chappel
Location=Cibolo, TX, USA
Scope=Celstron C14 EdgeHD
Camera=ZWO ASI290MM
Filter=B
Profile=Jupiter
Diameter=39.54"
Magnitude=-2.20
CMI=170.3° CMII=318.9° CMIII=201.8°  (during mid of capture)
FocalLength=7850mm (F/22)
Resolution=0.08"
Filename=2018-07-17-0410_8-EC-B-Jup.ser
Date=170718
Start=040951.022
Mid=041051.037
End=041151.052
Start(UT)=040951.022
Mid(UT)=041051.037
End(UT)=041151.052
Duration=120.030s
Date_format=ddMMyy
Time_format=HHmmss
LT=UT -6h
Frames captured=7497
File type=SER
Binning=no
Bit depth=8bit
Debayer=no
ROI=652x618
ROI(Offset)=8x8
FPS (avg.)=62
Shutter=16.00ms
Gain=330 (55%)
AutoGain=off
HighSpeed=off
FPS=100 (off)
AutoHisto=75 (off)
Gamma=50
Brightness=1 (off)
USBTraffic=40 (off)
AutoExposure=off
SoftwareGain=10 (off)
Histogramm(min)=0
Histogramm(max)=124
Histogramm=48%
Noise(avg.deviation)=2.25
Limit=120 Seconds
Sensor temperature=34.3°C
Focuser position=2970
FireCapture v2.6  Settings
------------------------------------
Observer=Ethan Chappel
Location=Cibolo, TX, USA
Scope=Celstron C14 EdgeHD
Camera=ZWO ASI290MM
Filter=G
Profile=Jupiter
Diameter=39.54"
Magnitude=-2.20
CMI=168.0° CMII=316.5° CMIII=199.4°  (during mid of capture)
FocalLength=7800mm (F/21)
Resolution=0.08"
Filename=2018-07-17-0406_9-EC-G-Jup.ser
Date=170718
Start=040558.680
Mid=040658.687
End=040758.694
Start(UT)=040558.680
Mid(UT)=040658.687
End(UT)=040758.694
Duration=120.014s
Date_format=ddMMyy
Time_format=HHmmss
LT=UT -6h
Frames captured=9995
File type=SER
Binning=no
Bit depth=8bit
Debayer=no
ROI=652x618
ROI(Offset)=8x8
FPS (avg.)=83
Shutter=12.00ms
Gain=330 (55%)
AutoGain=off
HighSpeed=off
FPS=100 (off)
AutoHisto=75 (off)
Gamma=50 (off)
Brightness=1 (off)
USBTraffic=40 (off)
AutoExposure=off
SoftwareGain=10 (off)
Histogramm(min)=0
Histogramm(max)=126
Histogramm=49%
Noise(avg.deviation)=2.27
Limit=120 Seconds
Sensor temperature=35.0°C
Focuser position=3050
FireCapture v2.6  Settings
------------------------------------
Observer=Ethan Chappel
Location=Cibolo, TX, USA
Scope=Celstron C14 EdgeHD
Camera=ZWO ASI290MM
Filter=R
Profile=Jupiter
Diameter=39.54"
Magnitude=-2.20
CMI=166.1° CMII=314.7° CMIII=197.6°  (during mid of capture)
FocalLength=7800mm (F/21)
Resolution=0.08"
Filename=2018-07-17-0403_8-EC-R-Jup.ser
Date=170718
Start=040253.234
Mid=040353.239
End=040453.245
Start(UT)=040253.234
Mid(UT)=040353.239
End(UT)=040453.245
Duration=120.011s
Date_format=ddMMyy
Time_format=HHmmss
LT=UT -6h
Frames captured=11994
File type=SER
Binning=no
Bit depth=8bit
Debayer=no
ROI=652x618
ROI(Offset)=8x8
FPS (avg.)=99
Shutter=10.00ms
Gain=350 (58%)
AutoGain=off
HighSpeed=off
FPS=100 (off)
AutoHisto=75 (off)
Gamma=50 (off)
Brightness=1 (off)
USBTraffic=40 (off)
AutoExposure=off
SoftwareGain=10 (off)
Histogramm(min)=0
Histogramm(max)=136
Histogramm=53%
Noise(avg.deviation)=2.66
Limit=120 Seconds
Sensor temperature=35.0°C
Focuser position=3060
FireCapture v2.6  Settings
------------------------------------
Observer=Ethan Chappel
Location=Cibolo, TX, USA
Scope=Celstron C14 EdgeHD
Camera=ZWO ASI290MM
Filter=B
Profile=Jupiter
Diameter=39.54"
Magnitude=-2.20
CMI=163.9° CMII=312.5° CMIII=195.4°  (during mid of capture)
FocalLength=8600mm (F/24)
Resolution=0.07"
Filename=2018-07-17-0400_3-EC-B-Jup.ser
Date=170718
Start=035918.419
Mid=040018.419
End=040118.419
Start(UT)=035918.419
Mid(UT)=040018.419
End(UT)=040118.419
Duration=120.000s
Date_format=ddMMyy
Time_format=HHmmss
LT=UT -6h
Frames captured=7495
File type=SER
Binning=no
Bit depth=8bit
Debayer=no
ROI=1504x800
ROI(Offset)=8x8
FPS (avg.)=62
Shutter=16.00ms
Gain=330 (55%)
AutoGain=off
HighSpeed=off
FPS=100 (off)
AutoHisto=75 (off)
Gamma=50
Brightness=1 (off)
USBTraffic=40 (off)
AutoExposure=off
SoftwareGain=10 (off)
Histogramm(min)=0
Histogramm(max)=133
Histogramm=52%
Noise(avg.deviation)=1.57
Limit=120 Seconds
Sensor temperature=34.6°C
Focuser position=3010
FireCapture v2.6  Settings
------------------------------------
Observer=Ethan Chappel
Location=Cibolo, TX, USA
Scope=Celstron C14 EdgeHD
Camera=ZWO ASI290MM
Filter=G
Profile=Jupiter
Diameter=39.54"
Magnitude=-2.20
CMI=161.2° CMII=309.8° CMIII=192.7°  (during mid of capture)
FocalLength=7800mm (F/21)
Resolution=0.08"
Filename=2018-07-17-0355_8-EC-G-Jup.ser
Date=170718
Start=035450.464
Mid=035550.471
End=035650.479
Start(UT)=035450.464
Mid(UT)=035550.471
End(UT)=035650.479
Duration=120.015s
Date_format=ddMMyy
Time_format=HHmmss
LT=UT -6h
Frames captured=9995
File type=SER
Binning=no
Bit depth=8bit
Debayer=no
ROI=1504x800
ROI(Offset)=8x8
FPS (avg.)=83
Shutter=12.00ms
Gain=330 (55%)
AutoGain=off
HighSpeed=off
FPS=100 (off)
AutoHisto=75 (off)
Gamma=50 (off)
Brightness=1 (off)
USBTraffic=40 (off)
AutoExposure=off
SoftwareGain=10 (off)
Histogramm(min)=0
Histogramm(max)=123
Histogramm=48%
Noise(avg.deviation)=1.61
Limit=120 Seconds
Sensor temperature=35.3°C
Focuser position=3040
FireCapture v2.6  Settings
------------------------------------
Observer=Ethan Chappel
Location=Cibolo, TX, USA
Scope=Celstron C14 EdgeHD
Camera=ZWO ASI290MM
Filter=R
Profile=Jupiter
Diameter=39.54"
Magnitude=-2.20
CMI=159.1° CMII=307.7° CMIII=190.7°  (during mid of capture)
FocalLength=7900mm (F/22)
Resolution=0.08"
Filename=2018-07-17-0352_4-EC-R-Jup.ser
Date=170718
Start=035125.639
Mid=035225.632
End=035325.626
Start(UT)=035125.639
Mid(UT)=035225.632
End(UT)=035325.626
Duration=119.987s
Date_format=ddMMyy
Time_format=HHmmss
LT=UT -6h
Frames captured=11991
File type=SER
Binning=no
Bit depth=8bit
Debayer=no
ROI=1504x800
ROI(Offset)=8x8
FPS (avg.)=99
Shutter=10.00ms
Gain=350 (58%)
AutoGain=off
HighSpeed=off
FPS=100 (off)
AutoHisto=75 (off)
Gamma=50 (off)
Brightness=1 (off)
USBTraffic=40 (off)
AutoExposure=off
SoftwareGain=10 (off)
Histogramm(min)=0
Histogramm(max)=135
Histogramm=52%
Noise(avg.deviation)=1.88
Limit=120 Seconds
Sensor temperature=35.6°C
Focuser position=3100

Measurements
| Name | Longitude 1 | Longitude 2 | Longitude 3 | Latitude | Measurer |
| --- | --- | --- | --- | --- | --- |
| GRS F. End | 150.5° | 299.1° | 182° | -22.7° | EGC |
| GRS P. End | 135.8° | 284.4° | 167.3° | -22° | EGC |
| GRS S. Edge | 142.7° | 291.3° | 174.2° | -27.3° | EGC |
| GRS N. Edge | 143.6° | 292.2° | 175.1° | -17.4° | EGC |
| GRS Center | 143.4° | 292° | 174.9° | -22.4° | EGC |