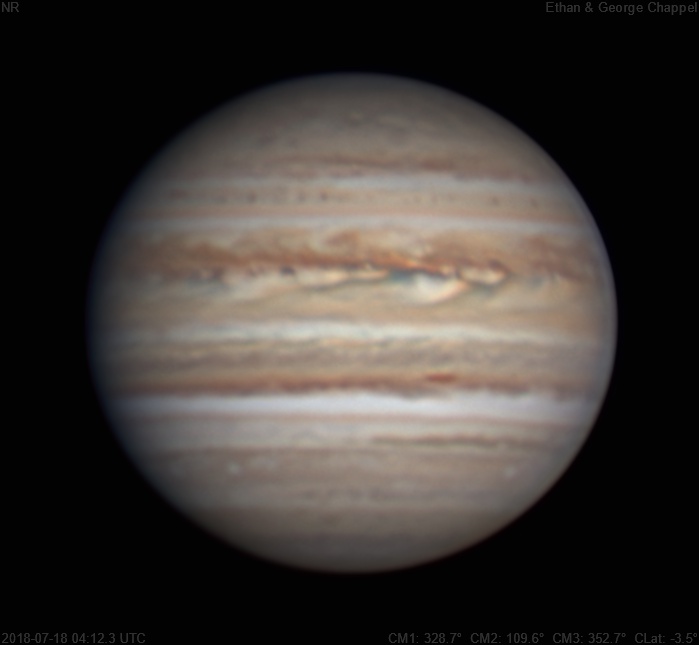 Jupiter UTC
CM1: 328.70°
CM2: 109.60°
CM3: 352.70°
CLat: -3.50°
Description
Seeing continued to be good.

Notes:

The North Temperate Belt is fading.
The North Equatorial Belt is ragged on both the north and south edges.
The Equatorial Zone is tinted orange.
The South Equatorial Belt is quiet.
There is a dark brown barge past the central meridian in the SEB.
The SEBs is darker than the rest of the belt.
Equipment
ZWO ASI290MM
Astro-Physics Advanced Convertible Barlow
Celestron EdgeHD 14
Logs
FireCapture v2.6  Settings
------------------------------------
Observer=Ethan Chappel
Location=Cibolo, TX, USA
Scope=Celstron C14 EdgeHD
Camera=ZWO ASI290MM
Filter=R
Profile=Jupiter
Diameter=39.42"
Magnitude=-2.20
CMI=326.9° CMII=107.8° CMIII=351.0°  (during mid of capture)
FocalLength=7750mm (F/21)
Resolution=0.08"
Filename=2018-07-18-0408_8-EC-R-Jup.ser
Date=180718
Start=040748.206
Mid=040848.212
End=040948.219
Start(UT)=040748.206
Mid(UT)=040848.212
End(UT)=040948.219
Duration=120.013s
Date_format=ddMMyy
Time_format=HHmmss
LT=UT -6h
Frames captured=11993
File type=SER
Binning=no
Bit depth=8bit
Debayer=no
ROI=652x618
ROI(Offset)=8x8
FPS (avg.)=99
Shutter=10.00ms
Gain=300 (50%)
AutoHisto=75 (off)
FPS=100 (off)
Gamma=50 (off)
Brightness=1 (off)
AutoExposure=off
AutoGain=off
HighSpeed=off
USBTraffic=40 (off)
SoftwareGain=10 (off)
Histogramm(min)=0
Histogramm(max)=121
Histogramm=47%
Noise(avg.deviation)=1.55
Limit=120 Seconds
Sensor temperature=36.2°C
Focuser position=2446
FireCapture v2.6  Settings
------------------------------------
Observer=Ethan Chappel
Location=Cibolo, TX, USA
Scope=Celstron C14 EdgeHD
Camera=ZWO ASI290MM
Filter=B
Profile=Jupiter
Diameter=39.42"
Magnitude=-2.20
CMI=331.2° CMII=112.0° CMIII=355.2°  (during mid of capture)
FocalLength=7850mm (F/22)
Resolution=0.08"
Filename=2018-07-18-0415_7-EC-B-Jup.ser
Date=180718
Start=041446.451
Mid=041546.458
End=041646.466
Start(UT)=041446.451
Mid(UT)=041546.458
End(UT)=041646.466
Duration=120.015s
Date_format=ddMMyy
Time_format=HHmmss
LT=UT -6h
Frames captured=11993
File type=SER
Binning=no
Bit depth=8bit
Debayer=no
ROI=652x618
ROI(Offset)=8x8
FPS (avg.)=99
Shutter=10.00ms
Gain=320 (53%)
AutoHisto=75 (off)
FPS=100 (off)
Gamma=50
Brightness=1 (off)
AutoExposure=off
AutoGain=off
HighSpeed=off
USBTraffic=40 (off)
SoftwareGain=10 (off)
Histogramm(min)=0
Histogramm(max)=113
Histogramm=44%
Noise(avg.deviation)=1.60
Limit=120 Seconds
Sensor temperature=36.0°C
Focuser position=2386
FireCapture v2.6  Settings
------------------------------------
Observer=Ethan Chappel
Location=Cibolo, TX, USA
Scope=Celstron C14 EdgeHD
Camera=ZWO ASI290MM
Filter=G
Profile=Jupiter
Diameter=39.42"
Magnitude=-2.20
CMI=329.2° CMII=110.1° CMIII=353.3°  (during mid of capture)
FocalLength=7750mm (F/21)
Resolution=0.08"
Filename=2018-07-18-0412_5-EC-G-Jup.ser
Date=180718
Start=041132.302
Mid=041232.309
End=041332.316
Start(UT)=041132.302
Mid(UT)=041232.309
End(UT)=041332.316
Duration=120.014s
Date_format=ddMMyy
Time_format=HHmmss
LT=UT -6h
Frames captured=11993
File type=SER
Binning=no
Bit depth=8bit
Debayer=no
ROI=652x618
ROI(Offset)=8x8
FPS (avg.)=99
Shutter=10.00ms
Gain=300 (50%)
AutoHisto=75 (off)
FPS=100 (off)
Gamma=50 (off)
Brightness=1 (off)
AutoExposure=off
AutoGain=off
HighSpeed=off
USBTraffic=40 (off)
SoftwareGain=10 (off)
Histogramm(min)=0
Histogramm(max)=111
Histogramm=43%
Noise(avg.deviation)=1.51
Limit=120 Seconds
Sensor temperature=36.0°C
Focuser position=2426