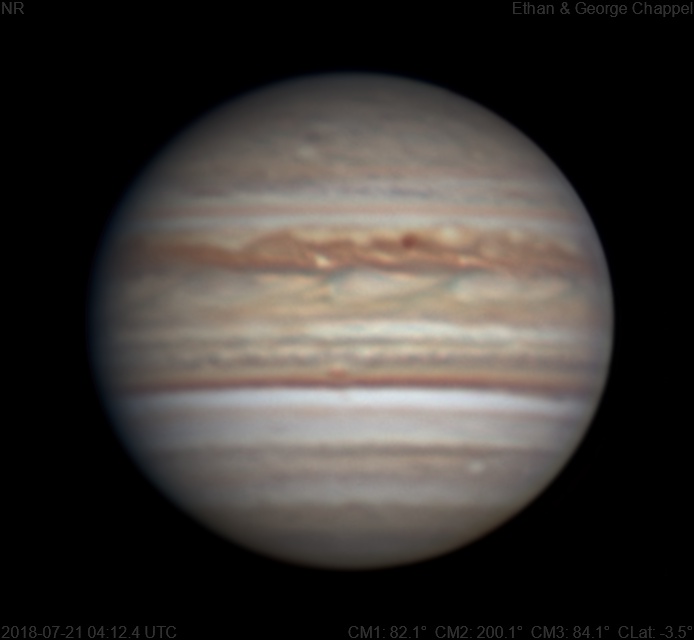 Jupiter UTC
CM1: 82.10°
CM2: 200.10°
CM3: 84.10°
CLat: -3.50°
Description
Seeing continued to be decent while transparency stayed excellent.

Notes:

The North Temperate Belt is thinning as it fades.
There's a tiny brown barge past the central meridian in the northern North Equatorial Belt
A white oval is east of the brown barge on the NEBn.
The NEB has a couple outbreaks.
Most of the Equatorial Zone is tinted orange.
The southern South Equatorial Belt is very dark.
Equipment
ZWO ASI290MM
Astro-Physics Advanced Convertible Barlow
Celestron EdgeHD 14
Logs
FireCapture v2.6  Settings
------------------------------------
Observer=Ethan Chappel
Location=Cibolo, TX, USA
Scope=Celstron C14 EdgeHD
Camera=ZWO ASI290MM
Filter=R
Profile=Jupiter
Diameter=39.08"
Magnitude=-2.18
CMI=80.4° CMII=198.4° CMIII=82.4°  (during mid of capture)
FocalLength=7800mm (F/21)
Resolution=0.08"
Filename=2018-07-21-0408_9-EC-R-Jup.ser
Date=210718
Start=040755.958
Mid=040855.964
End=040955.971
Start(UT)=040755.958
Mid(UT)=040855.964
End(UT)=040955.971
Duration=120.013s
Date_format=ddMMyy
Time_format=HHmmss
LT=UT -6h
Frames captured=11994
File type=SER
Binning=no
Bit depth=8bit
Debayer=no
ROI=612x590
ROI(Offset)=8x56
FPS (avg.)=99
Shutter=10.00ms
Gain=310 (51%)
HighSpeed=off
AutoExposure=off
Gamma=50 (off)
AutoGain=off
USBTraffic=40 (off)
SoftwareGain=10 (off)
AutoHisto=75 (off)
FPS=100 (off)
Brightness=1 (off)
Histogramm(min)=0
Histogramm(max)=130
Histogramm=50%
Noise(avg.deviation)=1.75
Limit=120 Seconds
Sensor temperature=37.1°C
Focuser position=1134
FireCapture v2.6  Settings
------------------------------------
Observer=Ethan Chappel
Location=Cibolo, TX, USA
Scope=Celstron C14 EdgeHD
Camera=ZWO ASI290MM
Filter=B
Profile=Jupiter
Diameter=39.08"
Magnitude=-2.18
CMI=84.6° CMII=202.6° CMIII=86.6°  (during mid of capture)
FocalLength=7850mm (F/22)
Resolution=0.08"
Filename=2018-07-21-0415_8-EC-B-Jup.ser
Date=210718
Start=041452.911
Mid=041552.918
End=041652.925
Start(UT)=041452.911
Mid(UT)=041552.918
End(UT)=041652.925
Duration=120.014s
Date_format=ddMMyy
Time_format=HHmmss
LT=UT -6h
Frames captured=11995
File type=SER
Binning=no
Bit depth=8bit
Debayer=no
ROI=612x590
ROI(Offset)=8x56
FPS (avg.)=99
Shutter=10.00ms
Gain=330 (55%)
HighSpeed=off
AutoExposure=off
Gamma=50
AutoGain=off
USBTraffic=40 (off)
SoftwareGain=10 (off)
AutoHisto=75 (off)
FPS=100 (off)
Brightness=1 (off)
Histogramm(min)=0
Histogramm(max)=121
Histogramm=47%
Noise(avg.deviation)=1.83
Limit=120 Seconds
Sensor temperature=36.7°C
Focuser position=1104
FireCapture v2.6  Settings
------------------------------------
Observer=Ethan Chappel
Location=Cibolo, TX, USA
Scope=Celstron C14 EdgeHD
Camera=ZWO ASI290MM
Filter=G
Profile=Jupiter
Diameter=39.08"
Magnitude=-2.18
CMI=82.6° CMII=200.6° CMIII=84.6°  (during mid of capture)
FocalLength=7800mm (F/21)
Resolution=0.08"
Filename=2018-07-21-0412_5-EC-G-Jup.ser
Date=210718
Start=041132.529
Mid=041232.535
End=041332.542
Start(UT)=041132.529
Mid(UT)=041232.535
End(UT)=041332.542
Duration=120.013s
Date_format=ddMMyy
Time_format=HHmmss
LT=UT -6h
Frames captured=11993
File type=SER
Binning=no
Bit depth=8bit
Debayer=no
ROI=612x590
ROI(Offset)=8x56
FPS (avg.)=99
Shutter=10.00ms
Gain=310 (51%)
HighSpeed=off
AutoExposure=off
Gamma=50 (off)
AutoGain=off
USBTraffic=40 (off)
SoftwareGain=10 (off)
AutoHisto=75 (off)
FPS=100 (off)
Brightness=1 (off)
Histogramm(min)=0
Histogramm(max)=129
Histogramm=50%
Noise(avg.deviation)=1.66
Limit=120 Seconds
Sensor temperature=37.0°C
Focuser position=1134