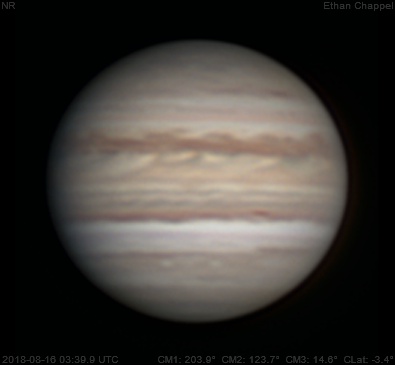 Jupiter UTC
CM1: 203.90°
CM2: 123.70°
CM3: 14.60°
CLat: -3.40°
Description
Seeing was a lot better than the past couple nights for Jupiter.

Notes:
The North Temperate Belt has nearly disappeared.
The northern edge of the North Equatorial belt is wavy.
The Equatorial Zone is tinted orange.
There is a brown barge in the South Equatorial Belt about halfway after the central meridian.
A dark sector of the South Temperate Belt is setting.
Equipment
ZWO ASI224MC
Tele Vue 2.5x Powermate
Celestron EdgeHD 8
Logs
FireCapture v2.6  Settings
------------------------------------
Observer=Ethan Chappel
Location=Cibolo, TX, USA
Scope=Celstron C14 EdgeHD
Camera=ZWO ASI224MC
Filter=RGB
Profile=Jupiter
Diameter=36.24"
Magnitude=-2.01
CMI=207.9° CMII=127.7° CMIII=18.6°  (during mid of capture)
FocalLength=4000mm (F/11)
Resolution=0.19"
Filename=2018-08-16-0345_7-EC-RGB-Jup.ser
Date=2018_08_16
Start=034446.049
Mid=034546.056
End=034646.063
Start(UT)=034446.049
Mid(UT)=034546.056
End(UT)=034646.063
Duration=120.014s
Date_format=yyyy_MM_dd
Time_format=HHmmss
LT=UT -6h
Frames captured=7676
File type=SER
Binning=no
Bit depth=8bit
Debayer=yes
DebayerAlgorithm=NearestNeighbor
BayerPattern=RG
ROI=296x284
ROI(Offset)=0x0
FPS (avg.)=63
Shutter=10.00ms
Gain=330 (55%)
USBTraffic=100 (off)
FPS=100 (off)
HardwareBin=off
AutoExposure=off
WRed=55 (off)
HighSpeed=off
AutoHisto=75 (off)
AutoGain=off
SoftwareGain=10 (off)
Gamma=50 (off)
WBlue=95 (off)
Brightness=1 (off)
Histogramm(min)=0
Histogramm(max)=118
Histogramm=46%
Noise(avg.deviation)=0.41
Limit=120 Seconds
Sensor temperature=35.2°C
FireCapture v2.6  Settings
------------------------------------
Observer=Ethan Chappel
Location=Cibolo, TX, USA
Scope=Celstron C14 EdgeHD
Camera=ZWO ASI224MC
Filter=RGB
Profile=Jupiter
Diameter=36.24"
Magnitude=-2.01
CMI=206.4° CMII=126.2° CMIII=17.1°  (during mid of capture)
FocalLength=3950mm (F/11)
Resolution=0.19"
Filename=2018-08-16-0343_3-EC-RGB-Jup.ser
Date=2018_08_16
Start=034221.872
Mid=034321.878
End=034421.884
Start(UT)=034221.872
Mid(UT)=034321.878
End(UT)=034421.884
Duration=120.012s
Date_format=yyyy_MM_dd
Time_format=HHmmss
LT=UT -6h
Frames captured=7676
File type=SER
Binning=no
Bit depth=8bit
Debayer=yes
DebayerAlgorithm=NearestNeighbor
BayerPattern=RG
ROI=296x284
ROI(Offset)=0x0
FPS (avg.)=63
Shutter=10.00ms
Gain=330 (55%)
USBTraffic=100 (off)
FPS=100 (off)
HardwareBin=off
AutoExposure=off
WRed=55 (off)
HighSpeed=off
AutoHisto=75 (off)
AutoGain=off
SoftwareGain=10 (off)
Gamma=50 (off)
WBlue=95 (off)
Brightness=1 (off)
Histogramm(min)=0
Histogramm(max)=119
Histogramm=46%
Noise(avg.deviation)=0.41
Limit=120 Seconds
Sensor temperature=35.2°C
FireCapture v2.6  Settings
------------------------------------
Observer=Ethan Chappel
Location=Cibolo, TX, USA
Scope=Celstron C14 EdgeHD
Camera=ZWO ASI224MC
Filter=RGB
Profile=Jupiter
Diameter=36.24"
Magnitude=-2.01
CMI=205.1° CMII=124.9° CMIII=15.8°  (during mid of capture)
FocalLength=3950mm (F/11)
Resolution=0.19"
Filename=2018-08-16-0341_1-EC-RGB-Jup.ser
Date=2018_08_16
Start=034010.593
Mid=034110.595
End=034210.597
Start(UT)=034010.593
Mid(UT)=034110.595
End(UT)=034210.597
Duration=120.004s
Date_format=yyyy_MM_dd
Time_format=HHmmss
LT=UT -6h
Frames captured=7675
File type=SER
Binning=no
Bit depth=8bit
Debayer=yes
DebayerAlgorithm=NearestNeighbor
BayerPattern=RG
ROI=296x284
ROI(Offset)=0x0
FPS (avg.)=63
Shutter=10.00ms
Gain=330 (55%)
USBTraffic=100 (off)
FPS=100 (off)
HardwareBin=off
AutoExposure=off
WRed=55 (off)
HighSpeed=off
AutoHisto=75 (off)
AutoGain=off
SoftwareGain=10 (off)
Gamma=50 (off)
WBlue=95 (off)
Brightness=1 (off)
Histogramm(min)=0
Histogramm(max)=125
Histogramm=49%
Noise(avg.deviation)=0.42
Limit=120 Seconds
Sensor temperature=35.2°C
FireCapture v2.6  Settings
------------------------------------
Observer=Ethan Chappel
Location=Cibolo, TX, USA
Scope=Celstron C14 EdgeHD
Camera=ZWO ASI224MC
Filter=RGB
Profile=Jupiter
Diameter=36.24"
Magnitude=-2.01
CMI=203.5° CMII=123.3° CMIII=14.2°  (during mid of capture)
FocalLength=3950mm (F/11)
Resolution=0.20"
Filename=2018-08-16-0338_5-EC-RGB-Jup.ser
Date=2018_08_16
Start=033734.919
Mid=033834.923
End=033934.928
Start(UT)=033734.919
Mid(UT)=033834.923
End(UT)=033934.928
Duration=120.009s
Date_format=yyyy_MM_dd
Time_format=HHmmss
LT=UT -6h
Frames captured=7676
File type=SER
Binning=no
Bit depth=8bit
Debayer=yes
DebayerAlgorithm=NearestNeighbor
BayerPattern=RG
ROI=296x284
ROI(Offset)=0x0
FPS (avg.)=63
Shutter=10.00ms
Gain=330 (55%)
USBTraffic=100 (off)
FPS=100 (off)
HardwareBin=off
AutoExposure=off
WRed=55 (off)
HighSpeed=off
AutoHisto=75 (off)
AutoGain=off
SoftwareGain=10 (off)
Gamma=50 (off)
WBlue=95 (off)
Brightness=1 (off)
Histogramm(min)=0
Histogramm(max)=127
Histogramm=49%
Noise(avg.deviation)=0.43
Limit=120 Seconds
Sensor temperature=35.2°C
FireCapture v2.6  Settings
------------------------------------
Observer=Ethan Chappel
Location=Cibolo, TX, USA
Scope=Celstron C14 EdgeHD
Camera=ZWO ASI224MC
Filter=RGB
Profile=Jupiter
Diameter=36.24"
Magnitude=-2.01
CMI=202.2° CMII=122.0° CMIII=12.9°  (during mid of capture)
FocalLength=4000mm (F/11)
Resolution=0.19"
Filename=2018-08-16-0336_4-EC-RGB-Jup.ser
Date=2018_08_16
Start=033526.682
Mid=033626.683
End=033726.684
Start(UT)=033526.682
Mid(UT)=033626.683
End(UT)=033726.684
Duration=120.002s
Date_format=yyyy_MM_dd
Time_format=HHmmss
LT=UT -6h
Frames captured=7675
File type=SER
Binning=no
Bit depth=8bit
Debayer=yes
DebayerAlgorithm=NearestNeighbor
BayerPattern=RG
ROI=296x284
ROI(Offset)=0x0
FPS (avg.)=63
Shutter=10.00ms
Gain=330 (55%)
USBTraffic=100 (off)
FPS=100 (off)
HardwareBin=off
AutoExposure=off
WRed=55 (off)
HighSpeed=off
AutoHisto=75 (off)
AutoGain=off
SoftwareGain=10 (off)
Gamma=50 (off)
WBlue=95 (off)
Brightness=1 (off)
Histogramm(min)=0
Histogramm(max)=133
Histogramm=52%
Noise(avg.deviation)=0.43
Limit=120 Seconds
Sensor temperature=35.1°C
FireCapture v2.6  Settings
------------------------------------
Observer=Ethan Chappel
Location=Cibolo, TX, USA
Scope=Celstron C14 EdgeHD
Camera=ZWO ASI224MC
Filter=RGB
Profile=Jupiter
Diameter=36.24"
Magnitude=-2.01
CMI=200.9° CMII=120.8° CMIII=11.6°  (during mid of capture)
FocalLength=4000mm (F/11)
Resolution=0.19"
Filename=2018-08-16-0334_3-EC-RGB-Jup.ser
Date=2018_08_16
Start=033319.561
Mid=033419.563
End=033519.565
Start(UT)=033319.561
Mid(UT)=033419.563
End(UT)=033519.565
Duration=120.004s
Date_format=yyyy_MM_dd
Time_format=HHmmss
LT=UT -6h
Frames captured=7675
File type=SER
Binning=no
Bit depth=8bit
Debayer=yes
DebayerAlgorithm=NearestNeighbor
BayerPattern=RG
ROI=296x284
ROI(Offset)=0x0
FPS (avg.)=63
Shutter=10.00ms
Gain=330 (55%)
USBTraffic=100 (off)
FPS=100 (off)
HardwareBin=off
AutoExposure=off
WRed=55 (off)
HighSpeed=off
AutoHisto=75 (off)
AutoGain=off
SoftwareGain=10 (off)
Gamma=50 (off)
WBlue=95 (off)
Brightness=1 (off)
Histogramm(min)=0
Histogramm(max)=130
Histogramm=50%
Noise(avg.deviation)=0.43
Limit=120 Seconds
Sensor temperature=34.8°C