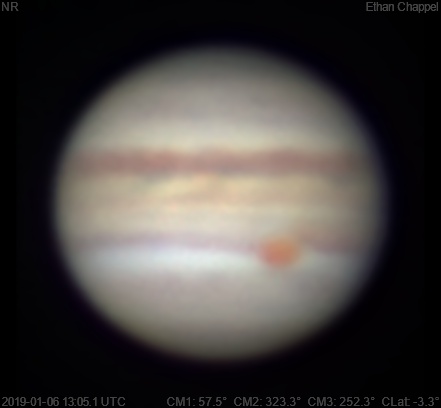 Jupiter UTC
CM1: 57.50°
CM2: 323.30°
CM3: 252.30°
CLat: -3.30°
Description
Capturing data was very difficult due to clouds and poor seeing. Unfortunately, I missed a potentially great opportunity to catch Jupiter yesterday by sleeping through my alarm.

Notes:
The North Temperate Belt appears to have completely faded.
The North Equatorial Belt is very dark.
The Equatorial Zone appears to have continued to darken through solar conjunction.
The Great Red Spot potentially has no wake trailing it.
Equipment
ZWO ASI174MM
Celestron X-Cel 3x
Celestron EdgeHD 8
Logs
FireCapture v2.6  Settings
------------------------------------
Observer=Ethan Chappel
Camera=ZWO ASI174MM
Filter=B
Profile=Jupiter
Diameter=32.03"
Magnitude=-1.79
CMI=59.4° CMII=325.2° CMIII=254.2°  (during mid of capture)
FocalLength=8050mm (F/28)
Resolution=0.15"
Filename=2019-01-06-1308_6-EC-B-Jup.ser
Date=2019_01_06
Start=13_07_36.923
Mid=13_08_36.938
End=13_09_36.953
Start(UT)=13_07_36.923
Mid(UT)=13_08_36.938
End(UT)=13_09_36.953
Duration=120.030s
Date_format=yyyy_MM_dd
Time_format=HH_mm_ss
LT=UT -6h
Frames captured=2661
File type=SER
Binning=no
Bit depth=8bit
Debayer=no
ROI=336x374
ROI(Offset)=0x0
FPS (avg.)=22
Shutter=45.08ms
Gain=339 (84%)
HighSpeed=off
AutoExposure=off
Gamma=50 (off)
AutoGain=off
USBTraffic=80 (off)
SoftwareGain=10 (off)
AutoHisto=75 (off)
FPS=100 (off)
Brightness=1 (off)
Histogramm(min)=0
Histogramm(max)=100
Histogramm=39%
Noise(avg.deviation)=2.34
AutoAlign=false
PreFilter=none
Limit=120 Seconds
Sensor temperature=25.3°C
FireCapture v2.6  Settings
------------------------------------
Observer=Ethan Chappel
Camera=ZWO ASI174MM
Filter=G
Profile=Jupiter
Diameter=32.03"
Magnitude=-1.79
CMI=57.4° CMII=323.2° CMIII=252.2°  (during mid of capture)
FocalLength=8100mm (F/28)
Resolution=0.15"
Filename=2019-01-06-1305_2-EC-G-Jup.ser
Date=2019_01_06
Start=13_04_16.754
Mid=13_05_16.769
End=13_06_16.784
Start(UT)=13_04_16.754
Mid(UT)=13_05_16.769
End(UT)=13_06_16.784
Duration=120.030s
Date_format=yyyy_MM_dd
Time_format=HH_mm_ss
LT=UT -6h
Frames captured=2704
File type=SER
Binning=no
Bit depth=8bit
Debayer=no
ROI=336x374
ROI(Offset)=0x0
FPS (avg.)=22
Shutter=44.36ms
Gain=353 (88%)
HighSpeed=off
AutoExposure=off
Gamma=50 (off)
AutoGain=off
USBTraffic=80 (off)
SoftwareGain=10 (off)
AutoHisto=75 (off)
FPS=100 (off)
Brightness=1 (off)
Histogramm(min)=0
Histogramm(max)=136
Histogramm=53%
Noise(avg.deviation)=2.24
AutoAlign=false
PreFilter=none
Limit=120 Seconds
Sensor temperature=25.5°C
FireCapture v2.6  Settings
------------------------------------
Observer=Ethan Chappel
Camera=ZWO ASI174MM
Filter=R
Profile=Jupiter
Diameter=32.03"
Magnitude=-1.79
CMI=55.1° CMII=320.9° CMIII=249.9°  (during mid of capture)
FocalLength=8250mm (F/29)
Resolution=0.15"
Filename=2019-01-06-1301_4-EC-R-Jup.ser
Date=2019_01_06
Start=13_00_28.423
Mid=13_01_28.437
End=13_02_28.452
Start(UT)=13_00_28.423
Mid(UT)=13_01_28.437
End(UT)=13_02_28.452
Duration=120.029s
Date_format=yyyy_MM_dd
Time_format=HH_mm_ss
LT=UT -6h
Frames captured=1991
File type=SER
Binning=no
Bit depth=8bit
Debayer=no
ROI=336x374
ROI(Offset)=0x0
FPS (avg.)=16
Shutter=60.26ms
Gain=400 (100%)
HighSpeed=off
AutoExposure=off
Gamma=50 (off)
AutoGain=off
USBTraffic=80 (off)
SoftwareGain=10 (off)
AutoHisto=75 (off)
FPS=100 (off)
Brightness=1 (off)
Histogramm(min)=0
Histogramm(max)=180
Histogramm=70%
Noise(avg.deviation)=3.33
AutoAlign=false
PreFilter=none
Limit=120 Seconds
Sensor temperature=25.3°C

Measurements
| Name | Longitude 1 | Longitude 2 | Longitude 3 | Latitude | Measurer |
| --- | --- | --- | --- | --- | --- |
| GRS F. End | 43.2° ± 1° | 309° ± 1° | 238° ± 1° | -22.2° | EGC |
| GRS P. End | 28.3° | 294.1° | 223.1° | -21.8° | EGC |
| GRS Center | 35.7° | 301.5° | 230.5° | -21.8° | EGC |
| Oval BA Center | 18.2° ± 2° | 284° ± 2° | 213° ± 2° | -32.4° ± 2° | EGC |
| EZ Fest. P. End | 75.4° ± 1° | 341.2° ± 1° | 270.2° ± 1° | 7.5° ± 0.5° | EGC |
| EZ Fest. F. End | 92.2° ± 2° | 357.9° ± 2° | 287° ± 2° | 1.7° ± 1° | EGC |
| 0x | 55.1° | 320.9° | 249.9° | 7.9° | EGC |
| 0x | 68.3° ± 3° | 334.1° ± 3° | 263.1° ± 3° | 1.5° ± 1° | EGC |
| 0x | 12.4° ± 5° | 278.2° ± 5° | 207.2° ± 5° | 8.4° ± 0.5° | EGC |
| GRS N. End | 35.5° ± 0.2° | 301.2° ± 0.2° | 230.3° ± 0.2° | -17.5° ± 0.3° | EGC |
| GRS S. End | 35.1° | 300.9° | 229.9° | -26.3° | EGC |
| 0x | 80.8° ± 5° | 346.6° ± 5° | 275.6° ± 5° | 9.2° ± 0.3° | EGC |