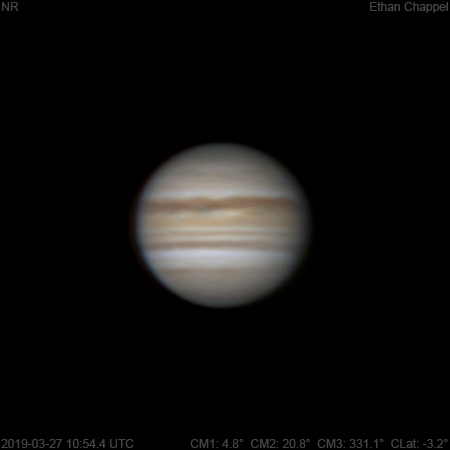 Jupiter UTC
CM1: 4.80°
CM2: 20.80°
CM3: 331.10°
CLat: -3.20°
Description
At this point of the session, it became apparent that my Celestron Power Tank couldn't handle powering the equipment through a power strip. Since I lost my alignment, I set the speed to 2 and held right on the hand controller to keep pace with Jupiter.

Notes:
The Equatorial Zone is still orange.
The South Equatorial Belt is split by a white zone.
Equipment
ZWO ASI224MC
Celestron EdgeHD 8
Logs
FireCapture v2.6  Settings
------------------------------------
Observer=Ethan Chappel
Camera=ZWO ASI224MC
Filter=RGB
Profile=Jupiter
Diameter=39.23"
Magnitude=-2.21
CMI=1.0° CMII=17.1° CMIII=327.3°  (during mid of capture)
FocalLength=2050mm (F/7)
Resolution=0.38"
Filename=2019-03-27-1049_1-EC-RGB-Jup.ser
Date=2019_03_27
Start=10_47_55.537
Mid=10_49_10.540
End=10_50_25.543
Start(UT)=10_47_55.537
Mid(UT)=10_49_10.540
End(UT)=10_50_25.543
Duration=150.006s
Date_format=yyyy_MM_dd
Time_format=HH_mm_ss
LT=UT -6h
Frames captured=7497
File type=SER
Binning=no
Bit depth=8bit
Debayer=yes
DebayerAlgorithm=NearestNeighbor
BayerPattern=RG
ROI=284x292
ROI(Offset)=0x0
FPS (avg.)=49
Shutter=20.00ms
Gain=250 (41%)
USBTraffic=100 (off)
WBlue=95 (off)
SoftwareGain=10 (off)
AutoGain=off
AutoHisto=75 (off)
Brightness=1 (off)
HardwareBin=off
FPS=100 (off)
HighSpeed=off
AutoExposure=off
WRed=55 (off)
Gamma=50 (off)
Histogramm(min)=0
Histogramm(max)=161
Histogramm=63%
Noise(avg.deviation)=0.13
AutoAlign=false
PreFilter=none
Limit=150 Seconds
Sensor temperature=20.6°C
FireCapture v2.6  Settings
------------------------------------
Observer=Ethan Chappel
Camera=ZWO ASI224MC
Filter=RGB
Profile=Jupiter
Diameter=39.23"
Magnitude=-2.21
CMI=7.5° CMII=23.5° CMIII=333.8°  (during mid of capture)
FocalLength=2050mm (F/7)
Resolution=0.38"
Filename=2019-03-27-1059_7-EC-RGB-Jup.ser
Date=2019_03_27
Start=10_58_32.103
Mid=10_59_47.110
End=11_01_02.117
Start(UT)=10_58_32.103
Mid(UT)=10_59_47.110
End(UT)=11_01_02.117
Duration=150.014s
Date_format=yyyy_MM_dd
Time_format=HH_mm_ss
LT=UT -6h
Frames captured=5998
File type=SER
Binning=no
Bit depth=8bit
Debayer=yes
DebayerAlgorithm=NearestNeighbor
BayerPattern=RG
ROI=284x292
ROI(Offset)=0x0
FPS (avg.)=39
Shutter=25.00ms
Gain=403 (67%)
USBTraffic=100 (off)
WBlue=95 (off)
SoftwareGain=10 (off)
AutoGain=off
AutoHisto=75 (off)
Brightness=1 (off)
HardwareBin=off
FPS=100 (off)
HighSpeed=off
AutoExposure=off
WRed=55 (off)
Gamma=50 (off)
Histogramm(min)=0
Histogramm(max)=156
Histogramm=61%
Noise(avg.deviation)=1.13
AutoAlign=false
PreFilter=none
Limit=150 Seconds
Sensor temperature=19.7°C
FireCapture v2.6  Settings
------------------------------------
Observer=Ethan Chappel
Camera=ZWO ASI224MC
Filter=RGB
Profile=Jupiter
Diameter=39.23"
Magnitude=-2.21
CMI=5.3° CMII=21.3° CMIII=331.6°  (during mid of capture)
FocalLength=2050mm (F/7)
Resolution=0.38"
Filename=2019-03-27-1056_2-EC-RGB-Jup.ser
Date=2019_03_27
Start=10_55_01.336
Mid=10_56_16.341
End=10_57_31.347
Start(UT)=10_55_01.336
Mid(UT)=10_56_16.341
End(UT)=10_57_31.347
Duration=150.011s
Date_format=yyyy_MM_dd
Time_format=HH_mm_ss
LT=UT -6h
Frames captured=5998
File type=SER
Binning=no
Bit depth=8bit
Debayer=yes
DebayerAlgorithm=NearestNeighbor
BayerPattern=RG
ROI=284x292
ROI(Offset)=0x0
FPS (avg.)=39
Shutter=25.00ms
Gain=403 (67%)
USBTraffic=100 (off)
WBlue=95 (off)
SoftwareGain=10 (off)
AutoGain=off
AutoHisto=75 (off)
Brightness=1 (off)
HardwareBin=off
FPS=100 (off)
HighSpeed=off
AutoExposure=off
WRed=55 (off)
Gamma=50 (off)
Histogramm(min)=0
Histogramm(max)=0
Histogramm=0%
Noise(avg.deviation)=n/a
AutoAlign=false
PreFilter=none
Limit=150 Seconds
Sensor temperature=19.8°C
FireCapture v2.6  Settings
------------------------------------
Observer=Ethan Chappel
Camera=ZWO ASI224MC
Filter=RGB
Profile=Jupiter
Diameter=39.23"
Magnitude=-2.21
CMI=3.2° CMII=19.2° CMIII=329.5°  (during mid of capture)
FocalLength=2000mm (F/7)
Resolution=0.38"
Filename=2019-03-27-1052_7-EC-RGB-Jup.ser
Date=2019_03_27
Start=10_51_31.494
Mid=10_52_46.499
End=10_54_01.504
Start(UT)=10_51_31.494
Mid(UT)=10_52_46.499
End(UT)=10_54_01.504
Duration=150.010s
Date_format=yyyy_MM_dd
Time_format=HH_mm_ss
LT=UT -6h
Frames captured=5998
File type=SER
Binning=no
Bit depth=8bit
Debayer=yes
DebayerAlgorithm=NearestNeighbor
BayerPattern=RG
ROI=284x292
ROI(Offset)=0x0
FPS (avg.)=39
Shutter=25.00ms
Gain=364 (60%)
USBTraffic=100 (off)
WBlue=95 (off)
SoftwareGain=10 (off)
AutoGain=off
AutoHisto=75 (off)
Brightness=1 (off)
HardwareBin=off
FPS=100 (off)
HighSpeed=off
AutoExposure=off
WRed=55 (off)
Gamma=50 (off)
Histogramm(min)=0
Histogramm(max)=181
Histogramm=70%
Noise(avg.deviation)=0.66
AutoAlign=false
PreFilter=none
Limit=150 Seconds
Sensor temperature=20.1°C