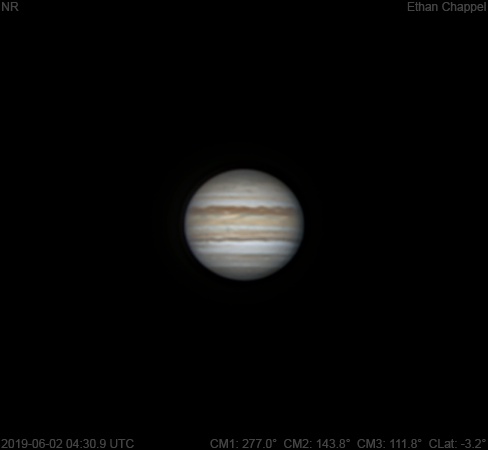 Jupiter UTC
CM1: 277.00°
CM2: 143.80°
CM3: 111.80°
CLat: -3.20°
Description
I wasn't expecting to image tonight, but I went outdoors to see the sky clearing to the south. The stars were twinkling and the sky could've clouded over at any time, so we skipped the C14 and I pulled out the 90mm Mak for a quick setup. Sky conditions were very good! I believe this is one of my best photos from this scope!

Notes:
The North Temperate Belt is thin. The southern edge is orange while the north is dark.
The North Equatorial Belt appears to have a few new rifts.
The Equatorial Zone, except for the southern edge, is still orange.
The South Equatorial Belt appears to have a dark spot on its northern edge approaching the central meridian.
The SEBs is dark compared to the rest of the belt.
The South Polar Red Spot is past the CM.
Equipment
ZWO ASI224MC
Orion Apex 90mm
Logs
FireCapture v2.6  Settings
------------------------------------
Observer=Ethan Chappel
Camera=ZWO ASI224MC
Filter=RGB
Profile=Jupiter
Diameter=45.80"
Magnitude=-2.60
CMI=277.3° CMII=144.1° CMIII=112.2°  (during mid of capture)
FocalLength=1200mm (F/4)
Resolution=0.65"
Filename=2019-06-02-0431_6-EC-RGB-Jup.ser
Date=2019_06_02
Start=04_30_25.584
Mid=04_31_40.584
End=04_32_55.585
Start(UT)=04_30_25.584
Mid(UT)=04_31_40.584
End(UT)=04_32_55.585
Duration=150.001s
Date_format=yyyy_MM_dd
Time_format=HH_mm_ss
LT=UT -6h
Frames captured=9593
File type=SER
Binning=no
Bit depth=8bit
Debayer=yes
DebayerAlgorithm=NearestNeighbor
BayerPattern=RG
ROI=464x460
ROI(Offset)=0x0
FPS (avg.)=63
Shutter=15.00ms
Gain=250 (41%)
HardwareBin=off
Gamma=50 (off)
FPS=100 (off)
AutoExposure=off
AutoHisto=75 (off)
HighSpeed=off
SoftwareGain=10 (off)
WBlue=95 (off)
AutoGain=off
USBTraffic=100 (off)
Brightness=1 (off)
WRed=52 (off)
Histogramm(min)=0
Histogramm(max)=0
Histogramm=0%
Noise(avg.deviation)=n/a
AutoAlign=false
PreFilter=none
Limit=150 Seconds
Sensor temperature=33.3°C
FireCapture v2.6  Settings
------------------------------------
Observer=Ethan Chappel
Camera=ZWO ASI224MC
Filter=RGB
Profile=Jupiter
Diameter=45.80"
Magnitude=-2.60
CMI=274.2° CMII=141.0° CMIII=109.0°  (during mid of capture)
FocalLength=1150mm (F/4)
Resolution=0.67"
Filename=2019-06-02-0426_5-EC-RGB-Jup.ser
Date=2019_06_02
Start=04_25_15.154
Mid=04_26_30.159
End=04_27_45.165
Start(UT)=04_25_15.154
Mid(UT)=04_26_30.159
End(UT)=04_27_45.165
Duration=150.011s
Date_format=yyyy_MM_dd
Time_format=HH_mm_ss
LT=UT -6h
Frames captured=9594
File type=SER
Binning=no
Bit depth=8bit
Debayer=yes
DebayerAlgorithm=NearestNeighbor
BayerPattern=RG
ROI=464x460
ROI(Offset)=0x0
FPS (avg.)=63
Shutter=15.00ms
Gain=250 (41%)
HardwareBin=off
Gamma=50 (off)
FPS=100 (off)
AutoExposure=off
AutoHisto=75 (off)
HighSpeed=off
SoftwareGain=10 (off)
WBlue=95 (off)
AutoGain=off
USBTraffic=100 (off)
Brightness=1 (off)
WRed=52 (off)
Histogramm(min)=0
Histogramm(max)=0
Histogramm=0%
Noise(avg.deviation)=n/a
AutoAlign=false
PreFilter=none
Limit=150 Seconds
Sensor temperature=33.3°C
FireCapture v2.6  Settings
------------------------------------
Observer=Ethan Chappel
Camera=ZWO ASI224MC
Filter=RGB
Profile=Jupiter
Diameter=45.80"
Magnitude=-2.60
CMI=279.1° CMII=145.9° CMIII=113.9°  (during mid of capture)
FocalLength=1150mm (F/4)
Resolution=0.68"
Filename=2019-06-02-0434_6-EC-RGB-Jup.ser
Date=2019_06_02
Start=04_33_23.934
Mid=04_34_38.937
End=04_35_53.940
Start(UT)=04_33_23.934
Mid(UT)=04_34_38.937
End(UT)=04_35_53.940
Duration=150.006s
Date_format=yyyy_MM_dd
Time_format=HH_mm_ss
LT=UT -6h
Frames captured=9594
File type=SER
Binning=no
Bit depth=8bit
Debayer=yes
DebayerAlgorithm=NearestNeighbor
BayerPattern=RG
ROI=464x460
ROI(Offset)=0x0
FPS (avg.)=63
Shutter=15.00ms
Gain=250 (41%)
HardwareBin=off
Gamma=50 (off)
FPS=100 (off)
AutoExposure=off
AutoHisto=75 (off)
HighSpeed=off
SoftwareGain=10 (off)
WBlue=95 (off)
AutoGain=off
USBTraffic=100 (off)
Brightness=1 (off)
WRed=52 (off)
Histogramm(min)=0
Histogramm(max)=0
Histogramm=0%
Noise(avg.deviation)=n/a
AutoAlign=false
PreFilter=none
Limit=150 Seconds
Sensor temperature=33.3°C