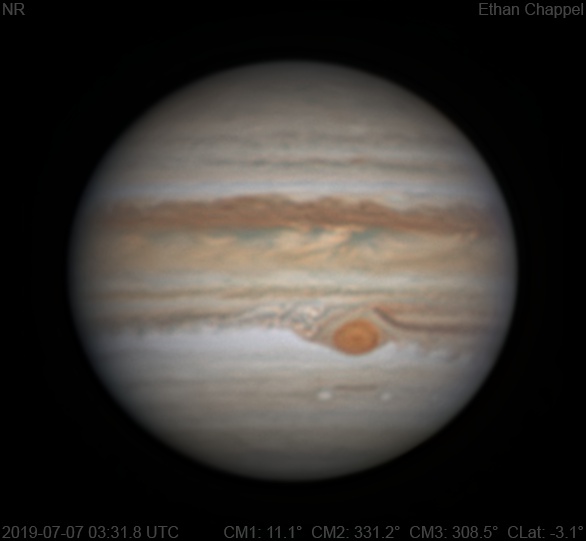 Jupiter UTC
CM1: 11.10°
CM2: 331.20°
CM3: 308.50°
CLat: -3.10°
Description
A mixed night for planetary imaging. While seeing was very good, it was quite breezy, a weak point for the CGEM DX when the C14 with imaging equipment is saddled on it. To take advantage of the night, I used the C8 instead.

Notes:
White Oval Z is about halfway between the central meridian and the eastern limb.
The EZ is still orange.
The GRS is past the central meridian.
The SEBn is almost white.
The SEBs following the GRS wake appears dark and clumpy.
The GRS hollow is dark.
To the east of the GRS, the darkened STZ has wave-like extensions reaching south.
Equipment
ZWO ASI290MM
Astro-Physics Advanced Convertible Barlow
Celestron EdgeHD 8
Logs
FireCapture v2.6  Settings
------------------------------------
Observer=Ethan Chappel
Camera=ZWO ASI290MM
Filter=B
Profile=Jupiter
Diameter=45.01"
Magnitude=-2.55
CMI=15.9° CMII=335.9° CMIII=313.3°  (during mid of capture)
FocalLength=3850mm (F/13)
Resolution=0.16"
Filename=2019-07-07-0339_6-EC-B-Jup.ser
Date=2019_07_07
Start=03_38_37.632
Mid=03_39_37.636
End=03_40_37.640
Start(UT)=03_38_37.632
Mid(UT)=03_39_37.636
End(UT)=03_40_37.640
Duration=120.008s
Date_format=yyyy_MM_dd
Time_format=HH_mm_ss
LT=UT -6h
Frames captured=7997
File type=SER
Binning=no
Bit depth=8bit
Debayer=no
ROI=516x402
ROI(Offset)=0x0
FPS (avg.)=66
Shutter=15.00ms
Gain=280 (46%)
AutoExposure=off
SoftwareGain=10 (off)
AutoGain=off
USBTraffic=40 (off)
Brightness=1 (off)
Gamma=50
HighSpeed=off
AutoHisto=75 (off)
FPS=100 (off)
Histogramm(min)=0
Histogramm(max)=135
Histogramm=52%
Noise(avg.deviation)=0.73
AutoAlign=false
PreFilter=none
Limit=120 Seconds
Sensor temperature=36.5°C
FireCapture v2.6  Settings
------------------------------------
Observer=Ethan Chappel
Camera=ZWO ASI290MM
Filter=G
Profile=Jupiter
Diameter=45.01"
Magnitude=-2.55
CMI=14.0° CMII=334.0° CMIII=311.3°  (during mid of capture)
FocalLength=3750mm (F/13)
Resolution=0.16"
Filename=2019-07-07-0336_4-EC-G-Jup.ser
Date=2019_07_07
Start=03_35_27.316
Mid=03_36_27.321
End=03_37_27.327
Start(UT)=03_35_27.316
Mid(UT)=03_36_27.321
End(UT)=03_37_27.327
Duration=120.011s
Date_format=yyyy_MM_dd
Time_format=HH_mm_ss
LT=UT -6h
Frames captured=7995
File type=SER
Binning=no
Bit depth=8bit
Debayer=no
ROI=516x402
ROI(Offset)=0x0
FPS (avg.)=66
Shutter=15.00ms
Gain=280 (46%)
AutoExposure=off
SoftwareGain=10 (off)
AutoGain=off
USBTraffic=40 (off)
Brightness=1 (off)
Gamma=50 (off)
HighSpeed=off
AutoHisto=75 (off)
FPS=100 (off)
Histogramm(min)=0
Histogramm(max)=168
Histogramm=65%
Noise(avg.deviation)=0.77
AutoAlign=false
PreFilter=none
Limit=120 Seconds
Sensor temperature=36.3°C
FireCapture v2.6  Settings
------------------------------------
Observer=Ethan Chappel
Camera=ZWO ASI290MM
Filter=R
Profile=Jupiter
Diameter=45.01"
Magnitude=-2.55
CMI=12.2° CMII=332.3° CMIII=309.6°  (during mid of capture)
FocalLength=3800mm (F/13)
Resolution=0.16"
Filename=2019-07-07-0333_5-EC-R-Jup.ser
Date=2019_07_07
Start=03_32_35.485
Mid=03_33_35.487
End=03_34_35.490
Start(UT)=03_32_35.485
Mid(UT)=03_33_35.487
End(UT)=03_34_35.490
Duration=120.005s
Date_format=yyyy_MM_dd
Time_format=HH_mm_ss
LT=UT -6h
Frames captured=7997
File type=SER
Binning=no
Bit depth=8bit
Debayer=no
ROI=516x402
ROI(Offset)=0x0
FPS (avg.)=66
Shutter=15.00ms
Gain=280 (46%)
AutoExposure=off
SoftwareGain=10 (off)
AutoGain=off
USBTraffic=40 (off)
Brightness=1 (off)
Gamma=50 (off)
HighSpeed=off
AutoHisto=75 (off)
FPS=100 (off)
Histogramm(min)=0
Histogramm(max)=173
Histogramm=67%
Noise(avg.deviation)=0.78
AutoAlign=false
PreFilter=none
Limit=120 Seconds
Sensor temperature=36.3°C
FireCapture v2.6  Settings
------------------------------------
Observer=Ethan Chappel
Camera=ZWO ASI290MM
Filter=B
Profile=Jupiter
Diameter=45.01"
Magnitude=-2.55
CMI=10.5° CMII=330.5° CMIII=307.9°  (during mid of capture)
FocalLength=3850mm (F/13)
Resolution=0.16"
Filename=2019-07-07-0330_7-EC-B-Jup.ser
Date=2019_07_07
Start=03_29_42.563
Mid=03_30_42.567
End=03_31_42.572
Start(UT)=03_29_42.563
Mid(UT)=03_30_42.567
End(UT)=03_31_42.572
Duration=120.009s
Date_format=yyyy_MM_dd
Time_format=HH_mm_ss
LT=UT -6h
Frames captured=7980
File type=SER
Binning=no
Bit depth=8bit
Debayer=no
ROI=516x402
ROI(Offset)=0x0
FPS (avg.)=66
Shutter=15.00ms
Gain=280 (46%)
AutoExposure=off
SoftwareGain=10 (off)
AutoGain=off
USBTraffic=40 (off)
Brightness=1 (off)
Gamma=50
HighSpeed=off
AutoHisto=75 (off)
FPS=100 (off)
Histogramm(min)=0
Histogramm(max)=127
Histogramm=49%
Noise(avg.deviation)=0.73
AutoAlign=false
PreFilter=none
Limit=120 Seconds
Sensor temperature=36.2°C
FireCapture v2.6  Settings
------------------------------------
Observer=Ethan Chappel
Camera=ZWO ASI290MM
Filter=G
Profile=Jupiter
Diameter=45.01"
Magnitude=-2.55
CMI=8.4° CMII=328.5° CMIII=305.8°  (during mid of capture)
FocalLength=3800mm (F/13)
Resolution=0.16"
Filename=2019-07-07-0327_2-EC-G-Jup.ser
Date=2019_07_07
Start=03_26_15.001
Mid=03_27_15.007
End=03_28_15.013
Start(UT)=03_26_15.001
Mid(UT)=03_27_15.007
End(UT)=03_28_15.013
Duration=120.012s
Date_format=yyyy_MM_dd
Time_format=HH_mm_ss
LT=UT -6h
Frames captured=7997
File type=SER
Binning=no
Bit depth=8bit
Debayer=no
ROI=516x402
ROI(Offset)=0x0
FPS (avg.)=66
Shutter=15.00ms
Gain=280 (46%)
AutoExposure=off
SoftwareGain=10 (off)
AutoGain=off
USBTraffic=40 (off)
Brightness=1 (off)
Gamma=50 (off)
HighSpeed=off
AutoHisto=75 (off)
FPS=100 (off)
Histogramm(min)=0
Histogramm(max)=160
Histogramm=62%
Noise(avg.deviation)=0.77
AutoAlign=false
PreFilter=none
Limit=120 Seconds
Sensor temperature=36.0°C
FireCapture v2.6  Settings
------------------------------------
Observer=Ethan Chappel
Camera=ZWO ASI290MM
Filter=R
Profile=Jupiter
Diameter=45.01"
Magnitude=-2.55
CMI=6.1° CMII=326.2° CMIII=303.6°  (during mid of capture)
FocalLength=3800mm (F/13)
Resolution=0.16"
Filename=2019-07-07-0323_5-EC-R-Jup.ser
Date=2019_07_07
Start=03_22_34.386
Mid=03_23_34.386
End=03_24_34.387
Start(UT)=03_22_34.386
Mid(UT)=03_23_34.386
End(UT)=03_24_34.387
Duration=120.001s
Date_format=yyyy_MM_dd
Time_format=HH_mm_ss
LT=UT -6h
Frames captured=7306
File type=SER
Binning=no
Bit depth=8bit
Debayer=no
ROI=516x402
ROI(Offset)=0x0
FPS (avg.)=60
Shutter=15.00ms
Gain=280 (46%)
AutoExposure=off
SoftwareGain=10 (off)
AutoGain=off
USBTraffic=40 (off)
Brightness=1 (off)
Gamma=50 (off)
HighSpeed=off
AutoHisto=75 (off)
FPS=100 (off)
Histogramm(min)=0
Histogramm(max)=168
Histogramm=65%
Noise(avg.deviation)=0.67
AutoAlign=false
PreFilter=none
Limit=120 Seconds
Sensor temperature=35.2°C

Measurements
| Name | Longitude 1 | Longitude 2 | Longitude 3 | Latitude | Measurer |
| --- | --- | --- | --- | --- | --- |
| GRS F. End | 359.9° | 320° | 297.3° | -23.2° | EGC |
| GRS S. Edge | 352.9° | 312.9° | 290.3° | -27.3° | EGC |
| GRS P. End | 346.7° | 306.8° | 284.1° | -22.7° | EGC |
| GRS N. Edge | 353.3° | 313.4° | 290.7° | -17.5° | EGC |
| GRS Center | 353.2° | 313.3° | 290.6° | -23.1° | EGC |