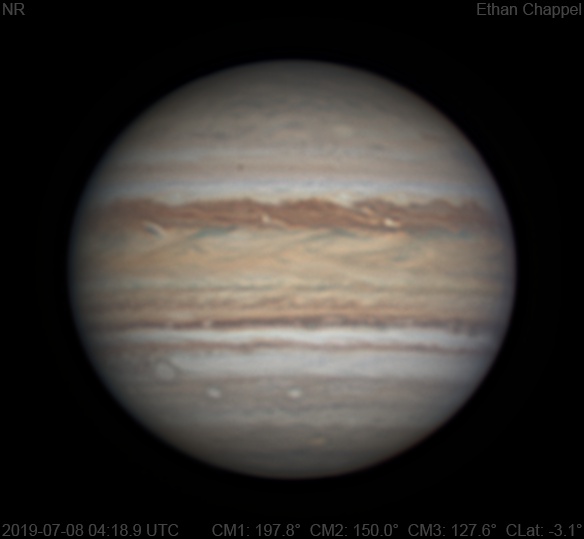 Jupiter UTC
CM1: 197.80°
CM2: 150.00°
CM3: 127.60°
CLat: -3.10°
Description
Despite the breezy weather prohibiting the use of the CGEM DX and C14 for the second night straight, tonight was another good summer night for planetary imaging.

Notes:
The NEBn contains a few small white ovals.
The NEB contains a few rifts.
The Equatorial Zone is still orange.
Oval BA and the STB Ghost are rising together.
The South Polar Red Spot stands out in the south polar regions.
Equipment
ZWO ASI290MM
Astro-Physics Advanced Convertible Barlow
Celestron EdgeHD 8
Logs
FireCapture v2.6  Settings
------------------------------------
Observer=Ethan Chappel
Camera=ZWO ASI290MM
Filter=B
Profile=Jupiter
Diameter=44.93"
Magnitude=-2.55
CMI=202.5° CMII=154.7° CMIII=132.3°  (during mid of capture)
FocalLength=3800mm (F/13)
Resolution=0.16"
Filename=2019-07-08-0426_6-EC-B-Jup.ser
Date=2019_07_08
Start=04_25_37.257
Mid=04_26_37.262
End=04_27_37.267
Start(UT)=04_25_37.257
Mid(UT)=04_26_37.262
End(UT)=04_27_37.267
Duration=120.010s
Date_format=yyyy_MM_dd
Time_format=HH_mm_ss
LT=UT -6h
Frames captured=7999
File type=SER
Binning=no
Bit depth=8bit
Debayer=no
ROI=404x368
ROI(Offset)=8x8
FPS (avg.)=66
Shutter=15.00ms
Gain=290 (48%)
AutoGain=off
Gamma=50
AutoExposure=off
USBTraffic=40 (off)
AutoHisto=75 (off)
Brightness=1 (off)
FPS=100 (off)
SoftwareGain=10 (off)
HighSpeed=off
Histogramm(min)=0
Histogramm(max)=136
Histogramm=53%
Noise(avg.deviation)=1.27
AutoAlign=false
PreFilter=none
Limit=120 Seconds
Sensor temperature=34.1°C
FireCapture v2.6  Settings
------------------------------------
Observer=Ethan Chappel
Camera=ZWO ASI290MM
Filter=G
Profile=Jupiter
Diameter=44.94"
Magnitude=-2.55
CMI=200.6° CMII=152.8° CMIII=130.4°  (during mid of capture)
FocalLength=3850mm (F/13)
Resolution=0.16"
Filename=2019-07-08-0423_5-EC-G-Jup.ser
Date=2019_07_08
Start=04_22_32.871
Mid=04_23_32.872
End=04_24_32.873
Start(UT)=04_22_32.871
Mid(UT)=04_23_32.872
End(UT)=04_24_32.873
Duration=120.002s
Date_format=yyyy_MM_dd
Time_format=HH_mm_ss
LT=UT -6h
Frames captured=7998
File type=SER
Binning=no
Bit depth=8bit
Debayer=no
ROI=404x368
ROI(Offset)=8x8
FPS (avg.)=66
Shutter=15.00ms
Gain=280 (46%)
AutoGain=off
Gamma=50 (off)
AutoExposure=off
USBTraffic=40 (off)
AutoHisto=75 (off)
Brightness=1 (off)
FPS=100 (off)
SoftwareGain=10 (off)
HighSpeed=off
Histogramm(min)=0
Histogramm(max)=159
Histogramm=62%
Noise(avg.deviation)=1.35
AutoAlign=false
PreFilter=none
Limit=120 Seconds
Sensor temperature=34.1°C
FireCapture v2.6  Settings
------------------------------------
Observer=Ethan Chappel
Camera=ZWO ASI290MM
Filter=R
Profile=Jupiter
Diameter=44.94"
Magnitude=-2.55
CMI=199.1° CMII=151.2° CMIII=128.9°  (during mid of capture)
FocalLength=3750mm (F/13)
Resolution=0.16"
Filename=2019-07-08-0420_9-EC-R-Jup.ser
Date=2019_07_08
Start=04_19_57.444
Mid=04_20_57.445
End=04_21_57.447
Start(UT)=04_19_57.444
Mid(UT)=04_20_57.445
End(UT)=04_21_57.447
Duration=120.003s
Date_format=yyyy_MM_dd
Time_format=HH_mm_ss
LT=UT -6h
Frames captured=7998
File type=SER
Binning=no
Bit depth=8bit
Debayer=no
ROI=404x368
ROI(Offset)=8x8
FPS (avg.)=66
Shutter=15.00ms
Gain=270 (45%)
AutoGain=off
Gamma=50 (off)
AutoExposure=off
USBTraffic=40 (off)
AutoHisto=75 (off)
Brightness=1 (off)
FPS=100 (off)
SoftwareGain=10 (off)
HighSpeed=off
Histogramm(min)=0
Histogramm(max)=165
Histogramm=64%
Noise(avg.deviation)=1.25
AutoAlign=false
PreFilter=none
Limit=120 Seconds
Sensor temperature=34.1°C
FireCapture v2.6  Settings
------------------------------------
Observer=Ethan Chappel
Camera=ZWO ASI290MM
Filter=B
Profile=Jupiter
Diameter=44.94"
Magnitude=-2.55
CMI=197.2° CMII=149.4° CMIII=127.0°  (during mid of capture)
FocalLength=3800mm (F/13)
Resolution=0.16"
Filename=2019-07-08-0417_9-EC-B-Jup.ser
Date=2019_07_08
Start=04_16_57.751
Mid=04_17_57.753
End=04_18_57.755
Start(UT)=04_16_57.751
Mid(UT)=04_17_57.753
End(UT)=04_18_57.755
Duration=120.004s
Date_format=yyyy_MM_dd
Time_format=HH_mm_ss
LT=UT -6h
Frames captured=7999
File type=SER
Binning=no
Bit depth=8bit
Debayer=no
ROI=404x368
ROI(Offset)=8x8
FPS (avg.)=66
Shutter=15.00ms
Gain=290 (48%)
AutoGain=off
Gamma=50
AutoExposure=off
USBTraffic=40 (off)
AutoHisto=75 (off)
Brightness=1 (off)
FPS=100 (off)
SoftwareGain=10 (off)
HighSpeed=off
Histogramm(min)=0
Histogramm(max)=132
Histogramm=51%
Noise(avg.deviation)=1.24
AutoAlign=false
PreFilter=none
Limit=120 Seconds
Sensor temperature=34.1°C
FireCapture v2.6  Settings
------------------------------------
Observer=Ethan Chappel
Camera=ZWO ASI290MM
Filter=G
Profile=Jupiter
Diameter=44.94"
Magnitude=-2.55
CMI=195.0° CMII=147.2° CMIII=124.9°  (during mid of capture)
FocalLength=3750mm (F/13)
Resolution=0.16"
Filename=2019-07-08-0414_3-EC-G-Jup.ser
Date=2019_07_08
Start=04_13_20.495
Mid=04_14_20.502
End=04_15_20.509
Start(UT)=04_13_20.495
Mid(UT)=04_14_20.502
End(UT)=04_15_20.509
Duration=120.014s
Date_format=yyyy_MM_dd
Time_format=HH_mm_ss
LT=UT -6h
Frames captured=7699
File type=SER
Binning=no
Bit depth=8bit
Debayer=no
ROI=404x368
ROI(Offset)=8x8
FPS (avg.)=64
Shutter=15.00ms
Gain=280 (46%)
AutoGain=off
Gamma=50 (off)
AutoExposure=off
USBTraffic=40 (off)
AutoHisto=75 (off)
Brightness=1 (off)
FPS=100 (off)
SoftwareGain=10 (off)
HighSpeed=off
Histogramm(min)=0
Histogramm(max)=155
Histogramm=60%
Noise(avg.deviation)=1.39
AutoAlign=false
PreFilter=none
Limit=120 Seconds
Sensor temperature=34.7°C
FireCapture v2.6  Settings
------------------------------------
Observer=Ethan Chappel
Camera=ZWO ASI290MM
Filter=R
Profile=Jupiter
Diameter=44.94"
Magnitude=-2.55
CMI=192.5° CMII=144.7° CMIII=122.3°  (during mid of capture)
FocalLength=3750mm (F/13)
Resolution=0.16"
Filename=2019-07-08-0410_1-EC-R-Jup.ser
Date=2019_07_08
Start=04_09_08.030
Mid=04_10_08.033
End=04_11_08.037
Start(UT)=04_09_08.030
Mid(UT)=04_10_08.033
End(UT)=04_11_08.037
Duration=120.007s
Date_format=yyyy_MM_dd
Time_format=HH_mm_ss
LT=UT -6h
Frames captured=7998
File type=SER
Binning=no
Bit depth=8bit
Debayer=no
ROI=404x368
ROI(Offset)=8x0
FPS (avg.)=66
Shutter=15.00ms
Gain=270 (45%)
AutoGain=off
Gamma=50 (off)
AutoExposure=off
USBTraffic=40 (off)
AutoHisto=75 (off)
Brightness=1 (off)
FPS=100 (off)
SoftwareGain=10 (off)
HighSpeed=off
Histogramm(min)=0
Histogramm(max)=160
Histogramm=62%
Noise(avg.deviation)=0.61
AutoAlign=false
PreFilter=none
Limit=120 Seconds
Sensor temperature=34.3°C