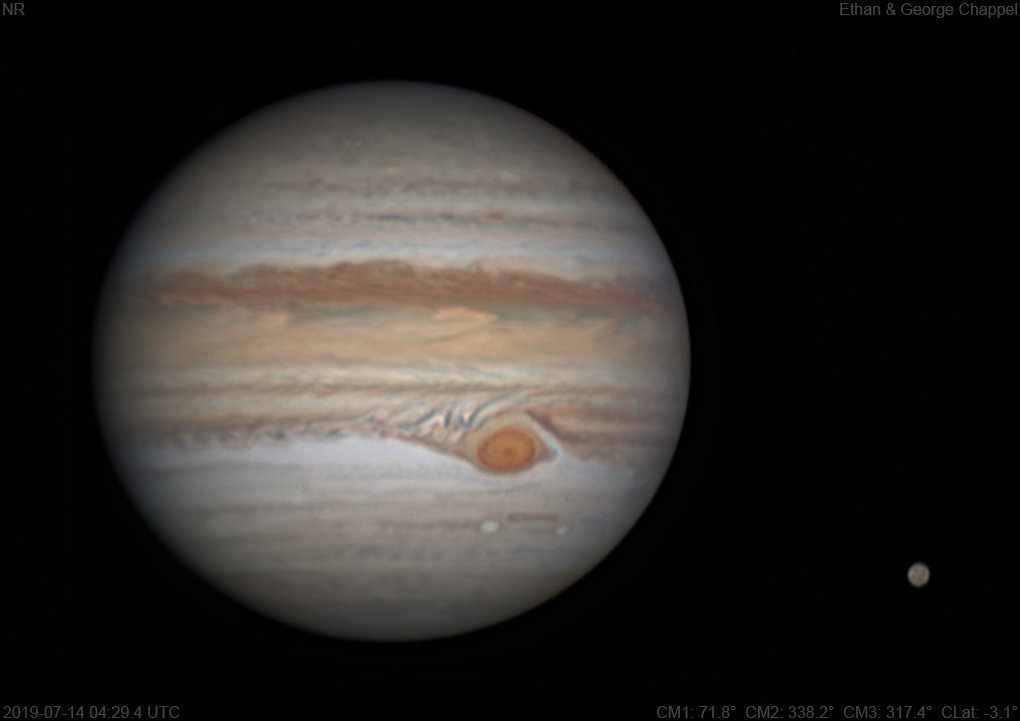 Jupiter UTC
CM1: 71.80°
CM2: 338.20°
CM3: 317.40°
CLat: -3.10°
Description
Finally, a night that wasn't too breezy for the CGEM DX and C14. I thought the seeing was only a little above average while recording, but it turned out to be excellent.

Notes:
The EZ is orange, with the exception of the southernmost edge.
The SEBn trailing the GRS is whiter than the EZ.
The SEBs is clumpy.
The GRS hollow appears to be pulling in white clouds from the STB, making the GRS look partially detached from the SEB.
Two SEB rings are east of the GRS.
White Oval Z is about to set.
The faint STB Spectre is 48,000 km long. The eastern end is south of the GRS.
Ganymede is presenting its Jovian-facing hemisphere, with the bright Tros impact crater near the western limb.
Equipment
ZWO ASI290MM
Astro-Physics Advanced Convertible Barlow
Celestron EdgeHD 14
Logs
FireCapture v2.6  Settings
------------------------------------
Observer=Ethan Chappel
Camera=ZWO ASI290MM
Filter=B
Profile=Jupiter
Diameter=44.44"
Magnitude=-2.52
CMI=80.1° CMII=346.3° CMIII=325.6°  (during mid of capture)
FocalLength=7850mm (F/28)
Resolution=0.08"
Filename=2019-07-14-0442_7-EC-B-Jup.ser
Date=2019_07_14
Start=04_41_46.632
Mid=04_42_46.637
End=04_43_46.642
Start(UT)=04_41_46.632
Mid(UT)=04_42_46.637
End(UT)=04_43_46.642
Duration=120.010s
Date_format=yyyy_MM_dd
Time_format=HH_mm_ss
LT=UT -6h
Frames captured=7997
File type=SER
Binning=no
Bit depth=8bit
Debayer=no
ROI=760x674
ROI(Offset)=0x0
FPS (avg.)=66
Shutter=15.00ms
Gain=290 (48%)
FPS=100 (off)
HighSpeed=off
USBTraffic=40 (off)
Gamma=50
AutoGain=off
AutoExposure=off
SoftwareGain=10 (off)
AutoHisto=75 (off)
Brightness=1 (off)
Histogramm(min)=0
Histogramm(max)=138
Histogramm=54%
Noise(avg.deviation)=1.24
AutoAlign=false
PreFilter=none
Limit=120 Seconds
Sensor temperature=38.1°C
Focuser position=4495
FireCapture v2.6  Settings
------------------------------------
Observer=Ethan Chappel
Camera=ZWO ASI290MM
Filter=G
Profile=Jupiter
Diameter=44.44"
Magnitude=-2.52
CMI=75.7° CMII=342.0° CMIII=321.2°  (during mid of capture)
FocalLength=8950mm (F/31)
Resolution=0.07"
Filename=2019-07-14-0435_5-EC-G-Jup.ser
Date=2019_07_14
Start=04_34_35.525
Mid=04_35_35.525
End=04_36_35.525
Start(UT)=04_34_35.525
Mid(UT)=04_35_35.525
End(UT)=04_36_35.525
Duration=120.000s
Date_format=yyyy_MM_dd
Time_format=HH_mm_ss
LT=UT -6h
Frames captured=7997
File type=SER
Binning=no
Bit depth=8bit
Debayer=no
ROI=760x674
ROI(Offset)=0x0
FPS (avg.)=66
Shutter=15.00ms
Gain=280 (46%)
FPS=100 (off)
HighSpeed=off
USBTraffic=40 (off)
Gamma=50 (off)
AutoGain=off
AutoExposure=off
SoftwareGain=10 (off)
AutoHisto=75 (off)
Brightness=1 (off)
Histogramm(min)=0
Histogramm(max)=152
Histogramm=59%
Noise(avg.deviation)=1.24
AutoAlign=false
PreFilter=none
Limit=120 Seconds
Sensor temperature=38.3°C
Focuser position=4530
FireCapture v2.6  Settings
------------------------------------
Observer=Ethan Chappel
Camera=ZWO ASI290MM
Filter=R
Profile=Jupiter
Diameter=44.45"
Magnitude=-2.52
CMI=72.5° CMII=338.9° CMIII=318.1°  (during mid of capture)
FocalLength=7850mm (F/28)
Resolution=0.08"
Filename=2019-07-14-0430_4-EC-R-Jup.ser
Date=2019_07_14
Start=04_29_24.883
Mid=04_30_24.887
End=04_31_24.891
Start(UT)=04_29_24.883
Mid(UT)=04_30_24.887
End(UT)=04_31_24.891
Duration=120.008s
Date_format=yyyy_MM_dd
Time_format=HH_mm_ss
LT=UT -6h
Frames captured=7781
File type=SER
Binning=no
Bit depth=8bit
Debayer=no
ROI=760x674
ROI(Offset)=0x0
FPS (avg.)=64
Shutter=15.00ms
Gain=280 (46%)
FPS=100 (off)
HighSpeed=off
USBTraffic=40 (off)
Gamma=50 (off)
AutoGain=off
AutoExposure=off
SoftwareGain=10 (off)
AutoHisto=75 (off)
Brightness=1 (off)
Histogramm(min)=0
Histogramm(max)=157
Histogramm=61%
Noise(avg.deviation)=1.28
AutoAlign=false
PreFilter=none
Limit=120 Seconds
Sensor temperature=38.3°C
Focuser position=4550
FireCapture v2.6  Settings
------------------------------------
Observer=Ethan Chappel
Camera=ZWO ASI290MM
Filter=B
Profile=Jupiter
Diameter=44.45"
Magnitude=-2.52
CMI=70.5° CMII=336.9° CMIII=316.1°  (during mid of capture)
FocalLength=8350mm (F/29)
Resolution=0.07"
Filename=2019-07-14-0427_1-EC-B-Jup.ser
Date=2019_07_14
Start=04_26_07.614
Mid=04_27_07.614
End=04_28_07.615
Start(UT)=04_26_07.614
Mid(UT)=04_27_07.614
End(UT)=04_28_07.615
Duration=120.001s
Date_format=yyyy_MM_dd
Time_format=HH_mm_ss
LT=UT -6h
Frames captured=7997
File type=SER
Binning=no
Bit depth=8bit
Debayer=no
ROI=1328x630
ROI(Offset)=0x0
FPS (avg.)=66
Shutter=15.00ms
Gain=290 (48%)
FPS=100 (off)
HighSpeed=off
USBTraffic=40 (off)
Gamma=50
AutoGain=off
AutoExposure=off
SoftwareGain=10 (off)
AutoHisto=75 (off)
Brightness=1 (off)
Histogramm(min)=0
Histogramm(max)=135
Histogramm=52%
Noise(avg.deviation)=1.26
AutoAlign=false
PreFilter=none
Limit=120 Seconds
Sensor temperature=38.3°C
Focuser position=4540
FireCapture v2.6  Settings
------------------------------------
Observer=Ethan Chappel
Camera=ZWO ASI290MM
Filter=G
Profile=Jupiter
Diameter=44.45"
Magnitude=-2.52
CMI=68.0° CMII=334.4° CMIII=313.6°  (during mid of capture)
FocalLength=9150mm (F/32)
Resolution=0.07"
Filename=2019-07-14-0423_0-EC-G-Jup.ser
Date=2019_07_14
Start=04_22_03.374
Mid=04_23_03.380
End=04_24_03.387
Start(UT)=04_22_03.374
Mid(UT)=04_23_03.380
End(UT)=04_24_03.387
Duration=120.013s
Date_format=yyyy_MM_dd
Time_format=HH_mm_ss
LT=UT -6h
Frames captured=7997
File type=SER
Binning=no
Bit depth=8bit
Debayer=no
ROI=1328x630
ROI(Offset)=0x0
FPS (avg.)=66
Shutter=15.00ms
Gain=280 (46%)
FPS=100 (off)
HighSpeed=off
USBTraffic=40 (off)
Gamma=50 (off)
AutoGain=off
AutoExposure=off
SoftwareGain=10 (off)
AutoHisto=75 (off)
Brightness=1 (off)
Histogramm(min)=0
Histogramm(max)=150
Histogramm=58%
Noise(avg.deviation)=1.24
AutoAlign=false
PreFilter=none
Limit=120 Seconds
Sensor temperature=38.5°C
Focuser position=4745
FireCapture v2.6  Settings
------------------------------------
Observer=Ethan Chappel
Camera=ZWO ASI290MM
Filter=R
Profile=Jupiter
Diameter=44.45"
Magnitude=-2.52
CMI=64.9° CMII=331.3° CMIII=310.5°  (during mid of capture)
FocalLength=9200mm (F/32)
Resolution=0.06"
Filename=2019-07-14-0417_9-EC-R-Jup.ser
Date=2019_07_14
Start=04_16_56.562
Mid=04_17_56.561
End=04_18_56.560
Start(UT)=04_16_56.562
Mid(UT)=04_17_56.561
End(UT)=04_18_56.560
Duration=119.998s
Date_format=yyyy_MM_dd
Time_format=HH_mm_ss
LT=UT -6h
Frames captured=7997
File type=SER
Binning=no
Bit depth=8bit
Debayer=no
ROI=1328x630
ROI(Offset)=0x0
FPS (avg.)=66
Shutter=15.00ms
Gain=280 (46%)
FPS=100 (off)
HighSpeed=off
USBTraffic=40 (off)
Gamma=50 (off)
AutoGain=off
AutoExposure=off
SoftwareGain=10 (off)
AutoHisto=75 (off)
Brightness=1 (off)
Histogramm(min)=0
Histogramm(max)=155
Histogramm=60%
Noise(avg.deviation)=1.31
AutoAlign=false
PreFilter=none
Limit=120 Seconds
Sensor temperature=38.6°C
Focuser position=4780

Measurements
| Name | Longitude 1 | Longitude 2 | Longitude 3 | Latitude | Measurer |
| --- | --- | --- | --- | --- | --- |
| GRS F. End | 53.8° | 320.2° | 299.4° | -23.1° | EGC |
| GRS P. End | 40.9° | 307.2° | 286.4° | -22.3° | EGC |
| GRS N. Edge | 47.6° | 314° | 293.2° | -18° | EGC |
| GRS S. Edge | 46.5° | 312.9° | 292.1° | -27° | EGC |
| GRS Center | 47.1° | 313.5° | 292.7° | -22.8° | EGC |