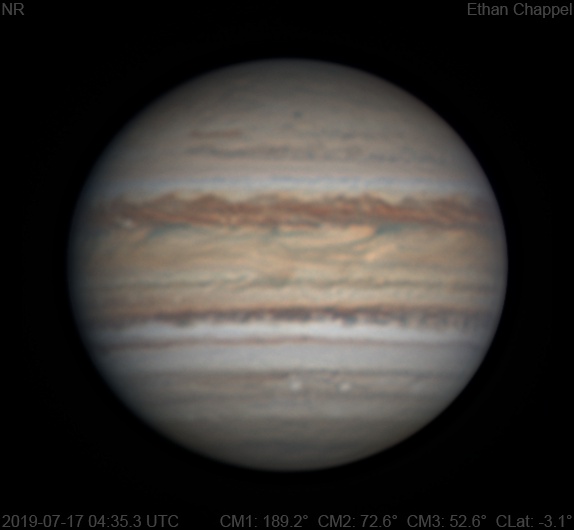 Jupiter UTC
CM1: 189.20°
CM2: 72.60°
CM3: 52.60°
CLat: -3.10°
Description
Yet again a night of good seeing, but too windy for the CGEM DX/C14.
Notes:
The NNTB has a brown barge approaching the central meridian.
The NEBn is ragged.
The Equatorial Zone is orange and has a lot of festoon activity.
The SEBn is whiter than the EZ.
The SEBs is dark and clumpy.
Equipment
ZWO ASI290MM
Astro-Physics Advanced Convertible Barlow
Celestron EdgeHD 8
Logs
FireCapture v2.6  Settings
------------------------------------
Observer=Ethan Chappel
Camera=ZWO ASI290MM
Filter=B
Profile=Jupiter
Diameter=44.17"
Magnitude=-2.50
CMI=194.6° CMII=78.0° CMIII=58.0°  (during mid of capture)
FocalLength=3850mm (F/13)
Resolution=0.16"
Filename=2019-07-17-0443_9-EC-B-Jup.ser
Date=2019_07_17
Start=04_42_56.788
Mid=04_43_56.788
End=04_44_56.789
Start(UT)=04_42_56.788
Mid(UT)=04_43_56.788
End(UT)=04_44_56.789
Duration=120.001s
Date_format=yyyy_MM_dd
Time_format=HH_mm_ss
LT=UT -6h
Frames captured=7057
File type=SER
Binning=no
Bit depth=8bit
Debayer=no
ROI=444x372
ROI(Offset)=8x0
FPS (avg.)=58
Shutter=17.00ms
Gain=300 (50%)
USBTraffic=40 (off)
FPS=100 (off)
Brightness=1 (off)
AutoExposure=off
Gamma=50
SoftwareGain=10 (off)
AutoHisto=75 (off)
AutoGain=off
HighSpeed=off
Histogramm(min)=0
Histogramm(max)=159
Histogramm=62%
Noise(avg.deviation)=0.63
AutoAlign=false
PreFilter=none
Limit=120 Seconds
Sensor temperature=34.6°C
FireCapture v2.6  Settings
------------------------------------
Observer=Ethan Chappel
Camera=ZWO ASI290MM
Filter=G
Profile=Jupiter
Diameter=44.17"
Magnitude=-2.50
CMI=192.2° CMII=75.6° CMIII=55.6°  (during mid of capture)
FocalLength=3800mm (F/13)
Resolution=0.16"
Filename=2019-07-17-0440_0-EC-G-Jup.ser
Date=2019_07_17
Start=04_39_03.341
Mid=04_40_03.346
End=04_41_03.352
Start(UT)=04_39_03.341
Mid(UT)=04_40_03.346
End(UT)=04_41_03.352
Duration=120.011s
Date_format=yyyy_MM_dd
Time_format=HH_mm_ss
LT=UT -6h
Frames captured=7999
File type=SER
Binning=no
Bit depth=8bit
Debayer=no
ROI=444x372
ROI(Offset)=8x0
FPS (avg.)=66
Shutter=15.00ms
Gain=280 (46%)
USBTraffic=40 (off)
FPS=100 (off)
Brightness=1 (off)
AutoExposure=off
Gamma=50 (off)
SoftwareGain=10 (off)
AutoHisto=75 (off)
AutoGain=off
HighSpeed=off
Histogramm(min)=0
Histogramm(max)=147
Histogramm=57%
Noise(avg.deviation)=0.52
AutoAlign=false
PreFilter=none
Limit=120 Seconds
Sensor temperature=35.1°C
FireCapture v2.6  Settings
------------------------------------
Observer=Ethan Chappel
Camera=ZWO ASI290MM
Filter=R
Profile=Jupiter
Diameter=44.17"
Magnitude=-2.50
CMI=190.5° CMII=73.9° CMIII=53.9°  (during mid of capture)
FocalLength=3800mm (F/13)
Resolution=0.16"
Filename=2019-07-17-0437_2-EC-R-Jup.ser
Date=2019_07_17
Start=04_36_12.956
Mid=04_37_12.957
End=04_38_12.959
Start(UT)=04_36_12.956
Mid(UT)=04_37_12.957
End(UT)=04_38_12.959
Duration=120.003s
Date_format=yyyy_MM_dd
Time_format=HH_mm_ss
LT=UT -6h
Frames captured=9851
File type=SER
Binning=no
Bit depth=8bit
Debayer=no
ROI=444x372
ROI(Offset)=8x0
FPS (avg.)=82
Shutter=12.00ms
Gain=300 (50%)
USBTraffic=40 (off)
FPS=100 (off)
Brightness=1 (off)
AutoExposure=off
Gamma=50 (off)
SoftwareGain=10 (off)
AutoHisto=75 (off)
AutoGain=off
HighSpeed=off
Histogramm(min)=0
Histogramm(max)=169
Histogramm=66%
Noise(avg.deviation)=0.66
AutoAlign=false
PreFilter=none
Limit=120 Seconds
Sensor temperature=35.1°C
FireCapture v2.6  Settings
------------------------------------
Observer=Ethan Chappel
Camera=ZWO ASI290MM
Filter=B
Profile=Jupiter
Diameter=44.17"
Magnitude=-2.50
CMI=188.4° CMII=71.8° CMIII=51.8°  (during mid of capture)
FocalLength=3850mm (F/13)
Resolution=0.16"
Filename=2019-07-17-0433_7-EC-B-Jup.ser
Date=2019_07_17
Start=04_32_47.482
Mid=04_33_47.489
End=04_34_47.496
Start(UT)=04_32_47.482
Mid(UT)=04_33_47.489
End(UT)=04_34_47.496
Duration=120.014s
Date_format=yyyy_MM_dd
Time_format=HH_mm_ss
LT=UT -6h
Frames captured=7057
File type=SER
Binning=no
Bit depth=8bit
Debayer=no
ROI=444x372
ROI(Offset)=8x0
FPS (avg.)=58
Shutter=17.00ms
Gain=300 (50%)
USBTraffic=40 (off)
FPS=100 (off)
Brightness=1 (off)
AutoExposure=off
Gamma=50
SoftwareGain=10 (off)
AutoHisto=75 (off)
AutoGain=off
HighSpeed=off
Histogramm(min)=0
Histogramm(max)=154
Histogramm=60%
Noise(avg.deviation)=0.63
AutoAlign=false
PreFilter=none
Limit=120 Seconds
Sensor temperature=34.6°C
FireCapture v2.6  Settings
------------------------------------
Observer=Ethan Chappel
Camera=ZWO ASI290MM
Filter=G
Profile=Jupiter
Diameter=44.17"
Magnitude=-2.50
CMI=186.1° CMII=69.6° CMIII=49.6°  (during mid of capture)
FocalLength=3800mm (F/13)
Resolution=0.16"
Filename=2019-07-17-0430_0-EC-G-Jup.ser
Date=2019_07_17
Start=04_29_03.169
Mid=04_30_03.175
End=04_31_03.181
Start(UT)=04_29_03.169
Mid(UT)=04_30_03.175
End(UT)=04_31_03.181
Duration=120.012s
Date_format=yyyy_MM_dd
Time_format=HH_mm_ss
LT=UT -6h
Frames captured=7999
File type=SER
Binning=no
Bit depth=8bit
Debayer=no
ROI=444x372
ROI(Offset)=8x0
FPS (avg.)=66
Shutter=15.00ms
Gain=280 (46%)
USBTraffic=40 (off)
FPS=100 (off)
Brightness=1 (off)
AutoExposure=off
Gamma=50 (off)
SoftwareGain=10 (off)
AutoHisto=75 (off)
AutoGain=off
HighSpeed=off
Histogramm(min)=0
Histogramm(max)=154
Histogramm=60%
Noise(avg.deviation)=0.53
AutoAlign=false
PreFilter=none
Limit=120 Seconds
Sensor temperature=35.1°C
FireCapture v2.6  Settings
------------------------------------
Observer=Ethan Chappel
Camera=ZWO ASI290MM
Filter=R
Profile=Jupiter
Diameter=44.17"
Magnitude=-2.50
CMI=184.4° CMII=67.8° CMIII=47.8°  (during mid of capture)
FocalLength=3800mm (F/13)
Resolution=0.16"
Filename=2019-07-17-0427_2-EC-R-Jup.ser
Date=2019_07_17
Start=04_26_12.368
Mid=04_27_12.369
End=04_28_12.371
Start(UT)=04_26_12.368
Mid(UT)=04_27_12.369
End(UT)=04_28_12.371
Duration=120.003s
Date_format=yyyy_MM_dd
Time_format=HH_mm_ss
LT=UT -6h
Frames captured=9851
File type=SER
Binning=no
Bit depth=8bit
Debayer=no
ROI=444x372
ROI(Offset)=8x0
FPS (avg.)=82
Shutter=12.00ms
Gain=300 (50%)
USBTraffic=40 (off)
FPS=100 (off)
Brightness=1 (off)
AutoExposure=off
Gamma=50 (off)
SoftwareGain=10 (off)
AutoHisto=75 (off)
AutoGain=off
HighSpeed=off
Histogramm(min)=0
Histogramm(max)=169
Histogramm=66%
Noise(avg.deviation)=0.66
AutoAlign=false
PreFilter=none
Limit=120 Seconds
Sensor temperature=35.2°C