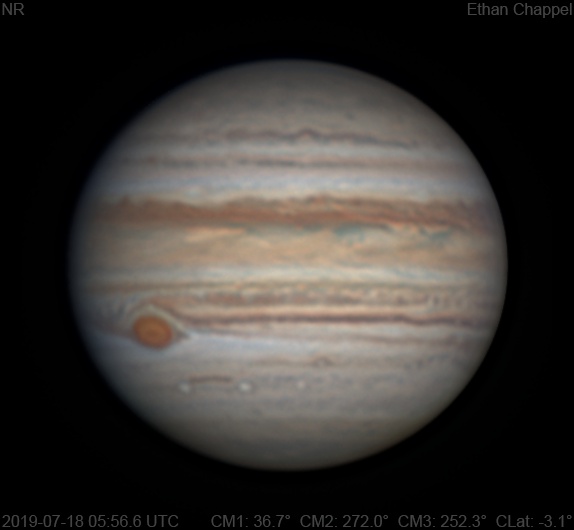 Jupiter UTC
CM1: 36.70°
CM2: 272.00°
CM3: 252.30°
CLat: -3.10°
Description
An excellent night for planetary imaging, with the usual caveat of being too breezy for using the CGEM DX/C14.
Notes:
The North North Temperate Belt is full of dark clouds, possibly with a small red oval east of the central meridian.
The North Temperate Belt has a thin band of dark clouds running through it.
The NTB also has faint traces of orange still visible. The entire belt should darken again in a few years if it the normal cycle isn't disrupted.
The Equatorial Zone is still orange.
The Great Red Spot is rising.
The bright clouds that entered the GRS hollow a few days ago have now fully circled the storm.
The South Temperate belt has a small white oval near the central meridian.
Equipment
ZWO ASI290MM
Astro-Physics Advanced Convertible Barlow
Celestron EdgeHD 8
Logs
FireCapture v2.6  Settings
------------------------------------
Observer=Ethan Chappel
Camera=ZWO ASI290MM
Filter=B
Profile=Jupiter
Diameter=44.07"
Magnitude=-2.50
CMI=42.3° CMII=277.7° CMIII=257.9°  (during mid of capture)
FocalLength=3850mm (F/13)
Resolution=0.16"
Filename=2019-07-18-0605_6-EC-B-Jup.ser
Date=2019_07_18
Start=06_04_40.033
Mid=06_05_40.039
End=06_06_40.046
Start(UT)=06_04_40.033
Mid(UT)=06_05_40.039
End(UT)=06_06_40.046
Duration=120.013s
Date_format=yyyy_MM_dd
Time_format=HH_mm_ss
LT=UT -6h
Frames captured=7057
File type=SER
Binning=no
Bit depth=8bit
Debayer=no
ROI=396x356
ROI(Offset)=8x0
FPS (avg.)=58
Shutter=17.00ms
Gain=300 (50%)
Gamma=50
SoftwareGain=10 (off)
AutoExposure=off
Brightness=1 (off)
USBTraffic=40 (off)
AutoHisto=75 (off)
HighSpeed=off
FPS=100 (off)
AutoGain=off
Histogramm(min)=0
Histogramm(max)=137
Histogramm=53%
Noise(avg.deviation)=0.60
AutoAlign=false
PreFilter=none
Limit=120 Seconds
Sensor temperature=33.2°C
FireCapture v2.6  Settings
------------------------------------
Observer=Ethan Chappel
Camera=ZWO ASI290MM
Filter=G
Profile=Jupiter
Diameter=44.07"
Magnitude=-2.50
CMI=40.4° CMII=275.7° CMIII=256.0°  (during mid of capture)
FocalLength=3800mm (F/13)
Resolution=0.16"
Filename=2019-07-18-0602_4-EC-G-Jup.ser
Date=2019_07_18
Start=06_01_28.489
Mid=06_02_28.495
End=06_03_28.502
Start(UT)=06_01_28.489
Mid(UT)=06_02_28.495
End(UT)=06_03_28.502
Duration=120.013s
Date_format=yyyy_MM_dd
Time_format=HH_mm_ss
LT=UT -6h
Frames captured=7999
File type=SER
Binning=no
Bit depth=8bit
Debayer=no
ROI=396x356
ROI(Offset)=8x0
FPS (avg.)=66
Shutter=15.00ms
Gain=280 (46%)
Gamma=50 (off)
SoftwareGain=10 (off)
AutoExposure=off
Brightness=1 (off)
USBTraffic=40 (off)
AutoHisto=75 (off)
HighSpeed=off
FPS=100 (off)
AutoGain=off
Histogramm(min)=0
Histogramm(max)=137
Histogramm=53%
Noise(avg.deviation)=0.50
AutoAlign=false
PreFilter=none
Limit=120 Seconds
Sensor temperature=33.7°C
FireCapture v2.6  Settings
------------------------------------
Observer=Ethan Chappel
Camera=ZWO ASI290MM
Filter=R
Profile=Jupiter
Diameter=44.07"
Magnitude=-2.50
CMI=38.7° CMII=274.1° CMIII=254.3°  (during mid of capture)
FocalLength=3800mm (F/13)
Resolution=0.16"
Filename=2019-07-18-0559_7-EC-R-Jup.ser
Date=2019_07_18
Start=05_58_43.800
Mid=05_59_43.801
End=06_00_43.802
Start(UT)=05_58_43.800
Mid(UT)=05_59_43.801
End(UT)=06_00_43.802
Duration=120.002s
Date_format=yyyy_MM_dd
Time_format=HH_mm_ss
LT=UT -6h
Frames captured=9850
File type=SER
Binning=no
Bit depth=8bit
Debayer=no
ROI=396x356
ROI(Offset)=8x0
FPS (avg.)=82
Shutter=12.00ms
Gain=300 (50%)
Gamma=50 (off)
SoftwareGain=10 (off)
AutoExposure=off
Brightness=1 (off)
USBTraffic=40 (off)
AutoHisto=75 (off)
HighSpeed=off
FPS=100 (off)
AutoGain=off
Histogramm(min)=0
Histogramm(max)=168
Histogramm=65%
Noise(avg.deviation)=0.65
AutoAlign=false
PreFilter=none
Limit=120 Seconds
Sensor temperature=33.5°C
FireCapture v2.6  Settings
------------------------------------
Observer=Ethan Chappel
Camera=ZWO ASI290MM
Filter=B
Profile=Jupiter
Diameter=44.07"
Magnitude=-2.50
CMI=37.0° CMII=272.4° CMIII=252.7°  (during mid of capture)
FocalLength=3800mm (F/13)
Resolution=0.16"
Filename=2019-07-18-0557_0-EC-B-Jup.ser
Date=2019_07_18
Start=05_56_01.247
Mid=05_57_01.253
End=05_58_01.260
Start(UT)=05_56_01.247
Mid(UT)=05_57_01.253
End(UT)=05_58_01.260
Duration=120.013s
Date_format=yyyy_MM_dd
Time_format=HH_mm_ss
LT=UT -6h
Frames captured=7058
File type=SER
Binning=no
Bit depth=8bit
Debayer=no
ROI=396x356
ROI(Offset)=8x0
FPS (avg.)=58
Shutter=17.00ms
Gain=300 (50%)
Gamma=50
SoftwareGain=10 (off)
AutoExposure=off
Brightness=1 (off)
USBTraffic=40 (off)
AutoHisto=75 (off)
HighSpeed=off
FPS=100 (off)
AutoGain=off
Histogramm(min)=0
Histogramm(max)=143
Histogramm=56%
Noise(avg.deviation)=0.61
AutoAlign=false
PreFilter=none
Limit=120 Seconds
Sensor temperature=33.2°C
FireCapture v2.6  Settings
------------------------------------
Observer=Ethan Chappel
Camera=ZWO ASI290MM
Filter=G
Profile=Jupiter
Diameter=44.07"
Magnitude=-2.50
CMI=35.1° CMII=270.5° CMIII=250.8°  (during mid of capture)
FocalLength=3800mm (F/13)
Resolution=0.16"
Filename=2019-07-18-0553_7-EC-G-Jup.ser
Date=2019_07_18
Start=05_52_47.539
Mid=05_53_47.546
End=05_54_47.554
Start(UT)=05_52_47.539
Mid(UT)=05_53_47.546
End(UT)=05_54_47.554
Duration=120.015s
Date_format=yyyy_MM_dd
Time_format=HH_mm_ss
LT=UT -6h
Frames captured=7999
File type=SER
Binning=no
Bit depth=8bit
Debayer=no
ROI=396x356
ROI(Offset)=8x0
FPS (avg.)=66
Shutter=15.00ms
Gain=280 (46%)
Gamma=50 (off)
SoftwareGain=10 (off)
AutoExposure=off
Brightness=1 (off)
USBTraffic=40 (off)
AutoHisto=75 (off)
HighSpeed=off
FPS=100 (off)
AutoGain=off
Histogramm(min)=0
Histogramm(max)=144
Histogramm=56%
Noise(avg.deviation)=0.52
AutoAlign=false
PreFilter=none
Limit=120 Seconds
Sensor temperature=33.5°C
FireCapture v2.6  Settings
------------------------------------
Observer=Ethan Chappel
Camera=ZWO ASI290MM
Filter=G
Profile=Jupiter
Diameter=44.07"
Magnitude=-2.50
CMI=33.3° CMII=268.7° CMIII=249.0°  (during mid of capture)
FocalLength=3850mm (F/13)
Resolution=0.16"
Filename=2019-07-18-0550_8-EC-G-Jup.ser
Date=2019_07_18
Start=05_49_50.152
Mid=05_50_50.159
End=05_51_50.166
Start(UT)=05_49_50.152
Mid(UT)=05_50_50.159
End(UT)=05_51_50.166
Duration=120.014s
Date_format=yyyy_MM_dd
Time_format=HH_mm_ss
LT=UT -6h
Frames captured=7999
File type=SER
Binning=no
Bit depth=8bit
Debayer=no
ROI=396x356
ROI(Offset)=8x0
FPS (avg.)=66
Shutter=15.00ms
Gain=280 (46%)
Gamma=50 (off)
SoftwareGain=10 (off)
AutoExposure=off
Brightness=1 (off)
USBTraffic=40 (off)
AutoHisto=75 (off)
HighSpeed=off
FPS=100 (off)
AutoGain=off
Histogramm(min)=0
Histogramm(max)=146
Histogramm=57%
Noise(avg.deviation)=0.51
AutoAlign=false
PreFilter=none
Limit=120 Seconds
Sensor temperature=33.6°C
FireCapture v2.6  Settings
------------------------------------
Observer=Ethan Chappel
Camera=ZWO ASI290MM
Filter=R
Profile=Jupiter
Diameter=44.07"
Magnitude=-2.50
CMI=30.5° CMII=265.9° CMIII=246.2°  (during mid of capture)
FocalLength=3850mm (F/13)
Resolution=0.16"
Filename=2019-07-18-0546_2-EC-R-Jup.ser
Date=2019_07_18
Start=05_45_15.255
Mid=05_46_15.260
End=05_47_15.265
Start(UT)=05_45_15.255
Mid(UT)=05_46_15.260
End(UT)=05_47_15.265
Duration=120.010s
Date_format=yyyy_MM_dd
Time_format=HH_mm_ss
LT=UT -6h
Frames captured=9851
File type=SER
Binning=no
Bit depth=8bit
Debayer=no
ROI=396x356
ROI(Offset)=8x0
FPS (avg.)=82
Shutter=12.00ms
Gain=300 (50%)
Gamma=50 (off)
SoftwareGain=10 (off)
AutoExposure=off
Brightness=1 (off)
USBTraffic=40 (off)
AutoHisto=75 (off)
HighSpeed=off
FPS=100 (off)
AutoGain=off
Histogramm(min)=0
Histogramm(max)=175
Histogramm=68%
Noise(avg.deviation)=0.67
AutoAlign=false
PreFilter=none
Limit=120 Seconds
Sensor temperature=34.0°C

Measurements
| Name | Longitude 1 | Longitude 2 | Longitude 3 | Latitude | Measurer |
| --- | --- | --- | --- | --- | --- |
| GRS P. End | 71.4° | 306.8° | 287.1° | -24.1° | EGC |
| GRS F. End | 85° | 320.4° | 300.7° | -21.6° | EGC |
| GRS N. Edge | 76.6° | 311.9° | 292.2° | -17.6° | EGC |
| GRS S. Edge | 77.8° | 313.2° | 293.5° | -27° | EGC |
| GRS Center | 78° | 313.3° | 293.6° | -22.7° | EGC |