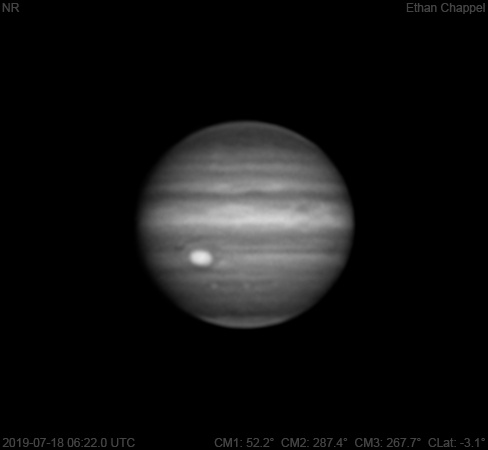 Jupiter UTC
CM1: 52.20°
CM2: 287.40°
CM3: 267.70°
CLat: -3.10°
Description
An excellent night for planetary imaging, with the usual caveat of being too breezy for using the CGEM DX/C14.
Notes:
The North North Temperate Belt is full of dark clouds.
The North Temperate Belt also has dark clouds.
The Great Red Spot is approaching the central meridian.
The GRS wake has no bright outbreaks.
Equipment
ZWO ASI290MM
Celestron EdgeHD 8
Logs
FireCapture v2.6  Settings
------------------------------------
Observer=Ethan Chappel
Camera=ZWO ASI290MM
Filter=CH4
Profile=Jupiter
Diameter=44.07"
Magnitude=-2.50
CMI=53.6° CMII=288.8° CMIII=269.1°  (during mid of capture)
FocalLength=1650mm (F/5)
Resolution=0.37"
Filename=2019-07-18-0624_1-EC-CH4-Jup.ser
Date=2019_07_18
Start=06_22_07.793
Mid=06_24_07.800
End=06_26_07.807
Start(UT)=06_22_07.793
Mid(UT)=06_24_07.800
End(UT)=06_26_07.807
Duration=240.014s
Date_format=yyyy_MM_dd
Time_format=HH_mm_ss
LT=UT -6h
Frames captured=3693
File type=SER
Binning=no
Bit depth=8bit
Debayer=no
ROI=232x202
ROI(Offset)=0x0
FPS (avg.)=15
Shutter=65.00ms
Gain=400 (66%)
Gamma=50 (off)
SoftwareGain=10 (off)
AutoExposure=off
Brightness=1 (off)
USBTraffic=40 (off)
AutoHisto=75 (off)
HighSpeed=off
FPS=100 (off)
AutoGain=off
Histogramm(min)=0
Histogramm(max)=161
Histogramm=63%
Noise(avg.deviation)=2.02
AutoAlign=false
PreFilter=none
Limit=240 Seconds
Sensor temperature=31.3°C
FireCapture v2.6  Settings
------------------------------------
Observer=Ethan Chappel
Camera=ZWO ASI290MM
Filter=CH4
Profile=Jupiter
Diameter=44.07"
Magnitude=-2.50
CMI=51.0° CMII=286.3° CMIII=266.5°  (during mid of capture)
FocalLength=1650mm (F/5)
Resolution=0.36"
Filename=2019-07-18-0619_9-EC-CH4-Jup.ser
Date=2019_07_18
Start=06_17_54.578
Mid=06_19_54.593
End=06_21_54.608
Start(UT)=06_17_54.578
Mid(UT)=06_19_54.593
End(UT)=06_21_54.608
Duration=240.030s
Date_format=yyyy_MM_dd
Time_format=HH_mm_ss
LT=UT -6h
Frames captured=3693
File type=SER
Binning=no
Bit depth=8bit
Debayer=no
ROI=232x202
ROI(Offset)=0x0
FPS (avg.)=15
Shutter=65.00ms
Gain=400 (66%)
Gamma=50 (off)
SoftwareGain=10 (off)
AutoExposure=off
Brightness=1 (off)
USBTraffic=40 (off)
AutoHisto=75 (off)
HighSpeed=off
FPS=100 (off)
AutoGain=off
Histogramm(min)=0
Histogramm(max)=177
Histogramm=69%
Noise(avg.deviation)=2.02
AutoAlign=false
PreFilter=none
Limit=240 Seconds
Sensor temperature=31.6°C