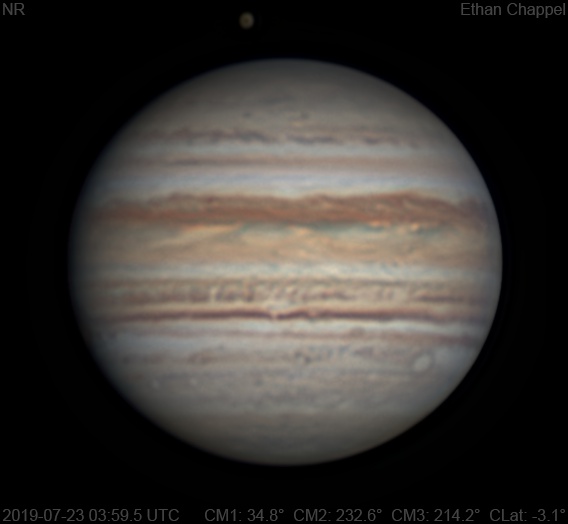 Jupiter UTC
CM1: 34.80°
CM2: 232.60°
CM3: 214.20°
CLat: -3.10°
Description
Another amazing summer night of imaging with the AVX/C8.
Notes:
The North Temperate Belt is faintly orange.
White Oval Z is rising.
The Equatorial Zone is orange with the exception of the southern edge.
The Great Red Spot, on the western limb, is also rising.
Oval BA is approaching the western limb.
Callisto is passing by. It will resume transits and occultations in November.
Equipment
ZWO ASI290MM
Astro-Physics Advanced Convertible Barlow
Celestron EdgeHD 8
Logs
FireCapture v2.6  Settings
------------------------------------
Observer=Ethan Chappel
Camera=ZWO ASI290MM
Filter=B
Profile=Jupiter
Diameter=43.58"
Magnitude=-2.47
CMI=39.7° CMII=237.5° CMIII=219.1°  (during mid of capture)
FocalLength=3850mm (F/13)
Resolution=0.16"
Filename=2019-07-23-0407_2-EC-B-Jup.ser
Date=2019_07_23
Start=04_06_13.495
Mid=04_07_13.502
End=04_08_13.510
Start(UT)=04_06_13.495
Mid(UT)=04_07_13.502
End(UT)=04_08_13.510
Duration=120.015s
Date_format=yyyy_MM_dd
Time_format=HH_mm_ss
LT=UT -6h
Frames captured=7058
File type=SER
Binning=no
Bit depth=8bit
Debayer=no
ROI=476x416
ROI(Offset)=8x8
FPS (avg.)=58
Shutter=17.00ms
Gain=300 (50%)
USBTraffic=40 (off)
HighSpeed=off
Brightness=1 (off)
SoftwareGain=10 (off)
AutoHisto=75 (off)
FPS=100 (off)
AutoExposure=off
AutoGain=off
Gamma=50
Histogramm(min)=0
Histogramm(max)=149
Histogramm=58%
Noise(avg.deviation)=0.84
AutoAlign=false
PreFilter=none
Limit=120 Seconds
Sensor temperature=34.0°C
FireCapture v2.6  Settings
------------------------------------
Observer=Ethan Chappel
Camera=ZWO ASI290MM
Filter=G
Profile=Jupiter
Diameter=43.59"
Magnitude=-2.47
CMI=37.7° CMII=235.5° CMIII=217.1°  (during mid of capture)
FocalLength=3800mm (F/13)
Resolution=0.16"
Filename=2019-07-23-0403_9-EC-G-Jup.ser
Date=2019_07_23
Start=04_02_59.989
Mid=04_03_59.989
End=04_04_59.989
Start(UT)=04_02_59.989
Mid(UT)=04_03_59.989
End(UT)=04_04_59.989
Duration=120.000s
Date_format=yyyy_MM_dd
Time_format=HH_mm_ss
LT=UT -6h
Frames captured=7998
File type=SER
Binning=no
Bit depth=8bit
Debayer=no
ROI=476x416
ROI(Offset)=8x8
FPS (avg.)=66
Shutter=15.00ms
Gain=280 (46%)
USBTraffic=40 (off)
HighSpeed=off
Brightness=1 (off)
SoftwareGain=10 (off)
AutoHisto=75 (off)
FPS=100 (off)
AutoExposure=off
AutoGain=off
Gamma=50 (off)
Histogramm(min)=0
Histogramm(max)=158
Histogramm=61%
Noise(avg.deviation)=0.71
AutoAlign=false
PreFilter=none
Limit=120 Seconds
Sensor temperature=34.1°C
FireCapture v2.6  Settings
------------------------------------
Observer=Ethan Chappel
Camera=ZWO ASI290MM
Filter=R
Profile=Jupiter
Diameter=43.59"
Magnitude=-2.47
CMI=35.9° CMII=233.7° CMIII=215.3°  (during mid of capture)
FocalLength=3800mm (F/13)
Resolution=0.16"
Filename=2019-07-23-0400_9-EC-R-Jup.ser
Date=2019_07_23
Start=03_59_57.565
Mid=04_00_57.569
End=04_01_57.573
Start(UT)=03_59_57.565
Mid(UT)=04_00_57.569
End(UT)=04_01_57.573
Duration=120.008s
Date_format=yyyy_MM_dd
Time_format=HH_mm_ss
LT=UT -6h
Frames captured=7999
File type=SER
Binning=no
Bit depth=8bit
Debayer=no
ROI=476x416
ROI(Offset)=8x8
FPS (avg.)=66
Shutter=15.00ms
Gain=280 (46%)
USBTraffic=40 (off)
HighSpeed=off
Brightness=1 (off)
SoftwareGain=10 (off)
AutoHisto=75 (off)
FPS=100 (off)
AutoExposure=off
AutoGain=off
Gamma=50 (off)
Histogramm(min)=0
Histogramm(max)=170
Histogramm=66%
Noise(avg.deviation)=0.75
AutoAlign=false
PreFilter=none
Limit=120 Seconds
Sensor temperature=34.0°C
FireCapture v2.6  Settings
------------------------------------
Observer=Ethan Chappel
Camera=ZWO ASI290MM
Filter=B
Profile=Jupiter
Diameter=43.59"
Magnitude=-2.47
CMI=34.0° CMII=231.8° CMIII=213.4°  (during mid of capture)
FocalLength=3850mm (F/13)
Resolution=0.16"
Filename=2019-07-23-0357_8-EC-B-Jup.ser
Date=2019_07_23
Start=03_56_53.546
Mid=03_57_53.546
End=03_58_53.547
Start(UT)=03_56_53.546
Mid(UT)=03_57_53.546
End(UT)=03_58_53.547
Duration=120.001s
Date_format=yyyy_MM_dd
Time_format=HH_mm_ss
LT=UT -6h
Frames captured=7057
File type=SER
Binning=no
Bit depth=8bit
Debayer=no
ROI=476x416
ROI(Offset)=8x8
FPS (avg.)=58
Shutter=17.00ms
Gain=300 (50%)
USBTraffic=40 (off)
HighSpeed=off
Brightness=1 (off)
SoftwareGain=10 (off)
AutoHisto=75 (off)
FPS=100 (off)
AutoExposure=off
AutoGain=off
Gamma=50
Histogramm(min)=0
Histogramm(max)=151
Histogramm=59%
Noise(avg.deviation)=0.84
AutoAlign=false
PreFilter=none
Limit=120 Seconds
Sensor temperature=34.0°C
FireCapture v2.6  Settings
------------------------------------
Observer=Ethan Chappel
Camera=ZWO ASI290MM
Filter=G
Profile=Jupiter
Diameter=43.59"
Magnitude=-2.47
CMI=32.4° CMII=230.2° CMIII=211.8°  (during mid of capture)
FocalLength=3750mm (F/13)
Resolution=0.16"
Filename=2019-07-23-0355_2-EC-G-Jup.ser
Date=2019_07_23
Start=03_54_14.170
Mid=03_55_14.173
End=03_56_14.176
Start(UT)=03_54_14.170
Mid(UT)=03_55_14.173
End(UT)=03_56_14.176
Duration=120.006s
Date_format=yyyy_MM_dd
Time_format=HH_mm_ss
LT=UT -6h
Frames captured=7998
File type=SER
Binning=no
Bit depth=8bit
Debayer=no
ROI=476x416
ROI(Offset)=8x8
FPS (avg.)=66
Shutter=15.00ms
Gain=280 (46%)
USBTraffic=40 (off)
HighSpeed=off
Brightness=1 (off)
SoftwareGain=10 (off)
AutoHisto=75 (off)
FPS=100 (off)
AutoExposure=off
AutoGain=off
Gamma=50 (off)
Histogramm(min)=0
Histogramm(max)=158
Histogramm=61%
Noise(avg.deviation)=0.71
AutoAlign=false
PreFilter=none
Limit=120 Seconds
Sensor temperature=34.3°C
FireCapture v2.6  Settings
------------------------------------
Observer=Ethan Chappel
Camera=ZWO ASI290MM
Filter=R
Profile=Saturn
Diameter=18.26"
Magnitude=0.12
CMI=33.1° CMIII=283.8°  (during mid of capture)
FocalLength=4200mm (F/15)
Resolution=0.14"
Filename=2019-07-23-0351_9-EC-R-Sat.ser
Date=2019_07_23
Start=03_50_53.505
Mid=03_51_59.756
End=03_53_06.008
Start(UT)=03_50_53.505
Mid(UT)=03_51_59.756
End(UT)=03_53_06.008
Duration=132.503s
Date_format=yyyy_MM_dd
Time_format=HH_mm_ss
LT=UT -6h
Frames captured=11033
File type=SER
Binning=no
Bit depth=8bit
Debayer=no
ROI=496x420
ROI(Offset)=0x0
FPS (avg.)=83
Shutter=12.00ms
Gain=300 (50%)
USBTraffic=40 (off)
HighSpeed=off
Brightness=1 (off)
SoftwareGain=10 (off)
AutoHisto=75 (off)
FPS=100 (off)
AutoExposure=off
AutoGain=off
Gamma=50 (off)
Histogramm(min)=0
Histogramm(max)=179
Histogramm=70%
Noise(avg.deviation)=0.78
AutoAlign=false
PreFilter=none
Limit=150 Seconds
Sensor temperature=34.3°C