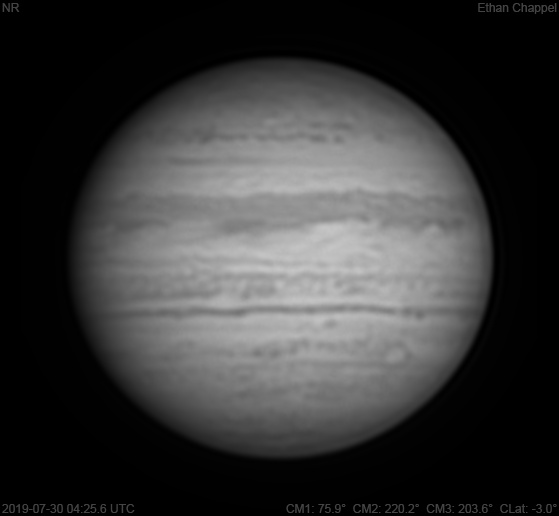 Jupiter UTC
CM1: 75.90°
CM2: 220.20°
CM3: 203.60°
CLat: -3.00°
Description
The last night of imaging in July brought the same good conditions I've seen most of the month.
Notes:
The North Temperate Belt has a dark streak approaching the central meridian.
The NEBn has a few small white ovals.
The EZs has a northern boundary splitting it from the rest of the zone. In visible light, this is where the transition from orange to white occurs.
The SEBn is mottled.
The SEBs is dark.
Oval BA is approaching the eastern limb.
Equipment
ZWO ASI290MM
Astro-Physics Advanced Convertible Barlow
Celestron EdgeHD 8
Logs
FireCapture v2.6  Settings
------------------------------------
Observer=Ethan Chappel
Camera=ZWO ASI290MM
Filter=IR
Profile=Jupiter
Diameter=42.83"
Magnitude=-2.43
CMI=76.8° CMII=221.1° CMIII=204.6°  (during mid of capture)
FocalLength=3750mm (F/13)
Resolution=0.16"
Filename=2019-07-30-0426_7-EC-IR-Jup.ser
Date=2019_07_30
Start=04_25_47.769
Mid=04_26_47.772
End=04_27_47.775
Start(UT)=04_25_47.769
Mid(UT)=04_26_47.772
End(UT)=04_27_47.775
Duration=120.006s
Date_format=yyyy_MM_dd
Time_format=HH_mm_ss
LT=UT -6h
Frames captured=7998
File type=SER
Binning=no
Bit depth=8bit
Debayer=no
ROI=400x358
ROI(Offset)=8x8
FPS (avg.)=66
Shutter=15.00ms
Gain=300 (50%)
SoftwareGain=10 (off)
USBTraffic=40 (off)
AutoExposure=off
AutoGain=off
Gamma=50
HighSpeed=off
AutoHisto=75 (off)
FPS=100 (off)
Brightness=1 (off)
Histogramm(min)=0
Histogramm(max)=140
Histogramm=54%
Noise(avg.deviation)=0.73
AutoAlign=false
PreFilter=none
Limit=120 Seconds
Sensor temperature=35.1°C
FireCapture v2.6  Settings
------------------------------------
Observer=Ethan Chappel
Camera=ZWO ASI290MM
Filter=IR
Profile=Jupiter
Diameter=42.83"
Magnitude=-2.43
CMI=75.5° CMII=219.8° CMIII=203.3°  (during mid of capture)
FocalLength=3700mm (F/13)
Resolution=0.16"
Filename=2019-07-30-0424_5-EC-IR-Jup.ser
Date=2019_07_30
Start=04_23_35.529
Mid=04_24_35.534
End=04_25_35.539
Start(UT)=04_23_35.529
Mid(UT)=04_24_35.534
End(UT)=04_25_35.539
Duration=120.010s
Date_format=yyyy_MM_dd
Time_format=HH_mm_ss
LT=UT -6h
Frames captured=7999
File type=SER
Binning=no
Bit depth=8bit
Debayer=no
ROI=400x358
ROI(Offset)=8x8
FPS (avg.)=66
Shutter=15.00ms
Gain=300 (50%)
SoftwareGain=10 (off)
USBTraffic=40 (off)
AutoExposure=off
AutoGain=off
Gamma=50
HighSpeed=off
AutoHisto=75 (off)
FPS=100 (off)
Brightness=1 (off)
Histogramm(min)=0
Histogramm(max)=132
Histogramm=51%
Noise(avg.deviation)=0.73
AutoAlign=false
PreFilter=none
Limit=120 Seconds
Sensor temperature=35.1°C