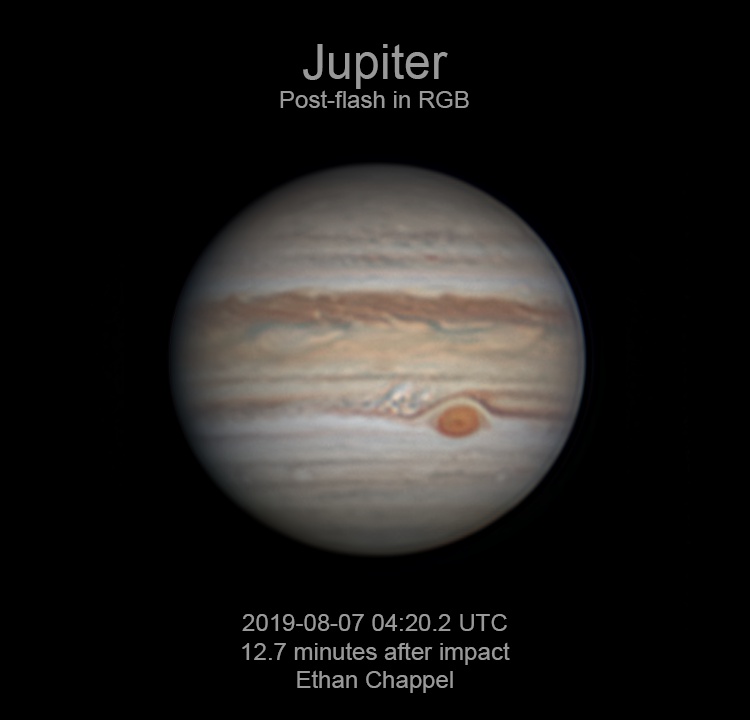 Jupiter UTC
CM1: 255.40°
CM2: 338.70°
CM3: 324.30°
CLat: -3.00°
Description
I continued to record Jupiter, oblivious of the flash that occurred while capturing the previous RGB set.

Notes:
White Oval Z is setting.
The EZ is still orange.
The SEBn is very pale.
The GRS appears a bit egg-shaped. I'm not sure if the fringes on the east and west are part of the storm or part of the surrounding area.
Equipment
ZWO ASI290MM
Astro-Physics Advanced Convertible Barlow
Celestron EdgeHD 8
Logs
FireCapture v2.6  Settings
------------------------------------
Observer=Ethan Chappel
Camera=ZWO ASI290MM
Filter=B
Profile=Jupiter
Diameter=41.91"
Magnitude=-2.38
CMI=257.5° CMII=340.8° CMIII=326.4°  (during mid of capture)
FocalLength=3750mm (F/13)
Resolution=0.16"
Filename=2019-08-07-0423_1-EC-B-Jup.ser
Date=2019_08_07
Start=04_22_11.105
Mid=04_23_11.112
End=04_24_11.119
Start(UT)=04_22_11.105
Mid(UT)=04_23_11.112
End(UT)=04_24_11.119
Duration=120.014s
Date_format=yyyy_MM_dd
Time_format=HH_mm_ss
LT=UT -6h
Frames captured=7057
File type=SER
Binning=no
Bit depth=8bit
Debayer=no
ROI=416x364
ROI(Offset)=8x8
FPS (avg.)=58
Shutter=17.00ms
Gain=300 (50%)
Gamma=50
AutoExposure=off
Brightness=1 (off)
SoftwareGain=10 (off)
AutoHisto=75 (off)
AutoGain=off
FPS=100 (off)
HighSpeed=off
USBTraffic=40 (off)
Histogramm(min)=0
Histogramm(max)=140
Histogramm=54%
Noise(avg.deviation)=0.98
AutoAlign=false
PreFilter=none
Limit=120 Seconds
Sensor temperature=35.3°C
FireCapture v2.6  Settings
------------------------------------
Observer=Ethan Chappel
Camera=ZWO ASI290MM
Filter=G
Profile=Jupiter
Diameter=41.91"
Magnitude=-2.38
CMI=255.8° CMII=339.1° CMIII=324.7°  (during mid of capture)
FocalLength=3750mm (F/13)
Resolution=0.16"
Filename=2019-08-07-0420_3-EC-G-Jup.ser
Date=2019_08_07
Start=04_19_18.802
Mid=04_20_19.952
End=04_21_21.102
Start(UT)=04_19_18.802
Mid(UT)=04_20_19.952
End(UT)=04_21_21.102
Duration=122.300s
Date_format=yyyy_MM_dd
Time_format=HH_mm_ss
LT=UT -6h
Frames captured=8151
File type=SER
Binning=no
Bit depth=8bit
Debayer=no
ROI=416x364
ROI(Offset)=8x8
FPS (avg.)=66
Shutter=15.00ms
Gain=280 (46%)
Gamma=50 (off)
AutoExposure=off
Brightness=1 (off)
SoftwareGain=10 (off)
AutoHisto=75 (off)
AutoGain=off
FPS=100 (off)
HighSpeed=off
USBTraffic=40 (off)
Histogramm(min)=0
Histogramm(max)=143
Histogramm=56%
Noise(avg.deviation)=0.85
AutoAlign=false
PreFilter=none
Limit=150 Seconds
Sensor temperature=35.6°C
FireCapture v2.6  Settings
------------------------------------
Observer=Ethan Chappel
Camera=ZWO ASI290MM
Filter=R
Profile=Jupiter
Diameter=41.91"
Magnitude=-2.38
CMI=253.9° CMII=337.2° CMIII=322.8°  (during mid of capture)
FocalLength=3750mm (F/13)
Resolution=0.16"
Filename=2019-08-07-0417_1-EC-R-Jup.ser
Date=2019_08_07
Start=04_16_09.240
Mid=04_17_09.247
End=04_18_09.254
Start(UT)=04_16_09.240
Mid(UT)=04_17_09.247
End(UT)=04_18_09.254
Duration=120.014s
Date_format=yyyy_MM_dd
Time_format=HH_mm_ss
LT=UT -6h
Frames captured=9995
File type=SER
Binning=no
Bit depth=8bit
Debayer=no
ROI=416x364
ROI(Offset)=8x8
FPS (avg.)=83
Shutter=12.00ms
Gain=290 (48%)
Gamma=50 (off)
AutoExposure=off
Brightness=1 (off)
SoftwareGain=10 (off)
AutoHisto=75 (off)
AutoGain=off
FPS=100 (off)
HighSpeed=off
USBTraffic=40 (off)
Histogramm(min)=0
Histogramm(max)=141
Histogramm=55%
Noise(avg.deviation)=0.95
AutoAlign=false
PreFilter=none
Limit=120 Seconds
Sensor temperature=35.5°C

Measurements
| Name | Longitude 1 | Longitude 2 | Longitude 3 | Latitude | Measurer |
| --- | --- | --- | --- | --- | --- |
| GRS F. End | 237.1° | 320.4° | 306° | -23.5° | EGC |
| GRS P. End | 224.2° | 307.5° | 293.1° | -23° | EGC |
| GRS N. Edge | 230.9° | 314.2° | 299.8° | -17.5° | EGC |
| GRS S. Edge | 230.4° | 313.7° | 299.2° | -27.1° | EGC |
| GRS Center | 230.7° | 314° | 299.6° | -22.2° | EGC |