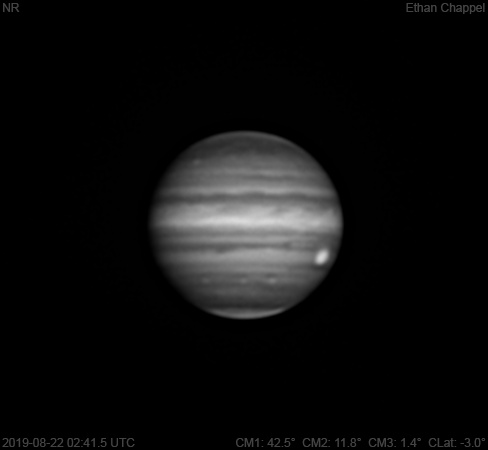 Jupiter UTC
CM1: 42.50°
CM2: 11.80°
CM3: 1.40°
CLat: -3.00°
Description
Jupiter is 40 arc-seconds in diameter tonight, down from 46 arc-seconds at opposition in June. Despite the smaller apparent diameter, the view remains just as good thanks to cooperative weather.
Notes:
A bright oval is rising in the North North Temperate Belt.
The northern South Equatorial Belt is light.
The Great Red Spot is setting.
The dark STB Spectre is sprawling south of the GRS.
Equipment
ZWO ASI290MM
Celestron EdgeHD 8
Logs
FireCapture v2.6  Settings
------------------------------------
Observer=Ethan Chappel
Camera=ZWO ASI290MM
Filter=CH4
Profile=Jupiter
Diameter=40.13"
Magnitude=-2.28
CMI=44.2° CMII=13.6° CMIII=3.1°  (during mid of capture)
FocalLength=1650mm (F/5)
Resolution=0.36"
Filename=2019-08-22-0243_6-EC-CH4-Jup.ser
Date=2019_08_22
Start=02_41_41.848
Mid=02_43_41.850
End=02_45_41.853
Start(UT)=02_41_41.848
Mid(UT)=02_43_41.850
End(UT)=02_45_41.853
Duration=240.005s
Date_format=yyyy_MM_dd
Time_format=HH_mm_ss
LT=UT -6h
Frames captured=4000
File type=SER
Binning=no
Bit depth=8bit
Debayer=no
ROI=396x344
ROI(Offset)=8x8
FPS (avg.)=16
Shutter=60.00ms
Gain=400 (66%)
Gamma=50 (off)
AutoGain=off
USBTraffic=40 (off)
AutoExposure=off
AutoHisto=75 (off)
HighSpeed=off
Brightness=1 (off)
FPS=100 (off)
SoftwareGain=10 (off)
Histogramm(min)=0
Histogramm(max)=242
Histogramm=94%
Noise(avg.deviation)=0.25
AutoAlign=false
PreFilter=none
Limit=240 Seconds
Sensor temperature=36.0°C
FireCapture v2.6  Settings
------------------------------------
Observer=Ethan Chappel
Camera=ZWO ASI290MM
Filter=CH4
Profile=Jupiter
Diameter=40.13"
Magnitude=-2.28
CMI=41.5° CMII=10.9° CMIII=0.5°  (during mid of capture)
FocalLength=1650mm (F/5)
Resolution=0.36"
Filename=2019-08-22-0239_3-EC-CH4-Jup.ser
Date=2019_08_22
Start=02_37_18.591
Mid=02_39_18.599
End=02_41_18.608
Start(UT)=02_37_18.591
Mid(UT)=02_39_18.599
End(UT)=02_41_18.608
Duration=240.017s
Date_format=yyyy_MM_dd
Time_format=HH_mm_ss
LT=UT -6h
Frames captured=4000
File type=SER
Binning=no
Bit depth=8bit
Debayer=no
ROI=396x344
ROI(Offset)=8x8
FPS (avg.)=16
Shutter=60.00ms
Gain=400 (66%)
Gamma=50 (off)
AutoGain=off
USBTraffic=40 (off)
AutoExposure=off
AutoHisto=75 (off)
HighSpeed=off
Brightness=1 (off)
FPS=100 (off)
SoftwareGain=10 (off)
Histogramm(min)=0
Histogramm(max)=255
Histogramm=100%
Noise(avg.deviation)=0.26
AutoAlign=false
PreFilter=none
Limit=240 Seconds
Sensor temperature=36.6°C