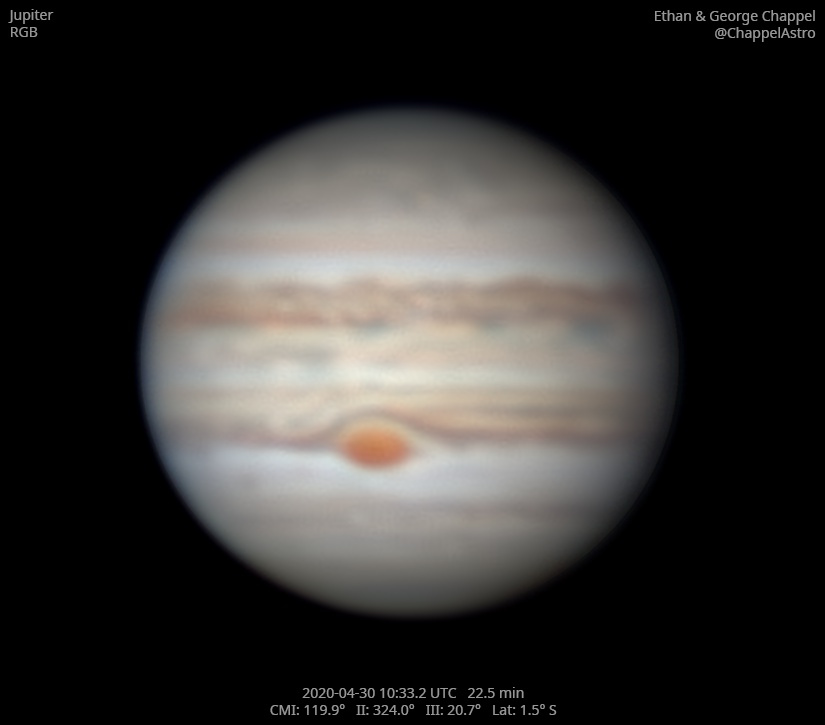 Jupiter UTC
CM1: 119.90°
CM2: 324.00°
CM3: 20.70°
CLat: -1.50°
Description
Another morning of poor seeing to finish a difficult month of imaging. I finished recording IR685 data early to have enough time for Saturn.
Notes:
The North Equatorial Belt has a few rifts.
The Equatorial Zone is still orange. A small band of clouds at the equator appears darker than its surroundings.
The Great Red Spot appears to have a small extension on its eastern end.
A white barge in the South Equatorial Belt is rotating out of view.
Equipment
ZWO ASI290MM
Astro-Physics Advanced Convertible Barlow
Celestron EdgeHD 14
Logs
FireCapture v2.6  Settings
------------------------------------
Observer=Ethan Chappel
Camera=ZWO ASI290MM
Filter=R
Profile=Jupiter
Diameter=40.57"
Magnitude=-2.34
CMI=112.3° CMII=316.4° CMIII=13.1°  (during mid of capture)
FocalLength=8000mm (F/22)
Resolution=0.07"
Filename=2020-04-30-1021_7-EC-R.ser
Date=2020_04_30
Start=10_20_59.460
Mid=10_21_44.463
End=10_22_29.466
Start(UT)=10_20_59.460
Mid(UT)=10_21_44.463
End(UT)=10_22_29.466
Duration=90.006s
Date_format=yyyy_MM_dd
Time_format=HH_mm_ss
LT=UT -6h
Frames captured=8197
File type=SER
Binning=no
Bit depth=8bit
Debayer=no
ROI=680x604
ROI(Offset)=8x8
FPS (avg.)=91
Shutter=10.00ms
Gain=330 (55%)
AutoHisto=75 (off)
AutoGain=off
Gamma=50 (off)
FPS=100 (off)
HighSpeed=off
SoftwareGain=10 (off)
AutoExposure=off
Brightness=1 (off)
USBTraffic=40 (off)
Histogramm(min)=0
Histogramm(max)=202
Histogramm=79%
Noise(avg.deviation)=2.40
AutoAlign=false
PreFilter=none
Limit=90 Seconds
Sensor temperature=22.8°C
Focuser position=1153
FireCapture v2.6  Settings
------------------------------------
Observer=Ethan Chappel
Camera=ZWO ASI290MM
Filter=G
Profile=Jupiter
Diameter=40.57"
Magnitude=-2.34
CMI=113.4° CMII=317.6° CMIII=14.3°  (during mid of capture)
FocalLength=8000mm (F/22)
Resolution=0.07"
Filename=2020-04-30-1023_6-EC-G.ser
Date=2020_04_30
Start=10_22_56.280
Mid=10_23_41.281
End=10_24_26.283
Start(UT)=10_22_56.280
Mid(UT)=10_23_41.281
End(UT)=10_24_26.283
Duration=90.003s
Date_format=yyyy_MM_dd
Time_format=HH_mm_ss
LT=UT -6h
Frames captured=8197
File type=SER
Binning=no
Bit depth=8bit
Debayer=no
ROI=680x604
ROI(Offset)=8x8
FPS (avg.)=91
Shutter=10.00ms
Gain=325 (54%)
AutoHisto=75 (off)
AutoGain=off
Gamma=50 (off)
FPS=100 (off)
HighSpeed=off
SoftwareGain=10 (off)
AutoExposure=off
Brightness=1 (off)
USBTraffic=40 (off)
Histogramm(min)=0
Histogramm(max)=189
Histogramm=74%
Noise(avg.deviation)=2.16
AutoAlign=false
PreFilter=none
Limit=90 Seconds
Sensor temperature=22.8°C
Focuser position=1115
FireCapture v2.6  Settings
------------------------------------
Observer=Ethan Chappel
Camera=ZWO ASI290MM
Filter=B
Profile=Jupiter
Diameter=40.57"
Magnitude=-2.34
CMI=114.6° CMII=318.8° CMIII=15.5°  (during mid of capture)
FocalLength=8050mm (F/22)
Resolution=0.07"
Filename=2020-04-30-1025_6-EC-B.ser
Date=2020_04_30
Start=10_24_52.504
Mid=10_25_37.506
End=10_26_22.508
Start(UT)=10_24_52.504
Mid(UT)=10_25_37.506
End(UT)=10_26_22.508
Duration=90.004s
Date_format=yyyy_MM_dd
Time_format=HH_mm_ss
LT=UT -6h
Frames captured=8197
File type=SER
Binning=no
Bit depth=8bit
Debayer=no
ROI=680x604
ROI(Offset)=8x8
FPS (avg.)=91
Shutter=10.00ms
Gain=355 (59%)
AutoHisto=75 (off)
AutoGain=off
Gamma=50
FPS=100 (off)
HighSpeed=off
SoftwareGain=10 (off)
AutoExposure=off
Brightness=1 (off)
USBTraffic=40 (off)
Histogramm(min)=0
Histogramm(max)=210
Histogramm=82%
Noise(avg.deviation)=2.78
AutoAlign=false
PreFilter=none
Limit=90 Seconds
Sensor temperature=22.8°C
Focuser position=1100
FireCapture v2.6  Settings
------------------------------------
Observer=Ethan Chappel
Camera=ZWO ASI290MM
Filter=R
Profile=Jupiter
Diameter=40.57"
Magnitude=-2.34
CMI=115.7° CMII=319.8° CMIII=16.5°  (during mid of capture)
FocalLength=8050mm (F/22)
Resolution=0.07"
Filename=2020-04-30-1027_3-EC-R.ser
Date=2020_04_30
Start=10_26_38.044
Mid=10_27_23.046
End=10_28_08.048
Start(UT)=10_26_38.044
Mid(UT)=10_27_23.046
End(UT)=10_28_08.048
Duration=90.004s
Date_format=yyyy_MM_dd
Time_format=HH_mm_ss
LT=UT -6h
Frames captured=8198
File type=SER
Binning=no
Bit depth=8bit
Debayer=no
ROI=680x604
ROI(Offset)=8x8
FPS (avg.)=91
Shutter=10.00ms
Gain=330 (55%)
AutoHisto=75 (off)
AutoGain=off
Gamma=50 (off)
FPS=100 (off)
HighSpeed=off
SoftwareGain=10 (off)
AutoExposure=off
Brightness=1 (off)
USBTraffic=40 (off)
Histogramm(min)=0
Histogramm(max)=207
Histogramm=81%
Noise(avg.deviation)=2.48
AutoAlign=false
PreFilter=none
Limit=90 Seconds
Sensor temperature=22.8°C
Focuser position=1153
FireCapture v2.6  Settings
------------------------------------
Observer=Ethan Chappel
Camera=ZWO ASI290MM
Filter=G
Profile=Jupiter
Diameter=40.57"
Magnitude=-2.34
CMI=117.1° CMII=321.3° CMIII=17.9°  (during mid of capture)
FocalLength=8000mm (F/22)
Resolution=0.07"
Filename=2020-04-30-1029_7-EC-G.ser
Date=2020_04_30
Start=10_28_58.512
Mid=10_29_43.514
End=10_30_28.517
Start(UT)=10_28_58.512
Mid(UT)=10_29_43.514
End(UT)=10_30_28.517
Duration=90.005s
Date_format=yyyy_MM_dd
Time_format=HH_mm_ss
LT=UT -6h
Frames captured=8191
File type=SER
Binning=no
Bit depth=8bit
Debayer=no
ROI=680x604
ROI(Offset)=8x8
FPS (avg.)=91
Shutter=10.00ms
Gain=325 (54%)
AutoHisto=75 (off)
AutoGain=off
Gamma=50 (off)
FPS=100 (off)
HighSpeed=off
SoftwareGain=10 (off)
AutoExposure=off
Brightness=1 (off)
USBTraffic=40 (off)
Histogramm(min)=0
Histogramm(max)=188
Histogramm=73%
Noise(avg.deviation)=2.16
AutoAlign=false
PreFilter=none
Limit=90 Seconds
Sensor temperature=22.8°C
Focuser position=1115
FireCapture v2.6  Settings
------------------------------------
Observer=Ethan Chappel
Camera=ZWO ASI290MM
Filter=B
Profile=Jupiter
Diameter=40.57"
Magnitude=-2.34
CMI=118.6° CMII=322.7° CMIII=19.4°  (during mid of capture)
FocalLength=8050mm (F/22)
Resolution=0.07"
Filename=2020-04-30-1032_0-EC-B.ser
Date=2020_04_30
Start=10_31_19.234
Mid=10_32_04.236
End=10_32_49.238
Start(UT)=10_31_19.234
Mid(UT)=10_32_04.236
End(UT)=10_32_49.238
Duration=90.004s
Date_format=yyyy_MM_dd
Time_format=HH_mm_ss
LT=UT -6h
Frames captured=8197
File type=SER
Binning=no
Bit depth=8bit
Debayer=no
ROI=680x604
ROI(Offset)=8x8
FPS (avg.)=91
Shutter=10.00ms
Gain=355 (59%)
AutoHisto=75 (off)
AutoGain=off
Gamma=50
FPS=100 (off)
HighSpeed=off
SoftwareGain=10 (off)
AutoExposure=off
Brightness=1 (off)
USBTraffic=40 (off)
Histogramm(min)=0
Histogramm(max)=195
Histogramm=76%
Noise(avg.deviation)=2.82
AutoAlign=false
PreFilter=none
Limit=90 Seconds
Sensor temperature=22.8°C
Focuser position=1100
FireCapture v2.6  Settings
------------------------------------
Observer=Ethan Chappel
Camera=ZWO ASI290MM
Filter=R
Profile=Jupiter
Diameter=40.57"
Magnitude=-2.34
CMI=120.6° CMII=324.7° CMIII=21.4°  (during mid of capture)
FocalLength=8050mm (F/22)
Resolution=0.07"
Filename=2020-04-30-1035_3-EC-R.ser
Date=2020_04_30
Start=10_34_38.066
Mid=10_35_23.068
End=10_36_08.071
Start(UT)=10_34_38.066
Mid(UT)=10_35_23.068
End(UT)=10_36_08.071
Duration=90.005s
Date_format=yyyy_MM_dd
Time_format=HH_mm_ss
LT=UT -6h
Frames captured=8995
File type=SER
Binning=no
Bit depth=8bit
Debayer=no
ROI=680x604
ROI(Offset)=16x16
FPS (avg.)=99
Shutter=10.00ms
Gain=330 (55%)
AutoHisto=75 (off)
AutoGain=off
Gamma=50 (off)
FPS=100 (off)
HighSpeed=off
SoftwareGain=10 (off)
AutoExposure=off
Brightness=1 (off)
USBTraffic=40 (off)
Histogramm(min)=0
Histogramm(max)=204
Histogramm=80%
Noise(avg.deviation)=3.38
AutoAlign=false
PreFilter=none
Limit=90 Seconds
Sensor temperature=22.7°C
Focuser position=1153
FireCapture v2.6  Settings
------------------------------------
Observer=Ethan Chappel
Camera=ZWO ASI290MM
Filter=G
Profile=Jupiter
Diameter=40.57"
Magnitude=-2.34
CMI=121.6° CMII=325.7° CMIII=22.3°  (during mid of capture)
FocalLength=8000mm (F/22)
Resolution=0.07"
Filename=2020-04-30-1037_0-EC-G.ser
Date=2020_04_30
Start=10_36_16.821
Mid=10_37_01.824
End=10_37_46.828
Start(UT)=10_36_16.821
Mid(UT)=10_37_01.824
End(UT)=10_37_46.828
Duration=90.007s
Date_format=yyyy_MM_dd
Time_format=HH_mm_ss
LT=UT -6h
Frames captured=8990
File type=SER
Binning=no
Bit depth=8bit
Debayer=no
ROI=680x604
ROI(Offset)=16x16
FPS (avg.)=99
Shutter=10.00ms
Gain=325 (54%)
AutoHisto=75 (off)
AutoGain=off
Gamma=50 (off)
FPS=100 (off)
HighSpeed=off
SoftwareGain=10 (off)
AutoExposure=off
Brightness=1 (off)
USBTraffic=40 (off)
Histogramm(min)=0
Histogramm(max)=181
Histogramm=70%
Noise(avg.deviation)=3.15
AutoAlign=false
PreFilter=none
Limit=90 Seconds
Sensor temperature=22.5°C
Focuser position=1115
FireCapture v2.6  Settings
------------------------------------
Observer=Ethan Chappel
Camera=ZWO ASI290MM
Filter=B
Profile=Jupiter
Diameter=40.57"
Magnitude=-2.34
CMI=122.8° CMII=326.9° CMIII=23.6°  (during mid of capture)
FocalLength=8100mm (F/22)
Resolution=0.07"
Filename=2020-04-30-1039_0-EC-B.ser
Date=2020_04_30
Start=10_38_17.800
Mid=10_39_02.800
End=10_39_47.800
Start(UT)=10_38_17.800
Mid(UT)=10_39_02.800
End(UT)=10_39_47.800
Duration=90.000s
Date_format=yyyy_MM_dd
Time_format=HH_mm_ss
LT=UT -6h
Frames captured=8994
File type=SER
Binning=no
Bit depth=8bit
Debayer=no
ROI=680x604
ROI(Offset)=16x16
FPS (avg.)=99
Shutter=10.00ms
Gain=355 (59%)
AutoHisto=75 (off)
AutoGain=off
Gamma=50
FPS=100 (off)
HighSpeed=off
SoftwareGain=10 (off)
AutoExposure=off
Brightness=1 (off)
USBTraffic=40 (off)
Histogramm(min)=0
Histogramm(max)=201
Histogramm=78%
Noise(avg.deviation)=3.97
AutoAlign=false
PreFilter=none
Limit=90 Seconds
Sensor temperature=22.3°C
Focuser position=1100
FireCapture v2.6  Settings
------------------------------------
Observer=Ethan Chappel
Camera=ZWO ASI290MM
Filter=R
Profile=Jupiter
Diameter=40.57"
Magnitude=-2.34
CMI=124.0° CMII=328.1° CMIII=24.7°  (during mid of capture)
FocalLength=8050mm (F/22)
Resolution=0.07"
Filename=2020-04-30-1040_9-EC-R.ser
Date=2020_04_30
Start=10_40_14.918
Mid=10_40_59.919
End=10_41_44.921
Start(UT)=10_40_14.918
Mid(UT)=10_40_59.919
End(UT)=10_41_44.921
Duration=90.003s
Date_format=yyyy_MM_dd
Time_format=HH_mm_ss
LT=UT -6h
Frames captured=8981
File type=SER
Binning=no
Bit depth=8bit
Debayer=no
ROI=680x604
ROI(Offset)=16x16
FPS (avg.)=99
Shutter=10.00ms
Gain=330 (55%)
AutoHisto=75 (off)
AutoGain=off
Gamma=50 (off)
FPS=100 (off)
HighSpeed=off
SoftwareGain=10 (off)
AutoExposure=off
Brightness=1 (off)
USBTraffic=40 (off)
Histogramm(min)=0
Histogramm(max)=210
Histogramm=82%
Noise(avg.deviation)=3.45
AutoAlign=false
PreFilter=none
Limit=90 Seconds
Sensor temperature=22.3°C
Focuser position=1153
FireCapture v2.6  Settings
------------------------------------
Observer=Ethan Chappel
Camera=ZWO ASI290MM
Filter=G
Profile=Jupiter
Diameter=40.57"
Magnitude=-2.34
CMI=125.0° CMII=329.1° CMIII=25.8°  (during mid of capture)
FocalLength=8000mm (F/22)
Resolution=0.07"
Filename=2020-04-30-1042_6-EC-G.ser
Date=2020_04_30
Start=10_41_56.141
Mid=10_42_41.144
End=10_43_26.148
Start(UT)=10_41_56.141
Mid(UT)=10_42_41.144
End(UT)=10_43_26.148
Duration=90.007s
Date_format=yyyy_MM_dd
Time_format=HH_mm_ss
LT=UT -6h
Frames captured=8995
File type=SER
Binning=no
Bit depth=8bit
Debayer=no
ROI=680x604
ROI(Offset)=16x16
FPS (avg.)=99
Shutter=10.00ms
Gain=325 (54%)
AutoHisto=75 (off)
AutoGain=off
Gamma=50 (off)
FPS=100 (off)
HighSpeed=off
SoftwareGain=10 (off)
AutoExposure=off
Brightness=1 (off)
USBTraffic=40 (off)
Histogramm(min)=0
Histogramm(max)=178
Histogramm=69%
Noise(avg.deviation)=3.21
AutoAlign=false
PreFilter=none
Limit=90 Seconds
Sensor temperature=22.3°C
Focuser position=1115
FireCapture v2.6  Settings
------------------------------------
Observer=Ethan Chappel
Camera=ZWO ASI290MM
Filter=B
Profile=Jupiter
Diameter=40.57"
Magnitude=-2.34
CMI=126.0° CMII=330.1° CMIII=26.7°  (during mid of capture)
FocalLength=8100mm (F/22)
Resolution=0.07"
Filename=2020-04-30-1044_2-EC-B.ser
Date=2020_04_30
Start=10_43_32.904
Mid=10_44_17.904
End=10_45_02.905
Start(UT)=10_43_32.904
Mid(UT)=10_44_17.904
End(UT)=10_45_02.905
Duration=90.001s
Date_format=yyyy_MM_dd
Time_format=HH_mm_ss
LT=UT -6h
Frames captured=8994
File type=SER
Binning=no
Bit depth=8bit
Debayer=no
ROI=680x604
ROI(Offset)=16x16
FPS (avg.)=99
Shutter=10.00ms
Gain=355 (59%)
AutoHisto=75 (off)
AutoGain=off
Gamma=50
FPS=100 (off)
HighSpeed=off
SoftwareGain=10 (off)
AutoExposure=off
Brightness=1 (off)
USBTraffic=40 (off)
Histogramm(min)=0
Histogramm(max)=209
Histogramm=81%
Noise(avg.deviation)=3.91
AutoAlign=false
PreFilter=none
Limit=90 Seconds
Sensor temperature=22.3°C
Focuser position=1100