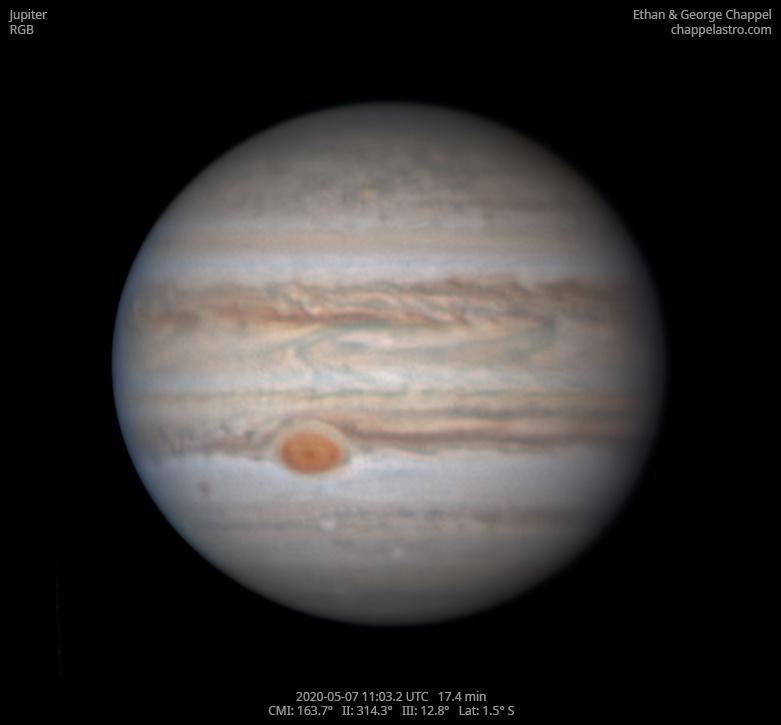 Jupiter UTC
CM1: 163.70°
CM2: 314.30°
CM3: 12.80°
CLat: -1.50°
Description
Decent seeing conditions this morning.
Notes:
The NNTZ Little Red Spot is at the central meridian.
The North Equatorial Belt has lots of rifting.
The Great Red Spot appears slightly egg-shaped.
Two structured segments are visible in the South Temperate Belt, one as a dark spot and the other as a faint blue streak south of the GRS. I think these same segments were visible in images last apparition.
Equipment
ZWO ASI290MM
Astro-Physics Advanced Convertible Barlow
Celestron EdgeHD 14
Logs
FireCapture v2.6  Settings
------------------------------------
Observer=Ethan Chappel
Camera=ZWO ASI290MM
Filter=B
Profile=Jupiter
Diameter=41.49"
Magnitude=-2.39
CMI=168.0° CMII=318.5° CMIII=17.0°  (during mid of capture)
FocalLength=7950mm (F/22)
Resolution=0.08"
Filename=2020-05-07-1111_1-EC-B.ser
Date=2020_05_07
Start=11_10_21.092
Mid=11_11_06.095
End=11_11_51.098
Start(UT)=11_10_21.092
Mid(UT)=11_11_06.095
End(UT)=11_11_51.098
Duration=90.006s
Date_format=yyyy_MM_dd
Time_format=HH_mm_ss
LT=UT -6h
Frames captured=8995
File type=SER
Binning=no
Bit depth=8bit
Debayer=no
ROI=668x596
ROI(Offset)=16x16
FPS (avg.)=99
Shutter=10.00ms
Gain=375 (62%)
USBTraffic=40 (off)
Gamma=50
AutoExposure=off
AutoHisto=75 (off)
AutoGain=off
SoftwareGain=10 (off)
Brightness=1 (off)
HighSpeed=off
FPS=100 (off)
Histogramm(min)=0
Histogramm(max)=188
Histogramm=73%
Noise(avg.deviation)=3.64
AutoAlign=false
PreFilter=none
Limit=90 Seconds
Sensor temperature=24.6°C
Focuser position=1390
FireCapture v2.6  Settings
------------------------------------
Observer=Ethan Chappel
Camera=ZWO ASI290MM
Filter=G
Profile=Jupiter
Diameter=41.49"
Magnitude=-2.39
CMI=166.9° CMII=317.4° CMIII=16.0°  (during mid of capture)
FocalLength=7850mm (F/22)
Resolution=0.08"
Filename=2020-05-07-1109_4-EC-G.ser
Date=2020_05_07
Start=11_08_39.650
Mid=11_09_24.654
End=11_10_09.658
Start(UT)=11_08_39.650
Mid(UT)=11_09_24.654
End(UT)=11_10_09.658
Duration=90.008s
Date_format=yyyy_MM_dd
Time_format=HH_mm_ss
LT=UT -6h
Frames captured=8995
File type=SER
Binning=no
Bit depth=8bit
Debayer=no
ROI=668x596
ROI(Offset)=16x16
FPS (avg.)=99
Shutter=10.00ms
Gain=350 (58%)
USBTraffic=40 (off)
Gamma=50 (off)
AutoExposure=off
AutoHisto=75 (off)
AutoGain=off
SoftwareGain=10 (off)
Brightness=1 (off)
HighSpeed=off
FPS=100 (off)
Histogramm(min)=0
Histogramm(max)=196
Histogramm=76%
Noise(avg.deviation)=3.22
AutoAlign=false
PreFilter=none
Limit=90 Seconds
Sensor temperature=24.6°C
Focuser position=1440
FireCapture v2.6  Settings
------------------------------------
Observer=Ethan Chappel
Camera=ZWO ASI290MM
Filter=R
Profile=Jupiter
Diameter=41.49"
Magnitude=-2.39
CMI=165.9° CMII=316.4° CMIII=15.0°  (during mid of capture)
FocalLength=7850mm (F/22)
Resolution=0.08"
Filename=2020-05-07-1107_7-EC-R.ser
Date=2020_05_07
Start=11_06_58.886
Mid=11_07_43.888
End=11_08_28.890
Start(UT)=11_06_58.886
Mid(UT)=11_07_43.888
End(UT)=11_08_28.890
Duration=90.004s
Date_format=yyyy_MM_dd
Time_format=HH_mm_ss
LT=UT -6h
Frames captured=8995
File type=SER
Binning=no
Bit depth=8bit
Debayer=no
ROI=668x596
ROI(Offset)=16x16
FPS (avg.)=99
Shutter=10.00ms
Gain=350 (58%)
USBTraffic=40 (off)
Gamma=50 (off)
AutoExposure=off
AutoHisto=75 (off)
AutoGain=off
SoftwareGain=10 (off)
Brightness=1 (off)
HighSpeed=off
FPS=100 (off)
Histogramm(min)=0
Histogramm(max)=218
Histogramm=85%
Noise(avg.deviation)=3.34
AutoAlign=false
PreFilter=none
Limit=90 Seconds
Sensor temperature=24.6°C
Focuser position=1440
FireCapture v2.6  Settings
------------------------------------
Observer=Ethan Chappel
Camera=ZWO ASI290MM
Filter=B
Profile=Jupiter
Diameter=41.49"
Magnitude=-2.39
CMI=164.7° CMII=315.2° CMIII=13.8°  (during mid of capture)
FocalLength=7900mm (F/22)
Resolution=0.08"
Filename=2020-05-07-1105_7-EC-B.ser
Date=2020_05_07
Start=11_05_01.730
Mid=11_05_46.730
End=11_06_31.730
Start(UT)=11_05_01.730
Mid(UT)=11_05_46.730
End(UT)=11_06_31.730
Duration=90.000s
Date_format=yyyy_MM_dd
Time_format=HH_mm_ss
LT=UT -6h
Frames captured=8994
File type=SER
Binning=no
Bit depth=8bit
Debayer=no
ROI=668x596
ROI(Offset)=16x16
FPS (avg.)=99
Shutter=10.00ms
Gain=375 (62%)
USBTraffic=40 (off)
Gamma=50
AutoExposure=off
AutoHisto=75 (off)
AutoGain=off
SoftwareGain=10 (off)
Brightness=1 (off)
HighSpeed=off
FPS=100 (off)
Histogramm(min)=0
Histogramm(max)=200
Histogramm=78%
Noise(avg.deviation)=3.72
AutoAlign=false
PreFilter=none
Limit=90 Seconds
Sensor temperature=24.6°C
Focuser position=1390
FireCapture v2.6  Settings
------------------------------------
Observer=Ethan Chappel
Camera=ZWO ASI290MM
Filter=G
Profile=Jupiter
Diameter=41.49"
Magnitude=-2.39
CMI=163.6° CMII=314.2° CMIII=12.7°  (during mid of capture)
FocalLength=7900mm (F/22)
Resolution=0.08"
Filename=2020-05-07-1103_9-EC-G.ser
Date=2020_05_07
Start=11_03_14.168
Mid=11_03_59.168
End=11_04_44.168
Start(UT)=11_03_14.168
Mid(UT)=11_03_59.168
End(UT)=11_04_44.168
Duration=90.000s
Date_format=yyyy_MM_dd
Time_format=HH_mm_ss
LT=UT -6h
Frames captured=8994
File type=SER
Binning=no
Bit depth=8bit
Debayer=no
ROI=668x596
ROI(Offset)=16x16
FPS (avg.)=99
Shutter=10.00ms
Gain=350 (58%)
USBTraffic=40 (off)
Gamma=50 (off)
AutoExposure=off
AutoHisto=75 (off)
AutoGain=off
SoftwareGain=10 (off)
Brightness=1 (off)
HighSpeed=off
FPS=100 (off)
Histogramm(min)=0
Histogramm(max)=209
Histogramm=81%
Noise(avg.deviation)=3.26
AutoAlign=false
PreFilter=none
Limit=90 Seconds
Sensor temperature=24.6°C
Focuser position=1440
FireCapture v2.6  Settings
------------------------------------
Observer=Ethan Chappel
Camera=ZWO ASI290MM
Filter=R
Profile=Jupiter
Diameter=41.49"
Magnitude=-2.39
CMI=162.0° CMII=312.6° CMIII=11.1°  (during mid of capture)
FocalLength=7850mm (F/22)
Resolution=0.08"
Filename=2020-05-07-1101_3-EC-R.ser
Date=2020_05_07
Start=11_00_37.891
Mid=11_01_22.891
End=11_02_07.892
Start(UT)=11_00_37.891
Mid(UT)=11_01_22.891
End(UT)=11_02_07.892
Duration=90.001s
Date_format=yyyy_MM_dd
Time_format=HH_mm_ss
LT=UT -6h
Frames captured=8994
File type=SER
Binning=no
Bit depth=8bit
Debayer=no
ROI=668x596
ROI(Offset)=16x16
FPS (avg.)=99
Shutter=10.00ms
Gain=350 (58%)
USBTraffic=40 (off)
Gamma=50 (off)
AutoExposure=off
AutoHisto=75 (off)
AutoGain=off
SoftwareGain=10 (off)
Brightness=1 (off)
HighSpeed=off
FPS=100 (off)
Histogramm(min)=0
Histogramm(max)=195
Histogramm=76%
Noise(avg.deviation)=3.19
AutoAlign=false
PreFilter=none
Limit=90 Seconds
Sensor temperature=24.6°C
Focuser position=1440
FireCapture v2.6  Settings
------------------------------------
Observer=Ethan Chappel
Camera=ZWO ASI290MM
Filter=B
Profile=Jupiter
Diameter=41.49"
Magnitude=-2.39
CMI=161.0° CMII=311.6° CMIII=10.1°  (during mid of capture)
FocalLength=7950mm (F/22)
Resolution=0.08"
Filename=2020-05-07-1059_6-EC-B.ser
Date=2020_05_07
Start=10_58_55.129
Mid=10_59_40.130
End=11_00_25.132
Start(UT)=10_58_55.129
Mid(UT)=10_59_40.130
End(UT)=11_00_25.132
Duration=90.003s
Date_format=yyyy_MM_dd
Time_format=HH_mm_ss
LT=UT -6h
Frames captured=8993
File type=SER
Binning=no
Bit depth=8bit
Debayer=no
ROI=668x596
ROI(Offset)=16x16
FPS (avg.)=99
Shutter=10.00ms
Gain=375 (62%)
USBTraffic=40 (off)
Gamma=50
AutoExposure=off
AutoHisto=75 (off)
AutoGain=off
SoftwareGain=10 (off)
Brightness=1 (off)
HighSpeed=off
FPS=100 (off)
Histogramm(min)=0
Histogramm(max)=191
Histogramm=74%
Noise(avg.deviation)=3.66
AutoAlign=false
PreFilter=none
Limit=90 Seconds
Sensor temperature=24.6°C
Focuser position=1390
FireCapture v2.6  Settings
------------------------------------
Observer=Ethan Chappel
Camera=ZWO ASI290MM
Filter=G
Profile=Jupiter
Diameter=41.49"
Magnitude=-2.39
CMI=159.0° CMII=309.6° CMIII=8.1°  (during mid of capture)
FocalLength=7900mm (F/22)
Resolution=0.08"
Filename=2020-05-07-1056_3-EC-G.ser
Date=2020_05_07
Start=10_55_37.318
Mid=10_56_22.318
End=10_57_07.318
Start(UT)=10_55_37.318
Mid(UT)=10_56_22.318
End(UT)=10_57_07.318
Duration=90.000s
Date_format=yyyy_MM_dd
Time_format=HH_mm_ss
LT=UT -6h
Frames captured=8994
File type=SER
Binning=no
Bit depth=8bit
Debayer=no
ROI=668x596
ROI(Offset)=16x16
FPS (avg.)=99
Shutter=10.00ms
Gain=350 (58%)
USBTraffic=40 (off)
Gamma=50 (off)
AutoExposure=off
AutoHisto=75 (off)
AutoGain=off
SoftwareGain=10 (off)
Brightness=1 (off)
HighSpeed=off
FPS=100 (off)
Histogramm(min)=0
Histogramm(max)=199
Histogramm=78%
Noise(avg.deviation)=3.15
AutoAlign=false
PreFilter=none
Limit=90 Seconds
Sensor temperature=24.7°C
Focuser position=1440
FireCapture v2.6  Settings
------------------------------------
Observer=Ethan Chappel
Camera=ZWO ASI290MM
Filter=R
Profile=Jupiter
Diameter=41.49"
Magnitude=-2.39
CMI=157.4° CMII=308.0° CMIII=6.5°  (during mid of capture)
FocalLength=7850mm (F/22)
Resolution=0.08"
Filename=2020-05-07-1053_7-EC-R.ser
Date=2020_05_07
Start=10_53_01.059
Mid=10_53_46.060
End=10_54_31.062
Start(UT)=10_53_01.059
Mid(UT)=10_53_46.060
End(UT)=10_54_31.062
Duration=90.003s
Date_format=yyyy_MM_dd
Time_format=HH_mm_ss
LT=UT -6h
Frames captured=8995
File type=SER
Binning=no
Bit depth=8bit
Debayer=no
ROI=668x596
ROI(Offset)=16x16
FPS (avg.)=99
Shutter=10.00ms
Gain=350 (58%)
USBTraffic=40 (off)
Gamma=50 (off)
AutoExposure=off
AutoHisto=75 (off)
AutoGain=off
SoftwareGain=10 (off)
Brightness=1 (off)
HighSpeed=off
FPS=100 (off)
Histogramm(min)=0
Histogramm(max)=211
Histogramm=82%
Noise(avg.deviation)=3.23
AutoAlign=false
PreFilter=none
Limit=90 Seconds
Sensor temperature=24.6°C
Focuser position=1440