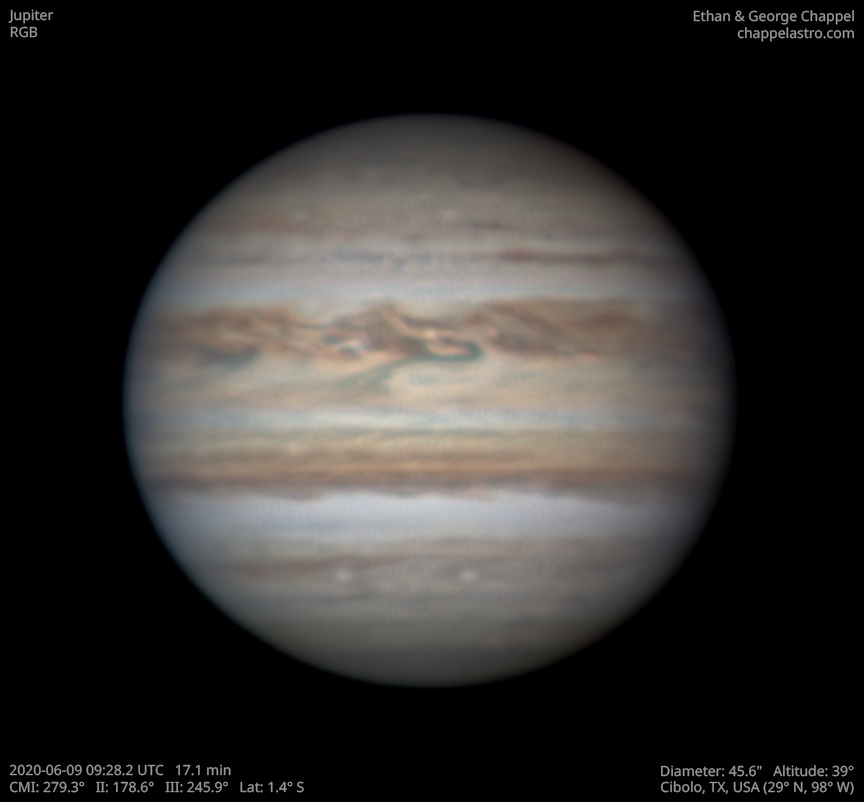 Jupiter UTC
CM1: 279.30°
CM2: 178.60°
CM3: 245.90°
CLat: -1.40°
Description
This was a difficult morning of imaging. The focuser was not moving and the motor was emitting a loud buzz when sending commands. After seeing no issues externally, I opened the motor in the dark to investigate myself and confirmed the motor itself was not moving. Clouds started rolling in as I reattached it, so I quickly focused manually and started recording before losing Jupiter to the clouds.
Notes:
The North Equatorial belt is chaotic.
White Spot Z is approaching the central meridian.
The Equatorial Zone is orange.
Equipment
ZWO ASI290MM
Astro-Physics Advanced Convertible Barlow
Celestron EdgeHD 14
Logs
FireCapture v2.6  Settings
------------------------------------
Observer=Ethan Chappel
Location=Cibolo
Scope=Celestron C14 EdgeHD
Camera=ZWO ASI290MM
Filter=B
Profile=Jupiter
Diameter=45.54"
Magnitude=-2.62
CMI=290.7° CMII=189.9° CMIII=257.2°  (during mid of capture)
FocalLength=5800mm (F/16)
Resolution=0.10"
Filename=2020-06-09-0947_4-EC-B-Jup.ser
Date=2020_06_09
Start=09_46_31.451
Mid=09_47_25.295
End=09_48_19.140
Start(UT)=09_46_31.451
Mid(UT)=09_47_25.295
End(UT)=09_48_19.140
Duration=107.689s
Date_format=yyyy_MM_dd
Time_format=HH_mm_ss
LT=UT -6h
Frames captured=879
File type=SER
Binning=no
ROI=724x660
ROI(Offset)=0x0
FPS (avg.)=8
Shutter=20.00ms
Gain=370 (61%)
Brightness=1 (off)
HighSpeed=on
AutoGain=off
SoftwareGain=10 (off)
AutoHisto=75 (off)
AutoExposure=off
Gamma=50 (off)
USBTraffic=50 (off)
FPS=100 (off)
Histogramm(min)=0
Histogramm(max)=78
Histogramm=30%
Noise(avg.deviation)=1.32
Limit=120 Seconds
Sensor temperature=33.0°C
FireCapture v2.6  Settings
------------------------------------
Observer=Ethan Chappel
Location=Cibolo
Scope=Celestron C14 EdgeHD
Camera=ZWO ASI290MM
Filter=B
Profile=Jupiter
Diameter=45.54"
Magnitude=-2.62
CMI=289.4° CMII=188.6° CMIII=255.9°  (during mid of capture)
FocalLength=5350mm (F/15)
Resolution=0.11"
Filename=2020-06-09-0945_2-EC-B-Jup.ser
Date=2020_06_09
Start=09_45_06.298
Mid=09_45_16.377
End=09_45_26.457
Start(UT)=09_45_06.298
Mid(UT)=09_45_16.377
End(UT)=09_45_26.457
Duration=20.159s
Date_format=yyyy_MM_dd
Time_format=HH_mm_ss
LT=UT -6h
Frames captured=1328
File type=SER
Binning=no
ROI=724x660
ROI(Offset)=16x296
FPS (avg.)=65
Shutter=10.00ms
Gain=370 (61%)
Brightness=1 (off)
HighSpeed=on
AutoGain=off
SoftwareGain=10 (off)
AutoHisto=75 (off)
AutoExposure=off
Gamma=50 (off)
USBTraffic=50 (off)
FPS=100 (off)
Histogramm(min)=0
Histogramm(max)=68
Histogramm=26%
Noise(avg.deviation)=3.44
Limit=120 Seconds
Sensor temperature=32.8°C
FireCapture v2.6  Settings
------------------------------------
Observer=Ethan Chappel
Location=Cibolo
Scope=Celestron C14 EdgeHD
Camera=ZWO ASI290MM
Filter=G
Profile=Jupiter
Diameter=45.54"
Magnitude=-2.62
CMI=288.0° CMII=187.1° CMIII=254.4°  (during mid of capture)
FocalLength=7400mm (F/20)
Resolution=0.08"
Filename=2020-06-09-0942_8-EC-G-Jup.ser
Date=2020_06_09
Start=09_41_53.805
Mid=09_42_51.207
End=09_43_48.610
Start(UT)=09_41_53.805
Mid(UT)=09_42_51.207
End(UT)=09_43_48.610
Duration=114.805s
Date_format=yyyy_MM_dd
Time_format=HH_mm_ss
LT=UT -6h
Frames captured=8632
File type=SER
Binning=no
ROI=724x660
ROI(Offset)=16x296
FPS (avg.)=75
Shutter=10.00ms
Gain=370 (61%)
Brightness=1 (off)
HighSpeed=on
AutoGain=off
SoftwareGain=10 (off)
AutoHisto=75 (off)
AutoExposure=off
Gamma=50 (off)
USBTraffic=50 (off)
FPS=100 (off)
Histogramm(min)=0
Histogramm(max)=164
Histogramm=64%
Noise(avg.deviation)=5.23
Limit=120 Seconds
Sensor temperature=32.5°C
FireCapture v2.6  Settings
------------------------------------
Observer=Ethan Chappel
Location=Cibolo
Scope=Celestron C14 EdgeHD
Camera=ZWO ASI290MM
Filter=R
Profile=Jupiter
Diameter=45.54"
Magnitude=-2.62
CMI=286.2° CMII=185.4° CMIII=252.7°  (during mid of capture)
FocalLength=7650mm (F/21)
Resolution=0.08"
Filename=2020-06-09-0940_0-EC-R-Jup.ser
Date=2020_06_09
Start=09_39_03.932
Mid=09_40_03.936
End=09_41_03.940
Start(UT)=09_39_03.932
Mid(UT)=09_40_03.936
End(UT)=09_41_03.940
Duration=120.008s
Date_format=yyyy_MM_dd
Time_format=HH_mm_ss
LT=UT -6h
Frames captured=5251
File type=SER
Binning=no
ROI=724x660
ROI(Offset)=16x296
FPS (avg.)=43
Shutter=20.00ms
Gain=350 (58%)
Brightness=1 (off)
HighSpeed=on
AutoGain=off
SoftwareGain=10 (off)
AutoHisto=75 (off)
AutoExposure=off
Gamma=50 (off)
USBTraffic=50 (off)
FPS=100 (off)
Histogramm(min)=0
Histogramm(max)=71
Histogramm=27%
Noise(avg.deviation)=3.11
Limit=120 Seconds
Sensor temperature=33.0°C
FireCapture v2.6  Settings
------------------------------------
Observer=Ethan Chappel
Location=Cibolo
Scope=Celestron C14 EdgeHD
Camera=ZWO ASI290MM
Filter=B
Profile=Jupiter
Diameter=45.54"
Magnitude=-2.62
CMI=283.8° CMII=183.0° CMIII=250.3°  (during mid of capture)
FocalLength=7700mm (F/21)
Resolution=0.08"
Filename=2020-06-09-0936_0-EC-B-Jup.ser
Date=2020_06_09
Start=09_35_00.763
Mid=09_36_00.764
End=09_37_00.765
Start(UT)=09_35_00.763
Mid(UT)=09_36_00.764
End(UT)=09_37_00.765
Duration=120.002s
Date_format=yyyy_MM_dd
Time_format=HH_mm_ss
LT=UT -6h
Frames captured=11995
File type=SER
Binning=no
ROI=724x660
ROI(Offset)=16x296
FPS (avg.)=99
Shutter=10.00ms
Gain=370 (61%)
Brightness=1 (off)
HighSpeed=on
AutoGain=off
SoftwareGain=10 (off)
AutoHisto=75 (off)
AutoExposure=off
Gamma=50 (off)
USBTraffic=50 (off)
FPS=100 (off)
Histogramm(min)=0
Histogramm(max)=131
Histogramm=51%
Noise(avg.deviation)=4.60
Limit=120 Seconds
Sensor temperature=33.0°C
FireCapture v2.6  Settings
------------------------------------
Observer=Ethan Chappel
Location=Cibolo
Scope=Celestron C14 EdgeHD
Camera=ZWO ASI290MM
Filter=G
Profile=Jupiter
Diameter=45.54"
Magnitude=-2.62
CMI=282.2° CMII=181.4° CMIII=248.7°  (during mid of capture)
FocalLength=7900mm (F/22)
Resolution=0.08"
Filename=2020-06-09-0933_4-EC-G-Jup.ser
Date=2020_06_09
Start=09_32_26.315
Mid=09_33_26.320
End=09_34_26.326
Start(UT)=09_32_26.315
Mid(UT)=09_33_26.320
End(UT)=09_34_26.326
Duration=120.011s
Date_format=yyyy_MM_dd
Time_format=HH_mm_ss
LT=UT -6h
Frames captured=11997
File type=SER
Binning=no
ROI=724x660
ROI(Offset)=16x296
FPS (avg.)=99
Shutter=10.00ms
Gain=370 (61%)
Brightness=1 (off)
HighSpeed=on
AutoGain=off
SoftwareGain=10 (off)
AutoHisto=75 (off)
AutoExposure=off
Gamma=50 (off)
USBTraffic=50 (off)
FPS=100 (off)
Histogramm(min)=0
Histogramm(max)=200
Histogramm=78%
Noise(avg.deviation)=5.49
Limit=120 Seconds
Sensor temperature=33.0°C
FireCapture v2.6  Settings
------------------------------------
Observer=Ethan Chappel
Location=Cibolo
Scope=Celestron C14 EdgeHD
Camera=ZWO ASI290MM
Filter=R
Profile=Jupiter
Diameter=45.54"
Magnitude=-2.62
CMI=279.7° CMII=178.9° CMIII=246.2°  (during mid of capture)
FocalLength=7850mm (F/22)
Resolution=0.08"
Filename=2020-06-09-0929_2-EC-R-Jup.ser
Date=2020_06_09
Start=09_28_17.763
Mid=09_29_17.770
End=09_30_17.778
Start(UT)=09_28_17.763
Mid(UT)=09_29_17.770
End(UT)=09_30_17.778
Duration=120.015s
Date_format=yyyy_MM_dd
Time_format=HH_mm_ss
LT=UT -6h
Frames captured=11997
File type=SER
Binning=no
ROI=724x660
ROI(Offset)=16x296
FPS (avg.)=99
Shutter=10.00ms
Gain=350 (58%)
Brightness=1 (off)
HighSpeed=on
AutoGain=off
SoftwareGain=10 (off)
AutoHisto=75 (off)
AutoExposure=off
Gamma=50 (off)
USBTraffic=50 (off)
FPS=100 (off)
Histogramm(min)=0
Histogramm(max)=114
Histogramm=44%
Noise(avg.deviation)=3.92
Limit=120 Seconds
Sensor temperature=33.0°C
FireCapture v2.6  Settings
------------------------------------
Observer=Ethan Chappel
Location=Cibolo
Scope=Celestron C14 EdgeHD
Camera=ZWO ASI290MM
Filter=B
Profile=Jupiter
Diameter=45.54"
Magnitude=-2.62
CMI=278.2° CMII=177.4° CMIII=244.7°  (during mid of capture)
FocalLength=7850mm (F/22)
Resolution=0.08"
Filename=2020-06-09-0926_7-EC-B-Jup.ser
Date=2020_06_09
Start=09_25_47.026
Mid=09_26_47.030
End=09_27_47.034
Start(UT)=09_25_47.026
Mid(UT)=09_26_47.030
End(UT)=09_27_47.034
Duration=120.008s
Date_format=yyyy_MM_dd
Time_format=HH_mm_ss
LT=UT -6h
Frames captured=11995
File type=SER
Binning=no
ROI=724x660
ROI(Offset)=16x296
FPS (avg.)=99
Shutter=10.00ms
Gain=370 (61%)
Brightness=1 (off)
HighSpeed=on
AutoGain=off
SoftwareGain=10 (off)
AutoHisto=75 (off)
AutoExposure=off
Gamma=50 (off)
USBTraffic=50 (off)
FPS=100 (off)
Histogramm(min)=0
Histogramm(max)=148
Histogramm=58%
Noise(avg.deviation)=5.00
Limit=120 Seconds
Sensor temperature=33.1°C
FireCapture v2.6  Settings
------------------------------------
Observer=Ethan Chappel
Location=Cibolo
Scope=Celestron C14 EdgeHD
Camera=ZWO ASI290MM
Filter=G
Profile=Jupiter
Diameter=45.54"
Magnitude=-2.62
CMI=276.2° CMII=175.5° CMIII=242.8°  (during mid of capture)
FocalLength=7950mm (F/22)
Resolution=0.08"
Filename=2020-06-09-0923_6-EC-G-Jup.ser
Date=2020_06_09
Start=09_22_51.025
Mid=09_23_37.552
End=09_24_24.080
Start(UT)=09_22_51.025
Mid(UT)=09_23_37.552
End(UT)=09_24_24.080
Duration=93.055s
Date_format=yyyy_MM_dd
Time_format=HH_mm_ss
LT=UT -6h
Frames captured=8970
File type=SER
Binning=no
ROI=724x660
ROI(Offset)=16x296
FPS (avg.)=96
Shutter=10.00ms
Gain=370 (61%)
Brightness=1 (off)
HighSpeed=on
AutoGain=off
SoftwareGain=10 (off)
AutoHisto=75 (off)
AutoExposure=off
Gamma=50 (off)
USBTraffic=50 (off)
FPS=100 (off)
Histogramm(min)=0
Histogramm(max)=202
Histogramm=79%
Noise(avg.deviation)=5.74
Limit=90 Seconds
Sensor temperature=33.1°C
FireCapture v2.6  Settings
------------------------------------
Observer=Ethan Chappel
Location=Cibolo
Scope=Celestron C14 EdgeHD
Camera=ZWO ASI290MM
Filter=R
Profile=Jupiter
Diameter=45.54"
Magnitude=-2.62
CMI=274.3° CMII=173.5° CMIII=240.9°  (during mid of capture)
FocalLength=7850mm (F/22)
Resolution=0.08"
Filename=2020-06-09-0920_4-EC-R-Jup.ser
Date=2020_06_09
Start=09_19_24.777
Mid=09_20_24.772
End=09_21_24.768
Start(UT)=09_19_24.777
Mid(UT)=09_20_24.772
End(UT)=09_21_24.768
Duration=119.991s
Date_format=yyyy_MM_dd
Time_format=HH_mm_ss
LT=UT -6h
Frames captured=11994
File type=SER
Binning=no
ROI=724x660
ROI(Offset)=16x296
FPS (avg.)=99
Shutter=10.00ms
Gain=350 (58%)
Brightness=1 (off)
HighSpeed=on
AutoGain=off
SoftwareGain=10 (off)
AutoHisto=75 (off)
AutoExposure=off
Gamma=50 (off)
USBTraffic=50 (off)
FPS=100 (off)
Histogramm(min)=0
Histogramm(max)=183
Histogramm=71%
Noise(avg.deviation)=4.90
Limit=120 Seconds
Sensor temperature=33.2°C