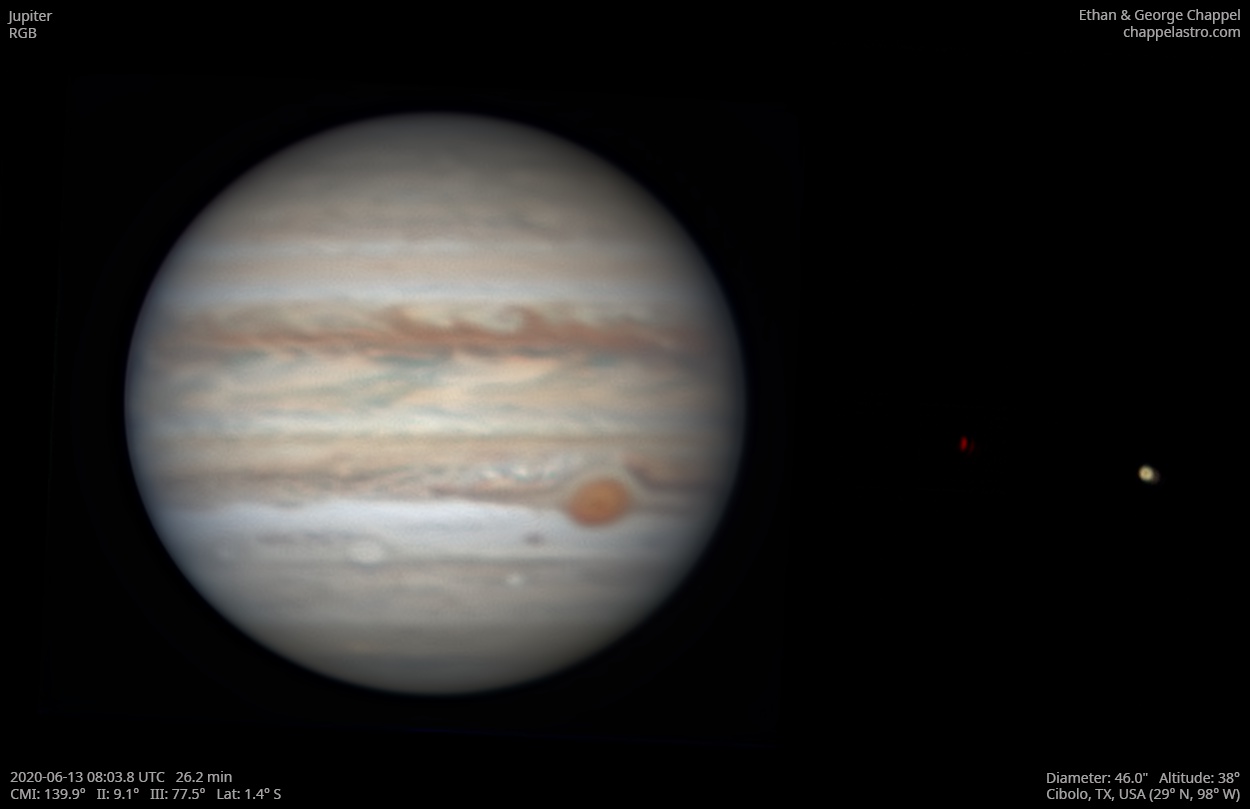 Jupiter UTC
CM1: 139.90°
CM2: 9.10°
CM3: 77.50°
CLat: -1.40°
Description
Excellent transparency and below average seeing conditions this morning, which made manually focusing difficult.
Notes:
The NTB is pale.
The NEBn is chaotic.
Oval BA is approaching the GRS.
Io is being eclipsed by Jupiter. It was only visible while recording the red channel. Europa remained visible while recording all channels.
Equipment
ZWO ASI290MM
Astro-Physics Advanced Convertible Barlow
Celestron EdgeHD 14
Logs
FireCapture v2.6  Settings
------------------------------------
Observer=Ethan Chappel
Location=Cibolo
Scope=Celestron C14 EdgeHD
Camera=ZWO ASI290MM
Filter=B
Profile=Jupiter
Diameter=45.93"
Magnitude=-2.64
CMI=147.3° CMII=16.4° CMIII=84.7°  (during mid of capture)
FocalLength=8200mm (F/23)
Resolution=0.07"
Filename=2020-06-13-0816_2-EC-B-Jup.ser
Date=2020_06_13
Start=08_15_17.256
Mid=08_16_17.259
End=08_17_17.263
Start(UT)=08_15_17.256
Mid(UT)=08_16_17.259
End(UT)=08_17_17.263
Duration=120.007s
Date_format=yyyy_MM_dd
Time_format=HH_mm_ss
LT=UT -6h
Frames captured=12000
File type=SER
Binning=no
ROI=1296x798
ROI(Offset)=144x272
FPS (avg.)=99
Shutter=10.00ms
Gain=360 (60%)
AutoGain=off
FPS=100 (off)
Brightness=1 (off)
AutoHisto=75 (off)
USBTraffic=50 (off)
HighSpeed=on
AutoExposure=off
Gamma=50 (off)
SoftwareGain=10 (off)
Histogramm(min)=0
Histogramm(max)=222
Histogramm=87%
Noise(avg.deviation)=3.94
Limit=120 Seconds
Sensor temperature=31.0°C
FireCapture v2.6  Settings
------------------------------------
Observer=Ethan Chappel
Location=Cibolo
Scope=Celestron C14 EdgeHD
Camera=ZWO ASI290MM
Filter=G
Profile=Jupiter
Diameter=45.93"
Magnitude=-2.64
CMI=145.5° CMII=14.6° CMIII=82.9°  (during mid of capture)
FocalLength=8550mm (F/24)
Resolution=0.07"
Filename=2020-06-13-0813_3-EC-G-Jup.ser
Date=2020_06_13
Start=08_12_18.453
Mid=08_13_18.455
End=08_14_18.458
Start(UT)=08_12_18.453
Mid(UT)=08_13_18.455
End(UT)=08_14_18.458
Duration=120.005s
Date_format=yyyy_MM_dd
Time_format=HH_mm_ss
LT=UT -6h
Frames captured=12000
File type=SER
Binning=no
ROI=1296x798
ROI(Offset)=144x272
FPS (avg.)=99
Shutter=10.00ms
Gain=340 (56%)
AutoGain=off
FPS=100 (off)
Brightness=1 (off)
AutoHisto=75 (off)
USBTraffic=50 (off)
HighSpeed=on
AutoExposure=off
Gamma=50 (off)
SoftwareGain=10 (off)
Histogramm(min)=0
Histogramm(max)=217
Histogramm=85%
Noise(avg.deviation)=3.61
Limit=120 Seconds
Sensor temperature=31.0°C
FireCapture v2.6  Settings
------------------------------------
Observer=Ethan Chappel
Location=Cibolo
Scope=Celestron C14 EdgeHD
Camera=ZWO ASI290MM
Filter=R
Profile=Jupiter
Diameter=45.93"
Magnitude=-2.64
CMI=144.2° CMII=13.3° CMIII=81.6°  (during mid of capture)
FocalLength=8850mm (F/24)
Resolution=0.07"
Filename=2020-06-13-0811_1-EC-R-Jup.ser
Date=2020_06_13
Start=08_10_08.378
Mid=08_11_08.383
End=08_12_08.389
Start(UT)=08_10_08.378
Mid(UT)=08_11_08.383
End(UT)=08_12_08.389
Duration=120.011s
Date_format=yyyy_MM_dd
Time_format=HH_mm_ss
LT=UT -6h
Frames captured=12001
File type=SER
Binning=no
ROI=1296x798
ROI(Offset)=144x272
FPS (avg.)=99
Shutter=10.00ms
Gain=340 (56%)
AutoGain=off
FPS=100 (off)
Brightness=1 (off)
AutoHisto=75 (off)
USBTraffic=50 (off)
HighSpeed=on
AutoExposure=off
Gamma=50 (off)
SoftwareGain=10 (off)
Histogramm(min)=0
Histogramm(max)=228
Histogramm=89%
Noise(avg.deviation)=3.71
Limit=120 Seconds
Sensor temperature=31.1°C
FireCapture v2.6  Settings
------------------------------------
Observer=Ethan Chappel
Location=Cibolo
Scope=Celestron C14 EdgeHD
Camera=ZWO ASI290MM
Filter=B
Profile=Jupiter
Diameter=45.93"
Magnitude=-2.64
CMI=141.5° CMII=10.6° CMIII=79.0°  (during mid of capture)
FocalLength=8150mm (F/22)
Resolution=0.07"
Filename=2020-06-13-0806_7-EC-B-Jup.ser
Date=2020_06_13
Start=08_05_43.141
Mid=08_06_43.148
End=08_07_43.155
Start(UT)=08_05_43.141
Mid(UT)=08_06_43.148
End(UT)=08_07_43.155
Duration=120.014s
Date_format=yyyy_MM_dd
Time_format=HH_mm_ss
LT=UT -6h
Frames captured=11535
File type=SER
Binning=no
ROI=748x648
ROI(Offset)=144x304
FPS (avg.)=96
Shutter=10.00ms
Gain=360 (60%)
AutoGain=off
FPS=100 (off)
Brightness=1 (off)
AutoHisto=75 (off)
USBTraffic=50 (off)
HighSpeed=on
AutoExposure=off
Gamma=50 (off)
SoftwareGain=10 (off)
Histogramm(min)=0
Histogramm(max)=235
Histogramm=92%
Noise(avg.deviation)=5.77
Limit=120 Seconds
Sensor temperature=30.8°C
FireCapture v2.6  Settings
------------------------------------
Observer=Ethan Chappel
Location=Cibolo
Scope=Celestron C14 EdgeHD
Camera=ZWO ASI290MM
Filter=G
Profile=Jupiter
Diameter=45.93"
Magnitude=-2.64
CMI=139.5° CMII=8.7° CMIII=77.0°  (during mid of capture)
FocalLength=8050mm (F/22)
Resolution=0.07"
Filename=2020-06-13-0803_5-EC-G-Jup.ser
Date=2020_06_13
Start=08_02_30.526
Mid=08_03_30.528
End=08_04_30.530
Start(UT)=08_02_30.526
Mid(UT)=08_03_30.528
End(UT)=08_04_30.530
Duration=120.004s
Date_format=yyyy_MM_dd
Time_format=HH_mm_ss
LT=UT -6h
Frames captured=11995
File type=SER
Binning=no
ROI=748x648
ROI(Offset)=144x304
FPS (avg.)=99
Shutter=10.00ms
Gain=340 (56%)
AutoGain=off
FPS=100 (off)
Brightness=1 (off)
AutoHisto=75 (off)
USBTraffic=50 (off)
HighSpeed=on
AutoExposure=off
Gamma=50 (off)
SoftwareGain=10 (off)
Histogramm(min)=0
Histogramm(max)=223
Histogramm=87%
Noise(avg.deviation)=5.16
Limit=120 Seconds
Sensor temperature=30.8°C
FireCapture v2.6  Settings
------------------------------------
Observer=Ethan Chappel
Location=Cibolo
Scope=Celestron C14 EdgeHD
Camera=ZWO ASI290MM
Filter=R
Profile=Jupiter
Diameter=45.93"
Magnitude=-2.64
CMI=137.5° CMII=6.7° CMIII=75.0°  (during mid of capture)
FocalLength=8050mm (F/22)
Resolution=0.07"
Filename=2020-06-13-0800_2-EC-R-Jup.ser
Date=2020_06_13
Start=07_59_12.771
Mid=08_00_12.778
End=08_01_12.785
Start(UT)=07_59_12.771
Mid(UT)=08_00_12.778
End(UT)=08_01_12.785
Duration=120.014s
Date_format=yyyy_MM_dd
Time_format=HH_mm_ss
LT=UT -6h
Frames captured=11995
File type=SER
Binning=no
ROI=748x648
ROI(Offset)=144x304
FPS (avg.)=99
Shutter=10.00ms
Gain=340 (56%)
AutoGain=off
FPS=100 (off)
Brightness=1 (off)
AutoHisto=75 (off)
USBTraffic=50 (off)
HighSpeed=on
AutoExposure=off
Gamma=50 (off)
SoftwareGain=10 (off)
Histogramm(min)=0
Histogramm(max)=226
Histogramm=88%
Noise(avg.deviation)=5.27
Limit=120 Seconds
Sensor temperature=30.8°C
FireCapture v2.6  Settings
------------------------------------
Observer=Ethan Chappel
Location=Cibolo
Scope=Celestron C14 EdgeHD
Camera=ZWO ASI290MM
Filter=B
Profile=Jupiter
Diameter=45.93"
Magnitude=-2.64
CMI=135.7° CMII=4.9° CMIII=73.3°  (during mid of capture)
FocalLength=8050mm (F/22)
Resolution=0.07"
Filename=2020-06-13-0757_3-EC-B-Jup.ser
Date=2020_06_13
Start=07_56_18.003
Mid=07_57_18.003
End=07_58_18.004
Start(UT)=07_56_18.003
Mid(UT)=07_57_18.003
End(UT)=07_58_18.004
Duration=120.001s
Date_format=yyyy_MM_dd
Time_format=HH_mm_ss
LT=UT -6h
Frames captured=11994
File type=SER
Binning=no
ROI=748x648
ROI(Offset)=144x304
FPS (avg.)=99
Shutter=10.00ms
Gain=360 (60%)
AutoGain=off
FPS=100 (off)
Brightness=1 (off)
AutoHisto=75 (off)
USBTraffic=50 (off)
HighSpeed=on
AutoExposure=off
Gamma=50 (off)
SoftwareGain=10 (off)
Histogramm(min)=0
Histogramm(max)=217
Histogramm=85%
Noise(avg.deviation)=5.73
Limit=120 Seconds
Sensor temperature=30.8°C
FireCapture v2.6  Settings
------------------------------------
Observer=Ethan Chappel
Location=Cibolo
Scope=Celestron C14 EdgeHD
Camera=ZWO ASI290MM
Filter=G
Profile=Jupiter
Diameter=45.93"
Magnitude=-2.64
CMI=133.9° CMII=3.1° CMIII=71.4°  (during mid of capture)
FocalLength=8050mm (F/22)
Resolution=0.07"
Filename=2020-06-13-0754_2-EC-G-Jup.ser
Date=2020_06_13
Start=07_53_15.328
Mid=07_54_15.331
End=07_55_15.335
Start(UT)=07_53_15.328
Mid(UT)=07_54_15.331
End(UT)=07_55_15.335
Duration=120.007s
Date_format=yyyy_MM_dd
Time_format=HH_mm_ss
LT=UT -6h
Frames captured=11995
File type=SER
Binning=no
ROI=748x648
ROI(Offset)=144x304
FPS (avg.)=99
Shutter=10.00ms
Gain=340 (56%)
AutoGain=off
FPS=100 (off)
Brightness=1 (off)
AutoHisto=75 (off)
USBTraffic=50 (off)
HighSpeed=on
AutoExposure=off
Gamma=50 (off)
SoftwareGain=10 (off)
Histogramm(min)=0
Histogramm(max)=219
Histogramm=85%
Noise(avg.deviation)=5.19
Limit=120 Seconds
Sensor temperature=31.0°C
FireCapture v2.6  Settings
------------------------------------
Observer=Ethan Chappel
Location=Cibolo
Scope=Celestron C14 EdgeHD
Camera=ZWO ASI290MM
Filter=R
Profile=Jupiter
Diameter=45.93"
Magnitude=-2.64
CMI=132.5° CMII=1.7° CMIII=70.1°  (during mid of capture)
FocalLength=8100mm (F/22)
Resolution=0.07"
Filename=2020-06-13-0752_0-EC-R-Jup.ser
Date=2020_06_13
Start=07_51_03.476
Mid=07_52_03.482
End=07_53_03.489
Start(UT)=07_51_03.476
Mid(UT)=07_52_03.482
End(UT)=07_53_03.489
Duration=120.013s
Date_format=yyyy_MM_dd
Time_format=HH_mm_ss
LT=UT -6h
Frames captured=11991
File type=SER
Binning=no
ROI=748x648
ROI(Offset)=144x304
FPS (avg.)=99
Shutter=10.00ms
Gain=340 (56%)
AutoGain=off
FPS=100 (off)
Brightness=1 (off)
AutoHisto=75 (off)
USBTraffic=50 (off)
HighSpeed=on
AutoExposure=off
Gamma=50 (off)
SoftwareGain=10 (off)
Histogramm(min)=0
Histogramm(max)=231
Histogramm=90%
Noise(avg.deviation)=5.28
Limit=120 Seconds
Sensor temperature=31.0°C