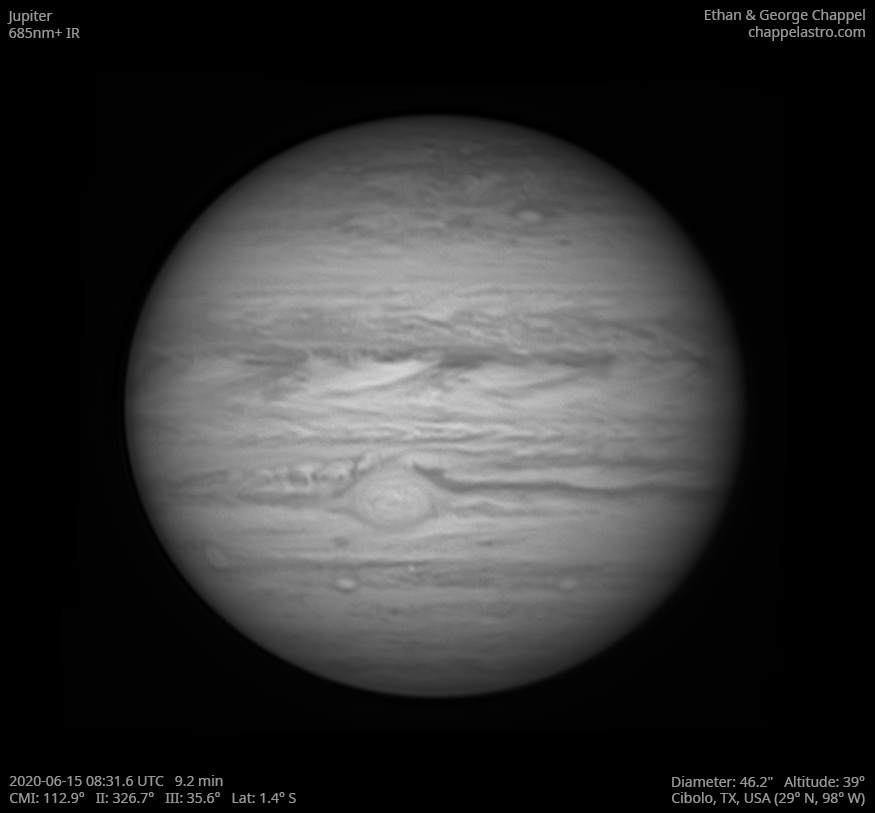 Jupiter UTC
CM1: 112.90°
CM2: 326.70°
CM3: 35.60°
CLat: -1.40°
Description
Pretty good seeing this morning after a few days of underwhelming conditions.
Notes:
The NEB is chaotic with a ragged northern edge and a few large rifts.
Clyde's Spot has darkened and is moving away from the GRS.
Another STB structured segment is passing south of the GRS.
Oval BA is rising.
Equipment
ZWO ASI290MM
Astro-Physics Advanced Convertible Barlow
Celestron EdgeHD 14
Logs
FireCapture v2.6  Settings
------------------------------------
Observer=Ethan Chappel
Location=Cibolo
Scope=Celestron C14 EdgeHD
Camera=ZWO ASI290MM
Filter=IR685
Profile=Jupiter
Diameter=46.12"
Magnitude=-2.65
CMI=114.6° CMII=328.3° CMIII=37.2°  (during mid of capture)
FocalLength=8350mm (F/23)
Resolution=0.07"
Filename=2020-06-15-0834_6-EC-IR685-Jup.ser
Date=2020_06_15
Start=08_33_40.533
Mid=08_34_40.533
End=08_35_40.533
Start(UT)=08_33_40.533
Mid(UT)=08_34_40.533
End(UT)=08_35_40.533
Duration=120.000s
Date_format=yyyy_MM_dd
Time_format=HH_mm_ss
LT=UT -6h
Frames captured=12000
File type=SER
Binning=no
ROI=724x666
ROI(Offset)=128x304
FPS (avg.)=100
Shutter=10.00ms
Gain=370 (61%)
SoftwareGain=10 (off)
AutoExposure=off
FPS=100 (off)
Gamma=50 (off)
HighSpeed=on
Brightness=1 (off)
AutoGain=off
USBTraffic=50 (off)
AutoHisto=75 (off)
Histogramm(min)=0
Histogramm(max)=197
Histogramm=77%
Noise(avg.deviation)=5.11
Limit=120 Seconds
Sensor temperature=30.3°C
FireCapture v2.6  Settings
------------------------------------
Observer=Ethan Chappel
Location=Cibolo
Scope=Celestron C14 EdgeHD
Camera=ZWO ASI290MM
Filter=IR685
Profile=Jupiter
Diameter=46.12"
Magnitude=-2.65
CMI=113.3° CMII=327.1° CMIII=36.0°  (during mid of capture)
FocalLength=8050mm (F/22)
Resolution=0.07"
Filename=2020-06-15-0832_6-EC-IR685-Jup.ser
Date=2020_06_15
Start=08_31_38.191
Mid=08_32_38.192
End=08_33_38.193
Start(UT)=08_31_38.191
Mid(UT)=08_32_38.192
End(UT)=08_33_38.193
Duration=120.002s
Date_format=yyyy_MM_dd
Time_format=HH_mm_ss
LT=UT -6h
Frames captured=11690
File type=SER
Binning=no
ROI=724x666
ROI(Offset)=128x304
FPS (avg.)=97
Shutter=10.00ms
Gain=370 (61%)
SoftwareGain=10 (off)
AutoExposure=off
FPS=100 (off)
Gamma=50 (off)
HighSpeed=on
Brightness=1 (off)
AutoGain=off
USBTraffic=50 (off)
AutoHisto=75 (off)
Histogramm(min)=0
Histogramm(max)=198
Histogramm=77%
Noise(avg.deviation)=5.19
Limit=120 Seconds
Sensor temperature=30.3°C
FireCapture v2.6  Settings
------------------------------------
Observer=Ethan Chappel
Location=Cibolo
Scope=Celestron C14 EdgeHD
Camera=ZWO ASI290MM
Filter=IR685
Profile=Jupiter
Diameter=46.12"
Magnitude=-2.65
CMI=112.1° CMII=325.9° CMIII=34.8°  (during mid of capture)
FocalLength=9100mm (F/25)
Resolution=0.07"
Filename=2020-06-15-0830_6-EC-IR685-Jup.ser
Date=2020_06_15
Start=08_29_37.817
Mid=08_30_37.824
End=08_31_37.832
Start(UT)=08_29_37.817
Mid(UT)=08_30_37.824
End(UT)=08_31_37.832
Duration=120.015s
Date_format=yyyy_MM_dd
Time_format=HH_mm_ss
LT=UT -6h
Frames captured=11925
File type=SER
Binning=no
ROI=724x666
ROI(Offset)=128x304
FPS (avg.)=99
Shutter=10.00ms
Gain=370 (61%)
SoftwareGain=10 (off)
AutoExposure=off
FPS=100 (off)
Gamma=50 (off)
HighSpeed=on
Brightness=1 (off)
AutoGain=off
USBTraffic=50 (off)
AutoHisto=75 (off)
Histogramm(min)=0
Histogramm(max)=202
Histogramm=79%
Noise(avg.deviation)=5.28
Limit=120 Seconds
Sensor temperature=30.5°C
FireCapture v2.6  Settings
------------------------------------
Observer=Ethan Chappel
Location=Cibolo
Scope=Celestron C14 EdgeHD
Camera=ZWO ASI290MM
Filter=IR685
Profile=Jupiter
Diameter=46.12"
Magnitude=-2.65
CMI=110.9° CMII=324.7° CMIII=33.5°  (during mid of capture)
FocalLength=10100mm (F/28)
Resolution=0.06"
Filename=2020-06-15-0828_6-EC-IR685-Jup.ser
Date=2020_06_15
Start=08_27_37.439
Mid=08_28_37.444
End=08_29_37.450
Start(UT)=08_27_37.439
Mid(UT)=08_28_37.444
End(UT)=08_29_37.450
Duration=120.011s
Date_format=yyyy_MM_dd
Time_format=HH_mm_ss
LT=UT -6h
Frames captured=12000
File type=SER
Binning=no
ROI=724x666
ROI(Offset)=128x304
FPS (avg.)=99
Shutter=10.00ms
Gain=370 (61%)
SoftwareGain=10 (off)
AutoExposure=off
FPS=100 (off)
Gamma=50 (off)
HighSpeed=on
Brightness=1 (off)
AutoGain=off
USBTraffic=50 (off)
AutoHisto=75 (off)
Histogramm(min)=0
Histogramm(max)=210
Histogramm=82%
Noise(avg.deviation)=5.31
Limit=120 Seconds
Sensor temperature=30.5°C
FireCapture v2.6  Settings
------------------------------------
Observer=Ethan Chappel
Location=Cibolo
Scope=Celestron C14 EdgeHD
Camera=ZWO ASI290MM
Filter=IR685
Profile=Jupiter
Diameter=46.12"
Magnitude=-2.65
CMI=110.2° CMII=323.9° CMIII=32.8°  (during mid of capture)
FocalLength=10400mm (F/29)
Resolution=0.06"
Filename=2020-06-15-0827_4-EC-IR685-Jup.ser
Date=2020_06_15
Start=08_27_20.437
Mid=08_27_26.405
End=08_27_32.374
Start(UT)=08_27_20.437
Mid(UT)=08_27_26.405
End(UT)=08_27_32.374
Duration=11.937s
Date_format=yyyy_MM_dd
Time_format=HH_mm_ss
LT=UT -6h
Frames captured=1193
File type=SER
Binning=no
ROI=724x666
ROI(Offset)=128x304
FPS (avg.)=99
Shutter=10.00ms
Gain=370 (61%)
SoftwareGain=10 (off)
AutoExposure=off
FPS=100 (off)
Gamma=50 (off)
HighSpeed=on
Brightness=1 (off)
AutoGain=off
USBTraffic=50 (off)
AutoHisto=75 (off)
Histogramm(min)=0
Histogramm(max)=213
Histogramm=83%
Noise(avg.deviation)=5.31
Limit=60 Seconds
Sensor temperature=30.5°C