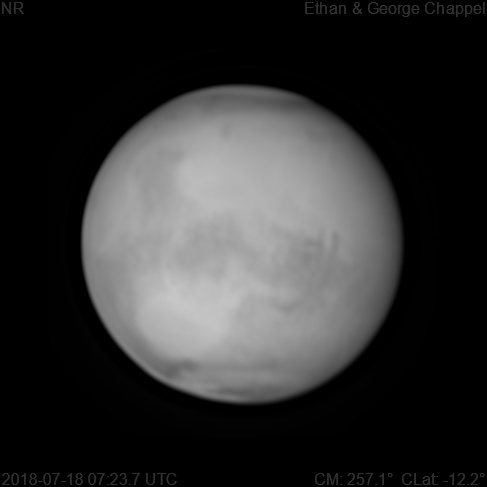 Mars UTC
CM1: 257.10°
CLat: -12.20°
Description
I decided to capture an IR photo part-way through our time with Mars. Seeing did not improve, but the IR filter cut through some of it.

Notes:

Syrtis Major is rising.
Mare Tyrrhenum is visible despite being hidden in RGB.
Mare Cimmerium is under a thinner veil of dust, making it more visible.
The south polar cap appears to have a hole.
Equipment
ZWO ASI290MM
Astro-Physics Advanced Convertible Barlow
Celestron EdgeHD 14
Logs
FireCapture v2.6  Settings
------------------------------------
Observer=Ethan Chappel
Location=Cibolo, TX, USA
Scope=Celstron C14 EdgeHD
Camera=ZWO ASI290MM
Filter=IR
Profile=Mars
Diameter=23.57"
Magnitude=-2.64
CM=258.5°  (during mid of capture)
FocalLength=8550mm (F/24)
Resolution=0.07"
Filename=2018-07-18-0728_5-EC-IR-Mars.ser
Date=180718
Start=072720.736
Mid=072835.741
End=072950.746
Start(UT)=072720.736
Mid(UT)=072835.741
End(UT)=072950.746
Duration=150.010s
Date_format=ddMMyy
Time_format=HHmmss
LT=UT -6h
Frames captured=14990
File type=SER
Binning=no
Bit depth=8bit
Debayer=no
ROI=428x414
ROI(Offset)=0x0
FPS (avg.)=99
Shutter=10.00ms
Gain=188 (31%)
HighSpeed=off
AutoExposure=off
Gamma=50
AutoHisto=75 (off)
AutoGain=off
Brightness=1 (off)
USBTraffic=40 (off)
SoftwareGain=10 (off)
FPS=100 (off)
Histogramm(min)=0
Histogramm(max)=143
Histogramm=56%
Noise(avg.deviation)=0.53
Limit=150 Seconds
Sensor temperature=34.0°C
FireCapture v2.6  Settings
------------------------------------
Observer=Ethan Chappel
Location=Cibolo, TX, USA
Scope=Celstron C14 EdgeHD
Camera=ZWO ASI290MM
Filter=IR
Profile=Mars
Diameter=23.57"
Magnitude=-2.64
CM=257.1°  (during mid of capture)
FocalLength=8500mm (F/23)
Resolution=0.07"
Filename=2018-07-18-0722_9-EC-IR-Mars.ser
Date=180718
Start=072142.665
Mid=072257.669
End=072412.674
Start(UT)=072142.665
Mid(UT)=072257.669
End(UT)=072412.674
Duration=150.009s
Date_format=ddMMyy
Time_format=HHmmss
LT=UT -6h
Frames captured=14990
File type=SER
Binning=no
Bit depth=8bit
Debayer=no
ROI=428x414
ROI(Offset)=0x0
FPS (avg.)=99
Shutter=10.00ms
Gain=188 (31%)
HighSpeed=off
AutoExposure=off
Gamma=50
AutoHisto=75 (off)
AutoGain=off
Brightness=1 (off)
USBTraffic=40 (off)
SoftwareGain=10 (off)
FPS=100 (off)
Histogramm(min)=0
Histogramm(max)=130
Histogramm=50%
Noise(avg.deviation)=0.49
Limit=150 Seconds
Sensor temperature=33.8°C
FireCapture v2.6  Settings
------------------------------------
Observer=Ethan Chappel
Location=Cibolo, TX, USA
Scope=Celstron C14 EdgeHD
Camera=ZWO ASI290MM
Filter=IR
Profile=Mars
Diameter=23.57"
Magnitude=-2.64
CM=256.3°  (during mid of capture)
FocalLength=8550mm (F/24)
Resolution=0.07"
Filename=2018-07-18-0719_6-EC-IR-Mars.ser
Date=180718
Start=071824.845
Mid=071939.850
End=072054.856
Start(UT)=071824.845
Mid(UT)=071939.850
End(UT)=072054.856
Duration=150.011s
Date_format=ddMMyy
Time_format=HHmmss
LT=UT -6h
Frames captured=14991
File type=SER
Binning=no
Bit depth=8bit
Debayer=no
ROI=428x414
ROI(Offset)=0x0
FPS (avg.)=99
Shutter=10.00ms
Gain=188 (31%)
HighSpeed=off
AutoExposure=off
Gamma=50
AutoHisto=75 (off)
AutoGain=off
Brightness=1 (off)
USBTraffic=40 (off)
SoftwareGain=10 (off)
FPS=100 (off)
Histogramm(min)=0
Histogramm(max)=142
Histogramm=55%
Noise(avg.deviation)=0.52
Limit=150 Seconds
Sensor temperature=33.5°C