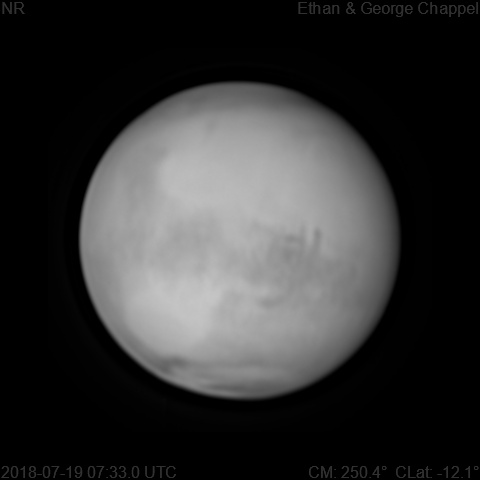 Mars UTC
CM1: 250.40°
CLat: -12.10°
Description
I decided to capture data in infrared before closing down for the night. Seeing continued to be good.

Notes:
Syrtis Major and Hellas Basin are rising.
Mare Cimmerium is the dark feature most prominently visible through the dust storm.
The South Polar Cap appears muted by the dust storm.
Most of the SPC also appears to be darkened.
Equipment
ZWO ASI290MM
Astro-Physics Advanced Convertible Barlow
Celestron EdgeHD 14
Logs
FireCapture v2.6  Settings
------------------------------------
Observer=Ethan Chappel
Location=Cibolo, TX, USA
Scope=Celstron C14 EdgeHD
Camera=ZWO ASI290MM
Filter=IR
Profile=Mars
Diameter=23.68"
Magnitude=-2.67
CM=252.0°  (during mid of capture)
FocalLength=8450mm (F/23)
Resolution=0.07"
Filename=2018-07-19-0738_5-EC-IR-Mars.ser
Date=190718
Start=073715.607
Mid=073830.611
End=073945.615
Start(UT)=073715.607
Mid(UT)=073830.611
End(UT)=073945.615
Duration=150.008s
Date_format=ddMMyy
Time_format=HHmmss
LT=UT -6h
Frames captured=14991
File type=SER
Binning=no
Bit depth=8bit
Debayer=no
ROI=428x414
ROI(Offset)=0x0
FPS (avg.)=99
Shutter=10.00ms
Gain=188 (31%)
Gamma=50
Brightness=1 (off)
AutoHisto=75 (off)
SoftwareGain=10 (off)
USBTraffic=40 (off)
AutoGain=off
HighSpeed=off
AutoExposure=off
FPS=100 (off)
Histogramm(min)=0
Histogramm(max)=118
Histogramm=46%
Noise(avg.deviation)=0.48
Limit=150 Seconds
Sensor temperature=34.6°C
Focuser position=1468
FireCapture v2.6  Settings
------------------------------------
Observer=Ethan Chappel
Location=Cibolo, TX, USA
Scope=Celstron C14 EdgeHD
Camera=ZWO ASI290MM
Filter=IR
Profile=Mars
Diameter=23.68"
Magnitude=-2.67
CM=251.1°  (during mid of capture)
FocalLength=8450mm (F/23)
Resolution=0.07"
Filename=2018-07-19-0734_7-EC-IR-Mars.ser
Date=190718
Start=073327.512
Mid=073442.517
End=073557.523
Start(UT)=073327.512
Mid(UT)=073442.517
End(UT)=073557.523
Duration=150.011s
Date_format=ddMMyy
Time_format=HHmmss
LT=UT -6h
Frames captured=14990
File type=SER
Binning=no
Bit depth=8bit
Debayer=no
ROI=428x414
ROI(Offset)=0x0
FPS (avg.)=99
Shutter=10.00ms
Gain=188 (31%)
Gamma=50
Brightness=1 (off)
AutoHisto=75 (off)
SoftwareGain=10 (off)
USBTraffic=40 (off)
AutoGain=off
HighSpeed=off
AutoExposure=off
FPS=100 (off)
Histogramm(min)=0
Histogramm(max)=121
Histogramm=47%
Noise(avg.deviation)=0.49
Limit=150 Seconds
Sensor temperature=34.7°C
Focuser position=1508
FireCapture v2.6  Settings
------------------------------------
Observer=Ethan Chappel
Location=Cibolo, TX, USA
Scope=Celstron C14 EdgeHD
Camera=ZWO ASI290MM
Filter=IR
Profile=Mars
Diameter=23.68"
Magnitude=-2.66
CM=250.2°  (during mid of capture)
FocalLength=8500mm (F/23)
Resolution=0.07"
Filename=2018-07-19-0731_1-EC-IR-Mars.ser
Date=190718
Start=072951.098
Mid=073106.101
End=073221.105
Start(UT)=072951.098
Mid(UT)=073106.101
End(UT)=073221.105
Duration=150.007s
Date_format=ddMMyy
Time_format=HHmmss
LT=UT -6h
Frames captured=14990
File type=SER
Binning=no
Bit depth=8bit
Debayer=no
ROI=428x414
ROI(Offset)=0x0
FPS (avg.)=99
Shutter=10.00ms
Gain=188 (31%)
Gamma=50
Brightness=1 (off)
AutoHisto=75 (off)
SoftwareGain=10 (off)
USBTraffic=40 (off)
AutoGain=off
HighSpeed=off
AutoExposure=off
FPS=100 (off)
Histogramm(min)=0
Histogramm(max)=125
Histogramm=49%
Noise(avg.deviation)=0.49
Limit=150 Seconds
Sensor temperature=34.7°C
Focuser position=1628
FireCapture v2.6  Settings
------------------------------------
Observer=Ethan Chappel
Location=Cibolo, TX, USA
Scope=Celstron C14 EdgeHD
Camera=ZWO ASI290MM
Filter=IR
Profile=Mars
Diameter=23.68"
Magnitude=-2.66
CM=249.4°  (during mid of capture)
FocalLength=8550mm (F/24)
Resolution=0.07"
Filename=2018-07-19-0727_7-EC-IR-Mars.ser
Date=190718
Start=072632.307
Mid=072747.311
End=072902.316
Start(UT)=072632.307
Mid(UT)=072747.311
End(UT)=072902.316
Duration=150.009s
Date_format=ddMMyy
Time_format=HHmmss
LT=UT -6h
Frames captured=14991
File type=SER
Binning=no
Bit depth=8bit
Debayer=no
ROI=428x414
ROI(Offset)=0x0
FPS (avg.)=99
Shutter=10.00ms
Gain=188 (31%)
Gamma=50
Brightness=1 (off)
AutoHisto=75 (off)
SoftwareGain=10 (off)
USBTraffic=40 (off)
AutoGain=off
HighSpeed=off
AutoExposure=off
FPS=100 (off)
Histogramm(min)=0
Histogramm(max)=127
Histogramm=49%
Noise(avg.deviation)=0.50
Limit=150 Seconds
Sensor temperature=34.3°C
Focuser position=1618