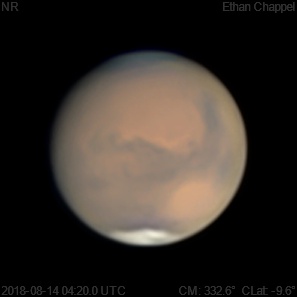 Mars UTC
CM1: 332.60°
CLat: -9.60°
Description
Seeing was much better than it was for Jupiter & Saturn.

Notes:
Syrtis Major & Hellas Basin are about to set.
Sinus Meridiani is near the central meridian.
The South Polar Cap has shrunken a noticeable amount since July 12th.
The edge of the SPC also looks rougher than it did in July.
Equipment
ZWO ASI224MC
Tele Vue 2.5x Powermate
Celestron EdgeHD 8
Logs
FireCapture v2.6  Settings
------------------------------------
Observer=Ethan Chappel
Location=Cibolo, TX, USA
Scope=Celstron C14 EdgeHD
Camera=ZWO ASI224MC
Filter=RGB
Profile=Mars
Diameter=23.50"
Magnitude=-2.55
CM=331.5°  (during mid of capture)
FocalLength=4400mm (F/12)
Resolution=0.18"
Filename=2018-08-14-0414_4-EC-RGB-Mars.ser
Date=2018_08_14
Start=041313.709
Mid=041428.714
End=041543.719
Start(UT)=041313.709
Mid(UT)=041428.714
End(UT)=041543.719
Duration=150.010s
Date_format=yyyy_MM_dd
Time_format=HHmmss
LT=UT -6h
Frames captured=7498
File type=SER
Binning=no
Bit depth=8bit
Debayer=yes
DebayerAlgorithm=NearestNeighbor
BayerPattern=RG
ROI=212x226
ROI(Offset)=0x0
FPS (avg.)=49
Shutter=20.00ms
Gain=200 (33%)
Brightness=1 (off)
WBlue=95 (off)
SoftwareGain=10 (off)
AutoExposure=off
AutoGain=off
HardwareBin=off
HighSpeed=off
AutoHisto=75 (off)
WRed=52 (off)
Gamma=50 (off)
FPS=100 (off)
USBTraffic=100 (off)
Histogramm(min)=0
Histogramm(max)=35
Histogramm=13%
Noise(avg.deviation)=0.18
Limit=150 Seconds
Sensor temperature=32.7°C
FireCapture v2.6  Settings
------------------------------------
Observer=Ethan Chappel
Location=Cibolo, TX, USA
Scope=Celstron C14 EdgeHD
Camera=ZWO ASI224MC
Filter=RGB
Profile=Mars
Diameter=23.50"
Magnitude=-2.55
CM=330.5°  (during mid of capture)
FocalLength=4500mm (F/12)
Resolution=0.17"
Filename=2018-08-14-0410_5-EC-RGB-Mars.ser
Date=2018_08_14
Start=040917.861
Mid=041032.861
End=041147.862
Start(UT)=040917.861
Mid(UT)=041032.861
End(UT)=041147.862
Duration=150.001s
Date_format=yyyy_MM_dd
Time_format=HHmmss
LT=UT -6h
Frames captured=9994
File type=SER
Binning=no
Bit depth=8bit
Debayer=yes
DebayerAlgorithm=NearestNeighbor
BayerPattern=RG
ROI=212x226
ROI(Offset)=0x0
FPS (avg.)=66
Shutter=15.00ms
Gain=158 (26%)
Brightness=1 (off)
WBlue=95 (off)
SoftwareGain=10 (off)
AutoExposure=off
AutoGain=off
HardwareBin=off
HighSpeed=off
AutoHisto=75 (off)
WRed=52 (off)
Gamma=50 (off)
FPS=100 (off)
USBTraffic=100 (off)
Histogramm(min)=0
Histogramm(max)=56
Histogramm=21%
Noise(avg.deviation)=0.21
Limit=150 Seconds
Sensor temperature=32.3°C
FireCapture v2.6  Settings
------------------------------------
Observer=Ethan Chappel
Location=Cibolo, TX, USA
Scope=Celstron C14 EdgeHD
Camera=ZWO ASI224MC
Filter=RGB
Profile=Mars
Diameter=23.50"
Magnitude=-2.55
CM=335.0°  (during mid of capture)
FocalLength=4550mm (F/12)
Resolution=0.17"
Filename=2018-08-14-0428_8-EC-RGB-Mars.ser
Date=2018_08_14
Start=042738.543
Mid=042853.546
End=043008.549
Start(UT)=042738.543
Mid(UT)=042853.546
End(UT)=043008.549
Duration=150.006s
Date_format=yyyy_MM_dd
Time_format=HHmmss
LT=UT -6h
Frames captured=9996
File type=SER
Binning=no
Bit depth=8bit
Debayer=yes
DebayerAlgorithm=NearestNeighbor
BayerPattern=RG
ROI=212x226
ROI(Offset)=0x0
FPS (avg.)=66
Shutter=15.00ms
Gain=260 (43%)
Brightness=1 (off)
WBlue=95 (off)
SoftwareGain=10 (off)
AutoExposure=off
AutoGain=off
HardwareBin=off
HighSpeed=off
AutoHisto=75 (off)
WRed=52 (off)
Gamma=50 (off)
FPS=100 (off)
USBTraffic=100 (off)
Histogramm(min)=0
Histogramm(max)=67
Histogramm=26%
Noise(avg.deviation)=0.40
Limit=150 Seconds
Sensor temperature=32.1°C
FireCapture v2.6  Settings
------------------------------------
Observer=Ethan Chappel
Location=Cibolo, TX, USA
Scope=Celstron C14 EdgeHD
Camera=ZWO ASI224MC
Filter=RGB
Profile=Mars
Diameter=23.50"
Magnitude=-2.55
CM=334.2°  (during mid of capture)
FocalLength=4500mm (F/12)
Resolution=0.17"
Filename=2018-08-14-0425_6-EC-RGB-Mars.ser
Date=2018_08_14
Start=042422.304
Mid=042537.304
End=042652.305
Start(UT)=042422.304
Mid(UT)=042537.304
End(UT)=042652.305
Duration=150.001s
Date_format=yyyy_MM_dd
Time_format=HHmmss
LT=UT -6h
Frames captured=7497
File type=SER
Binning=no
Bit depth=8bit
Debayer=yes
DebayerAlgorithm=NearestNeighbor
BayerPattern=RG
ROI=212x226
ROI(Offset)=0x0
FPS (avg.)=49
Shutter=20.00ms
Gain=260 (43%)
Brightness=1 (off)
WBlue=95 (off)
SoftwareGain=10 (off)
AutoExposure=off
AutoGain=off
HardwareBin=off
HighSpeed=off
AutoHisto=75 (off)
WRed=52 (off)
Gamma=50 (off)
FPS=100 (off)
USBTraffic=100 (off)
Histogramm(min)=0
Histogramm(max)=0
Histogramm=0%
Noise(avg.deviation)=n/a
Limit=150 Seconds
Sensor temperature=32.1°C
FireCapture v2.6  Settings
------------------------------------
Observer=Ethan Chappel
Location=Cibolo, TX, USA
Scope=Celstron C14 EdgeHD
Camera=ZWO ASI224MC
Filter=RGB
Profile=Mars
Diameter=23.50"
Magnitude=-2.55
CM=333.5°  (during mid of capture)
FocalLength=4400mm (F/12)
Resolution=0.18"
Filename=2018-08-14-0422_9-EC-RGB-Mars.ser
Date=2018_08_14
Start=042143.031
Mid=042258.037
End=042413.044
Start(UT)=042143.031
Mid(UT)=042258.037
End(UT)=042413.044
Duration=150.013s
Date_format=yyyy_MM_dd
Time_format=HHmmss
LT=UT -6h
Frames captured=7498
File type=SER
Binning=no
Bit depth=8bit
Debayer=yes
DebayerAlgorithm=NearestNeighbor
BayerPattern=RG
ROI=212x226
ROI(Offset)=0x0
FPS (avg.)=49
Shutter=20.00ms
Gain=280 (46%)
Brightness=1 (off)
WBlue=95 (off)
SoftwareGain=10 (off)
AutoExposure=off
AutoGain=off
HardwareBin=off
HighSpeed=off
AutoHisto=75 (off)
WRed=52 (off)
Gamma=50 (off)
FPS=100 (off)
USBTraffic=100 (off)
Histogramm(min)=0
Histogramm(max)=46
Histogramm=18%
Noise(avg.deviation)=0.38
Limit=150 Seconds
Sensor temperature=32.3°C
FireCapture v2.6  Settings
------------------------------------
Observer=Ethan Chappel
Location=Cibolo, TX, USA
Scope=Celstron C14 EdgeHD
Camera=ZWO ASI224MC
Filter=RGB
Profile=Mars
Diameter=23.50"
Magnitude=-2.55
CM=332.9°  (during mid of capture)
FocalLength=4400mm (F/12)
Resolution=0.18"
Filename=2018-08-14-0420_3-EC-RGB-Mars.ser
Date=2018_08_14
Start=041907.876
Mid=042022.876
End=042137.877
Start(UT)=041907.876
Mid(UT)=042022.876
End(UT)=042137.877
Duration=150.001s
Date_format=yyyy_MM_dd
Time_format=HHmmss
LT=UT -6h
Frames captured=7497
File type=SER
Binning=no
Bit depth=8bit
Debayer=yes
DebayerAlgorithm=NearestNeighbor
BayerPattern=RG
ROI=212x226
ROI(Offset)=0x0
FPS (avg.)=49
Shutter=20.00ms
Gain=280 (46%)
Brightness=1 (off)
WBlue=95 (off)
SoftwareGain=10 (off)
AutoExposure=off
AutoGain=off
HardwareBin=off
HighSpeed=off
AutoHisto=75 (off)
WRed=52 (off)
Gamma=50 (off)
FPS=100 (off)
USBTraffic=100 (off)
Histogramm(min)=0
Histogramm(max)=44
Histogramm=17%
Noise(avg.deviation)=0.37
Limit=150 Seconds
Sensor temperature=32.3°C
FireCapture v2.6  Settings
------------------------------------
Observer=Ethan Chappel
Location=Cibolo, TX, USA
Scope=Celstron C14 EdgeHD
Camera=ZWO ASI224MC
Filter=RGB
Profile=Mars
Diameter=23.50"
Magnitude=-2.55
CM=332.2°  (during mid of capture)
FocalLength=4400mm (F/12)
Resolution=0.18"
Filename=2018-08-14-0417_3-EC-RGB-Mars.ser
Date=2018_08_14
Start=041604.550
Mid=041719.552
End=041834.555
Start(UT)=041604.550
Mid(UT)=041719.552
End(UT)=041834.555
Duration=150.005s
Date_format=yyyy_MM_dd
Time_format=HHmmss
LT=UT -6h
Frames captured=7497
File type=SER
Binning=no
Bit depth=8bit
Debayer=yes
DebayerAlgorithm=NearestNeighbor
BayerPattern=RG
ROI=212x226
ROI(Offset)=0x0
FPS (avg.)=49
Shutter=20.00ms
Gain=260 (43%)
Brightness=1 (off)
WBlue=95 (off)
SoftwareGain=10 (off)
AutoExposure=off
AutoGain=off
HardwareBin=off
HighSpeed=off
AutoHisto=75 (off)
WRed=52 (off)
Gamma=50 (off)
FPS=100 (off)
USBTraffic=100 (off)
Histogramm(min)=0
Histogramm(max)=52
Histogramm=20%
Noise(avg.deviation)=0.35
Limit=150 Seconds
Sensor temperature=32.5°C