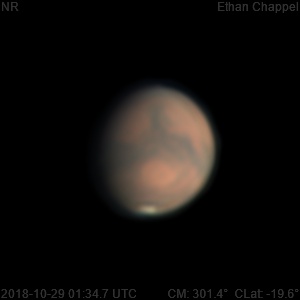 Mars UTC
CM1: 301.40°
CLat: -19.60°
Description
With Saturn becoming too low to photograph, I turned my attention to Mars, where the seeing was much better due to the higher elevation.

Notes:
Sinus Meridiani is emerging from the night side of Mars.
Syrtis Major and Hellas Basin are just past the central meridian.
The south polar cap is small.
Equipment
ZWO ASI174MM
Celestron X-Cel 3x
Celestron EdgeHD 8
Logs
FireCapture v2.6  Settings
------------------------------------
Observer=Ethan Chappel
Camera=ZWO ASI174MM
Filter=R
Profile=Mars
Diameter=12.19"
Magnitude=-0.67
CM=298.8°  (during mid of capture)
FocalLength=8950mm (F/31)
Resolution=0.14"
Filename=2018-10-29-0123_1-EC-R-Mars.ser
Date=2018_10_29
Start=01_21_54.672
Mid=01_23_09.677
End=01_24_24.682
Start(UT)=01_21_54.672
Mid(UT)=01_23_09.677
End(UT)=01_24_24.682
Duration=150.010s
Date_format=yyyy_MM_dd
Time_format=HH_mm_ss
LT=UT -6h
Frames captured=9971
File type=SER
Binning=no
Bit depth=8bit
Debayer=no
ROI=184x190
ROI(Offset)=0x0
FPS (avg.)=66
Shutter=15.00ms
Gain=280 (70%)
SoftwareGain=10 (off)
Brightness=1 (off)
USBTraffic=80 (off)
AutoExposure=off
AutoGain=off
FPS=100 (off)
Gamma=50 (off)
AutoHisto=75 (off)
HighSpeed=off
Histogramm(min)=0
Histogramm(max)=136
Histogramm=53%
Noise(avg.deviation)=0.50
AutoAlign=false
PreFilter=none
Limit=150 Seconds
Sensor temperature=36.3°C
FireCapture v2.6  Settings
------------------------------------
Observer=Ethan Chappel
Camera=ZWO ASI174MM
Filter=B
Profile=Mars
Diameter=12.18"
Magnitude=-0.67
CM=304.3°  (during mid of capture)
FocalLength=9800mm (F/35)
Resolution=0.12"
Filename=2018-10-29-0145_7-EC-B-Mars.ser
Date=2018_10_29
Start=01_44_30.952
Mid=01_45_45.957
End=01_47_00.962
Start(UT)=01_44_30.952
Mid(UT)=01_45_45.957
End(UT)=01_47_00.962
Duration=150.010s
Date_format=yyyy_MM_dd
Time_format=HH_mm_ss
LT=UT -6h
Frames captured=4993
File type=SER
Binning=no
Bit depth=8bit
Debayer=no
ROI=184x190
ROI(Offset)=0x0
FPS (avg.)=33
Shutter=30.00ms
Gain=290 (72%)
SoftwareGain=10 (off)
Brightness=1 (off)
USBTraffic=80 (off)
AutoExposure=off
AutoGain=off
FPS=100 (off)
Gamma=50 (off)
AutoHisto=75 (off)
HighSpeed=off
Histogramm(min)=0
Histogramm(max)=130
Histogramm=50%
Noise(avg.deviation)=0.60
AutoAlign=false
PreFilter=none
Limit=150 Seconds
Sensor temperature=36.2°C
FireCapture v2.6  Settings
------------------------------------
Observer=Ethan Chappel
Camera=ZWO ASI174MM
Filter=G
Profile=Mars
Diameter=12.18"
Magnitude=-0.67
CM=303.3°  (during mid of capture)
FocalLength=9500mm (F/33)
Resolution=0.13"
Filename=2018-10-29-0141_4-EC-G-Mars.ser
Date=2018_10_29
Start=01_40_13.159
Mid=01_41_28.160
End=01_42_43.162
Start(UT)=01_40_13.159
Mid(UT)=01_41_28.160
End(UT)=01_42_43.162
Duration=150.003s
Date_format=yyyy_MM_dd
Time_format=HH_mm_ss
LT=UT -6h
Frames captured=8313
File type=SER
Binning=no
Bit depth=8bit
Debayer=no
ROI=184x190
ROI(Offset)=0x0
FPS (avg.)=55
Shutter=18.00ms
Gain=300 (75%)
SoftwareGain=10 (off)
Brightness=1 (off)
USBTraffic=80 (off)
AutoExposure=off
AutoGain=off
FPS=100 (off)
Gamma=50 (off)
AutoHisto=75 (off)
HighSpeed=off
Histogramm(min)=0
Histogramm(max)=141
Histogramm=55%
Noise(avg.deviation)=0.69
AutoAlign=false
PreFilter=none
Limit=150 Seconds
Sensor temperature=36.3°C
FireCapture v2.6  Settings
------------------------------------
Observer=Ethan Chappel
Camera=ZWO ASI174MM
Filter=R
Profile=Mars
Diameter=12.18"
Magnitude=-0.67
CM=302.1°  (during mid of capture)
FocalLength=8850mm (F/31)
Resolution=0.14"
Filename=2018-10-29-0136_7-EC-R-Mars.ser
Date=2018_10_29
Start=01_35_30.748
Mid=01_36_45.752
End=01_38_00.757
Start(UT)=01_35_30.748
Mid(UT)=01_36_45.752
End(UT)=01_38_00.757
Duration=150.009s
Date_format=yyyy_MM_dd
Time_format=HH_mm_ss
LT=UT -6h
Frames captured=9971
File type=SER
Binning=no
Bit depth=8bit
Debayer=no
ROI=184x190
ROI(Offset)=0x0
FPS (avg.)=66
Shutter=15.00ms
Gain=280 (70%)
SoftwareGain=10 (off)
Brightness=1 (off)
USBTraffic=80 (off)
AutoExposure=off
AutoGain=off
FPS=100 (off)
Gamma=50 (off)
AutoHisto=75 (off)
HighSpeed=off
Histogramm(min)=0
Histogramm(max)=137
Histogramm=53%
Noise(avg.deviation)=0.51
AutoAlign=false
PreFilter=none
Limit=150 Seconds
Sensor temperature=36.3°C
FireCapture v2.6  Settings
------------------------------------
Observer=Ethan Chappel
Camera=ZWO ASI174MM
Filter=B
Profile=Mars
Diameter=12.18"
Magnitude=-0.67
CM=301.2°  (during mid of capture)
FocalLength=9800mm (F/35)
Resolution=0.12"
Filename=2018-10-29-0132_8-EC-B-Mars.ser
Date=2018_10_29
Start=01_31_37.934
Mid=01_32_52.938
End=01_34_07.943
Start(UT)=01_31_37.934
Mid(UT)=01_32_52.938
End(UT)=01_34_07.943
Duration=150.009s
Date_format=yyyy_MM_dd
Time_format=HH_mm_ss
LT=UT -6h
Frames captured=4993
File type=SER
Binning=no
Bit depth=8bit
Debayer=no
ROI=184x190
ROI(Offset)=0x0
FPS (avg.)=33
Shutter=30.00ms
Gain=290 (72%)
SoftwareGain=10 (off)
Brightness=1 (off)
USBTraffic=80 (off)
AutoExposure=off
AutoGain=off
FPS=100 (off)
Gamma=50 (off)
AutoHisto=75 (off)
HighSpeed=off
Histogramm(min)=0
Histogramm(max)=129
Histogramm=50%
Noise(avg.deviation)=0.60
AutoAlign=false
PreFilter=none
Limit=150 Seconds
Sensor temperature=36.3°C
FireCapture v2.6  Settings
------------------------------------
Observer=Ethan Chappel
Camera=ZWO ASI174MM
Filter=G
Profile=Mars
Diameter=12.19"
Magnitude=-0.67
CM=300.1°  (during mid of capture)
FocalLength=9400mm (F/33)
Resolution=0.13"
Filename=2018-10-29-0128_5-EC-G-Mars.ser
Date=2018_10_29
Start=01_27_18.808
Mid=01_28_33.812
End=01_29_48.817
Start(UT)=01_27_18.808
Mid(UT)=01_28_33.812
End(UT)=01_29_48.817
Duration=150.009s
Date_format=yyyy_MM_dd
Time_format=HH_mm_ss
LT=UT -6h
Frames captured=8314
File type=SER
Binning=no
Bit depth=8bit
Debayer=no
ROI=184x190
ROI(Offset)=0x0
FPS (avg.)=55
Shutter=18.00ms
Gain=300 (75%)
SoftwareGain=10 (off)
Brightness=1 (off)
USBTraffic=80 (off)
AutoExposure=off
AutoGain=off
FPS=100 (off)
Gamma=50 (off)
AutoHisto=75 (off)
HighSpeed=off
Histogramm(min)=0
Histogramm(max)=145
Histogramm=56%
Noise(avg.deviation)=0.70
AutoAlign=false
PreFilter=none
Limit=150 Seconds
Sensor temperature=36.3°C