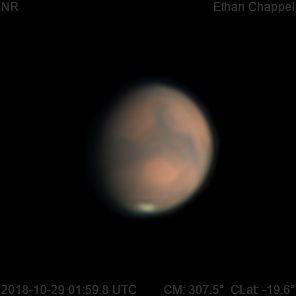 Mars UTC
CM1: 307.50°
CLat: -19.60°
Description
Sky conditions continued to be good. Unlike the C14, the sky is open along the entire ecliptic where the C8 is located.

Notes:
Sinus Meridiani is emerging from the night side of Mars.
Syrtis Major and Hellas Basin are just past the central meridian.
The south polar cap is small.
Equipment
ZWO ASI174MM
Celestron X-Cel 3x
Celestron EdgeHD 8
Logs
FireCapture v2.6  Settings
------------------------------------
Observer=Ethan Chappel
Camera=ZWO ASI174MM
Filter=B
Profile=Mars
Diameter=12.18"
Magnitude=-0.67
CM=310.2°  (during mid of capture)
FocalLength=9800mm (F/35)
Resolution=0.12"
Filename=2018-10-29-0210_0-EC-B-Mars.ser
Date=2018_10_29
Start=02_08_45.888
Mid=02_10_00.901
End=02_11_15.915
Start(UT)=02_08_45.888
Mid(UT)=02_10_00.901
End(UT)=02_11_15.915
Duration=150.027s
Date_format=yyyy_MM_dd
Time_format=HH_mm_ss
LT=UT -6h
Frames captured=4993
File type=SER
Binning=no
Bit depth=8bit
Debayer=no
ROI=184x190
ROI(Offset)=0x0
FPS (avg.)=33
Shutter=30.00ms
Gain=290 (72%)
SoftwareGain=10 (off)
Brightness=1 (off)
USBTraffic=80 (off)
AutoExposure=off
AutoGain=off
FPS=100 (off)
Gamma=50 (off)
AutoHisto=75 (off)
HighSpeed=off
Histogramm(min)=0
Histogramm(max)=124
Histogramm=48%
Noise(avg.deviation)=0.59
AutoAlign=false
PreFilter=none
Limit=150 Seconds
Sensor temperature=36.0°C
FireCapture v2.6  Settings
------------------------------------
Observer=Ethan Chappel
Camera=ZWO ASI174MM
Filter=G
Profile=Mars
Diameter=12.18"
Magnitude=-0.67
CM=309.2°  (during mid of capture)
FocalLength=9250mm (F/33)
Resolution=0.13"
Filename=2018-10-29-0206_0-EC-G-Mars.ser
Date=2018_10_29
Start=02_04_49.952
Mid=02_06_04.957
End=02_07_19.963
Start(UT)=02_04_49.952
Mid(UT)=02_06_04.957
End(UT)=02_07_19.963
Duration=150.011s
Date_format=yyyy_MM_dd
Time_format=HH_mm_ss
LT=UT -6h
Frames captured=9348
File type=SER
Binning=no
Bit depth=8bit
Debayer=no
ROI=184x190
ROI(Offset)=0x0
FPS (avg.)=62
Shutter=16.00ms
Gain=300 (75%)
SoftwareGain=10 (off)
Brightness=1 (off)
USBTraffic=80 (off)
AutoExposure=off
AutoGain=off
FPS=100 (off)
Gamma=50 (off)
AutoHisto=75 (off)
HighSpeed=off
Histogramm(min)=0
Histogramm(max)=127
Histogramm=49%
Noise(avg.deviation)=0.69
AutoAlign=false
PreFilter=none
Limit=150 Seconds
Sensor temperature=36.0°C
FireCapture v2.6  Settings
------------------------------------
Observer=Ethan Chappel
Camera=ZWO ASI174MM
Filter=R
Profile=Mars
Diameter=12.18"
Magnitude=-0.67
CM=308.4°  (during mid of capture)
FocalLength=8850mm (F/31)
Resolution=0.14"
Filename=2018-10-29-0202_6-EC-R-Mars.ser
Date=2018_10_29
Start=02_01_23.291
Mid=02_02_38.296
End=02_03_53.302
Start(UT)=02_01_23.291
Mid(UT)=02_02_38.296
End(UT)=02_03_53.302
Duration=150.011s
Date_format=yyyy_MM_dd
Time_format=HH_mm_ss
LT=UT -6h
Frames captured=9971
File type=SER
Binning=no
Bit depth=8bit
Debayer=no
ROI=184x190
ROI(Offset)=0x0
FPS (avg.)=66
Shutter=15.00ms
Gain=280 (70%)
SoftwareGain=10 (off)
Brightness=1 (off)
USBTraffic=80 (off)
AutoExposure=off
AutoGain=off
FPS=100 (off)
Gamma=50 (off)
AutoHisto=75 (off)
HighSpeed=off
Histogramm(min)=0
Histogramm(max)=139
Histogramm=54%
Noise(avg.deviation)=0.51
AutoAlign=false
PreFilter=none
Limit=150 Seconds
Sensor temperature=36.1°C
FireCapture v2.6  Settings
------------------------------------
Observer=Ethan Chappel
Camera=ZWO ASI174MM
Filter=B
Profile=Mars
Diameter=12.18"
Magnitude=-0.67
CM=307.1°  (during mid of capture)
FocalLength=9900mm (F/35)
Resolution=0.12"
Filename=2018-10-29-0157_1-EC-B-Mars.ser
Date=2018_10_29
Start=01_55_55.835
Mid=01_57_10.839
End=01_58_25.843
Start(UT)=01_55_55.835
Mid(UT)=01_57_10.839
End(UT)=01_58_25.843
Duration=150.008s
Date_format=yyyy_MM_dd
Time_format=HH_mm_ss
LT=UT -6h
Frames captured=4993
File type=SER
Binning=no
Bit depth=8bit
Debayer=no
ROI=184x190
ROI(Offset)=0x0
FPS (avg.)=33
Shutter=30.00ms
Gain=290 (72%)
SoftwareGain=10 (off)
Brightness=1 (off)
USBTraffic=80 (off)
AutoExposure=off
AutoGain=off
FPS=100 (off)
Gamma=50 (off)
AutoHisto=75 (off)
HighSpeed=off
Histogramm(min)=0
Histogramm(max)=118
Histogramm=46%
Noise(avg.deviation)=0.61
AutoAlign=false
PreFilter=none
Limit=150 Seconds
Sensor temperature=36.2°C
FireCapture v2.6  Settings
------------------------------------
Observer=Ethan Chappel
Camera=ZWO ASI174MM
Filter=G
Profile=Mars
Diameter=12.18"
Magnitude=-0.67
CM=306.2°  (during mid of capture)
FocalLength=9400mm (F/33)
Resolution=0.13"
Filename=2018-10-29-0153_6-EC-G-Mars.ser
Date=2018_10_29
Start=01_52_26.022
Mid=01_53_41.026
End=01_54_56.031
Start(UT)=01_52_26.022
Mid(UT)=01_53_41.026
End(UT)=01_54_56.031
Duration=150.009s
Date_format=yyyy_MM_dd
Time_format=HH_mm_ss
LT=UT -6h
Frames captured=9348
File type=SER
Binning=no
Bit depth=8bit
Debayer=no
ROI=184x190
ROI(Offset)=0x0
FPS (avg.)=62
Shutter=16.00ms
Gain=300 (75%)
SoftwareGain=10 (off)
Brightness=1 (off)
USBTraffic=80 (off)
AutoExposure=off
AutoGain=off
FPS=100 (off)
Gamma=50 (off)
AutoHisto=75 (off)
HighSpeed=off
Histogramm(min)=0
Histogramm(max)=128
Histogramm=50%
Noise(avg.deviation)=0.69
AutoAlign=false
PreFilter=none
Limit=150 Seconds
Sensor temperature=36.2°C
FireCapture v2.6  Settings
------------------------------------
Observer=Ethan Chappel
Camera=ZWO ASI174MM
Filter=R
Profile=Mars
Diameter=12.18"
Magnitude=-0.67
CM=305.3°  (during mid of capture)
FocalLength=8850mm (F/31)
Resolution=0.14"
Filename=2018-10-29-0149_6-EC-R-Mars.ser
Date=2018_10_29
Start=01_48_25.741
Mid=01_49_40.747
End=01_50_55.753
Start(UT)=01_48_25.741
Mid(UT)=01_49_40.747
End(UT)=01_50_55.753
Duration=150.012s
Date_format=yyyy_MM_dd
Time_format=HH_mm_ss
LT=UT -6h
Frames captured=9971
File type=SER
Binning=no
Bit depth=8bit
Debayer=no
ROI=184x190
ROI(Offset)=0x0
FPS (avg.)=66
Shutter=15.00ms
Gain=280 (70%)
SoftwareGain=10 (off)
Brightness=1 (off)
USBTraffic=80 (off)
AutoExposure=off
AutoGain=off
FPS=100 (off)
Gamma=50 (off)
AutoHisto=75 (off)
HighSpeed=off
Histogramm(min)=0
Histogramm(max)=137
Histogramm=53%
Noise(avg.deviation)=0.51
AutoAlign=false
PreFilter=none
Limit=150 Seconds
Sensor temperature=36.2°C