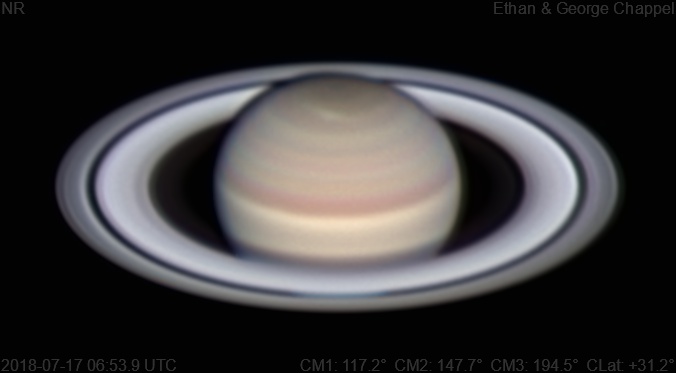 Saturn UTC
CM1: 117.20°
CM2: 147.70°
CM3: 194.50°
CLat: +31.20°
Description
Seeing worsened a bit. Saharan dust limited transparency. Shortly after this photo, low clouds came in from the south, cutting off the opportunity to photograph Mars.

Notes:

The north polar hexagon is resolved.
The northern storm is stretched across the visible hemisphere of the planet. The storm appears to have two cores.
Equipment
ZWO ASI290MM
Celestron C14 EdgeHD
Astro-Physics Advanced Convertible Barlow
Logs
FireCapture v2.6  Settings
------------------------------------
Observer=Ethan Chappel
Location=Cibolo, TX, USA
Scope=Celstron C14 EdgeHD
Camera=ZWO ASI290MM
Filter=B
Profile=Saturn
Diameter=18.17"
Magnitude=0.13
CMI=120.1° CMIII=197.2°  (during mid of capture)
FocalLength=8200mm (F/23)
Resolution=0.07"
Filename=2018-07-17-0658_9-EC-B-Sat.ser
Date=170718
Start=065740.204
Mid=065855.216
End=070010.229
Start(UT)=065740.204
Mid(UT)=065855.216
End(UT)=070010.229
Duration=150.025s
Date_format=ddMMyy
Time_format=HHmmss
LT=UT -6h
Frames captured=4290
File type=SER
Binning=no
Bit depth=8bit
Debayer=no
ROI=676x382
ROI(Offset)=0x0
FPS (avg.)=28
Shutter=34.96ms
Gain=390 (65%)
Gamma=50
Brightness=1 (off)
AutoHisto=75 (off)
SoftwareGain=10 (off)
USBTraffic=40 (off)
AutoGain=off
HighSpeed=off
AutoExposure=off
FPS=100 (off)
Histogramm(min)=0
Histogramm(max)=109
Histogramm=42%
Noise(avg.deviation)=1.62
Limit=150 Seconds
Sensor temperature=30.6°C
Focuser position=2336
FireCapture v2.6  Settings
------------------------------------
Observer=Ethan Chappel
Location=Cibolo, TX, USA
Scope=Celstron C14 EdgeHD
Camera=ZWO ASI290MM
Filter=G
Profile=Saturn
Diameter=18.17"
Magnitude=0.13
CMI=117.5° CMIII=194.7°  (during mid of capture)
FocalLength=8150mm (F/22)
Resolution=0.07"
Filename=2018-07-17-0654_4-EC-G-Sat.ser
Date=170718
Start=065314.681
Mid=065429.693
End=065544.706
Start(UT)=065314.681
Mid(UT)=065429.693
End(UT)=065544.706
Duration=150.025s
Date_format=ddMMyy
Time_format=HHmmss
LT=UT -6h
Frames captured=4786
File type=SER
Binning=no
Bit depth=8bit
Debayer=no
ROI=676x382
ROI(Offset)=0x0
FPS (avg.)=31
Shutter=31.35ms
Gain=364 (60%)
Gamma=50 (off)
Brightness=1 (off)
AutoHisto=75 (off)
SoftwareGain=10 (off)
USBTraffic=40 (off)
AutoGain=off
HighSpeed=off
AutoExposure=off
FPS=100 (off)
Histogramm(min)=0
Histogramm(max)=102
Histogramm=40%
Noise(avg.deviation)=1.29
Limit=150 Seconds
Sensor temperature=30.7°C
Focuser position=2376
FireCapture v2.6  Settings
------------------------------------
Observer=Ethan Chappel
Location=Cibolo, TX, USA
Scope=Celstron C14 EdgeHD
Camera=ZWO ASI290MM
Filter=R
Profile=Saturn
Diameter=18.17"
Magnitude=0.13
CMI=113.9° CMIII=191.3°  (during mid of capture)
FocalLength=8150mm (F/22)
Resolution=0.07"
Filename=2018-07-17-0648_3-EC-R-Sat.ser
Date=170718
Start=064708.900
Mid=064823.906
End=064938.912
Start(UT)=064708.900
Mid(UT)=064823.906
End(UT)=064938.912
Duration=150.012s
Date_format=ddMMyy
Time_format=HHmmss
LT=UT -6h
Frames captured=5270
File type=SER
Binning=no
Bit depth=8bit
Debayer=no
ROI=676x382
ROI(Offset)=0x0
FPS (avg.)=35
Shutter=28.46ms
Gain=359 (59%)
Gamma=50 (off)
Brightness=1 (off)
AutoHisto=75 (off)
SoftwareGain=10 (off)
USBTraffic=40 (off)
AutoGain=off
HighSpeed=off
AutoExposure=off
FPS=100 (off)
Histogramm(min)=0
Histogramm(max)=105
Histogramm=41%
Noise(avg.deviation)=1.20
Limit=150 Seconds
Sensor temperature=30.8°C
Focuser position=2436