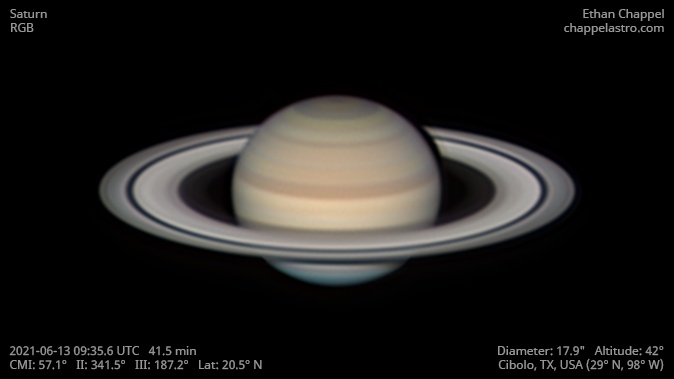 Saturn UTC
CM1: 57.10°
CM2: 341.50°
CM3: 187.20°
CLat: +20.50°
Description
Excellent seeing conditions. This is a second attempt with my EdgeHD 11 and new Sky-Watcher EQ6-R Pro after a near-failure yesterday because of clouds. My primary use for this mount will be for deep sky imaging, but I can also use it for planetary imaging with the EdgeHD 11 in times I would've used the EdgeHD 8 and Advanced VX.
Notes:
The North Polar Hexagon has a reddish color with little contrast.
Some banding is becoming visible in the southern hemisphere as the rings slowly uncover it from Earth's perspective.
Equipment
ZWO ASI290MM
Astro-Physics Advanced Convertible Barlow
Celestron EdgeHD 11
Sky-Watcher EQ6-R Pro
Logs
FireCapture v2.7 04 BETA Settings
------------------------------------
Observer=Ethan Chappel
Location=Cibolo
Scope=Celestron C8 EdgeHD
Camera=ZWO ASI290MM
Filter=eG
Profile=Saturn
Diameter=17.82"
Magnitude=0.44
CMI=65.6° CMIII=195.3°  (during mid of capture)
FocalLength=4500mm (F/22)
Resolution=0.13"
Filename=s2021-06-13_09-50-05_eg_ec.ser
Date=2021_06_13
Start=09_48_50.069
Mid=09_50_05.072
End=09_51_20.075
Start(UT)=09_48_50.069
Mid(UT)=09_50_05.072
End(UT)=09_51_20.075
Duration=150.006s
Date_format=yyyy_MM_dd
Time_format=HH_mm_ss
LT=UT 
Frames captured=14994
File type=SER
Binning=1x1
ROI=300x430
ROI(Offset)=1256x328
FPS (avg.)=99
Shutter=10.00ms
Gain=400 (66%)
AutoExposure=off
AutoGain=off
Brightness=1
HighSpeed=on
USBTraffic=100
Histogramm(min)=0
Histogramm(max)=177
Histogramm=69%
Noise(avg.deviation)=2.91
Limit=150 Seconds
Sensor temperature=94.1°F
FireCapture v2.7 04 BETA Settings
------------------------------------
Observer=Ethan Chappel
Location=Cibolo
Scope=Celestron C8 EdgeHD
Camera=ZWO ASI290MM
Filter=R
Profile=Saturn
Diameter=17.82"
Magnitude=0.44
CMI=63.2° CMIII=193.1°  (during mid of capture)
FocalLength=4500mm (F/22)
Resolution=0.13"
Filename=s2021-06-13_09-46-04_r_ec.ser
Date=2021_06_13
Start=09_44_49.805
Mid=09_46_04.806
End=09_47_19.807
Start(UT)=09_44_49.805
Mid(UT)=09_46_04.806
End(UT)=09_47_19.807
Duration=150.002s
Date_format=yyyy_MM_dd
Time_format=HH_mm_ss
LT=UT 
Frames captured=14994
File type=SER
Binning=1x1
ROI=300x430
ROI(Offset)=1256x328
FPS (avg.)=99
Shutter=10.00ms
Gain=380 (63%)
AutoExposure=off
AutoGain=off
Brightness=1
HighSpeed=on
USBTraffic=100
Histogramm(min)=0
Histogramm(max)=156
Histogramm=61%
Noise(avg.deviation)=2.30
Limit=150 Seconds
Sensor temperature=94.1°F
FireCapture v2.7 04 BETA Settings
------------------------------------
Observer=Ethan Chappel
Location=Cibolo
Scope=Celestron C8 EdgeHD
Camera=ZWO ASI290MM
Filter=B
Profile=Saturn
Diameter=17.82"
Magnitude=0.44
CMI=59.5° CMIII=189.5°  (during mid of capture)
FocalLength=4500mm (F/22)
Resolution=0.13"
Filename=s2021-06-13_09-39-46_b_ec.ser
Date=2021_06_13
Start=09_38_31.839
Mid=09_39_46.842
End=09_41_01.846
Start(UT)=09_38_31.839
Mid(UT)=09_39_46.842
End(UT)=09_41_01.846
Duration=150.007s
Date_format=yyyy_MM_dd
Time_format=HH_mm_ss
LT=UT 
Frames captured=14994
File type=SER
Binning=1x1
ROI=300x430
ROI(Offset)=1256x328
FPS (avg.)=99
Shutter=10.00ms
Gain=470 (78%)
AutoExposure=off
AutoGain=off
Brightness=1
HighSpeed=on
USBTraffic=100
Histogramm(min)=0
Histogramm(max)=198
Histogramm=77%
Noise(avg.deviation)=5.84
Limit=150 Seconds
Sensor temperature=93.7°F
FireCapture v2.7 04 BETA Settings
------------------------------------
Observer=Ethan Chappel
Location=Cibolo
Scope=Celestron C8 EdgeHD
Camera=ZWO ASI290MM
Filter=eG
Profile=Saturn
Diameter=17.82"
Magnitude=0.44
CMI=57.3° CMIII=187.3°  (during mid of capture)
FocalLength=4500mm (F/22)
Resolution=0.13"
Filename=s2021-06-13_09-35-55_eg_ec.ser
Date=2021_06_13
Start=09_34_40.835
Mid=09_35_55.837
End=09_37_10.839
Start(UT)=09_34_40.835
Mid(UT)=09_35_55.837
End(UT)=09_37_10.839
Duration=150.004s
Date_format=yyyy_MM_dd
Time_format=HH_mm_ss
LT=UT 
Frames captured=14994
File type=SER
Binning=1x1
ROI=300x430
ROI(Offset)=1256x328
FPS (avg.)=99
Shutter=10.00ms
Gain=400 (66%)
AutoExposure=off
AutoGain=off
Brightness=1
HighSpeed=on
USBTraffic=100
Histogramm(min)=0
Histogramm(max)=173
Histogramm=67%
Noise(avg.deviation)=2.91
Limit=150 Seconds
Sensor temperature=93.6°F
FireCapture v2.7 04 BETA Settings
------------------------------------
Observer=Ethan Chappel
Location=Cibolo
Scope=Celestron C8 EdgeHD
Camera=ZWO ASI290MM
Filter=R
Profile=Saturn
Diameter=17.82"
Magnitude=0.44
CMI=54.4° CMIII=184.6°  (during mid of capture)
FocalLength=4500mm (F/22)
Resolution=0.13"
Filename=s2021-06-13_09-30-59_r_ec.ser
Date=2021_06_13
Start=09_29_44.576
Mid=09_30_59.576
End=09_32_14.576
Start(UT)=09_29_44.576
Mid(UT)=09_30_59.576
End(UT)=09_32_14.576
Duration=150.000s
Date_format=yyyy_MM_dd
Time_format=HH_mm_ss
LT=UT 
Frames captured=14994
File type=SER
Binning=1x1
ROI=300x430
ROI(Offset)=1256x328
FPS (avg.)=99
Shutter=10.00ms
Gain=380 (63%)
AutoExposure=off
AutoGain=off
Brightness=1
HighSpeed=on
USBTraffic=100
Histogramm(min)=0
Histogramm(max)=156
Histogramm=61%
Noise(avg.deviation)=2.30
Limit=150 Seconds
Sensor temperature=93.6°F
FireCapture v2.7 04 BETA Settings
------------------------------------
Observer=Ethan Chappel
Location=Cibolo
Scope=Celestron C8 EdgeHD
Camera=ZWO ASI290MM
Filter=B
Profile=Saturn
Diameter=17.82"
Magnitude=0.44
CMI=50.3° CMIII=180.6°  (during mid of capture)
FocalLength=4500mm (F/22)
Resolution=0.13"
Filename=s2021-06-13_09-23-57_b_ec.ser
Date=2021_06_13
Start=09_22_42.154
Mid=09_23_57.158
End=09_25_12.162
Start(UT)=09_22_42.154
Mid(UT)=09_23_57.158
End(UT)=09_25_12.162
Duration=150.008s
Date_format=yyyy_MM_dd
Time_format=HH_mm_ss
LT=UT 
Frames captured=14989
File type=SER
Binning=1x1
ROI=300x430
ROI(Offset)=1256x328
FPS (avg.)=99
Shutter=10.00ms
Gain=470 (78%)
AutoExposure=off
AutoGain=off
Brightness=1
HighSpeed=off
USBTraffic=100
Histogramm(min)=0
Histogramm(max)=193
Histogramm=75%
Noise(avg.deviation)=2.39
Limit=150 Seconds
Sensor temperature=94.5°F
FireCapture v2.7 04 BETA Settings
------------------------------------
Observer=Ethan Chappel
Location=Cibolo
Scope=Celestron C8 EdgeHD
Camera=ZWO ASI290MM
Filter=eG
Profile=Saturn
Diameter=17.82"
Magnitude=0.44
CMI=48.2° CMIII=178.7°  (during mid of capture)
FocalLength=4500mm (F/22)
Resolution=0.13"
Filename=s2021-06-13_09-20-29_eg_ec.ser
Date=2021_06_13
Start=09_19_14.079
Mid=09_20_29.082
End=09_21_44.085
Start(UT)=09_19_14.079
Mid(UT)=09_20_29.082
End(UT)=09_21_44.085
Duration=150.006s
Date_format=yyyy_MM_dd
Time_format=HH_mm_ss
LT=UT 
Frames captured=14991
File type=SER
Binning=1x1
ROI=300x430
ROI(Offset)=1256x328
FPS (avg.)=99
Shutter=10.00ms
Gain=400 (66%)
AutoExposure=off
AutoGain=off
Brightness=1
HighSpeed=off
USBTraffic=100
Histogramm(min)=0
Histogramm(max)=182
Histogramm=71%
Noise(avg.deviation)=1.31
Limit=150 Seconds
Sensor temperature=94.5°F
FireCapture v2.7 04 BETA Settings
------------------------------------
Observer=Ethan Chappel
Location=Cibolo
Scope=Celestron C8 EdgeHD
Camera=ZWO ASI290MM
Filter=R
Profile=Saturn
Diameter=17.82"
Magnitude=0.44
CMI=46.1° CMIII=176.6°  (during mid of capture)
FocalLength=4500mm (F/22)
Resolution=0.13"
Filename=s2021-06-13_09-16-48_r_ec.ser
Date=2021_06_13
Start=09_15_33.791
Mid=09_16_48.791
End=09_18_03.792
Start(UT)=09_15_33.791
Mid(UT)=09_16_48.791
End(UT)=09_18_03.792
Duration=150.001s
Date_format=yyyy_MM_dd
Time_format=HH_mm_ss
LT=UT 
Frames captured=14990
File type=SER
Binning=1x1
ROI=300x430
ROI(Offset)=1256x328
FPS (avg.)=99
Shutter=10.00ms
Gain=380 (63%)
AutoExposure=off
AutoGain=off
Brightness=1
HighSpeed=off
USBTraffic=100
Histogramm(min)=0
Histogramm(max)=152
Histogramm=59%
Noise(avg.deviation)=1.04
Limit=150 Seconds
Sensor temperature=94.3°F
FireCapture v2.7 04 BETA Settings
------------------------------------
Observer=Ethan Chappel
Location=Cibolo
Scope=Celestron C8 EdgeHD
Camera=ZWO ASI290MM
Filter=B
Profile=Saturn
Diameter=17.82"
Magnitude=0.44
CMI=68.9° CMIII=198.5°  (during mid of capture)
FocalLength=4500mm (F/22)
Resolution=0.13"
Filename=s2021-06-13_09-55-47_b_ec.ser
Date=2021_06_13
Start=09_54_32.247
Mid=09_55_47.248
End=09_57_02.249
Start(UT)=09_54_32.247
Mid(UT)=09_55_47.248
End(UT)=09_57_02.249
Duration=150.002s
Date_format=yyyy_MM_dd
Time_format=HH_mm_ss
LT=UT 
Frames captured=14994
File type=SER
Binning=1x1
ROI=300x430
ROI(Offset)=1256x328
FPS (avg.)=99
Shutter=10.00ms
Gain=470 (78%)
AutoExposure=off
AutoGain=off
Brightness=1
HighSpeed=on
USBTraffic=100
Histogramm(min)=0
Histogramm(max)=220
Histogramm=86%
Noise(avg.deviation)=5.93
Limit=150 Seconds
Sensor temperature=93.7°F

Licensed under Creative Commons Attribution 4.0 International (CC BY 4.0)