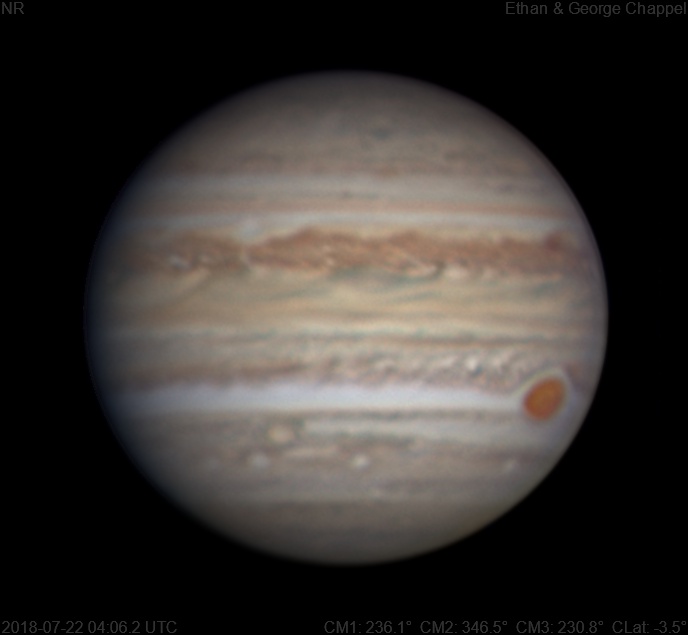 Jupiter UTC
CM1: 236.10°
CM2: 346.50°
CM3: 230.80°
CLat: -3.50°
Description
Seeing was above average, but I think small details were blurred by micro-turbulence.

Notes:
The North Temperate Belt is thin.
The North Equatorial Belt is covered with small rift-like features.
White Oval Z is approaching the central meridian.
The Equatorial Zone is orange.
The Great Red Spot is about to set.
Oval BA is much paler than the GRS.
Equipment
ZWO ASI290MM
Astro-Physics Advanced Convertible Barlow
Celestron EdgeHD 14
Logs
FireCapture v2.6  Settings
------------------------------------
Observer=Ethan Chappel
Location=Cibolo, TX, USA
Scope=Celstron C14 EdgeHD
Camera=ZWO ASI290MM
Filter=B
Profile=Jupiter
Diameter=38.96"
Magnitude=-2.17
CMI=239.9° CMII=350.3° CMIII=234.5°  (during mid of capture)
FocalLength=7700mm (F/21)
Resolution=0.08"
Filename=2018-07-22-0411_8-EC-B-Jup.ser
Date=220718
Start=041048.342
Mid=041148.349
End=041248.356
Start(UT)=041048.342
Mid(UT)=041148.349
End(UT)=041248.356
Duration=120.014s
Date_format=ddMMyy
Time_format=HHmmss
LT=UT -6h
Frames captured=11993
File type=SER
Binning=no
Bit depth=8bit
Debayer=no
ROI=612x590
ROI(Offset)=8x8
FPS (avg.)=99
Shutter=10.00ms
Gain=330 (55%)
USBTraffic=40 (off)
HighSpeed=off
AutoExposure=off
Gamma=50
SoftwareGain=10 (off)
Brightness=1 (off)
AutoHisto=75 (off)
FPS=100 (off)
AutoGain=off
Histogramm(min)=0
Histogramm(max)=108
Histogramm=42%
Noise(avg.deviation)=1.91
Limit=120 Seconds
Sensor temperature=37.1°C
Focuser position=1329
FireCapture v2.6  Settings
------------------------------------
Observer=Ethan Chappel
Location=Cibolo, TX, USA
Scope=Celstron C14 EdgeHD
Camera=ZWO ASI290MM
Filter=G
Profile=Jupiter
Diameter=38.96"
Magnitude=-2.17
CMI=236.4° CMII=346.8° CMIII=231.0°  (during mid of capture)
FocalLength=7650mm (F/21)
Resolution=0.08"
Filename=2018-07-22-0406_0-EC-G-Jup.ser
Date=220718
Start=040500.638
Mid=040600.638
End=040700.638
Start(UT)=040500.638
Mid(UT)=040600.638
End(UT)=040700.638
Duration=120.000s
Date_format=ddMMyy
Time_format=HHmmss
LT=UT -6h
Frames captured=11991
File type=SER
Binning=no
Bit depth=8bit
Debayer=no
ROI=612x590
ROI(Offset)=8x56
FPS (avg.)=99
Shutter=10.00ms
Gain=310 (51%)
USBTraffic=40 (off)
HighSpeed=off
AutoExposure=off
Gamma=50 (off)
SoftwareGain=10 (off)
Brightness=1 (off)
AutoHisto=75 (off)
FPS=100 (off)
AutoGain=off
Histogramm(min)=0
Histogramm(max)=111
Histogramm=43%
Noise(avg.deviation)=1.43
Limit=120 Seconds
Sensor temperature=37.2°C
Focuser position=1349
FireCapture v2.6  Settings
------------------------------------
Observer=Ethan Chappel
Location=Cibolo, TX, USA
Scope=Celstron C14 EdgeHD
Camera=ZWO ASI290MM
Filter=R
Profile=Jupiter
Diameter=38.97"
Magnitude=-2.17
CMI=233.3° CMII=343.8° CMIII=228.0°  (during mid of capture)
FocalLength=7700mm (F/21)
Resolution=0.08"
Filename=2018-07-22-0400_9-EC-R-Jup.ser
Date=220718
Start=035958.708
Mid=040058.715
End=040158.722
Start(UT)=035958.708
Mid(UT)=040058.715
End(UT)=040158.722
Duration=120.014s
Date_format=ddMMyy
Time_format=HHmmss
LT=UT -6h
Frames captured=11994
File type=SER
Binning=no
Bit depth=8bit
Debayer=no
ROI=612x590
ROI(Offset)=8x56
FPS (avg.)=99
Shutter=10.00ms
Gain=310 (51%)
USBTraffic=40 (off)
HighSpeed=off
AutoExposure=off
Gamma=50 (off)
SoftwareGain=10 (off)
Brightness=1 (off)
AutoHisto=75 (off)
FPS=100 (off)
AutoGain=off
Histogramm(min)=0
Histogramm(max)=121
Histogramm=47%
Noise(avg.deviation)=1.51
Limit=120 Seconds
Sensor temperature=37.2°C
Focuser position=1409