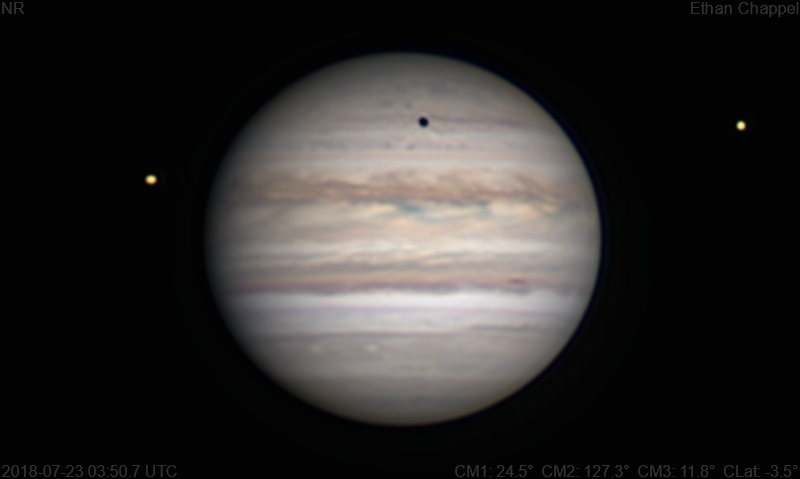 Jupiter UTC
CM1: 24.50°
CM2: 127.30°
CM3: 11.80°
CLat: -3.50°
Description
After seven nights of imaging with the C14, it's time to go back to the C8 for one more night. Seeing was great and transparency was excellent.

Notes:
Europa's shadow is transiting north of the North Temperate Belt.
The northern edge of the North Equatorial Belt is ragged.
Most of the Equatorial Zone is tinged orange.
The South Equatorial Belt looks calm.
Equipment
Celestron X-Cel 3x
ZWO ASI224MC
Celestron EdgeHD 8
Logs
FireCapture v2.6  Settings
------------------------------------
Observer=Ethan Chappel
Location=Cibolo, TX, USA
Scope=Celstron C14 EdgeHD
Camera=ZWO ASI224MC
Filter=RGB
Profile=Jupiter
Diameter=38.85"
Magnitude=-2.16
CMI=28.6° CMII=131.5° CMIII=16.0°  (during mid of capture)
FocalLength=7300mm (F/20)
Resolution=0.11"
Filename=2018-07-23-0356_9-EC-RGB-Jup.ser
Date=2018_07_23
Start=035555.150
Mid=035655.156
End=035755.162
Start(UT)=035555.150
Mid(UT)=035655.156
End(UT)=035755.162
Duration=120.012s
Date_format=yyyy_MM_dd
Time_format=HHmmss
LT=UT -6h
Frames captured=5851
File type=SER
Binning=no
Bit depth=8bit
Debayer=yes
DebayerAlgorithm=NearestNeighbor
BayerPattern=RG
ROI=800x554
ROI(Offset)=0x0
FPS (avg.)=48
Shutter=20.51ms
Gain=330 (55%)
WBlue=95 (off)
HardwareBin=off
AutoHisto=75 (off)
USBTraffic=100 (off)
AutoGain=off
Gamma=50 (off)
Brightness=1 (off)
WRed=55 (off)
AutoExposure=off
FPS=100 (off)
HighSpeed=off
SoftwareGain=10 (off)
Histogramm(min)=0
Histogramm(max)=88
Histogramm=34%
Noise(avg.deviation)=0.98
Limit=120 Seconds
Sensor temperature=36.6°C
FireCapture v2.6  Settings
------------------------------------
Observer=Ethan Chappel
Location=Cibolo, TX, USA
Scope=Celstron C14 EdgeHD
Camera=ZWO ASI224MC
Filter=RGB
Profile=Jupiter
Diameter=38.85"
Magnitude=-2.16
CMI=27.2° CMII=130.1° CMIII=14.6°  (during mid of capture)
FocalLength=7250mm (F/20)
Resolution=0.11"
Filename=2018-07-23-0354_6-EC-RGB-Jup.ser
Date=2018_07_23
Start=035336.936
Mid=035436.950
End=035536.964
Start(UT)=035336.936
Mid(UT)=035436.950
End(UT)=035536.964
Duration=120.028s
Date_format=yyyy_MM_dd
Time_format=HHmmss
LT=UT -6h
Frames captured=5852
File type=SER
Binning=no
Bit depth=8bit
Debayer=yes
DebayerAlgorithm=NearestNeighbor
BayerPattern=RG
ROI=800x554
ROI(Offset)=0x0
FPS (avg.)=48
Shutter=20.51ms
Gain=330 (55%)
WBlue=95 (off)
HardwareBin=off
AutoHisto=75 (off)
USBTraffic=100 (off)
AutoGain=off
Gamma=50 (off)
Brightness=1 (off)
WRed=55 (off)
AutoExposure=off
FPS=100 (off)
HighSpeed=off
SoftwareGain=10 (off)
Histogramm(min)=0
Histogramm(max)=99
Histogramm=38%
Noise(avg.deviation)=1.02
Limit=120 Seconds
Sensor temperature=36.7°C
FireCapture v2.6  Settings
------------------------------------
Observer=Ethan Chappel
Location=Cibolo, TX, USA
Scope=Celstron C14 EdgeHD
Camera=ZWO ASI224MC
Filter=RGB
Profile=Jupiter
Diameter=38.85"
Magnitude=-2.16
CMI=25.3° CMII=128.2° CMIII=12.7°  (during mid of capture)
FocalLength=7250mm (F/20)
Resolution=0.11"
Filename=2018-07-23-0351_4-EC-RGB-Jup.ser
Date=2018_07_23
Start=035025.143
Mid=035125.149
End=035225.155
Start(UT)=035025.143
Mid(UT)=035125.149
End(UT)=035225.155
Duration=120.012s
Date_format=yyyy_MM_dd
Time_format=HHmmss
LT=UT -6h
Frames captured=5851
File type=SER
Binning=no
Bit depth=8bit
Debayer=yes
DebayerAlgorithm=NearestNeighbor
BayerPattern=RG
ROI=800x554
ROI(Offset)=0x0
FPS (avg.)=48
Shutter=20.51ms
Gain=320 (53%)
WBlue=95 (off)
HardwareBin=off
AutoHisto=75 (off)
USBTraffic=100 (off)
AutoGain=off
Gamma=50 (off)
Brightness=1 (off)
WRed=55 (off)
AutoExposure=off
FPS=100 (off)
HighSpeed=off
SoftwareGain=10 (off)
Histogramm(min)=0
Histogramm(max)=87
Histogramm=34%
Noise(avg.deviation)=0.88
Limit=120 Seconds
Sensor temperature=36.8°C
FireCapture v2.6  Settings
------------------------------------
Observer=Ethan Chappel
Location=Cibolo, TX, USA
Scope=Celstron C14 EdgeHD
Camera=ZWO ASI224MC
Filter=RGB
Profile=Jupiter
Diameter=38.85"
Magnitude=-2.16
CMI=22.6° CMII=125.5° CMIII=10.0°  (during mid of capture)
FocalLength=7250mm (F/20)
Resolution=0.11"
Filename=2018-07-23-0347_0-EC-RGB-Jup.ser
Date=2018_07_23
Start=034603.717
Mid=034703.720
End=034803.724
Start(UT)=034603.717
Mid(UT)=034703.720
End(UT)=034803.724
Duration=120.007s
Date_format=yyyy_MM_dd
Time_format=HHmmss
LT=UT -6h
Frames captured=5851
File type=SER
Binning=no
Bit depth=8bit
Debayer=yes
DebayerAlgorithm=NearestNeighbor
BayerPattern=RG
ROI=800x554
ROI(Offset)=0x0
FPS (avg.)=48
Shutter=20.51ms
Gain=307 (51%)
WBlue=95 (off)
HardwareBin=off
AutoHisto=75 (off)
USBTraffic=100 (off)
AutoGain=off
Gamma=50 (off)
Brightness=1 (off)
WRed=55 (off)
AutoExposure=off
FPS=100 (off)
HighSpeed=off
SoftwareGain=10 (off)
Histogramm(min)=0
Histogramm(max)=80
Histogramm=31%
Noise(avg.deviation)=0.82
Limit=120 Seconds
Sensor temperature=37.1°C
FireCapture v2.6  Settings
------------------------------------
Observer=Ethan Chappel
Location=Cibolo, TX, USA
Scope=Celstron C14 EdgeHD
Camera=ZWO ASI224MC
Filter=RGB
Profile=Jupiter
Diameter=38.85"
Magnitude=-2.16
CMI=20.5° CMII=123.4° CMIII=7.9°  (during mid of capture)
FocalLength=7400mm (F/20)
Resolution=0.10"
Filename=2018-07-23-0343_5-EC-RGB-Jup.ser
Date=2018_07_23
Start=034234.556
Mid=034334.563
End=034434.570
Start(UT)=034234.556
Mid(UT)=034334.563
End(UT)=034434.570
Duration=120.014s
Date_format=yyyy_MM_dd
Time_format=HHmmss
LT=UT -6h
Frames captured=5851
File type=SER
Binning=no
Bit depth=8bit
Debayer=yes
DebayerAlgorithm=NearestNeighbor
BayerPattern=RG
ROI=800x554
ROI(Offset)=0x0
FPS (avg.)=48
Shutter=20.51ms
Gain=307 (51%)
WBlue=95 (off)
HardwareBin=off
AutoHisto=75 (off)
USBTraffic=100 (off)
AutoGain=off
Gamma=50 (off)
Brightness=1 (off)
WRed=55 (off)
AutoExposure=off
FPS=100 (off)
HighSpeed=off
SoftwareGain=10 (off)
Histogramm(min)=0
Histogramm(max)=0
Histogramm=0%
Noise(avg.deviation)=n/a
Limit=120 Seconds
Sensor temperature=37.2°C