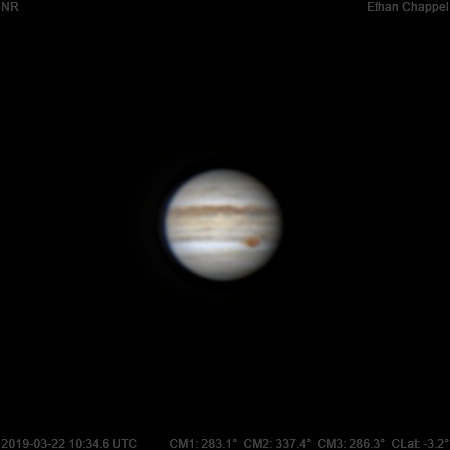 Jupiter UTC
CM1: 283.10°
CM2: 337.40°
CM3: 286.30°
CLat: -3.20°
Description
Seeing continued to be good enough for the 90mm Mak, even though high clouds slowly moved through the sky.

Notes:
White Oval Z is past the central meridian.
The Equatorial Zone is still orange.
The South Equatorial Belt to the west of the Great Red Spot is split by a white zone.
Equipment
ZWO ASI224MC
Orion Apex 90mm
Logs
FireCapture v2.6  Settings
------------------------------------
Observer=Ethan Chappel
Camera=ZWO ASI224MC
Filter=RGB
Profile=Jupiter
Diameter=38.61"
Magnitude=-2.18
CMI=284.2° CMII=338.5° CMIII=287.4°  (during mid of capture)
FocalLength=1300mm (F/4)
Resolution=0.59"
Filename=2019-03-22-1037_4-EC-RGB-Jup.ser
Date=2019_03_22
Start=10_36_13.288
Mid=10_37_28.288
End=10_38_43.289
Start(UT)=10_36_13.288
Mid(UT)=10_37_28.288
End(UT)=10_38_43.289
Duration=150.001s
Date_format=yyyy_MM_dd
Time_format=HH_mm_ss
LT=UT -6h
Frames captured=3750
File type=SER
Binning=no
Bit depth=8bit
Debayer=yes
DebayerAlgorithm=NearestNeighbor
BayerPattern=RG
ROI=252x282
ROI(Offset)=8x8
FPS (avg.)=24
Shutter=40.00ms
Gain=220 (36%)
Gamma=50 (off)
FPS=100 (off)
HighSpeed=off
AutoHisto=75 (off)
HardwareBin=off
Brightness=1 (off)
WRed=55 (off)
SoftwareGain=10 (off)
AutoGain=off
WBlue=95 (off)
USBTraffic=100 (off)
AutoExposure=off
Histogramm(min)=0
Histogramm(max)=127
Histogramm=49%
Noise(avg.deviation)=0.08
AutoAlign=false
PreFilter=none
Limit=150 Seconds
Sensor temperature=19.7°C
FireCapture v2.6  Settings
------------------------------------
Observer=Ethan Chappel
Camera=ZWO ASI224MC
Filter=RGB
Profile=Jupiter
Diameter=38.61"
Magnitude=-2.18
CMI=282.6° CMII=336.9° CMIII=285.8°  (during mid of capture)
FocalLength=1250mm (F/4)
Resolution=0.62"
Filename=2019-03-22-1034_7-EC-RGB-Jup.ser
Date=2019_03_22
Start=10_33_30.668
Mid=10_34_45.669
End=10_36_00.671
Start(UT)=10_33_30.668
Mid(UT)=10_34_45.669
End(UT)=10_36_00.671
Duration=150.003s
Date_format=yyyy_MM_dd
Time_format=HH_mm_ss
LT=UT -6h
Frames captured=3750
File type=SER
Binning=no
Bit depth=8bit
Debayer=yes
DebayerAlgorithm=NearestNeighbor
BayerPattern=RG
ROI=252x282
ROI(Offset)=8x8
FPS (avg.)=24
Shutter=40.00ms
Gain=220 (36%)
Gamma=50 (off)
FPS=100 (off)
HighSpeed=off
AutoHisto=75 (off)
HardwareBin=off
Brightness=1 (off)
WRed=55 (off)
SoftwareGain=10 (off)
AutoGain=off
WBlue=95 (off)
USBTraffic=100 (off)
AutoExposure=off
Histogramm(min)=0
Histogramm(max)=98
Histogramm=38%
Noise(avg.deviation)=0.07
AutoAlign=false
PreFilter=none
Limit=150 Seconds
Sensor temperature=20.2°C
FireCapture v2.6  Settings
------------------------------------
Observer=Ethan Chappel
Camera=ZWO ASI224MC
Filter=RGB
Profile=Jupiter
Diameter=38.61"
Magnitude=-2.18
CMI=280.8° CMII=335.1° CMIII=284.1°  (during mid of capture)
FocalLength=1300mm (F/4)
Resolution=0.59"
Filename=2019-03-22-1031_8-EC-RGB-Jup.ser
Date=2019_03_22
Start=10_30_38.304
Mid=10_31_53.321
End=10_33_08.338
Start(UT)=10_30_38.304
Mid(UT)=10_31_53.321
End(UT)=10_33_08.338
Duration=150.034s
Date_format=yyyy_MM_dd
Time_format=HH_mm_ss
LT=UT -6h
Frames captured=3461
File type=SER
Binning=no
Bit depth=8bit
Debayer=yes
DebayerAlgorithm=NearestNeighbor
BayerPattern=RG
ROI=252x282
ROI(Offset)=8x8
FPS (avg.)=23
Shutter=40.00ms
Gain=220 (36%)
Gamma=50 (off)
FPS=100 (off)
HighSpeed=off
AutoHisto=75 (off)
HardwareBin=off
Brightness=1 (off)
WRed=55 (off)
SoftwareGain=10 (off)
AutoGain=off
WBlue=95 (off)
USBTraffic=100 (off)
AutoExposure=off
Histogramm(min)=0
Histogramm(max)=114
Histogramm=44%
Noise(avg.deviation)=0.06
AutoAlign=false
PreFilter=none
Limit=150 Seconds
Sensor temperature=20.8°C