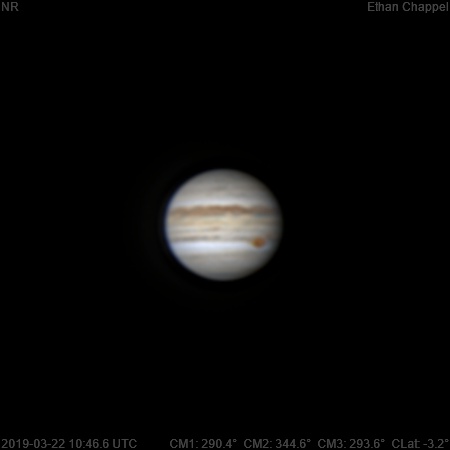 Jupiter UTC
CM1: 290.40°
CM2: 344.60°
CM3: 293.60°
CLat: -3.20°
Description
Seeing continues to be good with variable transparency. After this, my laptop battery ran out of power from the cold temperature.

Notes:
White Oval Z is past the central meridian.
The Equatorial Zone is still orange.
The Great Red Spot is about to set.
The South Equatorial Belt to the west of the GRS is split by a white zone.
Equipment
ZWO ASI224MC
Orion Apex 90mm
Logs
FireCapture v2.6  Settings
------------------------------------
Observer=Ethan Chappel
Camera=ZWO ASI224MC
Filter=RGB
Profile=Jupiter
Diameter=38.61"
Magnitude=-2.18
CMI=292.4° CMII=346.6° CMIII=295.5°  (during mid of capture)
FocalLength=1300mm (F/4)
Resolution=0.59"
Filename=2019-03-22-1050_8-EC-RGB-Jup.ser
Date=2019_03_22
Start=10_49_33.480
Mid=10_50_48.480
End=10_52_03.480
Start(UT)=10_49_33.480
Mid(UT)=10_50_48.480
End(UT)=10_52_03.480
Duration=150.000s
Date_format=yyyy_MM_dd
Time_format=HH_mm_ss
LT=UT -6h
Frames captured=7497
File type=SER
Binning=no
Bit depth=8bit
Debayer=yes
DebayerAlgorithm=NearestNeighbor
BayerPattern=RG
ROI=252x282
ROI(Offset)=8x8
FPS (avg.)=49
Shutter=20.00ms
Gain=250 (41%)
Gamma=50 (off)
FPS=100 (off)
HighSpeed=off
AutoHisto=75 (off)
HardwareBin=off
Brightness=1 (off)
WRed=55 (off)
SoftwareGain=10 (off)
AutoGain=off
WBlue=95 (off)
USBTraffic=100 (off)
AutoExposure=off
Histogramm(min)=0
Histogramm(max)=0
Histogramm=0%
Noise(avg.deviation)=n/a
AutoAlign=false
PreFilter=none
Limit=150 Seconds
Sensor temperature=19.3°C
FireCapture v2.6  Settings
------------------------------------
Observer=Ethan Chappel
Camera=ZWO ASI224MC
Filter=RGB
Profile=Jupiter
Diameter=38.61"
Magnitude=-2.18
CMI=290.7° CMII=344.9° CMIII=293.8°  (during mid of capture)
FocalLength=1350mm (F/4)
Resolution=0.57"
Filename=2019-03-22-1048_0-EC-RGB-Jup.ser
Date=2019_03_22
Start=10_46_46.411
Mid=10_48_01.411
End=10_49_16.412
Start(UT)=10_46_46.411
Mid(UT)=10_48_01.411
End(UT)=10_49_16.412
Duration=150.001s
Date_format=yyyy_MM_dd
Time_format=HH_mm_ss
LT=UT -6h
Frames captured=7187
File type=SER
Binning=no
Bit depth=8bit
Debayer=yes
DebayerAlgorithm=NearestNeighbor
BayerPattern=RG
ROI=252x282
ROI(Offset)=8x8
FPS (avg.)=47
Shutter=20.00ms
Gain=250 (41%)
Gamma=50 (off)
FPS=100 (off)
HighSpeed=off
AutoHisto=75 (off)
HardwareBin=off
Brightness=1 (off)
WRed=55 (off)
SoftwareGain=10 (off)
AutoGain=off
WBlue=95 (off)
USBTraffic=100 (off)
AutoExposure=off
Histogramm(min)=0
Histogramm(max)=112
Histogramm=43%
Noise(avg.deviation)=0.07
AutoAlign=false
PreFilter=none
Limit=150 Seconds
Sensor temperature=19.3°C
FireCapture v2.6  Settings
------------------------------------
Observer=Ethan Chappel
Camera=ZWO ASI224MC
Filter=RGB
Profile=Jupiter
Diameter=38.61"
Magnitude=-2.18
CMI=289.0° CMII=343.2° CMIII=292.1°  (during mid of capture)
FocalLength=1300mm (F/4)
Resolution=0.59"
Filename=2019-03-22-1045_2-EC-RGB-Jup.ser
Date=2019_03_22
Start=10_44_00.217
Mid=10_45_15.226
End=10_46_30.236
Start(UT)=10_44_00.217
Mid(UT)=10_45_15.226
End(UT)=10_46_30.236
Duration=150.019s
Date_format=yyyy_MM_dd
Time_format=HH_mm_ss
LT=UT -6h
Frames captured=7498
File type=SER
Binning=no
Bit depth=8bit
Debayer=yes
DebayerAlgorithm=NearestNeighbor
BayerPattern=RG
ROI=252x282
ROI(Offset)=8x8
FPS (avg.)=49
Shutter=20.00ms
Gain=250 (41%)
Gamma=50 (off)
FPS=100 (off)
HighSpeed=off
AutoHisto=75 (off)
HardwareBin=off
Brightness=1 (off)
WRed=55 (off)
SoftwareGain=10 (off)
AutoGain=off
WBlue=95 (off)
USBTraffic=100 (off)
AutoExposure=off
Histogramm(min)=0
Histogramm(max)=131
Histogramm=51%
Noise(avg.deviation)=0.08
AutoAlign=false
PreFilter=none
Limit=150 Seconds
Sensor temperature=19.3°C
FireCapture v2.6  Settings
------------------------------------
Observer=Ethan Chappel
Camera=ZWO ASI224MC
Filter=RGB
Profile=Jupiter
Diameter=38.61"
Magnitude=-2.18
CMI=287.3° CMII=341.5° CMIII=290.5°  (during mid of capture)
FocalLength=1250mm (F/4)
Resolution=0.61"
Filename=2019-03-22-1042_5-EC-RGB-Jup.ser
Date=2019_03_22
Start=10_41_16.907
Mid=10_42_31.909
End=10_43_46.911
Start(UT)=10_41_16.907
Mid(UT)=10_42_31.909
End(UT)=10_43_46.911
Duration=150.004s
Date_format=yyyy_MM_dd
Time_format=HH_mm_ss
LT=UT -6h
Frames captured=7497
File type=SER
Binning=no
Bit depth=8bit
Debayer=yes
DebayerAlgorithm=NearestNeighbor
BayerPattern=RG
ROI=252x282
ROI(Offset)=8x8
FPS (avg.)=49
Shutter=20.00ms
Gain=250 (41%)
Gamma=50 (off)
FPS=100 (off)
HighSpeed=off
AutoHisto=75 (off)
HardwareBin=off
Brightness=1 (off)
WRed=55 (off)
SoftwareGain=10 (off)
AutoGain=off
WBlue=95 (off)
USBTraffic=100 (off)
AutoExposure=off
Histogramm(min)=0
Histogramm(max)=102
Histogramm=40%
Noise(avg.deviation)=0.06
AutoAlign=false
PreFilter=none
Limit=150 Seconds
Sensor temperature=19.3°C