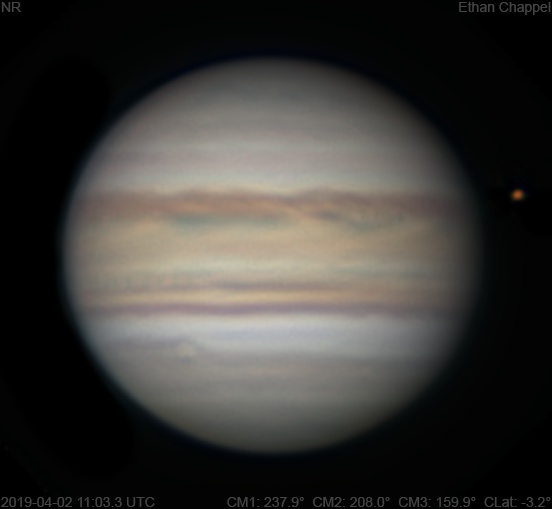 Jupiter UTC
CM1: 237.90°
CM2: 208.00°
CM3: 159.90°
CLat: -3.20°
Description
Another morning, another imaging session near my university's parking lot, and a surprisingly cold one at that. In fact, the forecasts I checked the evening before were ~10°C warmer than the actual temperature! This time, I had my 3x barlow and the right plugs to avoid using the power strip with my Power Tank.

Notes:
There is a complex of small rifts on the North Equatorial Belt, starting at the central meridian and stretching eastward.
Oval BA and the STB Ghost are rising.
The Equatorial Zone is orange.
Oval BA has lost its red color after having it for over a decade.
Equipment
ZWO ASI174MM
Celestron X-Cel 3x
Celestron EdgeHD 8
Logs
FireCapture v2.6  Settings
------------------------------------
Observer=Ethan Chappel
Camera=ZWO ASI174MM
Filter=R
Profile=Jupiter
Diameter=39.98"
Magnitude=-2.26
CMI=235.3° CMII=205.5° CMIII=157.4°  (during mid of capture)
FocalLength=7700mm (F/27)
Resolution=0.16"
Filename=2019-04-02-1100_0-EC-R-Jup.ser
Date=2019_04_02
Start=10_59_05.676
Mid=11_00_05.683
End=11_01_05.690
Start(UT)=10_59_05.676
Mid(UT)=11_00_05.683
End(UT)=11_01_05.690
Duration=120.014s
Date_format=yyyy_MM_dd
Time_format=HH_mm_ss
LT=UT -6h
Frames captured=3994
File type=SER
Binning=no
Bit depth=8bit
Debayer=no
ROI=420x428
ROI(Offset)=0x0
FPS (avg.)=33
Shutter=30.00ms
Gain=400 (100%)
AutoExposure=off
AutoHisto=75 (off)
SoftwareGain=10 (off)
FPS=100 (off)
Brightness=1 (off)
AutoGain=off
Gamma=50 (off)
USBTraffic=80 (off)
HighSpeed=off
Histogramm(min)=0
Histogramm(max)=113
Histogramm=44%
Noise(avg.deviation)=2.57
AutoAlign=false
PreFilter=none
Limit=120 Seconds
Sensor temperature=20.8°C
FireCapture v2.6  Settings
------------------------------------
Observer=Ethan Chappel
Camera=ZWO ASI174MM
Filter=B
Profile=Jupiter
Diameter=39.98"
Magnitude=-2.26
CMI=239.5° CMII=209.7° CMIII=161.6°  (during mid of capture)
FocalLength=7900mm (F/28)
Resolution=0.15"
Filename=2019-04-02-1106_9-EC-B-Jup.ser
Date=2019_04_02
Start=11_05_56.677
Mid=11_06_56.693
End=11_07_56.710
Start(UT)=11_05_56.677
Mid(UT)=11_06_56.693
End(UT)=11_07_56.710
Duration=120.033s
Date_format=yyyy_MM_dd
Time_format=HH_mm_ss
LT=UT -6h
Frames captured=2997
File type=SER
Binning=no
Bit depth=8bit
Debayer=no
ROI=420x428
ROI(Offset)=0x0
FPS (avg.)=24
Shutter=40.00ms
Gain=340 (85%)
AutoExposure=off
AutoHisto=75 (off)
SoftwareGain=10 (off)
FPS=100 (off)
Brightness=1 (off)
AutoGain=off
Gamma=50 (off)
USBTraffic=80 (off)
HighSpeed=off
Histogramm(min)=0
Histogramm(max)=104
Histogramm=40%
Noise(avg.deviation)=1.30
AutoAlign=false
PreFilter=none
Limit=120 Seconds
Sensor temperature=20.2°C
FireCapture v2.6  Settings
------------------------------------
Observer=Ethan Chappel
Camera=ZWO ASI174MM
Filter=G
Profile=Jupiter
Diameter=39.98"
Magnitude=-2.26
CMI=237.2° CMII=207.3° CMIII=159.2°  (during mid of capture)
FocalLength=7700mm (F/27)
Resolution=0.16"
Filename=2019-04-02-1103_0-EC-G-Jup.ser
Date=2019_04_02
Start=11_02_04.600
Mid=11_03_04.615
End=11_04_04.630
Start(UT)=11_02_04.600
Mid(UT)=11_03_04.615
End(UT)=11_04_04.630
Duration=120.030s
Date_format=yyyy_MM_dd
Time_format=HH_mm_ss
LT=UT -6h
Frames captured=4793
File type=SER
Binning=no
Bit depth=8bit
Debayer=no
ROI=420x428
ROI(Offset)=0x0
FPS (avg.)=39
Shutter=25.00ms
Gain=360 (90%)
AutoExposure=off
AutoHisto=75 (off)
SoftwareGain=10 (off)
FPS=100 (off)
Brightness=1 (off)
AutoGain=off
Gamma=50 (off)
USBTraffic=80 (off)
HighSpeed=off
Histogramm(min)=0
Histogramm(max)=126
Histogramm=49%
Noise(avg.deviation)=1.64
AutoAlign=false
PreFilter=none
Limit=120 Seconds
Sensor temperature=20.5°C