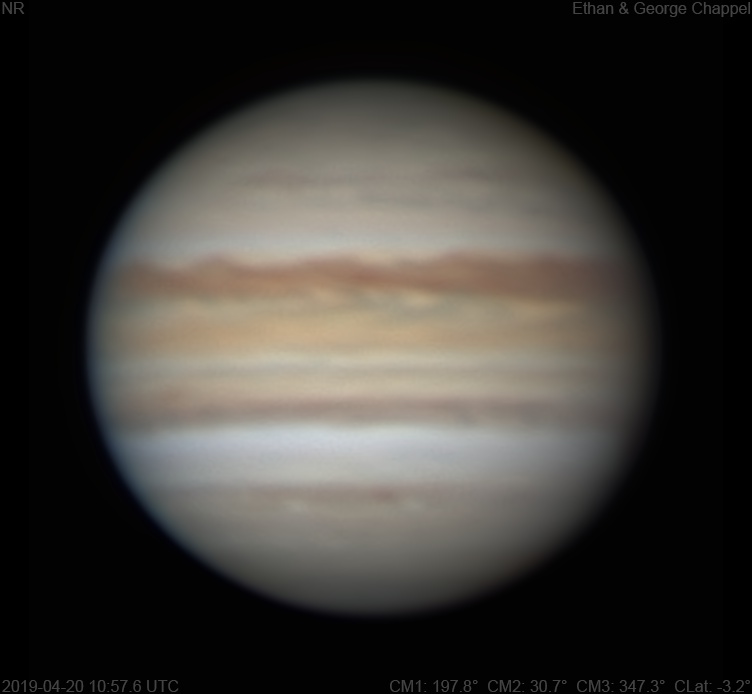 Jupiter UTC
CM1: 197.80°
CM2: 30.70°
CM3: 347.30°
CLat: -3.20°
Description
It has been many months since we've gotten use with the C14 since my daily schedule keeps me away from it. Unfortunately, seeing wasn't good enough to get anything more than large details.

Notes:
The Equatorial Zone is colored orange.
The northern part of the South Equatorial Belt is lighter in color than the southern part.
A brown barge on the SEB is rising.
Equipment
ZWO ASI290MM
Astro-Physics Advanced Convertible Barlow
Celestron EdgeHD 14
Logs
FireCapture v2.6  Settings
------------------------------------
Observer=Ethan Chappel
Camera=ZWO ASI290MM
Filter=B
Profile=Jupiter
Diameter=42.21"
Magnitude=-2.38
CMI=204.4° CMII=37.2° CMIII=353.9°  (during mid of capture)
FocalLength=8000mm (F/28)
Resolution=0.07"
Filename=2019-04-20-1109_1-EC-B-Jup.ser
Date=2019_04_20
Start=11_08_06.983
Mid=11_09_06.993
End=11_10_07.003
Start(UT)=11_08_06.983
Mid(UT)=11_09_06.993
End(UT)=11_10_07.003
Duration=120.020s
Date_format=yyyy_MM_dd
Time_format=HH_mm_ss
LT=UT -6h
Frames captured=7892
File type=SER
Binning=no
Bit depth=8bit
Debayer=no
ROI=704x666
ROI(Offset)=0x0
FPS (avg.)=65
Shutter=9.000ms
Gain=320 (53%)
FPS=100 (off)
SoftwareGain=10 (off)
AutoGain=off
Gamma=50
HighSpeed=off
AutoHisto=75 (off)
Brightness=1 (off)
AutoExposure=off
USBTraffic=40 (off)
Histogramm(min)=0
Histogramm(max)=131
Histogramm=51%
Noise(avg.deviation)=0.97
AutoAlign=false
PreFilter=none
Limit=120 Seconds
Sensor temperature=20.1°C
Focuser position=3005
FireCapture v2.6  Settings
------------------------------------
Observer=Ethan Chappel
Camera=ZWO ASI290MM
Filter=G
Profile=Jupiter
Diameter=42.21"
Magnitude=-2.38
CMI=200.4° CMII=33.2° CMIII=349.9°  (during mid of capture)
FocalLength=8100mm (F/28)
Resolution=0.07"
Filename=2019-04-20-1102_5-EC-G-Jup.ser
Date=2019_04_20
Start=11_01_30.109
Mid=11_02_30.109
End=11_03_30.110
Start(UT)=11_01_30.109
Mid(UT)=11_02_30.109
End(UT)=11_03_30.110
Duration=120.001s
Date_format=yyyy_MM_dd
Time_format=HH_mm_ss
LT=UT -6h
Frames captured=8161
File type=SER
Binning=no
Bit depth=8bit
Debayer=no
ROI=704x666
ROI(Offset)=0x0
FPS (avg.)=68
Shutter=9.000ms
Gain=320 (53%)
FPS=100 (off)
SoftwareGain=10 (off)
AutoGain=off
Gamma=50 (off)
HighSpeed=off
AutoHisto=75 (off)
Brightness=1 (off)
AutoExposure=off
USBTraffic=40 (off)
Histogramm(min)=0
Histogramm(max)=156
Histogramm=61%
Noise(avg.deviation)=1.08
AutoAlign=false
PreFilter=none
Limit=120 Seconds
Sensor temperature=20.5°C
Focuser position=3005
FireCapture v2.6  Settings
------------------------------------
Observer=Ethan Chappel
Camera=ZWO ASI290MM
Filter=R
Profile=Jupiter
Diameter=42.21"
Magnitude=-2.38
CMI=198.5° CMII=31.4° CMIII=348.0°  (during mid of capture)
FocalLength=8100mm (F/28)
Resolution=0.07"
Filename=2019-04-20-1059_4-EC-R-Jup.ser
Date=2019_04_20
Start=10_58_27.472
Mid=10_59_27.478
End=11_00_27.484
Start(UT)=10_58_27.472
Mid(UT)=10_59_27.478
End(UT)=11_00_27.484
Duration=120.012s
Date_format=yyyy_MM_dd
Time_format=HH_mm_ss
LT=UT -6h
Frames captured=8162
File type=SER
Binning=no
Bit depth=8bit
Debayer=no
ROI=704x666
ROI(Offset)=0x0
FPS (avg.)=68
Shutter=9.000ms
Gain=320 (53%)
FPS=100 (off)
SoftwareGain=10 (off)
AutoGain=off
Gamma=50 (off)
HighSpeed=off
AutoHisto=75 (off)
Brightness=1 (off)
AutoExposure=off
USBTraffic=40 (off)
Histogramm(min)=0
Histogramm(max)=160
Histogramm=62%
Noise(avg.deviation)=1.12
AutoAlign=false
PreFilter=none
Limit=120 Seconds
Sensor temperature=20.6°C
Focuser position=3045
FireCapture v2.6  Settings
------------------------------------
Observer=Ethan Chappel
Camera=ZWO ASI290MM
Filter=B
Profile=Jupiter
Diameter=42.21"
Magnitude=-2.38
CMI=196.4° CMII=29.3° CMIII=345.9°  (during mid of capture)
FocalLength=8000mm (F/28)
Resolution=0.07"
Filename=2019-04-20-1055_9-EC-B-Jup.ser
Date=2019_04_20
Start=10_54_58.662
Mid=10_55_58.668
End=10_56_58.675
Start(UT)=10_54_58.662
Mid(UT)=10_55_58.668
End(UT)=10_56_58.675
Duration=120.013s
Date_format=yyyy_MM_dd
Time_format=HH_mm_ss
LT=UT -6h
Frames captured=7712
File type=SER
Binning=no
Bit depth=8bit
Debayer=no
ROI=704x666
ROI(Offset)=0x0
FPS (avg.)=64
Shutter=9.000ms
Gain=320 (53%)
FPS=100 (off)
SoftwareGain=10 (off)
AutoGain=off
Gamma=50
HighSpeed=off
AutoHisto=75 (off)
Brightness=1 (off)
AutoExposure=off
USBTraffic=40 (off)
Histogramm(min)=0
Histogramm(max)=137
Histogramm=53%
Noise(avg.deviation)=0.98
AutoAlign=false
PreFilter=none
Limit=120 Seconds
Sensor temperature=20.8°C
Focuser position=2895
FireCapture v2.6  Settings
------------------------------------
Observer=Ethan Chappel
Camera=ZWO ASI290MM
Filter=G
Profile=Jupiter
Diameter=42.21"
Magnitude=-2.38
CMI=193.7° CMII=26.6° CMIII=343.3°  (during mid of capture)
FocalLength=8100mm (F/28)
Resolution=0.07"
Filename=2019-04-20-1051_6-EC-G-Jup.ser
Date=2019_04_20
Start=10_50_37.874
Mid=10_51_37.880
End=10_52_37.886
Start(UT)=10_50_37.874
Mid(UT)=10_51_37.880
End(UT)=10_52_37.886
Duration=120.012s
Date_format=yyyy_MM_dd
Time_format=HH_mm_ss
LT=UT -6h
Frames captured=8162
File type=SER
Binning=no
Bit depth=8bit
Debayer=no
ROI=704x666
ROI(Offset)=0x0
FPS (avg.)=68
Shutter=9.000ms
Gain=320 (53%)
FPS=100 (off)
SoftwareGain=10 (off)
AutoGain=off
Gamma=50 (off)
HighSpeed=off
AutoHisto=75 (off)
Brightness=1 (off)
AutoExposure=off
USBTraffic=40 (off)
Histogramm(min)=0
Histogramm(max)=163
Histogramm=63%
Noise(avg.deviation)=1.11
AutoAlign=false
PreFilter=none
Limit=120 Seconds
Sensor temperature=21.2°C
Focuser position=2920
FireCapture v2.6  Settings
------------------------------------
Observer=Ethan Chappel
Camera=ZWO ASI290MM
Filter=R
Profile=Jupiter
Diameter=42.21"
Magnitude=-2.38
CMI=191.0° CMII=24.0° CMIII=340.6°  (during mid of capture)
FocalLength=8100mm (F/28)
Resolution=0.07"
Filename=2019-04-20-1047_2-EC-R-Jup.ser
Date=2019_04_20
Start=10_46_12.632
Mid=10_47_12.632
End=10_48_12.632
Start(UT)=10_46_12.632
Mid(UT)=10_47_12.632
End(UT)=10_48_12.632
Duration=120.000s
Date_format=yyyy_MM_dd
Time_format=HH_mm_ss
LT=UT -6h
Frames captured=7278
File type=SER
Binning=no
Bit depth=8bit
Debayer=no
ROI=704x666
ROI(Offset)=0x0
FPS (avg.)=60
Shutter=9.000ms
Gain=320 (53%)
FPS=100 (off)
SoftwareGain=10 (off)
AutoGain=off
Gamma=50 (off)
HighSpeed=off
AutoHisto=75 (off)
Brightness=1 (off)
AutoExposure=off
USBTraffic=40 (off)
Histogramm(min)=0
Histogramm(max)=163
Histogramm=63%
Noise(avg.deviation)=1.14
AutoAlign=false
PreFilter=none
Limit=120 Seconds
Sensor temperature=21.7°C
Focuser position=2960