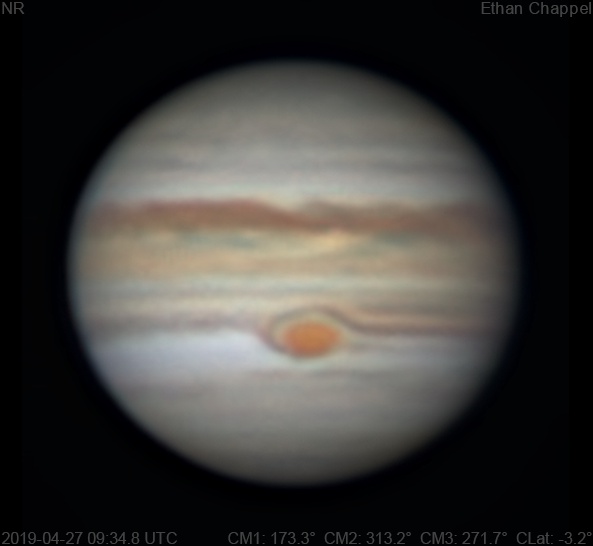 Jupiter UTC
CM1: 173.30°
CM2: 313.20°
CM3: 271.70°
CLat: -3.20°
Description
This morning was the best one yet for imaging, but I'm still waiting for a knockout morning for imaging.

Notes:
White Oval Z is at the central meridian.
The Equatorial zone is still colored orange
Clouds from the South Equatorial Belt are circulating around the Great Red Spot in a similar fashion to 2018.
The SEB following the GRS is pale.
Logs
FireCapture v2.6  Settings
------------------------------------
Observer=Ethan Chappel
Camera=ZWO ASI174MM
Filter=B
Profile=Jupiter
Diameter=43.02"
Magnitude=-2.43
CMI=175.5° CMII=315.3° CMIII=273.9°  (during mid of capture)
FocalLength=8250mm (F/29)
Resolution=0.15"
Filename=2019-04-27-0938_9-EC-B-Jup.ser
Date=2019_04_27
Start=09_37_58.454
Mid=09_38_58.455
End=09_39_58.456
Start(UT)=09_37_58.454
Mid(UT)=09_38_58.455
End(UT)=09_39_58.456
Duration=120.002s
Date_format=yyyy_MM_dd
Time_format=HH_mm_ss
LT=UT -6h
Frames captured=9962
File type=SER
Binning=no
Bit depth=8bit
Debayer=no
ROI=464x460
ROI(Offset)=0x0
FPS (avg.)=83
Shutter=12.00ms
Gain=400 (100%)
AutoGain=off
USBTraffic=80 (off)
FPS=100 (off)
Gamma=50 (off)
SoftwareGain=10 (off)
AutoExposure=off
HighSpeed=off
Brightness=1 (off)
AutoHisto=75 (off)
Histogramm(min)=0
Histogramm(max)=148
Histogramm=58%
Noise(avg.deviation)=2.67
AutoAlign=false
PreFilter=none
Limit=120 Seconds
Sensor temperature=34.2°C
FireCapture v2.6  Settings
------------------------------------
Observer=Ethan Chappel
Camera=ZWO ASI174MM
Filter=G
Profile=Jupiter
Diameter=43.02"
Magnitude=-2.43
CMI=172.9° CMII=312.8° CMIII=271.3°  (during mid of capture)
FocalLength=8300mm (F/29)
Resolution=0.15"
Filename=2019-04-27-0934_7-EC-G-Jup.ser
Date=2019_04_27
Start=09_33_42.143
Mid=09_34_42.143
End=09_35_42.143
Start(UT)=09_33_42.143
Mid(UT)=09_34_42.143
End(UT)=09_35_42.143
Duration=120.000s
Date_format=yyyy_MM_dd
Time_format=HH_mm_ss
LT=UT -6h
Frames captured=9962
File type=SER
Binning=no
Bit depth=8bit
Debayer=no
ROI=464x460
ROI(Offset)=0x0
FPS (avg.)=83
Shutter=12.00ms
Gain=400 (100%)
AutoGain=off
USBTraffic=80 (off)
FPS=100 (off)
Gamma=50 (off)
SoftwareGain=10 (off)
AutoExposure=off
HighSpeed=off
Brightness=1 (off)
AutoHisto=75 (off)
Histogramm(min)=0
Histogramm(max)=156
Histogramm=61%
Noise(avg.deviation)=2.70
AutoAlign=false
PreFilter=none
Limit=120 Seconds
Sensor temperature=34.2°C
FireCapture v2.6  Settings
------------------------------------
Observer=Ethan Chappel
Camera=ZWO ASI174MM
Filter=R
Profile=Jupiter
Diameter=43.02"
Magnitude=-2.43
CMI=170.5° CMII=310.4° CMIII=268.9°  (during mid of capture)
FocalLength=8250mm (F/29)
Resolution=0.15"
Filename=2019-04-27-0930_8-EC-R-Jup.ser
Date=2019_04_27
Start=09_29_50.161
Mid=09_30_50.165
End=09_31_50.170
Start(UT)=09_29_50.161
Mid(UT)=09_30_50.165
End(UT)=09_31_50.170
Duration=120.009s
Date_format=yyyy_MM_dd
Time_format=HH_mm_ss
LT=UT -6h
Frames captured=5987
File type=SER
Binning=no
Bit depth=8bit
Debayer=no
ROI=464x460
ROI(Offset)=0x0
FPS (avg.)=49
Shutter=20.00ms
Gain=400 (100%)
AutoGain=off
USBTraffic=80 (off)
FPS=100 (off)
Gamma=50 (off)
SoftwareGain=10 (off)
AutoExposure=off
HighSpeed=off
Brightness=1 (off)
AutoHisto=75 (off)
Histogramm(min)=0
Histogramm(max)=145
Histogramm=56%
Noise(avg.deviation)=2.71
AutoAlign=false
PreFilter=none
Limit=120 Seconds
Sensor temperature=34.2°C

Measurements
| Name | Longitude 1 | Longitude 2 | Longitude 3 | Latitude | Measurer |
| --- | --- | --- | --- | --- | --- |
| GRS P. End | 161° | 300.8° | 259.4° | -22.3° | EGC |
| GRS F. End | 176.1° | 316° | 274.5° | -22.3° | EGC |
| GRS N. Edge | 169.3° | 309.2° | 267.7° | -17.8° | EGC |
| GRS S. Edge | 168.9° | 308.8° | 267.3° | -26.8° | EGC |
| GRS Center | 169.1° | 309° | 267.5° | -22.6° | EGC |