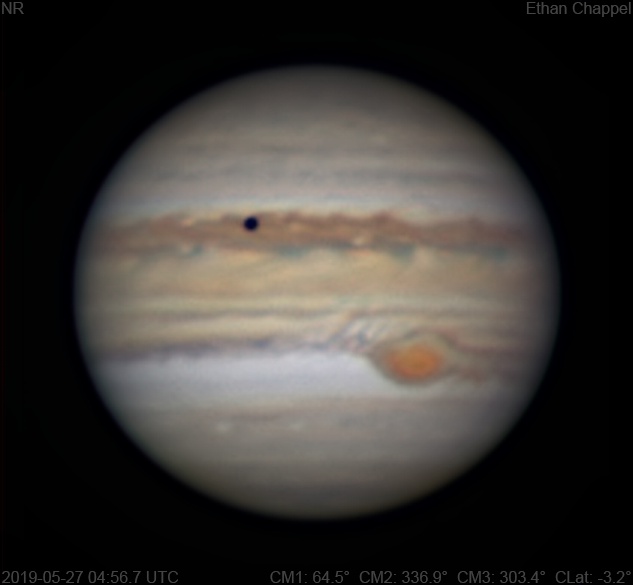 Jupiter UTC
CM1: 64.50°
CM2: 336.90°
CM3: 303.40°
CLat: -3.20°
Description
I wasn't expecting to image within the next week. However, I found Jupiter shining through a very thin cloud layer, so I hastily set up the C8 in a race against the clouds that were predicted to arrive at any moment. This was the first light of my new ZWO RGB filters, which I find to be much better than the Orion filters I was previously using with the this telescope.

Notes:
Io and its shadow is transiting the North Equatorial Belt.
White Oval Z is directly north of the Great Red Spot.
The Equatorial Zone is still orange. The southern edge appears to be finally losing its white color.
The South Equatorial Belt appears to be split by a white zone. The southern edge of the belt appears more gray than brown.
The Great Red Spot has a large flake on its western edge.
Another cloud flaked off the GRS a few days earlier is to the east of the storm.
Equipment
ZWO ASI174MM
Celestron X-Cel 3x
Celestron EdgeHD 8
Logs
FireCapture v2.6  Settings
------------------------------------
Observer=Ethan Chappel
Camera=ZWO ASI174MM
Filter=B
Profile=Jupiter
Diameter=45.56"
Magnitude=-2.58
CMI=71.3° CMII=343.7° CMIII=310.1°  (during mid of capture)
FocalLength=7900mm (F/28)
Resolution=0.15"
Filename=2019-05-27-0508_1-EC-B-Jup.ser
Date=2019_05_27
Start=05_07_12.583
Mid=05_08_09.763
End=05_09_06.943
Start(UT)=05_07_12.583
Mid(UT)=05_08_09.763
End(UT)=05_09_06.943
Duration=114.360s
Date_format=yyyy_MM_dd
Time_format=HH_mm_ss
LT=UT -6h
Frames captured=2263
File type=SER
Binning=no
Bit depth=8bit
Debayer=no
ROI=464x460
ROI(Offset)=0x0
FPS (avg.)=19
Shutter=35.69ms
Gain=374 (93%)
FPS=100 (off)
HighSpeed=off
USBTraffic=80 (off)
Gamma=50 (off)
AutoGain=off
AutoExposure=off
SoftwareGain=10 (off)
AutoHisto=75 (off)
Brightness=1 (off)
Histogramm(min)=0
Histogramm(max)=128
Histogramm=50%
Noise(avg.deviation)=2.01
AutoAlign=false
PreFilter=none
Limit=120 Seconds
Sensor temperature=36.1°C
FireCapture v2.6  Settings
------------------------------------
Observer=Ethan Chappel
Camera=ZWO ASI174MM
Filter=G
Profile=Jupiter
Diameter=45.56"
Magnitude=-2.58
CMI=69.5° CMII=341.9° CMIII=308.4°  (during mid of capture)
FocalLength=8000mm (F/28)
Resolution=0.15"
Filename=2019-05-27-0505_2-EC-G-Jup.ser
Date=2019_05_27
Start=05_04_13.318
Mid=05_05_13.324
End=05_06_13.330
Start(UT)=05_04_13.318
Mid(UT)=05_05_13.324
End(UT)=05_06_13.330
Duration=120.012s
Date_format=yyyy_MM_dd
Time_format=HH_mm_ss
LT=UT -6h
Frames captured=7743
File type=SER
Binning=no
Bit depth=8bit
Debayer=no
ROI=464x460
ROI(Offset)=0x0
FPS (avg.)=64
Shutter=15.45ms
Gain=400 (100%)
FPS=100 (off)
HighSpeed=off
USBTraffic=80 (off)
Gamma=50 (off)
AutoGain=off
AutoExposure=off
SoftwareGain=10 (off)
AutoHisto=75 (off)
Brightness=1 (off)
Histogramm(min)=0
Histogramm(max)=147
Histogramm=57%
Noise(avg.deviation)=2.69
AutoAlign=false
PreFilter=none
Limit=120 Seconds
Sensor temperature=36.2°C
FireCapture v2.6  Settings
------------------------------------
Observer=Ethan Chappel
Camera=ZWO ASI174MM
Filter=R
Profile=Jupiter
Diameter=45.56"
Magnitude=-2.58
CMI=67.7° CMII=340.1° CMIII=306.6°  (during mid of capture)
FocalLength=7900mm (F/28)
Resolution=0.15"
Filename=2019-05-27-0502_2-EC-R-Jup.ser
Date=2019_05_27
Start=05_01_16.679
Mid=05_02_16.680
End=05_03_16.682
Start(UT)=05_01_16.679
Mid(UT)=05_02_16.680
End(UT)=05_03_16.682
Duration=120.003s
Date_format=yyyy_MM_dd
Time_format=HH_mm_ss
LT=UT -6h
Frames captured=3994
File type=SER
Binning=no
Bit depth=8bit
Debayer=no
ROI=464x460
ROI(Offset)=0x0
FPS (avg.)=33
Shutter=30.00ms
Gain=374 (93%)
FPS=100 (off)
HighSpeed=off
USBTraffic=80 (off)
Gamma=50 (off)
AutoGain=off
AutoExposure=off
SoftwareGain=10 (off)
AutoHisto=75 (off)
Brightness=1 (off)
Histogramm(min)=0
Histogramm(max)=125
Histogramm=49%
Noise(avg.deviation)=1.98
AutoAlign=false
PreFilter=none
Limit=120 Seconds
Sensor temperature=33.6°C
FireCapture v2.6  Settings
------------------------------------
Observer=Ethan Chappel
Camera=ZWO ASI174MM
Filter=B
Profile=Jupiter
Diameter=45.56"
Magnitude=-2.58
CMI=60.9° CMII=333.4° CMIII=299.8°  (during mid of capture)
FocalLength=7400mm (F/26)
Resolution=0.16"
Filename=2019-05-27-0451_0-EC-B-Jup.ser
Date=2019_05_27
Start=04_50_12.609
Mid=04_51_04.733
End=04_51_56.858
Start(UT)=04_50_12.609
Mid(UT)=04_51_04.733
End(UT)=04_51_56.858
Duration=104.249s
Date_format=yyyy_MM_dd
Time_format=HH_mm_ss
LT=UT -6h
Frames captured=1556
File type=SER
Binning=no
Bit depth=8bit
Debayer=no
ROI=464x460
ROI(Offset)=0x0
FPS (avg.)=14
Shutter=38.58ms
Gain=400 (100%)
FPS=100 (off)
HighSpeed=off
USBTraffic=80 (off)
Gamma=50 (off)
AutoGain=off
AutoExposure=off
SoftwareGain=10 (off)
AutoHisto=75 (off)
Brightness=1 (off)
Histogramm(min)=0
Histogramm(max)=168
Histogramm=65%
Noise(avg.deviation)=2.74
AutoAlign=false
PreFilter=none
Limit=120 Seconds
Sensor temperature=36.2°C
FireCapture v2.6  Settings
------------------------------------
Observer=Ethan Chappel
Camera=ZWO ASI174MM
Filter=G
Profile=Jupiter
Diameter=45.56"
Magnitude=-2.58
CMI=59.2° CMII=331.6° CMIII=298.1°  (during mid of capture)
FocalLength=7850mm (F/28)
Resolution=0.15"
Filename=2019-05-27-0448_2-EC-G-Jup.ser
Date=2019_05_27
Start=04_47_12.987
Mid=04_48_12.990
End=04_49_12.994
Start(UT)=04_47_12.987
Mid(UT)=04_48_12.990
End(UT)=04_49_12.994
Duration=120.007s
Date_format=yyyy_MM_dd
Time_format=HH_mm_ss
LT=UT -6h
Frames captured=5454
File type=SER
Binning=no
Bit depth=8bit
Debayer=no
ROI=464x460
ROI(Offset)=0x0
FPS (avg.)=45
Shutter=21.96ms
Gain=400 (100%)
FPS=100 (off)
HighSpeed=off
USBTraffic=80 (off)
Gamma=50 (off)
AutoGain=off
AutoExposure=off
SoftwareGain=10 (off)
AutoHisto=75 (off)
Brightness=1 (off)
Histogramm(min)=0
Histogramm(max)=125
Histogramm=49%
Noise(avg.deviation)=2.68
AutoAlign=false
PreFilter=none
Limit=120 Seconds
Sensor temperature=35.5°C
FireCapture v2.6  Settings
------------------------------------
Observer=Ethan Chappel
Camera=ZWO ASI174MM
Filter=R
Profile=Jupiter
Diameter=45.56"
Magnitude=-2.58
CMI=57.4° CMII=329.9° CMIII=296.3°  (during mid of capture)
FocalLength=7700mm (F/27)
Resolution=0.16"
Filename=2019-05-27-0445_2-EC-R-Jup.ser
Date=2019_05_27
Start=04_44_15.883
Mid=04_45_15.886
End=04_46_15.889
Start(UT)=04_44_15.883
Mid(UT)=04_45_15.886
End(UT)=04_46_15.889
Duration=120.006s
Date_format=yyyy_MM_dd
Time_format=HH_mm_ss
LT=UT -6h
Frames captured=1527
File type=SER
Binning=no
Bit depth=8bit
Debayer=no
ROI=464x460
ROI(Offset)=0x0
FPS (avg.)=12
Shutter=47.97ms
Gain=339 (84%)
FPS=100 (off)
HighSpeed=off
USBTraffic=80 (off)
Gamma=50 (off)
AutoGain=off
AutoExposure=off
SoftwareGain=10 (off)
AutoHisto=75 (off)
Brightness=1 (off)
Histogramm(min)=0
Histogramm(max)=133
Histogramm=52%
Noise(avg.deviation)=1.35
AutoAlign=false
PreFilter=none
Limit=120 Seconds
Sensor temperature=33.6°C

Measurements
| Name | Longitude 1 | Longitude 2 | Longitude 3 | Latitude | Measurer |
| --- | --- | --- | --- | --- | --- |
| GRS P. End | 31.1° | 303.6° | 270° | -21.9° | EGC |
| GRS N. Edge | 38.1° | 310.5° | 277° | -17.6° | EGC |
| GRS S. Edge | 37.5° | 310° | 276.4° | -26.5° | EGC |
| GRS F. End | 43.9° | 316.3° | 282.8° | -22.6° | EGC |
| GRS Center | 38.1° | 310.5° | 277° | -22.2° | EGC |