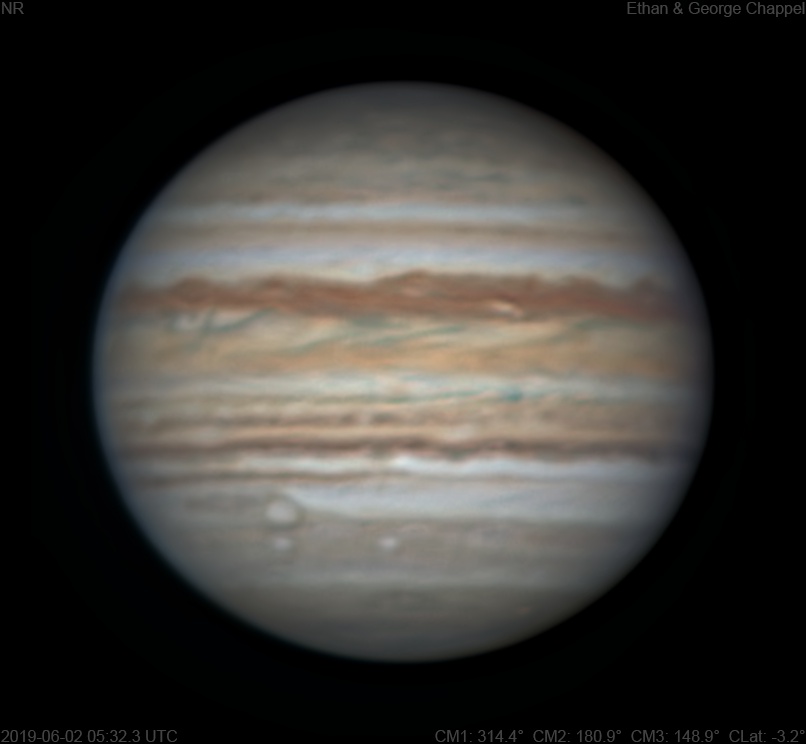 Jupiter UTC
CM1: 314.40°
CM2: 180.90°
CM3: 148.90°
CLat: -3.20°
Description
After a successful set of images with the 90mm Mak and no signs of clouds, we decided to take out the C14 while there was time. Turns out that was a really good decision since this is our best RGB image the apparition so far. However, it did end up being disturbed by a thin layer of clouds.

Notes:
The North North Temperate Belt is showing hints of orange within its otherwise brown clouds.
The North Temperate Belt is thin. The southern edge is faintly orange while the north is a thin dark line.
There is a white oval on the NEBn at the central meridian.
The North Equatorial Belt has a new rift past the CM.
The Equatorial Zone, except for the southern edge, is still orange. However, there is a subtle orange smudge at the CM on the EZs.
The South Equatorial Belt has a teal spot with a detached tail on its northern edge. I don't recall seeing anything with this color on Jupiter before.
The SEBs is dark compared to the rest of the belt.
There is a bright spot just off the SEBs on the CM.
White Oval BA is rising with the STB Ghost trailing it.
There is a subtle blue feature to the west of Oval BA. Is this an STB structured segment?
The South Polar Red Spot is setting.
Equipment
ZWO ASI290MM
Astro-Physics Advanced Convertible Barlow
Celestron EdgeHD 14
Logs
FireCapture v2.6  Settings
------------------------------------
Observer=Ethan Chappel
Camera=ZWO ASI290MM
Filter=B
Profile=Jupiter
Diameter=45.80"
Magnitude=-2.60
CMI=319.9° CMII=186.3° CMIII=154.4°  (during mid of capture)
FocalLength=11200mm (F/40)
Resolution=0.05"
Filename=2019-06-02-0541_4-EC-B-Jup.ser
Date=2019_06_02
Start=05_40_28.481
Mid=05_41_28.482
End=05_42_28.484
Start(UT)=05_40_28.481
Mid(UT)=05_41_28.482
End(UT)=05_42_28.484
Duration=120.003s
Date_format=yyyy_MM_dd
Time_format=HH_mm_ss
LT=UT -6h
Frames captured=4113
File type=SER
Binning=no
Bit depth=8bit
Debayer=no
ROI=796x746
ROI(Offset)=0x0
FPS (avg.)=34
Shutter=29.18ms
Gain=333 (55%)
Gamma=50
Brightness=1 (off)
FPS=100 (off)
AutoGain=off
SoftwareGain=10 (off)
USBTraffic=40 (off)
AutoExposure=off
AutoHisto=75 (off)
HighSpeed=off
Histogramm(min)=0
Histogramm(max)=160
Histogramm=62%
Noise(avg.deviation)=2.06
AutoAlign=false
PreFilter=none
Limit=120 Seconds
Sensor temperature=32.7°C
Focuser position=3087
FireCapture v2.6  Settings
------------------------------------
Observer=Ethan Chappel
Camera=ZWO ASI290MM
Filter=G
Profile=Jupiter
Diameter=45.80"
Magnitude=-2.60
CMI=317.5° CMII=183.9° CMIII=151.9°  (during mid of capture)
FocalLength=10150mm (F/36)
Resolution=0.06"
Filename=2019-06-02-0537_4-EC-G-Jup.ser
Date=2019_06_02
Start=05_36_29.618
Mid=05_37_29.626
End=05_38_29.634
Start(UT)=05_36_29.618
Mid(UT)=05_37_29.626
End(UT)=05_38_29.634
Duration=120.016s
Date_format=yyyy_MM_dd
Time_format=HH_mm_ss
LT=UT -6h
Frames captured=4952
File type=SER
Binning=no
Bit depth=8bit
Debayer=no
ROI=796x746
ROI(Offset)=0x0
FPS (avg.)=41
Shutter=23.40ms
Gain=315 (52%)
Gamma=50 (off)
Brightness=1 (off)
FPS=100 (off)
AutoGain=off
SoftwareGain=10 (off)
USBTraffic=40 (off)
AutoExposure=off
AutoHisto=75 (off)
HighSpeed=off
Histogramm(min)=0
Histogramm(max)=150
Histogramm=58%
Noise(avg.deviation)=1.80
AutoAlign=false
PreFilter=none
Limit=120 Seconds
Sensor temperature=33.3°C
Focuser position=3137
FireCapture v2.6  Settings
------------------------------------
Observer=Ethan Chappel
Camera=ZWO ASI290MM
Filter=R
Profile=Jupiter
Diameter=45.80"
Magnitude=-2.60
CMI=315.4° CMII=181.8° CMIII=149.9°  (during mid of capture)
FocalLength=9400mm (F/33)
Resolution=0.06"
Filename=2019-06-02-0534_0-EC-R-Jup.ser
Date=2019_06_02
Start=05_33_04.822
Mid=05_34_04.824
End=05_35_04.826
Start(UT)=05_33_04.822
Mid(UT)=05_34_04.824
End(UT)=05_35_04.826
Duration=120.004s
Date_format=yyyy_MM_dd
Time_format=HH_mm_ss
LT=UT -6h
Frames captured=8162
File type=SER
Binning=no
Bit depth=8bit
Debayer=no
ROI=796x746
ROI(Offset)=0x0
FPS (avg.)=68
Shutter=14.01ms
Gain=368 (61%)
Gamma=50 (off)
Brightness=1 (off)
FPS=100 (off)
AutoGain=off
SoftwareGain=10 (off)
USBTraffic=40 (off)
AutoExposure=off
AutoHisto=75 (off)
HighSpeed=off
Histogramm(min)=0
Histogramm(max)=164
Histogramm=64%
Noise(avg.deviation)=1.73
AutoAlign=false
PreFilter=none
Limit=120 Seconds
Sensor temperature=33.7°C
Focuser position=3202
FireCapture v2.6  Settings
------------------------------------
Observer=Ethan Chappel
Camera=ZWO ASI290MM
Filter=B
Profile=Jupiter
Diameter=45.80"
Magnitude=-2.60
CMI=313.2° CMII=179.7° CMIII=147.8°  (during mid of capture)
FocalLength=8000mm (F/28)
Resolution=0.07"
Filename=2019-06-02-0530_5-EC-B-Jup.ser
Date=2019_06_02
Start=05_29_35.089
Mid=05_30_35.093
End=05_31_35.097
Start(UT)=05_29_35.089
Mid(UT)=05_30_35.093
End(UT)=05_31_35.097
Duration=120.008s
Date_format=yyyy_MM_dd
Time_format=HH_mm_ss
LT=UT -6h
Frames captured=4113
File type=SER
Binning=no
Bit depth=8bit
Debayer=no
ROI=796x746
ROI(Offset)=0x0
FPS (avg.)=34
Shutter=29.18ms
Gain=364 (60%)
Gamma=50
Brightness=1 (off)
FPS=100 (off)
AutoGain=off
SoftwareGain=10 (off)
USBTraffic=40 (off)
AutoExposure=off
AutoHisto=75 (off)
HighSpeed=off
Histogramm(min)=0
Histogramm(max)=150
Histogramm=58%
Noise(avg.deviation)=2.49
AutoAlign=false
PreFilter=none
Limit=120 Seconds
Sensor temperature=33.0°C
Focuser position=3112
FireCapture v2.6  Settings
------------------------------------
Observer=Ethan Chappel
Camera=ZWO ASI290MM
Filter=G
Profile=Jupiter
Diameter=45.80"
Magnitude=-2.60
CMI=311.2° CMII=177.7° CMIII=145.7°  (during mid of capture)
FocalLength=7850mm (F/28)
Resolution=0.08"
Filename=2019-06-02-0527_2-EC-G-Jup.ser
Date=2019_06_02
Start=05_26_14.975
Mid=05_27_14.981
End=05_28_14.988
Start(UT)=05_26_14.975
Mid(UT)=05_27_14.983
End(UT)=05_28_14.992
Duration=120.013s
Date_format=yyyy_MM_dd
Time_format=HH_mm_ss
LT=UT -6h
Frames captured=5129
File type=SER
Binning=no
Bit depth=8bit
Debayer=no
ROI=796x746
ROI(Offset)=0x0
FPS (avg.)=42
Shutter=23.40ms
Gain=377 (62%)
Gamma=50 (off)
Brightness=1 (off)
FPS=100 (off)
AutoGain=off
SoftwareGain=10 (off)
USBTraffic=40 (off)
AutoExposure=off
AutoHisto=75 (off)
HighSpeed=off
Histogramm(min)=0
Histogramm(max)=160
Histogramm=62%
Noise(avg.deviation)=2.80
AutoAlign=false
PreFilter=none
Limit=120 Seconds
Sensor temperature=34.1°C
Focuser position=3157
FireCapture v2.6  Settings
------------------------------------
Observer=Ethan Chappel
Camera=ZWO ASI290MM
Filter=R
Profile=Jupiter
Diameter=45.80"
Magnitude=-2.60
CMI=308.9° CMII=175.4° CMIII=143.5°  (during mid of capture)
FocalLength=7900mm (F/28)
Resolution=0.08"
Filename=2019-06-02-0523_4-EC-R-Jup.ser
Date=2019_06_02
Start=05_22_26.648
Mid=05_23_26.653
End=05_24_26.658
Start(UT)=05_22_26.648
Mid(UT)=05_23_26.653
End(UT)=05_24_26.658
Duration=120.010s
Date_format=yyyy_MM_dd
Time_format=HH_mm_ss
LT=UT -6h
Frames captured=7204
File type=SER
Binning=no
Bit depth=8bit
Debayer=no
ROI=796x746
ROI(Offset)=0x0
FPS (avg.)=60
Shutter=14.01ms
Gain=416 (69%)
Gamma=50 (off)
Brightness=1 (off)
FPS=100 (off)
AutoGain=off
SoftwareGain=10 (off)
USBTraffic=40 (off)
AutoExposure=off
AutoHisto=75 (off)
HighSpeed=off
Histogramm(min)=0
Histogramm(max)=230
Histogramm=90%
Noise(avg.deviation)=2.79
AutoAlign=false
PreFilter=none
Limit=120 Seconds
Sensor temperature=35.3°C
Focuser position=3297