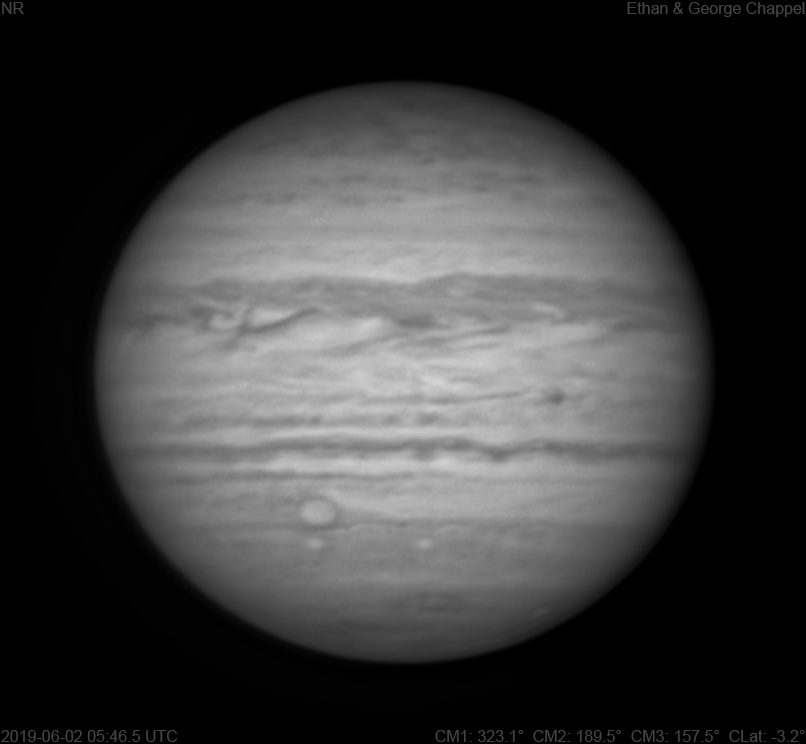 Jupiter UTC
CM1: 323.10°
CM2: 189.50°
CM3: 157.50°
CLat: -3.20°
Description
Since I needed to offload the previous RGB, a process which involves freeing a USB port for an external drive, I decided to capture some deep-red/infrared data while I had the USB hub for the focuser and filter wheel disconnected.

Notes:
The North Temperate Belt is nothing more than a faint line.
The North Equatorial Belt has a new rift past the central meridian.
The Equatorial Zone contains an intense festoon approaching the CM.
Even though the EZ has traded its typical white color for orange in RGB images, it still looks normal in infrared.
The teal spot on the SEBn in the RGB image is very dark in infrared.
There is a bright spot past the CM just off the SEBs.
Oval BA is approaching the CM with the STB Ghost trailing it.
There is a subtly dark feature setting on the South Temperate Belt. Is this a new STB structured segment?
The South Polar Red Spot is setting.
Equipment
ZWO ASI290MM
Astro-Physics Advanced Convertible Barlow
Celestron EdgeHD 14
Logs
FireCapture v2.6  Settings
------------------------------------
Observer=Ethan Chappel
Camera=ZWO ASI290MM
Filter=IR
Profile=Jupiter
Diameter=45.80"
Magnitude=-2.60
CMI=323.6° CMII=190.0° CMIII=158.1°  (during mid of capture)
FocalLength=12900mm (F/46)
Resolution=0.05"
Filename=2019-06-02-0547_6-EC-IR-Jup.ser
Date=2019_06_02
Start=05_46_37.696
Mid=05_47_37.705
End=05_48_37.715
Start(UT)=05_46_37.696
Mid(UT)=05_47_37.705
End(UT)=05_48_37.715
Duration=120.019s
Date_format=yyyy_MM_dd
Time_format=HH_mm_ss
LT=UT -6h
Frames captured=6293
File type=SER
Binning=no
Bit depth=8bit
Debayer=no
ROI=796x746
ROI(Offset)=0x0
FPS (avg.)=52
Shutter=19.07ms
Gain=359 (59%)
Gamma=50
Brightness=1 (off)
FPS=100 (off)
AutoGain=off
SoftwareGain=10 (off)
USBTraffic=40 (off)
AutoExposure=off
AutoHisto=75 (off)
HighSpeed=off
Histogramm(min)=0
Histogramm(max)=198
Histogramm=77%
Noise(avg.deviation)=2.65
AutoAlign=false
PreFilter=none
Limit=120 Seconds
Sensor temperature=33.0°C
Focuser position=0
FireCapture v2.6  Settings
------------------------------------
Observer=Ethan Chappel
Camera=ZWO ASI290MM
Filter=IR
Profile=Jupiter
Diameter=45.80"
Magnitude=-2.60
CMI=322.3° CMII=188.7° CMIII=156.7°  (during mid of capture)
FocalLength=14100mm (F/50)
Resolution=0.04"
Filename=2019-06-02-0545_3-EC-IR-Jup.ser
Date=2019_06_02
Start=05_44_23.913
Mid=05_45_23.917
End=05_46_23.921
Start(UT)=05_44_23.913
Mid(UT)=05_45_23.917
End(UT)=05_46_23.921
Duration=120.008s
Date_format=yyyy_MM_dd
Time_format=HH_mm_ss
LT=UT -6h
Frames captured=6293
File type=SER
Binning=no
Bit depth=8bit
Debayer=no
ROI=796x746
ROI(Offset)=0x0
FPS (avg.)=52
Shutter=19.07ms
Gain=359 (59%)
Gamma=50
Brightness=1 (off)
FPS=100 (off)
AutoGain=off
SoftwareGain=10 (off)
USBTraffic=40 (off)
AutoExposure=off
AutoHisto=75 (off)
HighSpeed=off
Histogramm(min)=0
Histogramm(max)=207
Histogramm=81%
Noise(avg.deviation)=2.69
AutoAlign=false
PreFilter=none
Limit=120 Seconds
Sensor temperature=33.0°C
Focuser position=0