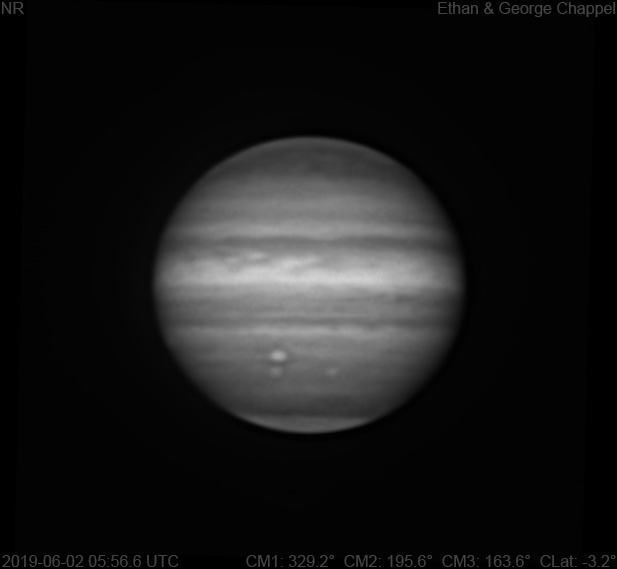 Jupiter UTC
CM1: 329.20°
CM2: 195.60°
CM3: 163.60°
CLat: -3.20°
Description
It has been a very long time since I've attempted methane band imaging. The good conditions made it seem appropriate to start capturing them again. After this image, a solid deck of clouds came in while working on an RGB set and ended the imaging session.

Notes:
The southern Equatorial Zone is darker than the rest of the zone.
The bright spot in the RGB image off the southern South Equatorial Belt is invisible.
Oval BA is bright.
Equipment
ZWO ASI290MM
Astro-Physics Advanced Convertible Barlow
Celestron EdgeHD 14
Logs
FireCapture v2.6  Settings
------------------------------------
Observer=Ethan Chappel
Camera=ZWO ASI290MM
Filter=CH4
Profile=Jupiter
Diameter=45.80"
Magnitude=-2.60
CMI=329.1° CMII=195.5° CMIII=163.5°  (during mid of capture)
FocalLength=3700mm (F/13)
Resolution=0.16"
Filename=2019-06-02-0556_6-EC-CH4-Jup.ser
Date=2019_06_02
Start=05_54_38.067
Mid=05_56_38.079
End=05_58_38.092
Start(UT)=05_54_38.067
Mid(UT)=05_56_38.079
End(UT)=05_58_38.092
Duration=240.025s
Date_format=yyyy_MM_dd
Time_format=HH_mm_ss
LT=UT -6h
Frames captured=4032
File type=SER
Binning=no
Bit depth=8bit
Debayer=no
ROI=568x554
ROI(Offset)=0x0
FPS (avg.)=16
Shutter=59.53ms
Gain=510 (85%)
Gamma=50
Brightness=1 (off)
FPS=100 (off)
AutoGain=off
SoftwareGain=10 (off)
USBTraffic=40 (off)
AutoExposure=off
AutoHisto=75 (off)
HighSpeed=off
Histogramm(min)=0
Histogramm(max)=255
Histogramm=100%
Noise(avg.deviation)=7.68
AutoAlign=false
PreFilter=none
Limit=240 Seconds
Sensor temperature=31.6°C
Focuser position=2602