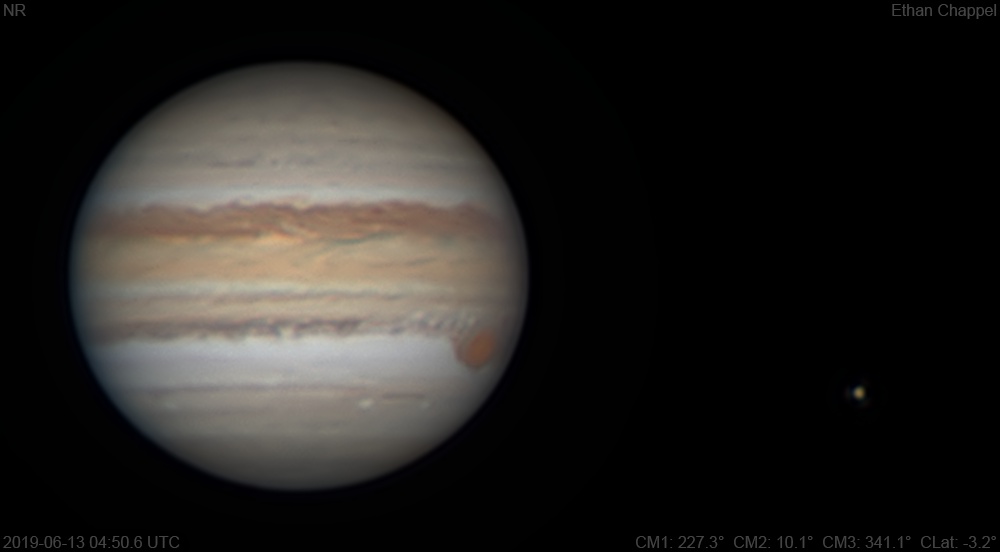 Jupiter UTC
CM1: 227.30°
CM2: 10.10°
CM3: 341.10°
CLat: -3.20°
Description
I decided to stick with Jupiter for one more RGB capture of Jupiter after capturing IR data. I kept using the imaging train usually attached to the C14.

Notes:
The Equatorial Zone is orange.
The Great Red Spot is setting.
The GRS hollow is unusually dark.
The SEBs is dark and clumpy.
Europa appears right of the planet.
Equipment
ZWO ASI290MM
Astro-Physics Advanced Convertible Barlow
Celestron EdgeHD 8
Logs
FireCapture v2.6  Settings
------------------------------------
Observer=Ethan Chappel
Camera=ZWO ASI290MM
Filter=G
Profile=Jupiter
Diameter=45.96"
Magnitude=-2.62
CMI=227.1° CMII=9.8° CMIII=340.8°  (during mid of capture)
FocalLength=3850mm (F/13)
Resolution=0.16"
Filename=2019-06-13-0450_3-EC-G-Jup.ser
Date=2019_06_13
Start=04_49_20.270
Mid=04_50_20.276
End=04_51_20.283
Start(UT)=04_49_20.270
Mid(UT)=04_50_20.276
End(UT)=04_51_20.283
Duration=120.013s
Date_format=yyyy_MM_dd
Time_format=HH_mm_ss
LT=UT -6h
Frames captured=6667
File type=SER
Binning=no
Bit depth=8bit
Debayer=no
ROI=828x424
ROI(Offset)=0x0
FPS (avg.)=55
Shutter=18.00ms
Gain=260 (43%)
FPS=100 (off)
AutoExposure=off
Brightness=1 (off)
HighSpeed=off
AutoHisto=75 (off)
Gamma=50 (off)
USBTraffic=40 (off)
AutoGain=off
SoftwareGain=10 (off)
Histogramm(min)=0
Histogramm(max)=153
Histogramm=60%
Noise(avg.deviation)=0.68
AutoAlign=false
PreFilter=none
Limit=120 Seconds
Sensor temperature=33.0°C
FireCapture v2.6  Settings
------------------------------------
Observer=Ethan Chappel
Camera=ZWO ASI290MM
Filter=R
Profile=Jupiter
Diameter=45.96"
Magnitude=-2.62
CMI=225.0° CMII=7.8° CMIII=338.7°  (during mid of capture)
FocalLength=3800mm (F/13)
Resolution=0.16"
Filename=2019-06-13-0446_8-EC-R-Jup.ser
Date=2019_06_13
Start=04_45_53.731
Mid=04_46_53.736
End=04_47_53.742
Start(UT)=04_45_53.731
Mid(UT)=04_46_53.736
End(UT)=04_47_53.742
Duration=120.011s
Date_format=yyyy_MM_dd
Time_format=HH_mm_ss
LT=UT -6h
Frames captured=7997
File type=SER
Binning=no
Bit depth=8bit
Debayer=no
ROI=828x424
ROI(Offset)=0x0
FPS (avg.)=66
Shutter=15.00ms
Gain=260 (43%)
FPS=100 (off)
AutoExposure=off
Brightness=1 (off)
HighSpeed=off
AutoHisto=75 (off)
Gamma=50 (off)
USBTraffic=40 (off)
AutoGain=off
SoftwareGain=10 (off)
Histogramm(min)=0
Histogramm(max)=145
Histogramm=56%
Noise(avg.deviation)=0.67
AutoAlign=false
PreFilter=none
Limit=120 Seconds
Sensor temperature=33.2°C
FireCapture v2.6  Settings
------------------------------------
Observer=Ethan Chappel
Camera=ZWO ASI290MM
Filter=B
Profile=Jupiter
Diameter=45.96"
Magnitude=-2.62
CMI=229.7° CMII=12.5° CMIII=343.4°  (during mid of capture)
FocalLength=3850mm (F/13)
Resolution=0.16"
Filename=2019-06-13-0454_6-EC-B-Jup.ser
Date=2019_06_13
Start=04_53_41.212
Mid=04_54_41.220
End=04_55_41.228
Start(UT)=04_53_41.212
Mid(UT)=04_54_41.220
End(UT)=04_55_41.228
Duration=120.016s
Date_format=yyyy_MM_dd
Time_format=HH_mm_ss
LT=UT -6h
Frames captured=6667
File type=SER
Binning=no
Bit depth=8bit
Debayer=no
ROI=828x424
ROI(Offset)=0x0
FPS (avg.)=55
Shutter=18.00ms
Gain=280 (46%)
FPS=100 (off)
AutoExposure=off
Brightness=1 (off)
HighSpeed=off
AutoHisto=75 (off)
Gamma=50
USBTraffic=40 (off)
AutoGain=off
SoftwareGain=10 (off)
Histogramm(min)=0
Histogramm(max)=147
Histogramm=57%
Noise(avg.deviation)=0.75
AutoAlign=false
PreFilter=none
Limit=120 Seconds
Sensor temperature=32.6°C