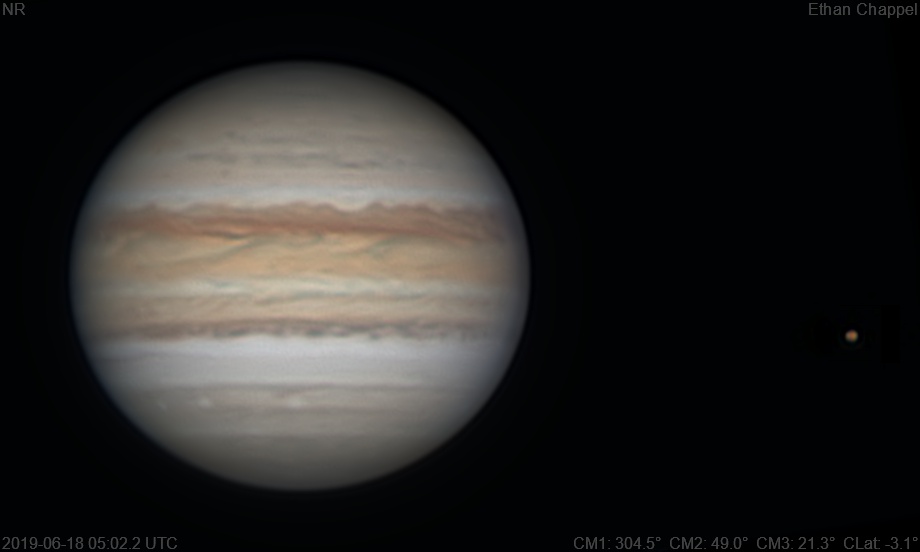 Jupiter UTC
CM1: 304.50°
CM2: 49.00°
CM3: 21.30°
CLat: -3.10°
Description
The first image of another June night with crisp but turbulent seeing and passable transparency. I've been seeing an unusually high number of rabbits in the yard this year, and there was one wondering around while imaging.

Notes:
The Equatorial Zone, excluding its southern edge, is orange.
The northern South Equatorial Belt is lighter than normal.
The SEBs appears dark and clumpy.
Io is approaching Jupiter from the right.
Equipment
ZWO ASI290MM
Astro-Physics Advanced Convertible Barlow
Celestron EdgeHD 8
Logs
FireCapture v2.6  Settings
------------------------------------
Observer=Ethan Chappel
Camera=ZWO ASI290MM
Filter=B
Profile=Jupiter
Diameter=45.90"
Magnitude=-2.61
CMI=311.0° CMII=55.5° CMIII=27.8°  (during mid of capture)
FocalLength=3650mm (F/13)
Resolution=0.16"
Filename=2019-06-18-0513_0-EC-B-Jup.ser
Date=2019_06_18
Start=05_12_04.391
Mid=05_13_04.394
End=05_14_04.398
Start(UT)=05_12_04.391
Mid(UT)=05_13_04.394
End(UT)=05_14_04.398
Duration=120.007s
Date_format=yyyy_MM_dd
Time_format=HH_mm_ss
LT=UT -6h
Frames captured=4798
File type=SER
Binning=no
Bit depth=8bit
Debayer=no
ROI=828x424
ROI(Offset)=0x0
FPS (avg.)=39
Shutter=25.00ms
Gain=320 (53%)
Brightness=1 (off)
AutoGain=off
USBTraffic=40 (off)
HighSpeed=off
Gamma=50
AutoHisto=75 (off)
SoftwareGain=10 (off)
FPS=100 (off)
AutoExposure=off
Histogramm(min)=0
Histogramm(max)=86
Histogramm=33%
Noise(avg.deviation)=0.96
AutoAlign=false
PreFilter=none
Limit=120 Seconds
Sensor temperature=32.0°C
FireCapture v2.6  Settings
------------------------------------
Observer=Ethan Chappel
Camera=ZWO ASI290MM
Filter=G
Profile=Jupiter
Diameter=45.90"
Magnitude=-2.61
CMI=307.6° CMII=52.1° CMIII=24.4°  (during mid of capture)
FocalLength=3750mm (F/13)
Resolution=0.16"
Filename=2019-06-18-0507_3-EC-G-Jup.ser
Date=2019_06_18
Start=05_06_23.033
Mid=05_07_23.034
End=05_08_23.036
Start(UT)=05_06_23.033
Mid(UT)=05_07_23.034
End(UT)=05_08_23.036
Duration=120.003s
Date_format=yyyy_MM_dd
Time_format=HH_mm_ss
LT=UT -6h
Frames captured=6666
File type=SER
Binning=no
Bit depth=8bit
Debayer=no
ROI=828x424
ROI(Offset)=0x0
FPS (avg.)=55
Shutter=18.00ms
Gain=310 (51%)
Brightness=1 (off)
AutoGain=off
USBTraffic=40 (off)
HighSpeed=off
Gamma=50 (off)
AutoHisto=75 (off)
SoftwareGain=10 (off)
FPS=100 (off)
AutoExposure=off
Histogramm(min)=0
Histogramm(max)=94
Histogramm=36%
Noise(avg.deviation)=0.90
AutoAlign=false
PreFilter=none
Limit=120 Seconds
Sensor temperature=32.6°C
FireCapture v2.6  Settings
------------------------------------
Observer=Ethan Chappel
Camera=ZWO ASI290MM
Filter=G
Profile=Jupiter
Diameter=45.90"
Magnitude=-2.61
CMI=306.8° CMII=51.3° CMIII=23.6°  (during mid of capture)
FocalLength=3650mm (F/13)
Resolution=0.16"
Filename=2019-06-18-0506_1-EC-G-Jup.ser
Date=2019_06_18
Start=05_05_52.877
Mid=05_06_07.481
End=05_06_22.085
Start(UT)=05_05_52.877
Mid(UT)=05_06_07.481
End(UT)=05_06_22.085
Duration=29.208s
Date_format=yyyy_MM_dd
Time_format=HH_mm_ss
LT=UT -6h
Frames captured=1622
File type=SER
Binning=no
Bit depth=8bit
Debayer=no
ROI=828x424
ROI(Offset)=0x0
FPS (avg.)=55
Shutter=18.00ms
Gain=320 (53%)
Brightness=1 (off)
AutoGain=off
USBTraffic=40 (off)
HighSpeed=off
Gamma=50 (off)
AutoHisto=75 (off)
SoftwareGain=10 (off)
FPS=100 (off)
AutoExposure=off
Histogramm(min)=0
Histogramm(max)=89
Histogramm=34%
Noise(avg.deviation)=0.97
AutoAlign=false
PreFilter=none
Limit=120 Seconds
Sensor temperature=32.6°C
FireCapture v2.6  Settings
------------------------------------
Observer=Ethan Chappel
Camera=ZWO ASI290MM
Filter=R
Profile=Jupiter
Diameter=45.90"
Magnitude=-2.61
CMI=305.4° CMII=49.9° CMIII=22.2°  (during mid of capture)
FocalLength=3700mm (F/13)
Resolution=0.16"
Filename=2019-06-18-0503_8-EC-R-Jup.ser
Date=2019_06_18
Start=05_02_48.523
Mid=05_03_48.523
End=05_04_48.523
Start(UT)=05_02_48.523
Mid(UT)=05_03_48.523
End(UT)=05_04_48.523
Duration=120.000s
Date_format=yyyy_MM_dd
Time_format=HH_mm_ss
LT=UT -6h
Frames captured=7997
File type=SER
Binning=no
Bit depth=8bit
Debayer=no
ROI=828x424
ROI(Offset)=0x0
FPS (avg.)=66
Shutter=15.00ms
Gain=280 (46%)
Brightness=1 (off)
AutoGain=off
USBTraffic=40 (off)
HighSpeed=off
Gamma=50 (off)
AutoHisto=75 (off)
SoftwareGain=10 (off)
FPS=100 (off)
AutoExposure=off
Histogramm(min)=0
Histogramm(max)=92
Histogramm=36%
Noise(avg.deviation)=0.71
AutoAlign=false
PreFilter=none
Limit=120 Seconds
Sensor temperature=32.6°C
FireCapture v2.6  Settings
------------------------------------
Observer=Ethan Chappel
Camera=ZWO ASI290MM
Filter=B
Profile=Jupiter
Diameter=45.90"
Magnitude=-2.61
CMI=303.1° CMII=47.7° CMIII=20.0°  (during mid of capture)
FocalLength=3800mm (F/13)
Resolution=0.16"
Filename=2019-06-18-0500_0-EC-B-Jup.ser
Date=2019_06_18
Start=04_59_03.884
Mid=05_00_03.891
End=05_01_03.899
Start(UT)=04_59_03.884
Mid(UT)=05_00_03.891
End(UT)=05_01_03.899
Duration=120.015s
Date_format=yyyy_MM_dd
Time_format=HH_mm_ss
LT=UT -6h
Frames captured=6667
File type=SER
Binning=no
Bit depth=8bit
Debayer=no
ROI=828x424
ROI(Offset)=0x0
FPS (avg.)=55
Shutter=18.00ms
Gain=280 (46%)
Brightness=1 (off)
AutoGain=off
USBTraffic=40 (off)
HighSpeed=off
Gamma=50
AutoHisto=75 (off)
SoftwareGain=10 (off)
FPS=100 (off)
AutoExposure=off
Histogramm(min)=0
Histogramm(max)=118
Histogramm=46%
Noise(avg.deviation)=0.73
AutoAlign=false
PreFilter=none
Limit=120 Seconds
Sensor temperature=32.2°C
FireCapture v2.6  Settings
------------------------------------
Observer=Ethan Chappel
Camera=ZWO ASI290MM
Filter=G
Profile=Jupiter
Diameter=45.90"
Magnitude=-2.61
CMI=300.8° CMII=45.4° CMIII=17.7°  (during mid of capture)
FocalLength=3800mm (F/13)
Resolution=0.16"
Filename=2019-06-18-0456_2-EC-G-Jup.ser
Date=2019_06_18
Start=04_55_15.903
Mid=04_56_15.911
End=04_57_15.920
Start(UT)=04_55_15.903
Mid(UT)=04_56_15.911
End(UT)=04_57_15.920
Duration=120.017s
Date_format=yyyy_MM_dd
Time_format=HH_mm_ss
LT=UT -6h
Frames captured=6667
File type=SER
Binning=no
Bit depth=8bit
Debayer=no
ROI=828x424
ROI(Offset)=0x0
FPS (avg.)=55
Shutter=18.00ms
Gain=260 (43%)
Brightness=1 (off)
AutoGain=off
USBTraffic=40 (off)
HighSpeed=off
Gamma=50 (off)
AutoHisto=75 (off)
SoftwareGain=10 (off)
FPS=100 (off)
AutoExposure=off
Histogramm(min)=0
Histogramm(max)=112
Histogramm=43%
Noise(avg.deviation)=0.64
AutoAlign=false
PreFilter=none
Limit=120 Seconds
Sensor temperature=32.0°C
FireCapture v2.6  Settings
------------------------------------
Observer=Ethan Chappel
Camera=ZWO ASI290MM
Filter=R
Profile=Jupiter
Diameter=45.90"
Magnitude=-2.61
CMI=298.8° CMII=43.4° CMIII=15.7°  (during mid of capture)
FocalLength=3800mm (F/13)
Resolution=0.16"
Filename=2019-06-18-0453_0-EC-R-Jup.ser
Date=2019_06_18
Start=04_52_03.190
Mid=04_53_03.195
End=04_54_03.201
Start(UT)=04_52_03.190
Mid(UT)=04_53_03.195
End(UT)=04_54_03.201
Duration=120.011s
Date_format=yyyy_MM_dd
Time_format=HH_mm_ss
LT=UT -6h
Frames captured=7188
File type=SER
Binning=no
Bit depth=8bit
Debayer=no
ROI=828x424
ROI(Offset)=0x0
FPS (avg.)=59
Shutter=15.00ms
Gain=260 (43%)
Brightness=1 (off)
AutoGain=off
USBTraffic=40 (off)
HighSpeed=off
Gamma=50 (off)
AutoHisto=75 (off)
SoftwareGain=10 (off)
FPS=100 (off)
AutoExposure=off
Histogramm(min)=0
Histogramm(max)=120
Histogramm=47%
Noise(avg.deviation)=0.66
AutoAlign=false
PreFilter=none
Limit=120 Seconds
Sensor temperature=31.0°C