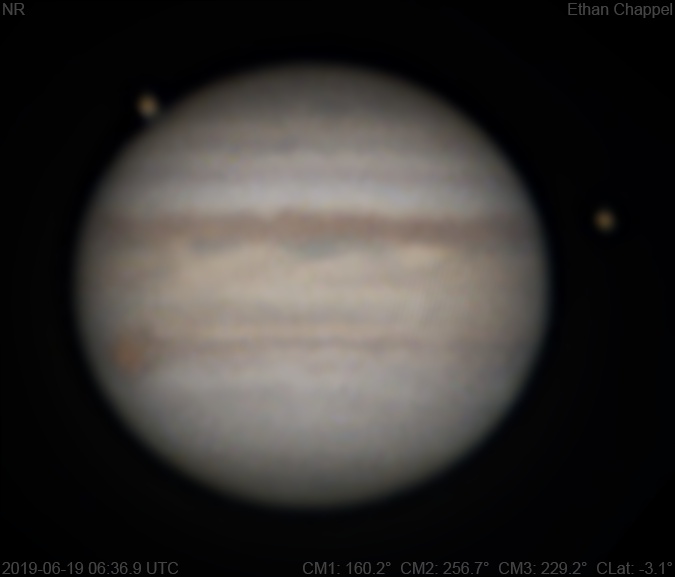 Jupiter UTC
CM1: 160.20°
CM2: 256.70°
CM3: 229.20°
CLat: -3.10°
Description
Peeking at the sky gave me the impression of having a potentially good imaging session, but a thick deck of clouds began covering the sky just before I started recording with my ASI290MM. To avoid being cut off from capturing a full color image, I quickly ran inside to get my ASI224MC. The sky around Jupiter was nearly opaque by the time I started recording.
Notes:
The Great Red Spot is rising.
Ganymede is about to transit over high northern latitudes.
Io has just left transiting the planet.
Equipment
ZWO ASI224MC
Tele Vue 2.5x Powermate
Celestron EdgeHD 8
Logs
FireCapture v2.6  Settings
------------------------------------
Observer=Ethan Chappel
Camera=ZWO ASI224MC
Filter=L
Profile=Jupiter
Diameter=45.88"
Magnitude=-2.61
CMI=160.2° CMII=256.6° CMIII=229.2°  (during mid of capture)
FocalLength=4450mm (F/15)
Resolution=0.17"
Filename=2019-06-19-0636_9-EC-L-Jup.ser
Date=2019_06_19
Start=06_35_35.567
Mid=06_36_56.944
End=06_38_18.322
Start(UT)=06_35_35.567
Mid(UT)=06_36_56.944
End(UT)=06_38_18.322
Duration=162.755s
Date_format=yyyy_MM_dd
Time_format=HH_mm_ss
LT=UT -6h
Frames captured=774
File type=SER
Binning=no
Bit depth=8bit
Debayer=no
ROI=496x528
ROI(Offset)=0x0
FPS (avg.)=4
Shutter=63.87ms
Gain=504 (84%)
USBTraffic=100 (off)
AutoHisto=75 (off)
AutoExposure=off
SoftwareGain=10 (off)
FPS=100 (off)
WBlue=95 (off)
Gamma=50 (off)
Brightness=1 (off)
WRed=52 (off)
HardwareBin=off
HighSpeed=off
AutoGain=off
Histogramm(min)=0
Histogramm(max)=0
Histogramm=0%
Noise(avg.deviation)=n/a
AutoAlign=false
PreFilter=none
Limit=150 Seconds
Sensor temperature=30.3°C