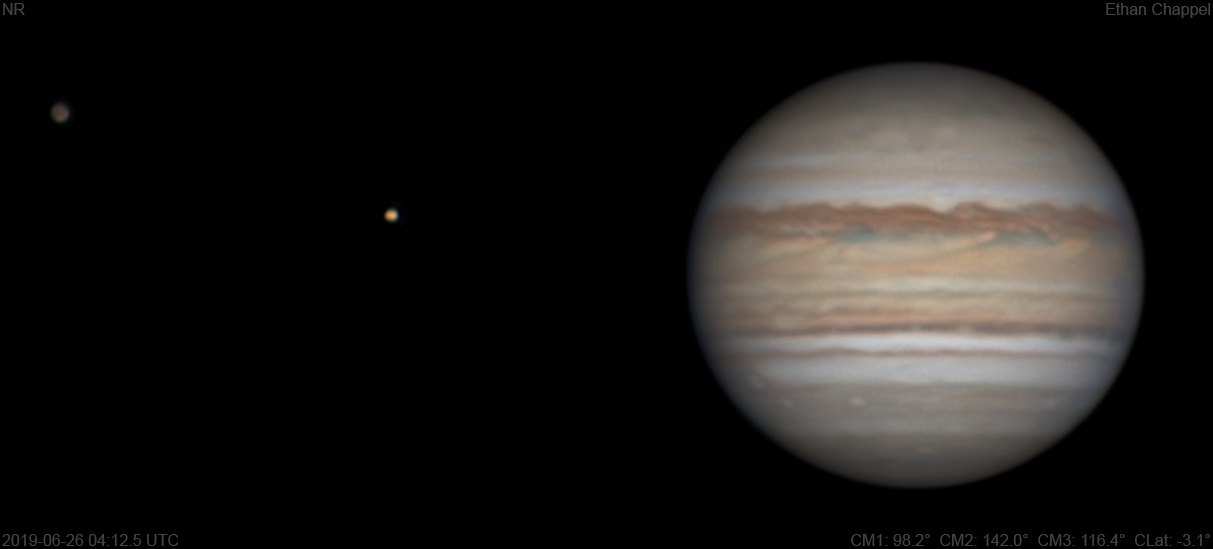 Jupiter UTC
CM1: 98.20°
CM2: 142.00°
CM3: 116.40°
CLat: -3.10°
Description
Another night where the weather was more generous than the forecast suggested.

Notes:
The southern South Equatorial Belt is very dark.
Oval BA is rising.
The faint streak in the South Temperate I noted on an image from June 2 is at the central meridian.
The South Polar Red Spot is just east of the central meridian.
Io and Ganymede are approaching transit.
Equipment
ZWO ASI290MM
Astro-Physics Advanced Convertible Barlow
Celestron EdgeHD 8
Logs
FireCapture v2.6  Settings
------------------------------------
Observer=Ethan Chappel
Camera=ZWO ASI290MM
Filter=B
Profile=Jupiter
Diameter=45.65"
Magnitude=-2.59
CMI=103.4° CMII=147.1° CMIII=121.5°  (during mid of capture)
FocalLength=3850mm (F/13)
Resolution=0.15"
Filename=2019-06-26-0421_0-EC-B-Jup.ser
Date=2019_06_26
Start=04_20_02.581
Mid=04_21_02.587
End=04_22_02.593
Start(UT)=04_20_02.581
Mid(UT)=04_21_02.587
End(UT)=04_22_02.593
Duration=120.012s
Date_format=yyyy_MM_dd
Time_format=HH_mm_ss
LT=UT -6h
Frames captured=8162
File type=SER
Binning=no
Bit depth=8bit
Debayer=no
ROI=436x380
ROI(Offset)=0x0
FPS (avg.)=68
Shutter=12.00ms
Gain=300 (50%)
HighSpeed=off
SoftwareGain=10 (off)
AutoExposure=off
AutoGain=off
AutoHisto=75 (off)
USBTraffic=40 (off)
Gamma=50
FPS=100 (off)
Brightness=1 (off)
Histogramm(min)=0
Histogramm(max)=120
Histogramm=47%
Noise(avg.deviation)=0.49
AutoAlign=false
PreFilter=none
Limit=120 Seconds
Sensor temperature=32.1°C
FireCapture v2.6  Settings
------------------------------------
Observer=Ethan Chappel
Camera=ZWO ASI290MM
Filter=G
Profile=Jupiter
Diameter=45.65"
Magnitude=-2.59
CMI=101.3° CMII=145.0° CMIII=119.4°  (during mid of capture)
FocalLength=3850mm (F/13)
Resolution=0.16"
Filename=2019-06-26-0417_5-EC-G-Jup.ser
Date=2019_06_26
Start=04_16_34.539
Mid=04_17_34.545
End=04_18_34.551
Start(UT)=04_16_34.539
Mid(UT)=04_17_34.545
End(UT)=04_18_34.551
Duration=120.012s
Date_format=yyyy_MM_dd
Time_format=HH_mm_ss
LT=UT -6h
Frames captured=8162
File type=SER
Binning=no
Bit depth=8bit
Debayer=no
ROI=436x380
ROI(Offset)=0x0
FPS (avg.)=68
Shutter=10.00ms
Gain=300 (50%)
HighSpeed=off
SoftwareGain=10 (off)
AutoExposure=off
AutoGain=off
AutoHisto=75 (off)
USBTraffic=40 (off)
Gamma=50 (off)
FPS=100 (off)
Brightness=1 (off)
Histogramm(min)=0
Histogramm(max)=134
Histogramm=52%
Noise(avg.deviation)=0.51
AutoAlign=false
PreFilter=none
Limit=120 Seconds
Sensor temperature=32.1°C
FireCapture v2.6  Settings
------------------------------------
Observer=Ethan Chappel
Camera=ZWO ASI290MM
Filter=R
Profile=Jupiter
Diameter=45.65"
Magnitude=-2.59
CMI=99.5° CMII=143.3° CMIII=117.7°  (during mid of capture)
FocalLength=3850mm (F/13)
Resolution=0.16"
Filename=2019-06-26-0414_7-EC-R-Jup.ser
Date=2019_06_26
Start=04_13_44.334
Mid=04_14_44.340
End=04_15_44.347
Start(UT)=04_13_44.334
Mid(UT)=04_14_44.340
End(UT)=04_15_44.347
Duration=120.013s
Date_format=yyyy_MM_dd
Time_format=HH_mm_ss
LT=UT -6h
Frames captured=8162
File type=SER
Binning=no
Bit depth=8bit
Debayer=no
ROI=436x380
ROI(Offset)=0x0
FPS (avg.)=68
Shutter=10.00ms
Gain=300 (50%)
HighSpeed=off
SoftwareGain=10 (off)
AutoExposure=off
AutoGain=off
AutoHisto=75 (off)
USBTraffic=40 (off)
Gamma=50 (off)
FPS=100 (off)
Brightness=1 (off)
Histogramm(min)=0
Histogramm(max)=150
Histogramm=58%
Noise(avg.deviation)=0.52
AutoAlign=false
PreFilter=none
Limit=120 Seconds
Sensor temperature=32.1°C
FireCapture v2.6  Settings
------------------------------------
Observer=Ethan Chappel
Camera=ZWO ASI290MM
Filter=B
Profile=Jupiter
Diameter=45.65"
Magnitude=-2.59
CMI=97.1° CMII=140.9° CMIII=115.3°  (during mid of capture)
FocalLength=3800mm (F/13)
Resolution=0.16"
Filename=2019-06-26-0410_7-EC-B-Jup.ser
Date=2019_06_26
Start=04_09_44.467
Mid=04_10_44.472
End=04_11_44.478
Start(UT)=04_09_44.467
Mid(UT)=04_10_44.472
End(UT)=04_11_44.478
Duration=120.011s
Date_format=yyyy_MM_dd
Time_format=HH_mm_ss
LT=UT -6h
Frames captured=8161
File type=SER
Binning=no
Bit depth=8bit
Debayer=no
ROI=1264x368
ROI(Offset)=0x0
FPS (avg.)=68
Shutter=12.00ms
Gain=300 (50%)
HighSpeed=off
SoftwareGain=10 (off)
AutoExposure=off
AutoGain=off
AutoHisto=75 (off)
USBTraffic=40 (off)
Gamma=50
FPS=100 (off)
Brightness=1 (off)
Histogramm(min)=0
Histogramm(max)=124
Histogramm=48%
Noise(avg.deviation)=0.29
AutoAlign=false
PreFilter=none
Limit=120 Seconds
Sensor temperature=32.2°C
FireCapture v2.6  Settings
------------------------------------
Observer=Ethan Chappel
Camera=ZWO ASI290MM
Filter=G
Profile=Jupiter
Diameter=45.65"
Magnitude=-2.59
CMI=95.1° CMII=138.9° CMIII=113.3°  (during mid of capture)
FocalLength=3850mm (F/13)
Resolution=0.16"
Filename=2019-06-26-0407_4-EC-G-Jup.ser
Date=2019_06_26
Start=04_06_25.313
Mid=04_07_25.319
End=04_08_25.326
Start(UT)=04_06_25.313
Mid(UT)=04_07_25.319
End(UT)=04_08_25.326
Duration=120.013s
Date_format=yyyy_MM_dd
Time_format=HH_mm_ss
LT=UT -6h
Frames captured=8162
File type=SER
Binning=no
Bit depth=8bit
Debayer=no
ROI=1264x368
ROI(Offset)=0x0
FPS (avg.)=68
Shutter=10.00ms
Gain=300 (50%)
HighSpeed=off
SoftwareGain=10 (off)
AutoExposure=off
AutoGain=off
AutoHisto=75 (off)
USBTraffic=40 (off)
Gamma=50 (off)
FPS=100 (off)
Brightness=1 (off)
Histogramm(min)=0
Histogramm(max)=136
Histogramm=53%
Noise(avg.deviation)=0.29
AutoAlign=false
PreFilter=none
Limit=120 Seconds
Sensor temperature=32.3°C
FireCapture v2.6  Settings
------------------------------------
Observer=Ethan Chappel
Camera=ZWO ASI290MM
Filter=R
Profile=Jupiter
Diameter=45.65"
Magnitude=-2.59
CMI=92.8° CMII=136.7° CMIII=111.1°  (during mid of capture)
FocalLength=3800mm (F/13)
Resolution=0.16"
Filename=2019-06-26-0403_7-EC-R-Jup.ser
Date=2019_06_26
Start=04_02_47.059
Mid=04_03_47.061
End=04_04_47.064
Start(UT)=04_02_47.059
Mid(UT)=04_03_47.061
End(UT)=04_04_47.064
Duration=120.005s
Date_format=yyyy_MM_dd
Time_format=HH_mm_ss
LT=UT -6h
Frames captured=8161
File type=SER
Binning=no
Bit depth=8bit
Debayer=no
ROI=1264x368
ROI(Offset)=0x0
FPS (avg.)=68
Shutter=10.00ms
Gain=300 (50%)
HighSpeed=off
SoftwareGain=10 (off)
AutoExposure=off
AutoGain=off
AutoHisto=75 (off)
USBTraffic=40 (off)
Gamma=50 (off)
FPS=100 (off)
Brightness=1 (off)
Histogramm(min)=0
Histogramm(max)=147
Histogramm=57%
Noise(avg.deviation)=0.32
AutoAlign=false
PreFilter=none
Limit=120 Seconds
Sensor temperature=32.3°C