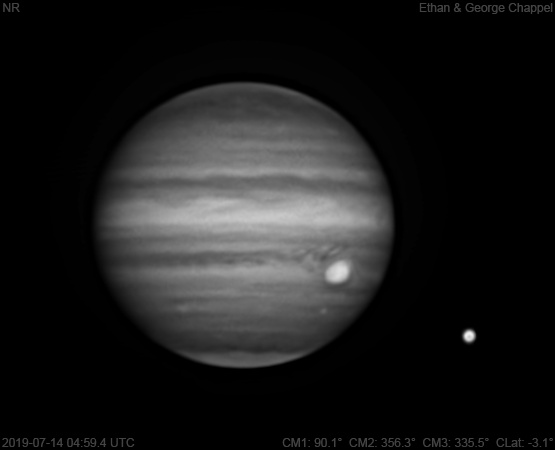 Jupiter UTC
CM1: 90.10°
CM2: 356.30°
CM3: 335.50°
CLat: -3.10°
Description
Finally, a night that wasn't too breezy for the CGEM DX and C14. I thought the seeing was only a little above average while recording, but it turned out to be excellent.

Notes:
The EZs is darker than the rest of the zone.
The SEBn trailing the GRS is light.
The SEBs is dark and clumpy.
White Oval Z is about to set.
The faint STB Spectre is approximately 48,000 km long. The eastern end is south of the GRS and the western end is at the central meridian.
Equipment
ZWO ASI290MM
Astro-Physics Advanced Convertible Barlow
Celestron EdgeHD 14
Logs
FireCapture v2.6  Settings
------------------------------------
Observer=Ethan Chappel
Camera=ZWO ASI290MM
Filter=CH4
Profile=Jupiter
Diameter=44.44"
Magnitude=-2.52
CMI=90.2° CMII=356.4° CMIII=335.6°  (during mid of capture)
FocalLength=3550mm (F/12)
Resolution=0.17"
Filename=2019-07-14-0459_4-EC-CH4-Jup.ser
Date=2019_07_14
Start=04_57_27.004
Mid=04_59_27.029
End=05_01_27.055
Start(UT)=04_57_27.004
Mid(UT)=04_59_27.029
End(UT)=05_01_27.055
Duration=240.051s
Date_format=yyyy_MM_dd
Time_format=HH_mm_ss
LT=UT -6h
Frames captured=3693
File type=SER
Binning=no
Bit depth=8bit
Debayer=no
ROI=580x474
ROI(Offset)=0x0
FPS (avg.)=15
Shutter=65.00ms
Gain=400 (66%)
FPS=100 (off)
HighSpeed=off
USBTraffic=40 (off)
Gamma=50 (off)
AutoGain=off
AutoExposure=off
SoftwareGain=10 (off)
AutoHisto=75 (off)
Brightness=1 (off)
Histogramm(min)=0
Histogramm(max)=255
Histogramm=100%
Noise(avg.deviation)=2.24
AutoAlign=false
PreFilter=none
Limit=240 Seconds
Sensor temperature=35.8°C
Focuser position=4490