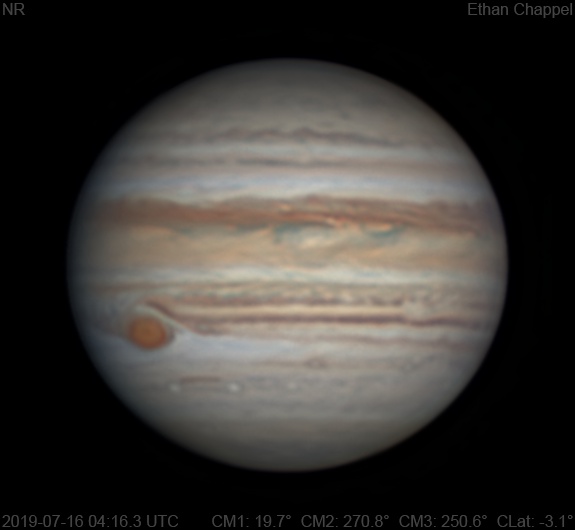 Jupiter UTC
CM1: 19.70°
CM2: 270.80°
CM3: 250.60°
CLat: -3.10°
Description
Another night of excellent seeing, but the breezier environment forced me to back to the C8.

Notes:
White Oval Z is approaching the central meridian.
Most of the Equatorial Zone is still orange.
An interesting light patch in the SEB is setting.
The GRS Hollow continues to pull in light clouds from the South Tropical Zone.
Another green SEBs ring approaches the GRS from the west.
Equipment
ZWO ASI290MM
Astro-Physics Advanced Convertible Barlow
Celestron EdgeHD 8
Logs
FireCapture v2.6  Settings
------------------------------------
Observer=Ethan Chappel
Camera=ZWO ASI290MM
Filter=B
Profile=Jupiter
Diameter=44.27"
Magnitude=-2.51
CMI=25.5° CMII=276.6° CMIII=256.4°  (during mid of capture)
FocalLength=3800mm (F/13)
Resolution=0.16"
Filename=2019-07-16-0425_7-EC-B-Jup.ser
Date=2019_07_16
Start=04_24_42.339
Mid=04_25_42.345
End=04_26_42.352
Start(UT)=04_24_42.339
Mid(UT)=04_25_42.345
End(UT)=04_26_42.352
Duration=120.013s
Date_format=yyyy_MM_dd
Time_format=HH_mm_ss
LT=UT -6h
Frames captured=7058
File type=SER
Binning=no
Bit depth=8bit
Debayer=no
ROI=416x380
ROI(Offset)=8x0
FPS (avg.)=58
Shutter=17.00ms
Gain=300 (50%)
USBTraffic=40 (off)
HighSpeed=off
Brightness=1 (off)
SoftwareGain=10 (off)
AutoHisto=75 (off)
FPS=100 (off)
AutoExposure=off
AutoGain=off
Gamma=50
Histogramm(min)=0
Histogramm(max)=146
Histogramm=57%
Noise(avg.deviation)=0.63
AutoAlign=false
PreFilter=none
Limit=120 Seconds
Sensor temperature=36.0°C
FireCapture v2.6  Settings
------------------------------------
Observer=Ethan Chappel
Camera=ZWO ASI290MM
Filter=G
Profile=Jupiter
Diameter=44.27"
Magnitude=-2.51
CMI=23.1° CMII=274.3° CMIII=254.0°  (during mid of capture)
FocalLength=3800mm (F/13)
Resolution=0.16"
Filename=2019-07-16-0421_7-EC-G-Jup.ser
Date=2019_07_16
Start=04_20_46.294
Mid=04_21_46.301
End=04_22_46.309
Start(UT)=04_20_46.294
Mid(UT)=04_21_46.301
End(UT)=04_22_46.309
Duration=120.015s
Date_format=yyyy_MM_dd
Time_format=HH_mm_ss
LT=UT -6h
Frames captured=7999
File type=SER
Binning=no
Bit depth=8bit
Debayer=no
ROI=416x380
ROI(Offset)=8x0
FPS (avg.)=66
Shutter=15.00ms
Gain=280 (46%)
USBTraffic=40 (off)
HighSpeed=off
Brightness=1 (off)
SoftwareGain=10 (off)
AutoHisto=75 (off)
FPS=100 (off)
AutoExposure=off
AutoGain=off
Gamma=50 (off)
Histogramm(min)=0
Histogramm(max)=140
Histogramm=54%
Noise(avg.deviation)=0.51
AutoAlign=false
PreFilter=none
Limit=120 Seconds
Sensor temperature=36.2°C
FireCapture v2.6  Settings
------------------------------------
Observer=Ethan Chappel
Camera=ZWO ASI290MM
Filter=R
Profile=Jupiter
Diameter=44.27"
Magnitude=-2.51
CMI=21.0° CMII=272.2° CMIII=251.9°  (during mid of capture)
FocalLength=3800mm (F/13)
Resolution=0.16"
Filename=2019-07-16-0418_3-EC-R-Jup.ser
Date=2019_07_16
Start=04_17_21.782
Mid=04_18_21.789
End=04_19_21.796
Start(UT)=04_17_21.782
Mid(UT)=04_18_21.789
End(UT)=04_19_21.796
Duration=120.014s
Date_format=yyyy_MM_dd
Time_format=HH_mm_ss
LT=UT -6h
Frames captured=7999
File type=SER
Binning=no
Bit depth=8bit
Debayer=no
ROI=416x380
ROI(Offset)=8x0
FPS (avg.)=66
Shutter=15.00ms
Gain=280 (46%)
USBTraffic=40 (off)
HighSpeed=off
Brightness=1 (off)
SoftwareGain=10 (off)
AutoHisto=75 (off)
FPS=100 (off)
AutoExposure=off
AutoGain=off
Gamma=50 (off)
Histogramm(min)=0
Histogramm(max)=158
Histogramm=61%
Noise(avg.deviation)=0.55
AutoAlign=false
PreFilter=none
Limit=120 Seconds
Sensor temperature=36.1°C
FireCapture v2.6  Settings
------------------------------------
Observer=Ethan Chappel
Camera=ZWO ASI290MM
Filter=B
Profile=Jupiter
Diameter=44.27"
Magnitude=-2.51
CMI=19.0° CMII=270.2° CMIII=249.9°  (during mid of capture)
FocalLength=3800mm (F/13)
Resolution=0.16"
Filename=2019-07-16-0415_0-EC-B-Jup.ser
Date=2019_07_16
Start=04_14_01.502
Mid=04_15_01.516
End=04_16_01.531
Start(UT)=04_14_01.502
Mid(UT)=04_15_01.516
End(UT)=04_16_01.531
Duration=120.029s
Date_format=yyyy_MM_dd
Time_format=HH_mm_ss
LT=UT -6h
Frames captured=7058
File type=SER
Binning=no
Bit depth=8bit
Debayer=no
ROI=416x380
ROI(Offset)=8x0
FPS (avg.)=58
Shutter=17.00ms
Gain=300 (50%)
USBTraffic=40 (off)
HighSpeed=off
Brightness=1 (off)
SoftwareGain=10 (off)
AutoHisto=75 (off)
FPS=100 (off)
AutoExposure=off
AutoGain=off
Gamma=50
Histogramm(min)=0
Histogramm(max)=146
Histogramm=57%
Noise(avg.deviation)=0.63
AutoAlign=false
PreFilter=none
Limit=120 Seconds
Sensor temperature=36.0°C
FireCapture v2.6  Settings
------------------------------------
Observer=Ethan Chappel
Camera=ZWO ASI290MM
Filter=G
Profile=Jupiter
Diameter=44.27"
Magnitude=-2.51
CMI=16.3° CMII=267.5° CMIII=247.2°  (during mid of capture)
FocalLength=3800mm (F/13)
Resolution=0.16"
Filename=2019-07-16-0410_5-EC-G-Jup.ser
Date=2019_07_16
Start=04_09_32.938
Mid=04_10_32.938
End=04_11_32.939
Start(UT)=04_09_32.938
Mid(UT)=04_10_32.938
End(UT)=04_11_32.939
Duration=120.001s
Date_format=yyyy_MM_dd
Time_format=HH_mm_ss
LT=UT -6h
Frames captured=7973
File type=SER
Binning=no
Bit depth=8bit
Debayer=no
ROI=416x380
ROI(Offset)=8x0
FPS (avg.)=66
Shutter=15.00ms
Gain=280 (46%)
USBTraffic=40 (off)
HighSpeed=off
Brightness=1 (off)
SoftwareGain=10 (off)
AutoHisto=75 (off)
FPS=100 (off)
AutoExposure=off
AutoGain=off
Gamma=50 (off)
Histogramm(min)=0
Histogramm(max)=148
Histogramm=58%
Noise(avg.deviation)=0.52
AutoAlign=false
PreFilter=none
Limit=120 Seconds
Sensor temperature=36.1°C
FireCapture v2.6  Settings
------------------------------------
Observer=Ethan Chappel
Camera=ZWO ASI290MM
Filter=R
Profile=Jupiter
Diameter=44.27"
Magnitude=-2.51
CMI=14.0° CMII=265.3° CMIII=245.0°  (during mid of capture)
FocalLength=3800mm (F/13)
Resolution=0.16"
Filename=2019-07-16-0406_8-EC-R-Jup.ser
Date=2019_07_16
Start=04_05_52.471
Mid=04_06_52.473
End=04_07_52.475
Start(UT)=04_05_52.471
Mid(UT)=04_06_52.473
End(UT)=04_07_52.475
Duration=120.004s
Date_format=yyyy_MM_dd
Time_format=HH_mm_ss
LT=UT -6h
Frames captured=7999
File type=SER
Binning=no
Bit depth=8bit
Debayer=no
ROI=416x380
ROI(Offset)=8x0
FPS (avg.)=66
Shutter=15.00ms
Gain=280 (46%)
USBTraffic=40 (off)
HighSpeed=off
Brightness=1 (off)
SoftwareGain=10 (off)
AutoHisto=75 (off)
FPS=100 (off)
AutoExposure=off
AutoGain=off
Gamma=50 (off)
Histogramm(min)=0
Histogramm(max)=165
Histogramm=64%
Noise(avg.deviation)=0.55
AutoAlign=false
PreFilter=none
Limit=120 Seconds
Sensor temperature=36.0°C

Measurements
| Name | Longitude 1 | Longitude 2 | Longitude 3 | Latitude | Measurer |
| --- | --- | --- | --- | --- | --- |
| GRS P. End | 56° | 307.1° | 286.9° | -22.9° | EGC |
| GRS F. End | 69.6° | 320.7° | 300.5° | -21.8° | EGC |
| GRS S. Edge | 64.5° | 315.7° | 295.4° | -27.1° | EGC |
| GRS N. Edge | 61.7° | 312.9° | 292.6° | -18° | EGC |
| GRS Center | 62.8° | 313.9° | 293.7° | -22.4° | EGC |