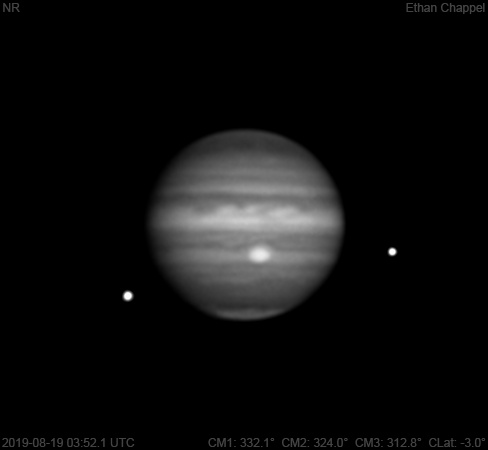 Jupiter UTC
CM1: 332.10°
CM2: 324.00°
CM3: 312.80°
CLat: -3.00°
Description
The best conditions for imaging I've had with the C8 so far this summer, although it got a little worse by the time I got to recording methane data.
Notes:
The southern edge of the Equatorial Zone is darker than the rest of the zone.
The Great Red spot is front and center.
Io is approaching occultation as Ganymede emerges from behind Jupiter.
Equipment
ZWO ASI290MM
Celestron EdgeHD 8
Logs
FireCapture v2.6  Settings
------------------------------------
Observer=Ethan Chappel
Camera=ZWO ASI290MM
Filter=CH4
Profile=Jupiter
Diameter=40.48"
Magnitude=-2.30
CMI=333.9° CMII=325.8° CMIII=314.5°  (during mid of capture)
FocalLength=1600mm (F/5)
Resolution=0.37"
Filename=2019-08-19-0354_3-EC-CH4-Jup.ser
Date=2019_08_19
Start=03_52_23.965
Mid=03_54_23.967
End=03_56_23.969
Start(UT)=03_52_23.965
Mid(UT)=03_54_23.967
End(UT)=03_56_23.969
Duration=240.004s
Date_format=yyyy_MM_dd
Time_format=HH_mm_ss
LT=UT -6h
Frames captured=4108
File type=SER
Binning=no
Bit depth=8bit
Debayer=no
ROI=280x216
ROI(Offset)=8x8
FPS (avg.)=17
Shutter=60.00ms
Gain=400 (66%)
HighSpeed=off
SoftwareGain=10 (off)
AutoExposure=off
AutoGain=off
AutoHisto=75 (off)
USBTraffic=40 (off)
Gamma=50 (off)
FPS=100 (off)
Brightness=1 (off)
Histogramm(min)=0
Histogramm(max)=241
Histogramm=94%
Noise(avg.deviation)=0.65
AutoAlign=false
PreFilter=none
Limit=240 Seconds
Sensor temperature=35.1°C
FireCapture v2.6  Settings
------------------------------------
Observer=Ethan Chappel
Camera=ZWO ASI290MM
Filter=CH4
Profile=Jupiter
Diameter=40.48"
Magnitude=-2.30
CMI=331.3° CMII=323.2° CMIII=311.9°  (during mid of capture)
FocalLength=1650mm (F/5)
Resolution=0.36"
Filename=2019-08-19-0350_0-EC-CH4-Jup.ser
Date=2019_08_19
Start=03_48_05.879
Mid=03_50_05.897
End=03_52_05.916
Start(UT)=03_48_05.879
Mid(UT)=03_50_05.897
End(UT)=03_52_05.916
Duration=240.037s
Date_format=yyyy_MM_dd
Time_format=HH_mm_ss
LT=UT -6h
Frames captured=4000
File type=SER
Binning=no
Bit depth=8bit
Debayer=no
ROI=280x216
ROI(Offset)=8x8
FPS (avg.)=16
Shutter=60.00ms
Gain=400 (66%)
HighSpeed=off
SoftwareGain=10 (off)
AutoExposure=off
AutoGain=off
AutoHisto=75 (off)
USBTraffic=40 (off)
Gamma=50 (off)
FPS=100 (off)
Brightness=1 (off)
Histogramm(min)=0
Histogramm(max)=255
Histogramm=100%
Noise(avg.deviation)=0.66
AutoAlign=false
PreFilter=none
Limit=240 Seconds
Sensor temperature=35.6°C