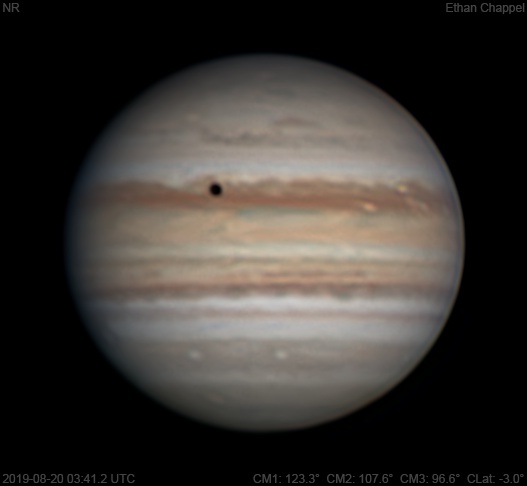 Jupiter UTC
CM1: 123.30°
CM2: 107.60°
CM3: 96.60°
CLat: -3.00°
Description
Decent conditions for imaging with the C8 again.
Notes:
A small white oval is northwest of Io's shadow.
The Equatorial Zone is still orange.
Oval BA is rising.
The South Temperate Belt has two blue streaks approaching the central meridian. Are these new structured segments?
Io and its shadow are transiting the North Equatorial Belt.
Equipment
ZWO ASI290MM
Astro-Physics Advanced Convertible Barlow
Celestron EdgeHD 8
Logs
FireCapture v2.6  Settings
------------------------------------
Observer=Ethan Chappel
Camera=ZWO ASI290MM
Filter=B
Profile=Jupiter
Diameter=40.36"
Magnitude=-2.29
CMI=125.3° CMII=109.6° CMIII=98.6°  (during mid of capture)
FocalLength=3750mm (F/13)
Resolution=0.16"
Filename=2019-08-20-0343_8-EC-B-Jup.ser
Date=2019_08_20
Start=03_42_53.135
Mid=03_43_53.148
End=03_44_53.162
Start(UT)=03_42_53.135
Mid(UT)=03_43_53.148
End(UT)=03_44_53.162
Duration=120.027s
Date_format=yyyy_MM_dd
Time_format=HH_mm_ss
LT=UT -6h
Frames captured=7058
File type=SER
Binning=no
Bit depth=8bit
Debayer=no
ROI=416x330
ROI(Offset)=8x8
FPS (avg.)=58
Shutter=17.00ms
Gain=300 (50%)
AutoExposure=off
AutoGain=off
Brightness=1 (off)
FPS=100 (off)
Gamma=50
USBTraffic=40 (off)
AutoHisto=75 (off)
HighSpeed=off
SoftwareGain=10 (off)
Histogramm(min)=0
Histogramm(max)=123
Histogramm=48%
Noise(avg.deviation)=0.40
AutoAlign=false
PreFilter=none
Limit=120 Seconds
Sensor temperature=36.6°C
FireCapture v2.6  Settings
------------------------------------
Observer=Ethan Chappel
Camera=ZWO ASI290MM
Filter=G
Profile=Jupiter
Diameter=40.36"
Magnitude=-2.29
CMI=123.7° CMII=108.0° CMIII=97.0°  (during mid of capture)
FocalLength=3700mm (F/13)
Resolution=0.16"
Filename=2019-08-20-0341_2-EC-G-Jup.ser
Date=2019_08_20
Start=03_40_14.654
Mid=03_41_14.661
End=03_42_14.669
Start(UT)=03_40_14.654
Mid(UT)=03_41_14.661
End(UT)=03_42_14.669
Duration=120.015s
Date_format=yyyy_MM_dd
Time_format=HH_mm_ss
LT=UT -6h
Frames captured=7999
File type=SER
Binning=no
Bit depth=8bit
Debayer=no
ROI=416x330
ROI(Offset)=8x8
FPS (avg.)=66
Shutter=15.00ms
Gain=280 (46%)
AutoExposure=off
AutoGain=off
Brightness=1 (off)
FPS=100 (off)
Gamma=50 (off)
USBTraffic=40 (off)
AutoHisto=75 (off)
HighSpeed=off
SoftwareGain=10 (off)
Histogramm(min)=0
Histogramm(max)=116
Histogramm=45%
Noise(avg.deviation)=0.33
AutoAlign=false
PreFilter=none
Limit=120 Seconds
Sensor temperature=36.5°C
FireCapture v2.6  Settings
------------------------------------
Observer=Ethan Chappel
Camera=ZWO ASI290MM
Filter=R
Profile=Jupiter
Diameter=40.36"
Magnitude=-2.29
CMI=122.1° CMII=106.5° CMIII=95.5°  (during mid of capture)
FocalLength=3650mm (F/13)
Resolution=0.16"
Filename=2019-08-20-0338_7-EC-R-Jup.ser
Date=2019_08_20
Start=03_37_43.000
Mid=03_38_42.999
End=03_39_42.999
Start(UT)=03_37_43.000
Mid(UT)=03_38_42.999
End(UT)=03_39_42.999
Duration=119.999s
Date_format=yyyy_MM_dd
Time_format=HH_mm_ss
LT=UT -6h
Frames captured=9994
File type=SER
Binning=no
Bit depth=8bit
Debayer=no
ROI=416x330
ROI(Offset)=8x8
FPS (avg.)=83
Shutter=12.00ms
Gain=300 (50%)
AutoExposure=off
AutoGain=off
Brightness=1 (off)
FPS=100 (off)
Gamma=50 (off)
USBTraffic=40 (off)
AutoHisto=75 (off)
HighSpeed=off
SoftwareGain=10 (off)
Histogramm(min)=0
Histogramm(max)=141
Histogramm=55%
Noise(avg.deviation)=0.42
AutoAlign=false
PreFilter=none
Limit=120 Seconds
Sensor temperature=34.6°C