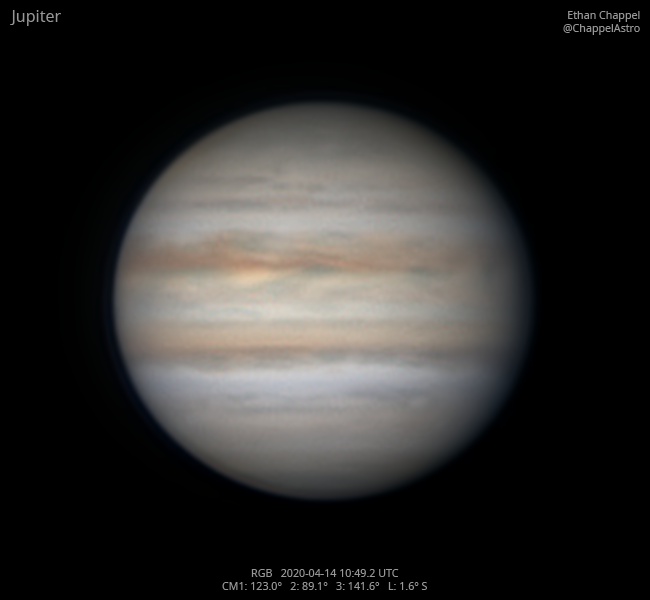 Jupiter UTC
CM1: 123.00°
CM2: 89.10°
CM3: 141.60°
CLat: -1.60°
Description
Although the morning was cold and windy, it has been two months since my last image of Jupiter, so I was going to be happy with whatever image I got. In order to catch all three bright morning planets before sunrise, I used my ASI224MC to capture all color channels at once.
Notes:
The North Equatorial Belt seems to be widening.
The Equatorial Zone is still slightly orange.
Equipment
ZWO ASI224MC
Celestron 2x
Celestron EdgeHD 8
Logs
FireCapture v2.6  Settings
------------------------------------
Observer=Ethan Chappel
Camera=ZWO ASI224MC
Filter=RGB
Profile=Jupiter
Diameter=38.55"
Magnitude=-2.23
CMI=126.3° CMII=92.4° CMIII=144.8°  (during mid of capture)
FocalLength=5500mm (F/15)
Resolution=0.14"
Filename=2020-04-14-1055_6-EC-RGB.ser
Date=2020_04_14
Start=10_54_53.693
Mid=10_55_38.698
End=10_56_23.703
Start(UT)=10_54_53.693
Mid(UT)=10_55_38.698
End(UT)=10_56_23.703
Duration=90.010s
Date_format=yyyy_MM_dd
Time_format=HH_mm_ss
LT=UT -6h
Frames captured=5757
File type=SER
Binning=no
Bit depth=8bit
Debayer=yes
DebayerAlgorithm=NearestNeighbor
BayerPattern=RG
ROI=436x422
ROI(Offset)=0x0
FPS (avg.)=63
Shutter=10.00ms
Gain=350 (58%)
AutoExposure=off
AutoGain=off
Brightness=1 (off)
WBlue=99 (off)
SoftwareGain=10 (off)
Gamma=50 (off)
AutoHisto=75 (off)
USBTraffic=100 (off)
HardwareBin=off
HighSpeed=off
FPS=100 (off)
WRed=62 (off)
Histogramm(min)=0
Histogramm(max)=149
Histogramm=58%
Noise(avg.deviation)=0.89
AutoAlign=false
PreFilter=none
Limit=90 Seconds
Sensor temperature=15.8°C
FireCapture v2.6  Settings
------------------------------------
Observer=Ethan Chappel
Camera=ZWO ASI224MC
Filter=RGB
Profile=Jupiter
Diameter=38.55"
Magnitude=-2.23
CMI=125.1° CMII=91.2° CMIII=143.7°  (during mid of capture)
FocalLength=5450mm (F/15)
Resolution=0.14"
Filename=2020-04-14-1053_7-EC-RGB.ser
Date=2020_04_14
Start=10_52_58.609
Mid=10_53_43.614
End=10_54_28.619
Start(UT)=10_52_58.609
Mid(UT)=10_53_43.614
End(UT)=10_54_28.619
Duration=90.010s
Date_format=yyyy_MM_dd
Time_format=HH_mm_ss
LT=UT -6h
Frames captured=5757
File type=SER
Binning=no
Bit depth=8bit
Debayer=yes
DebayerAlgorithm=NearestNeighbor
BayerPattern=RG
ROI=436x422
ROI(Offset)=0x0
FPS (avg.)=63
Shutter=10.00ms
Gain=350 (58%)
AutoExposure=off
AutoGain=off
Brightness=1 (off)
WBlue=99 (off)
SoftwareGain=10 (off)
Gamma=50 (off)
AutoHisto=75 (off)
USBTraffic=100 (off)
HardwareBin=off
HighSpeed=off
FPS=100 (off)
WRed=62 (off)
Histogramm(min)=0
Histogramm(max)=170
Histogramm=66%
Noise(avg.deviation)=0.89
AutoAlign=false
PreFilter=none
Limit=90 Seconds
Sensor temperature=15.8°C
FireCapture v2.6  Settings
------------------------------------
Observer=Ethan Chappel
Camera=ZWO ASI224MC
Filter=RGB
Profile=Jupiter
Diameter=38.55"
Magnitude=-2.23
CMI=124.0° CMII=90.1° CMIII=142.6°  (during mid of capture)
FocalLength=5450mm (F/15)
Resolution=0.14"
Filename=2020-04-14-1051_8-EC-RGB.ser
Date=2020_04_14
Start=10_51_08.307
Mid=10_51_53.312
End=10_52_38.317
Start(UT)=10_51_08.307
Mid(UT)=10_51_53.312
End(UT)=10_52_38.317
Duration=90.010s
Date_format=yyyy_MM_dd
Time_format=HH_mm_ss
LT=UT -6h
Frames captured=5757
File type=SER
Binning=no
Bit depth=8bit
Debayer=yes
DebayerAlgorithm=NearestNeighbor
BayerPattern=RG
ROI=436x422
ROI(Offset)=0x0
FPS (avg.)=63
Shutter=10.00ms
Gain=350 (58%)
AutoExposure=off
AutoGain=off
Brightness=1 (off)
WBlue=99 (off)
SoftwareGain=10 (off)
Gamma=50 (off)
AutoHisto=75 (off)
USBTraffic=100 (off)
HardwareBin=off
HighSpeed=off
FPS=100 (off)
WRed=62 (off)
Histogramm(min)=0
Histogramm(max)=152
Histogramm=59%
Noise(avg.deviation)=0.89
AutoAlign=false
PreFilter=none
Limit=90 Seconds
Sensor temperature=15.8°C
FireCapture v2.6  Settings
------------------------------------
Observer=Ethan Chappel
Camera=ZWO ASI224MC
Filter=RGB
Profile=Jupiter
Diameter=38.55"
Magnitude=-2.23
CMI=122.9° CMII=89.0° CMIII=141.5°  (during mid of capture)
FocalLength=5450mm (F/15)
Resolution=0.14"
Filename=2020-04-14-1050_0-EC-RGB.ser
Date=2020_04_14
Start=10_49_19.543
Mid=10_50_04.545
End=10_50_49.548
Start(UT)=10_49_19.543
Mid(UT)=10_50_04.545
End(UT)=10_50_49.548
Duration=90.005s
Date_format=yyyy_MM_dd
Time_format=HH_mm_ss
LT=UT -6h
Frames captured=5756
File type=SER
Binning=no
Bit depth=8bit
Debayer=yes
DebayerAlgorithm=NearestNeighbor
BayerPattern=RG
ROI=436x422
ROI(Offset)=0x0
FPS (avg.)=63
Shutter=10.00ms
Gain=350 (58%)
AutoExposure=off
AutoGain=off
Brightness=1 (off)
WBlue=99 (off)
SoftwareGain=10 (off)
Gamma=50 (off)
AutoHisto=75 (off)
USBTraffic=100 (off)
HardwareBin=off
HighSpeed=off
FPS=100 (off)
WRed=62 (off)
Histogramm(min)=0
Histogramm(max)=150
Histogramm=58%
Noise(avg.deviation)=0.90
AutoAlign=false
PreFilter=none
Limit=90 Seconds
Sensor temperature=16.1°C
FireCapture v2.6  Settings
------------------------------------
Observer=Ethan Chappel
Camera=ZWO ASI224MC
Filter=RGB
Profile=Jupiter
Diameter=38.55"
Magnitude=-2.23
CMI=121.8° CMII=87.9° CMIII=140.4°  (during mid of capture)
FocalLength=5500mm (F/15)
Resolution=0.14"
Filename=2020-04-14-1048_2-EC-RGB.ser
Date=2020_04_14
Start=10_47_29.978
Mid=10_48_14.980
End=10_48_59.982
Start(UT)=10_47_29.978
Mid(UT)=10_48_14.980
End(UT)=10_48_59.982
Duration=90.004s
Date_format=yyyy_MM_dd
Time_format=HH_mm_ss
LT=UT -6h
Frames captured=5756
File type=SER
Binning=no
Bit depth=8bit
Debayer=yes
DebayerAlgorithm=NearestNeighbor
BayerPattern=RG
ROI=436x422
ROI(Offset)=0x0
FPS (avg.)=63
Shutter=10.00ms
Gain=350 (58%)
AutoExposure=off
AutoGain=off
Brightness=1 (off)
WBlue=99 (off)
SoftwareGain=10 (off)
Gamma=50 (off)
AutoHisto=75 (off)
USBTraffic=100 (off)
HardwareBin=off
HighSpeed=off
FPS=100 (off)
WRed=62 (off)
Histogramm(min)=0
Histogramm(max)=158
Histogramm=61%
Noise(avg.deviation)=0.87
AutoAlign=false
PreFilter=none
Limit=90 Seconds
Sensor temperature=16.1°C
FireCapture v2.6  Settings
------------------------------------
Observer=Ethan Chappel
Camera=ZWO ASI224MC
Filter=RGB
Profile=Jupiter
Diameter=38.55"
Magnitude=-2.23
CMI=120.7° CMII=86.8° CMIII=139.3°  (during mid of capture)
FocalLength=5500mm (F/15)
Resolution=0.14"
Filename=2020-04-14-1046_4-EC-RGB.ser
Date=2020_04_14
Start=10_45_40.386
Mid=10_46_25.392
End=10_47_10.399
Start(UT)=10_45_40.386
Mid(UT)=10_46_25.392
End(UT)=10_47_10.399
Duration=90.013s
Date_format=yyyy_MM_dd
Time_format=HH_mm_ss
LT=UT -6h
Frames captured=5757
File type=SER
Binning=no
Bit depth=8bit
Debayer=yes
DebayerAlgorithm=NearestNeighbor
BayerPattern=RG
ROI=436x422
ROI(Offset)=0x0
FPS (avg.)=63
Shutter=10.00ms
Gain=350 (58%)
AutoExposure=off
AutoGain=off
Brightness=1 (off)
WBlue=99 (off)
SoftwareGain=10 (off)
Gamma=50 (off)
AutoHisto=75 (off)
USBTraffic=100 (off)
HardwareBin=off
HighSpeed=off
FPS=100 (off)
WRed=62 (off)
Histogramm(min)=0
Histogramm(max)=148
Histogramm=58%
Noise(avg.deviation)=0.84
AutoAlign=false
PreFilter=none
Limit=90 Seconds
Sensor temperature=16.2°C
FireCapture v2.6  Settings
------------------------------------
Observer=Ethan Chappel
Camera=ZWO ASI224MC
Filter=RGB
Profile=Jupiter
Diameter=38.55"
Magnitude=-2.23
CMI=119.7° CMII=85.8° CMIII=138.2°  (during mid of capture)
FocalLength=5450mm (F/15)
Resolution=0.14"
Filename=2020-04-14-1044_7-EC-RGB.ser
Date=2020_04_14
Start=10_44_00.828
Mid=10_44_45.833
End=10_45_30.838
Start(UT)=10_44_00.828
Mid(UT)=10_44_45.833
End(UT)=10_45_30.838
Duration=90.010s
Date_format=yyyy_MM_dd
Time_format=HH_mm_ss
LT=UT -6h
Frames captured=5757
File type=SER
Binning=no
Bit depth=8bit
Debayer=yes
DebayerAlgorithm=NearestNeighbor
BayerPattern=RG
ROI=436x422
ROI(Offset)=0x0
FPS (avg.)=63
Shutter=10.00ms
Gain=350 (58%)
AutoExposure=off
AutoGain=off
Brightness=1 (off)
WBlue=99 (off)
SoftwareGain=10 (off)
Gamma=50 (off)
AutoHisto=75 (off)
USBTraffic=100 (off)
HardwareBin=off
HighSpeed=off
FPS=100 (off)
WRed=62 (off)
Histogramm(min)=0
Histogramm(max)=157
Histogramm=61%
Noise(avg.deviation)=0.85
AutoAlign=false
PreFilter=none
Limit=90 Seconds
Sensor temperature=16.3°C
FireCapture v2.6  Settings
------------------------------------
Observer=Ethan Chappel
Camera=ZWO ASI224MC
Filter=RGB
Profile=Jupiter
Diameter=38.55"
Magnitude=-2.23
CMI=118.7° CMII=84.9° CMIII=137.3°  (during mid of capture)
FocalLength=5450mm (F/15)
Resolution=0.14"
Filename=2020-04-14-1043_1-EC-RGB.ser
Date=2020_04_14
Start=10_42_26.917
Mid=10_43_11.921
End=10_43_56.925
Start(UT)=10_42_26.917
Mid(UT)=10_43_11.921
End(UT)=10_43_56.925
Duration=90.008s
Date_format=yyyy_MM_dd
Time_format=HH_mm_ss
LT=UT -6h
Frames captured=5757
File type=SER
Binning=no
Bit depth=8bit
Debayer=yes
DebayerAlgorithm=NearestNeighbor
BayerPattern=RG
ROI=436x422
ROI(Offset)=0x0
FPS (avg.)=63
Shutter=10.00ms
Gain=350 (58%)
AutoExposure=off
AutoGain=off
Brightness=1 (off)
WBlue=99 (off)
SoftwareGain=10 (off)
Gamma=50 (off)
AutoHisto=75 (off)
USBTraffic=100 (off)
HardwareBin=off
HighSpeed=off
FPS=100 (off)
WRed=62 (off)
Histogramm(min)=0
Histogramm(max)=149
Histogramm=58%
Noise(avg.deviation)=0.84
AutoAlign=false
PreFilter=none
Limit=90 Seconds
Sensor temperature=16.3°C