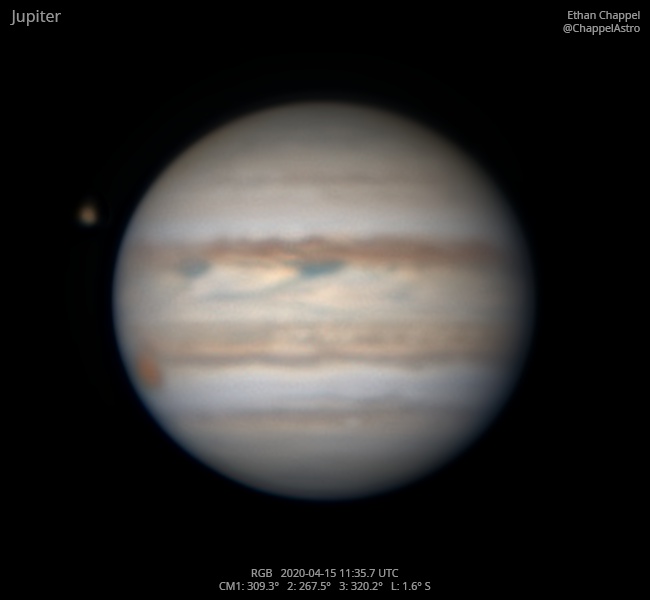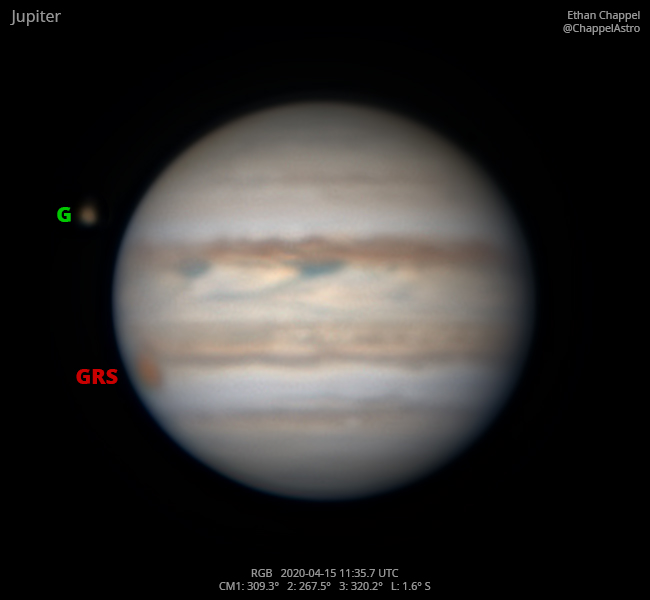 Jupiter UTC
CM1: 309.30°
CM2: 267.50°
CM3: 320.20°
CLat: -1.60°
Description
Seeing had improved slightly by the time I got around to imaging Jupiter. My usual order of imaging morning planets starts with Jupiter because it's currently the highest of the three, but I wanted to catch the GRS so I had to save it for last.
Notes:
The Equatorial Zone is still slightly orange.
The Great Red Spot is rising.
The western part of the STB Spectre is setting.
Ganymede is approaching transit.
Equipment
ZWO ASI224MC
Celestron 2x
Celestron EdgeHD 8
Logs
FireCapture v2.6  Settings
------------------------------------
Observer=Ethan Chappel
Camera=ZWO ASI224MC
Filter=RGB
Profile=Jupiter
Diameter=38.68"
Magnitude=-2.24
CMI=303.4° CMII=261.7° CMIII=314.4°  (during mid of capture)
FocalLength=5450mm (F/15)
Resolution=0.14"
Filename=2020-04-15-1127_0-EC-RGB.ser
Date=2020_04_15
Start=11_26_19.108
Mid=11_27_04.110
End=11_27_49.113
Start(UT)=11_26_19.108
Mid(UT)=11_27_04.110
End(UT)=11_27_49.113
Duration=90.005s
Date_format=yyyy_MM_dd
Time_format=HH_mm_ss
LT=UT -6h
Frames captured=8997
File type=SER
Binning=no
Bit depth=8bit
Debayer=no
ROI=436x422
ROI(Offset)=280x8
FPS (avg.)=99
Shutter=10.00ms
Gain=350 (58%)
USBTraffic=100 (off)
AutoExposure=off
HardwareBin=off
WRed=62 (off)
Gamma=50 (off)
AutoHisto=75 (off)
FPS=100 (off)
SoftwareGain=10 (off)
Brightness=1 (off)
WBlue=99 (off)
AutoGain=off
HighSpeed=off
Histogramm(min)=0
Histogramm(max)=149
Histogramm=58%
Noise(avg.deviation)=2.93
AutoAlign=false
PreFilter=none
Limit=90 Seconds
Sensor temperature=15.1°C
FireCapture v2.6  Settings
------------------------------------
Observer=Ethan Chappel
Camera=ZWO ASI224MC
Filter=RGB
Profile=Jupiter
Diameter=38.68"
Magnitude=-2.24
CMI=304.3° CMII=262.6° CMIII=315.3°  (during mid of capture)
FocalLength=5400mm (F/15)
Resolution=0.14"
Filename=2020-04-15-1128_6-EC-RGB.ser
Date=2020_04_15
Start=11_27_52.516
Mid=11_28_37.517
End=11_29_22.519
Start(UT)=11_27_52.516
Mid(UT)=11_28_37.517
End(UT)=11_29_22.519
Duration=90.003s
Date_format=yyyy_MM_dd
Time_format=HH_mm_ss
LT=UT -6h
Frames captured=8997
File type=SER
Binning=no
Bit depth=8bit
Debayer=no
ROI=436x422
ROI(Offset)=280x8
FPS (avg.)=99
Shutter=10.00ms
Gain=350 (58%)
USBTraffic=100 (off)
AutoExposure=off
HardwareBin=off
WRed=62 (off)
Gamma=50 (off)
AutoHisto=75 (off)
FPS=100 (off)
SoftwareGain=10 (off)
Brightness=1 (off)
WBlue=99 (off)
AutoGain=off
HighSpeed=off
Histogramm(min)=0
Histogramm(max)=161
Histogramm=63%
Noise(avg.deviation)=2.95
AutoAlign=false
PreFilter=none
Limit=90 Seconds
Sensor temperature=15.1°C
FireCapture v2.6  Settings
------------------------------------
Observer=Ethan Chappel
Camera=ZWO ASI224MC
Filter=RGB
Profile=Jupiter
Diameter=38.68"
Magnitude=-2.24
CMI=306.0° CMII=264.3° CMIII=317.0°  (during mid of capture)
FocalLength=5450mm (F/15)
Resolution=0.14"
Filename=2020-04-15-1131_4-EC-RGB.ser
Date=2020_04_15
Start=11_30_39.680
Mid=11_31_24.681
End=11_32_09.682
Start(UT)=11_30_39.680
Mid(UT)=11_31_24.681
End(UT)=11_32_09.682
Duration=90.002s
Date_format=yyyy_MM_dd
Time_format=HH_mm_ss
LT=UT -6h
Frames captured=8996
File type=SER
Binning=no
Bit depth=8bit
Debayer=no
ROI=436x422
ROI(Offset)=280x8
FPS (avg.)=99
Shutter=10.00ms
Gain=350 (58%)
USBTraffic=100 (off)
AutoExposure=off
HardwareBin=off
WRed=62 (off)
Gamma=50 (off)
AutoHisto=75 (off)
FPS=100 (off)
SoftwareGain=10 (off)
Brightness=1 (off)
WBlue=99 (off)
AutoGain=off
HighSpeed=off
Histogramm(min)=0
Histogramm(max)=156
Histogramm=61%
Noise(avg.deviation)=2.85
AutoAlign=false
PreFilter=none
Limit=90 Seconds
Sensor temperature=15.0°C
FireCapture v2.6  Settings
------------------------------------
Observer=Ethan Chappel
Camera=ZWO ASI224MC
Filter=RGB
Profile=Jupiter
Diameter=38.68"
Magnitude=-2.24
CMI=307.0° CMII=265.2° CMIII=317.9°  (during mid of capture)
FocalLength=5400mm (F/15)
Resolution=0.14"
Filename=2020-04-15-1132_9-EC-RGB.ser
Date=2020_04_15
Start=11_32_13.101
Mid=11_32_58.103
End=11_33_43.106
Start(UT)=11_32_13.101
Mid(UT)=11_32_58.103
End(UT)=11_33_43.106
Duration=90.005s
Date_format=yyyy_MM_dd
Time_format=HH_mm_ss
LT=UT -6h
Frames captured=8997
File type=SER
Binning=no
Bit depth=8bit
Debayer=no
ROI=436x422
ROI(Offset)=280x8
FPS (avg.)=99
Shutter=10.00ms
Gain=350 (58%)
USBTraffic=100 (off)
AutoExposure=off
HardwareBin=off
WRed=62 (off)
Gamma=50 (off)
AutoHisto=75 (off)
FPS=100 (off)
SoftwareGain=10 (off)
Brightness=1 (off)
WBlue=99 (off)
AutoGain=off
HighSpeed=off
Histogramm(min)=0
Histogramm(max)=172
Histogramm=67%
Noise(avg.deviation)=2.92
AutoAlign=false
PreFilter=none
Limit=90 Seconds
Sensor temperature=15.0°C
FireCapture v2.6  Settings
------------------------------------
Observer=Ethan Chappel
Camera=ZWO ASI224MC
Filter=RGB
Profile=Jupiter
Diameter=38.68"
Magnitude=-2.24
CMI=307.9° CMII=266.2° CMIII=318.9°  (during mid of capture)
FocalLength=5400mm (F/15)
Resolution=0.14"
Filename=2020-04-15-1134_5-EC-RGB.ser
Date=2020_04_15
Start=11_33_46.445
Mid=11_34_31.447
End=11_35_16.450
Start(UT)=11_33_46.445
Mid(UT)=11_34_31.447
End(UT)=11_35_16.450
Duration=90.005s
Date_format=yyyy_MM_dd
Time_format=HH_mm_ss
LT=UT -6h
Frames captured=8997
File type=SER
Binning=no
Bit depth=8bit
Debayer=no
ROI=436x422
ROI(Offset)=280x8
FPS (avg.)=99
Shutter=10.00ms
Gain=350 (58%)
USBTraffic=100 (off)
AutoExposure=off
HardwareBin=off
WRed=62 (off)
Gamma=50 (off)
AutoHisto=75 (off)
FPS=100 (off)
SoftwareGain=10 (off)
Brightness=1 (off)
WBlue=99 (off)
AutoGain=off
HighSpeed=off
Histogramm(min)=0
Histogramm(max)=155
Histogramm=60%
Noise(avg.deviation)=2.95
AutoAlign=false
PreFilter=none
Limit=90 Seconds
Sensor temperature=14.8°C
FireCapture v2.6  Settings
------------------------------------
Observer=Ethan Chappel
Camera=ZWO ASI224MC
Filter=RGB
Profile=Jupiter
Diameter=38.68"
Magnitude=-2.24
CMI=308.8° CMII=267.1° CMIII=319.8°  (during mid of capture)
FocalLength=5400mm (F/15)
Resolution=0.14"
Filename=2020-04-15-1136_0-EC-RGB.ser
Date=2020_04_15
Start=11_35_16.859
Mid=11_36_01.859
End=11_36_46.860
Start(UT)=11_35_16.859
Mid(UT)=11_36_01.859
End(UT)=11_36_46.860
Duration=90.001s
Date_format=yyyy_MM_dd
Time_format=HH_mm_ss
LT=UT -6h
Frames captured=8995
File type=SER
Binning=no
Bit depth=8bit
Debayer=no
ROI=436x422
ROI(Offset)=280x8
FPS (avg.)=99
Shutter=10.00ms
Gain=350 (58%)
USBTraffic=100 (off)
AutoExposure=off
HardwareBin=off
WRed=62 (off)
Gamma=50 (off)
AutoHisto=75 (off)
FPS=100 (off)
SoftwareGain=10 (off)
Brightness=1 (off)
WBlue=99 (off)
AutoGain=off
HighSpeed=off
Histogramm(min)=0
Histogramm(max)=165
Histogramm=64%
Noise(avg.deviation)=3.04
AutoAlign=false
PreFilter=none
Limit=90 Seconds
Sensor temperature=14.8°C
FireCapture v2.6  Settings
------------------------------------
Observer=Ethan Chappel
Camera=ZWO ASI224MC
Filter=RGB
Profile=Jupiter
Diameter=38.68"
Magnitude=-2.24
CMI=309.7° CMII=268.0° CMIII=320.7°  (during mid of capture)
FocalLength=5450mm (F/15)
Resolution=0.14"
Filename=2020-04-15-1137_5-EC-RGB.ser
Date=2020_04_15
Start=11_36_47.262
Mid=11_37_32.266
End=11_38_17.271
Start(UT)=11_36_47.262
Mid(UT)=11_37_32.266
End(UT)=11_38_17.271
Duration=90.009s
Date_format=yyyy_MM_dd
Time_format=HH_mm_ss
LT=UT -6h
Frames captured=8997
File type=SER
Binning=no
Bit depth=8bit
Debayer=no
ROI=436x422
ROI(Offset)=280x8
FPS (avg.)=99
Shutter=10.00ms
Gain=350 (58%)
USBTraffic=100 (off)
AutoExposure=off
HardwareBin=off
WRed=62 (off)
Gamma=50 (off)
AutoHisto=75 (off)
FPS=100 (off)
SoftwareGain=10 (off)
Brightness=1 (off)
WBlue=99 (off)
AutoGain=off
HighSpeed=off
Histogramm(min)=0
Histogramm(max)=163
Histogramm=63%
Noise(avg.deviation)=2.96
AutoAlign=false
PreFilter=none
Limit=90 Seconds
Sensor temperature=14.8°C
FireCapture v2.6  Settings
------------------------------------
Observer=Ethan Chappel
Camera=ZWO ASI224MC
Filter=RGB
Profile=Jupiter
Diameter=38.68"
Magnitude=-2.24
CMI=310.7° CMII=268.9° CMIII=321.6°  (during mid of capture)
FocalLength=5450mm (F/15)
Resolution=0.14"
Filename=2020-04-15-1139_0-EC-RGB.ser
Date=2020_04_15
Start=11_38_17.667
Mid=11_39_02.668
End=11_39_47.669
Start(UT)=11_38_17.667
Mid(UT)=11_39_02.668
End(UT)=11_39_47.669
Duration=90.002s
Date_format=yyyy_MM_dd
Time_format=HH_mm_ss
LT=UT -6h
Frames captured=8996
File type=SER
Binning=no
Bit depth=8bit
Debayer=no
ROI=436x422
ROI(Offset)=280x8
FPS (avg.)=99
Shutter=10.00ms
Gain=350 (58%)
USBTraffic=100 (off)
AutoExposure=off
HardwareBin=off
WRed=62 (off)
Gamma=50 (off)
AutoHisto=75 (off)
FPS=100 (off)
SoftwareGain=10 (off)
Brightness=1 (off)
WBlue=99 (off)
AutoGain=off
HighSpeed=off
Histogramm(min)=0
Histogramm(max)=156
Histogramm=61%
Noise(avg.deviation)=2.97
AutoAlign=false
PreFilter=none
Limit=90 Seconds
Sensor temperature=14.7°C
FireCapture v2.6  Settings
------------------------------------
Observer=Ethan Chappel
Camera=ZWO ASI224MC
Filter=RGB
Profile=Jupiter
Diameter=38.68"
Magnitude=-2.24
CMI=311.6° CMII=269.8° CMIII=322.5°  (during mid of capture)
FocalLength=5550mm (F/15)
Resolution=0.14"
Filename=2020-04-15-1140_5-EC-RGB.ser
Date=2020_04_15
Start=11_39_48.265
Mid=11_40_33.269
End=11_41_18.273
Start(UT)=11_39_48.265
Mid(UT)=11_40_33.269
End(UT)=11_41_18.273
Duration=90.008s
Date_format=yyyy_MM_dd
Time_format=HH_mm_ss
LT=UT -6h
Frames captured=8997
File type=SER
Binning=no
Bit depth=8bit
Debayer=no
ROI=436x422
ROI(Offset)=280x8
FPS (avg.)=99
Shutter=10.00ms
Gain=350 (58%)
USBTraffic=100 (off)
AutoExposure=off
HardwareBin=off
WRed=62 (off)
Gamma=50 (off)
AutoHisto=75 (off)
FPS=100 (off)
SoftwareGain=10 (off)
Brightness=1 (off)
WBlue=99 (off)
AutoGain=off
HighSpeed=off
Histogramm(min)=0
Histogramm(max)=159
Histogramm=62%
Noise(avg.deviation)=3.02
AutoAlign=false
PreFilter=none
Limit=90 Seconds
Sensor temperature=14.7°C
FireCapture v2.6  Settings
------------------------------------
Observer=Ethan Chappel
Camera=ZWO ASI224MC
Filter=RGB
Profile=Jupiter
Diameter=38.68"
Magnitude=-2.24
CMI=312.5° CMII=270.7° CMIII=323.4°  (during mid of capture)
FocalLength=5450mm (F/15)
Resolution=0.14"
Filename=2020-04-15-1142_0-EC-RGB.ser
Date=2020_04_15
Start=11_41_18.780
Mid=11_42_03.784
End=11_42_48.789
Start(UT)=11_41_18.780
Mid(UT)=11_42_03.784
End(UT)=11_42_48.789
Duration=90.009s
Date_format=yyyy_MM_dd
Time_format=HH_mm_ss
LT=UT -6h
Frames captured=8997
File type=SER
Binning=no
Bit depth=8bit
Debayer=no
ROI=436x422
ROI(Offset)=280x8
FPS (avg.)=99
Shutter=10.00ms
Gain=350 (58%)
USBTraffic=100 (off)
AutoExposure=off
HardwareBin=off
WRed=62 (off)
Gamma=50 (off)
AutoHisto=75 (off)
FPS=100 (off)
SoftwareGain=10 (off)
Brightness=1 (off)
WBlue=99 (off)
AutoGain=off
HighSpeed=off
Histogramm(min)=0
Histogramm(max)=165
Histogramm=64%
Noise(avg.deviation)=3.01
AutoAlign=false
PreFilter=none
Limit=90 Seconds
Sensor temperature=14.6°C
FireCapture v2.6  Settings
------------------------------------
Observer=Ethan Chappel
Camera=ZWO ASI224MC
Filter=RGB
Profile=Jupiter
Diameter=38.68"
Magnitude=-2.24
CMI=313.4° CMII=271.6° CMIII=324.3°  (during mid of capture)
FocalLength=5700mm (F/16)
Resolution=0.14"
Filename=2020-04-15-1143_5-EC-RGB.ser
Date=2020_04_15
Start=11_42_49.170
Mid=11_43_34.177
End=11_44_19.184
Start(UT)=11_42_49.170
Mid(UT)=11_43_34.177
End(UT)=11_44_19.184
Duration=90.014s
Date_format=yyyy_MM_dd
Time_format=HH_mm_ss
LT=UT -6h
Frames captured=8992
File type=SER
Binning=no
Bit depth=8bit
Debayer=no
ROI=436x422
ROI(Offset)=280x8
FPS (avg.)=99
Shutter=10.00ms
Gain=350 (58%)
USBTraffic=100 (off)
AutoExposure=off
HardwareBin=off
WRed=62 (off)
Gamma=50 (off)
AutoHisto=75 (off)
FPS=100 (off)
SoftwareGain=10 (off)
Brightness=1 (off)
WBlue=99 (off)
AutoGain=off
HighSpeed=off
Histogramm(min)=0
Histogramm(max)=156
Histogramm=61%
Noise(avg.deviation)=3.26
AutoAlign=false
PreFilter=none
Limit=90 Seconds
Sensor temperature=14.6°C